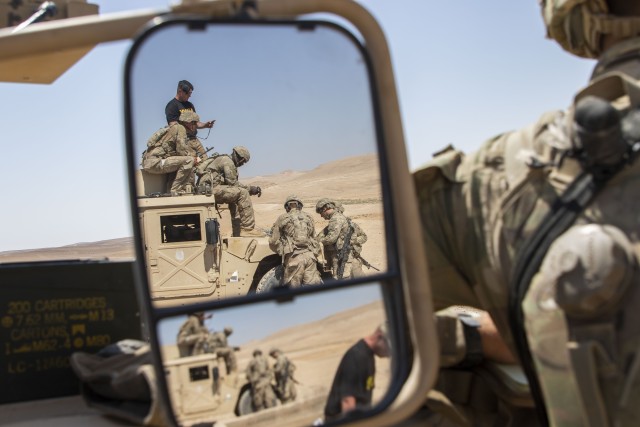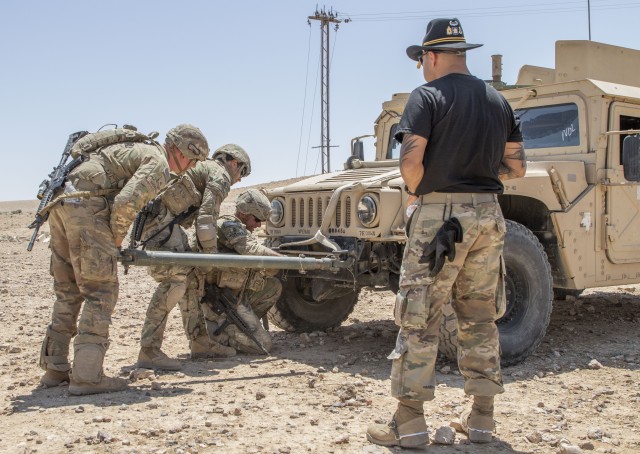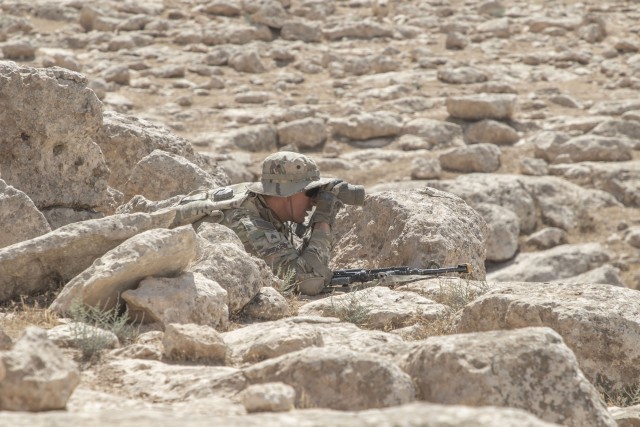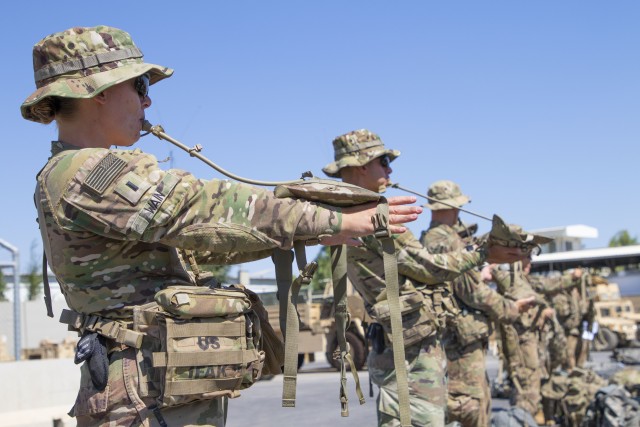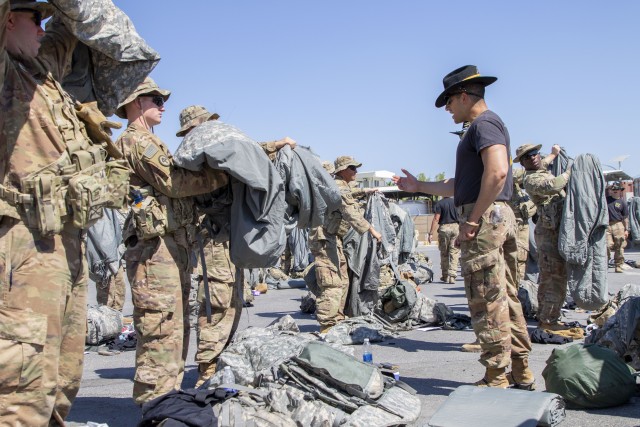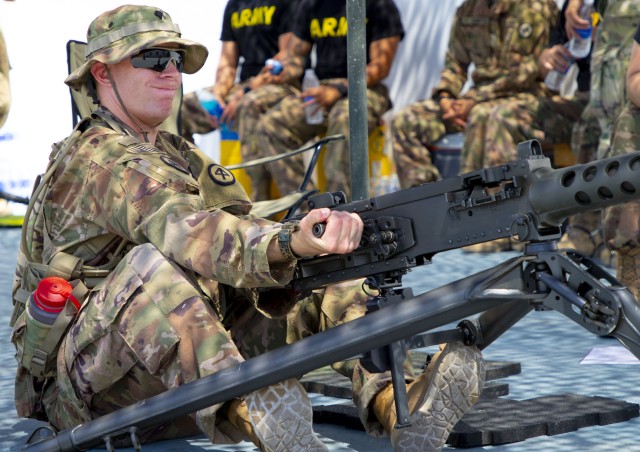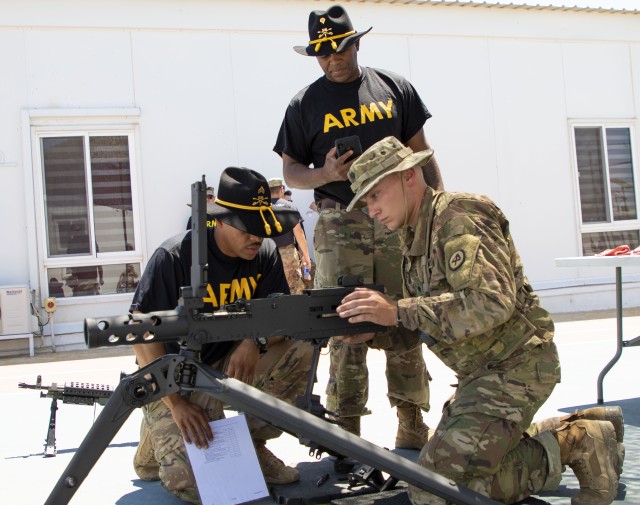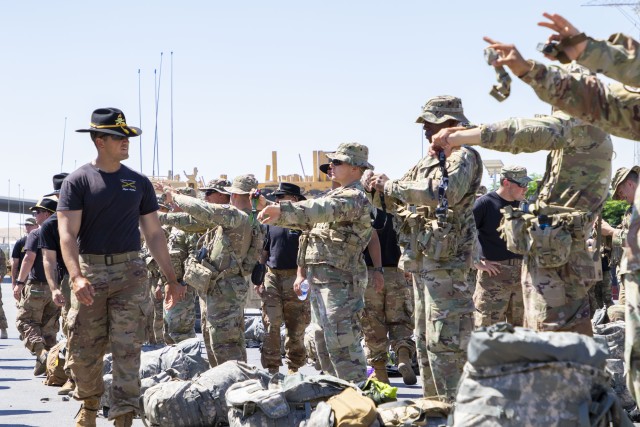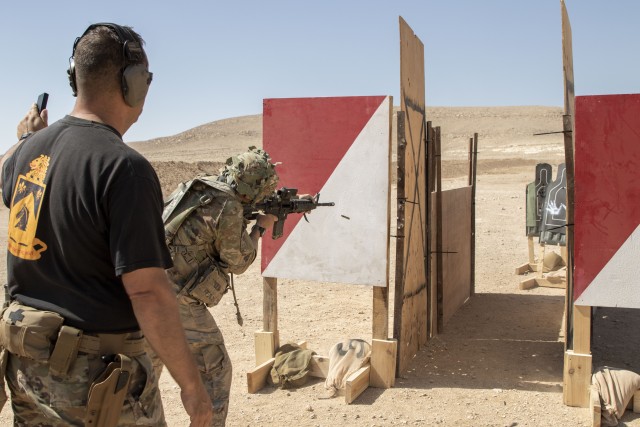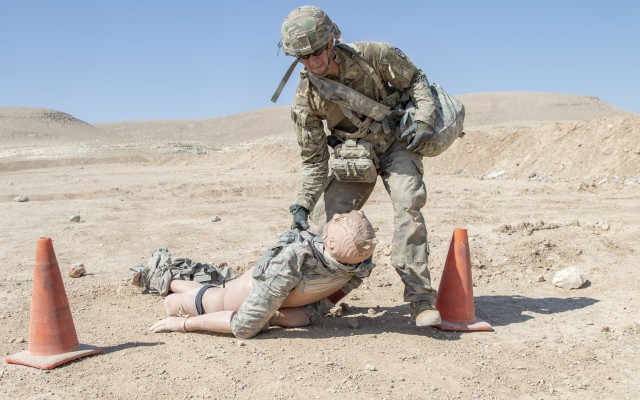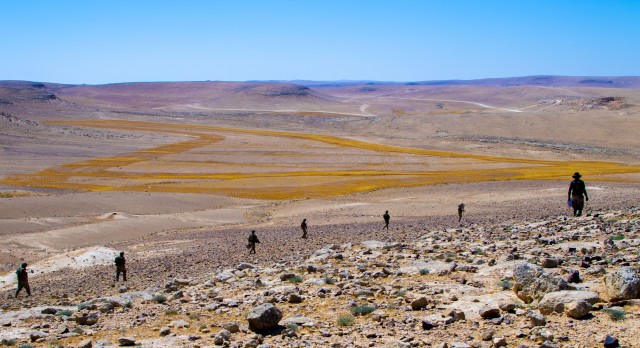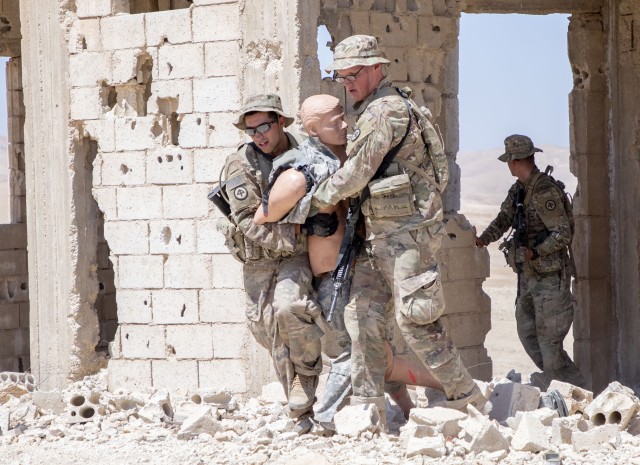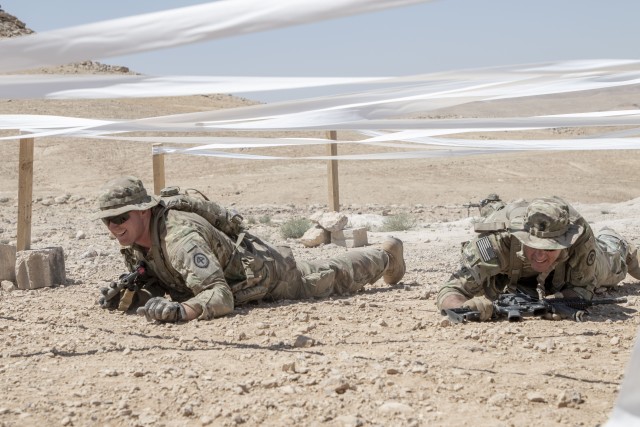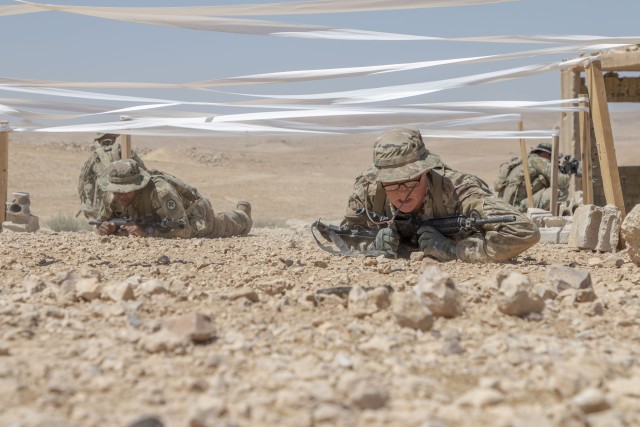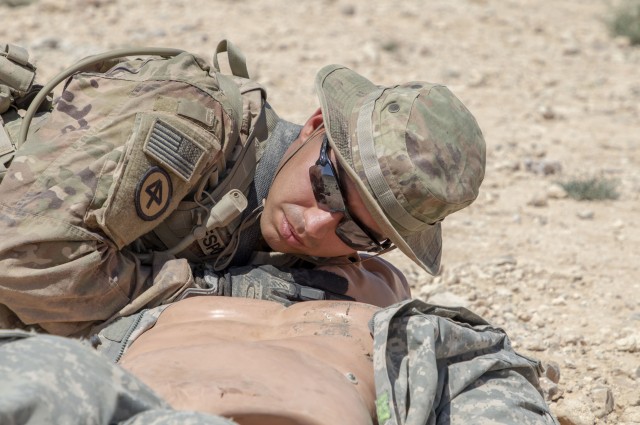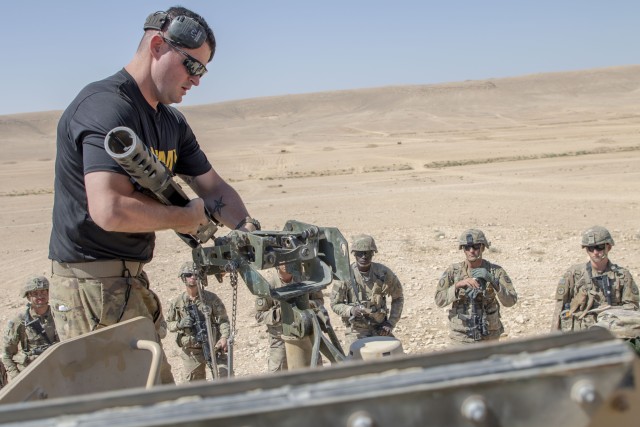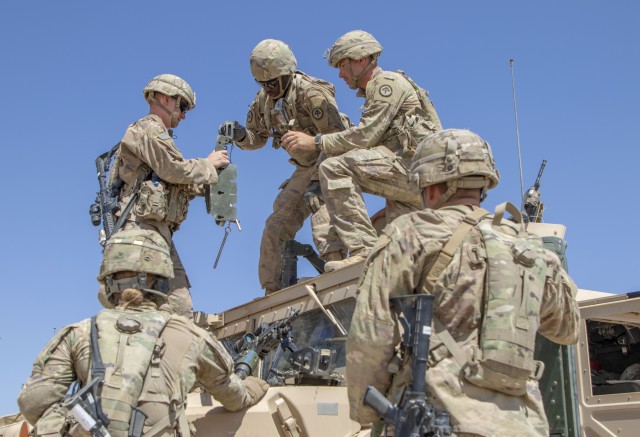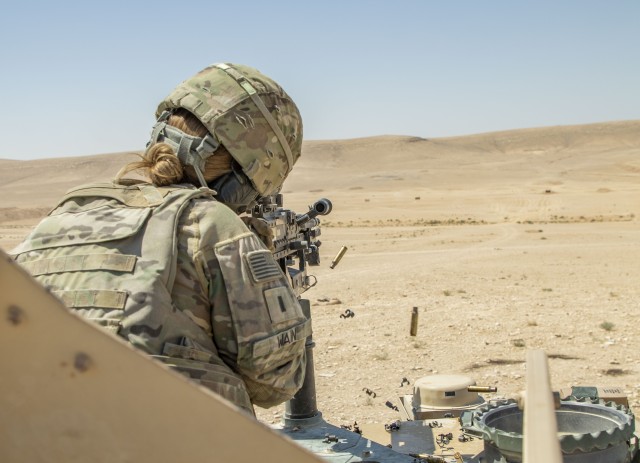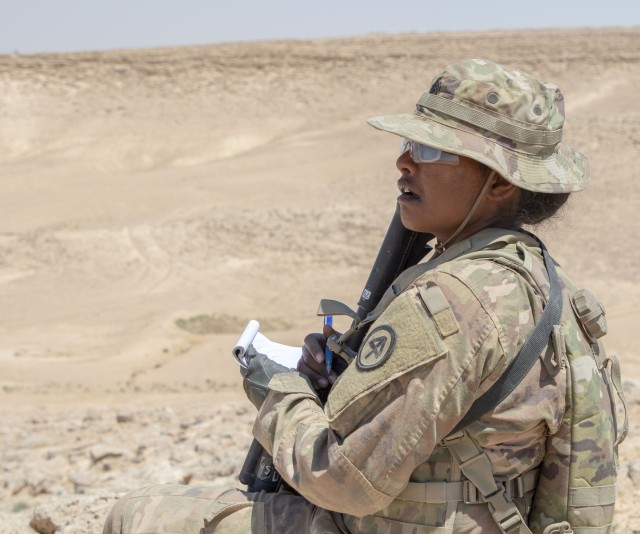 The echoes of, "Yes spur holder!" reverberated in the mountainous rock-ribbed, desert terrain that made it challenging for shave-tails to fight mental fatigue, dehydration and full physical exhaustion in a relentless effort to obtain one item…a set of spurs.
U.S. Army spur holders, with 1st Squadron, 102nd Cavalry Regiment (1-102 CAV), 44th Infantry Brigade Combat Team (IBCT) of the 42nd Infantry Division (42ID), New Jersey National Guard (NJARNG), conducted a Spur Ride from Aug. 10 to 13 at Joint Training Center-Jordan (JTC-J), allowing non-spur holders the opportunity to earn a pair. Sixty-two spur candidates began, but only 44 successfully completed and were awarded with a set of silver spurs, formally inducting them into the, "Order of the Spur."
The Spur Ride is a time-honored tradition deeply rooted into the U.S. Cavalry culture dating back more than a century. In times past, green Troopers who arrived at their new cavalry assignment were called, "shave-tails." The newbies needed extensive swordsmanship training, from atop a horse, so their horse's tail would be shaved, identifying them as a potential hazard due to their horsemanship inexperience. Once they proved themselves in mounted swordsmanship, they were awarded a set of spurs, their horse's hair grew back, and they were no longer referred to as, "shave-tails."
Modern-day Spur Rides are non-military occupational specialty specific and the only means to join the, "Order of the Spur," aside from a wartime induction. Serving with a cavalry unit in a war zone authorizes Troopers to wear a set of gold Prince of Wales type spurs.
The 72-hour Spur Ride at JTC-J tested spur candidates on weapons familiarization, land navigation, radio communications/maintenance, vehicle recovery, live-fire maneuvers, first aid and tactical team maneuvers, among other combat specific tasks. The Army's first priority is readiness - ensuring Soldiers have the tools and training needed to be lethal and ready to fight and win.
U.S. Army Sgt. Maj. Ronald Ambrose, Mendham, New Jersey resident and senior spur holder with 1-102 CAV, 44th IBCT of the 42ID, NJARNG, has more than 34 years of military service with the Cavalry Regiment. The JTC-J Spur Ride marked the 6th ride he has partaken in.
According Ambrose, cavalry units are predominately used for mission reconnaissance, encompassing several support elements that aid the overall surveillance effort. Despite the difficult terrain, he was pleased to see the vigorous enthusiasm in the spur candidates and their resiliency to deal with the desert environment. Ambrose said he hopes the new Troopers now understand what it means to be a spur holder and to carry on the revered cavalry tradition.
"I won't be around anymore to do it [Spur Rides], the next one will be conducted on their own," he explained, "They have to move forward, but continue with the same cavalry traditions and the same esprit de corps as they did with this one."
According to a cavalry legend, "As a member of the order, a Trooper also acquires the last benefit of stopping for a drink at the mythical canteen 'Fiddler's Green' on their descent into Hell." The "Fiddlers Green" was a ballad written by an unknown author for Troopers, originally published in the 1923 U.S. Cavalry Manual, modernly used by cavalry units to memorialize the deceased. Spur candidates were required to memorize and recite this ballad, verbatim, whenever requested by a Spur Holder.
In addition to spurs, Troopers who successfully complete a Spur Ride are authorized to wear the infamous Cavalry Stetson. This custom dates to the late 1800s when cavalry troops were stationed on the frontier during America's westward expansion. The late John Stetson, founder of John B. Stetson Hat Company, began manufacturing headgear durable enough to be worn by cowboys and Soldiers. An old-time cavalry saying is, "When a Trooper dons his Stetson lesser men step aside, children stop to star in awe, and the ladies whisper his name."
Present-day, they whisper his or her name.
U.S. Army 1st Lt. Jennifer Wain, with 1-102 CAV, 44th IBCT of the 42ID, NJARNG, is a field artillery officer who resides in Bangor, Pennsylvania. She said the Spur Ride provided her with a better knowledgebase for assessment of the battlefield, Soldier placement and how to use Soldier assets. This knowledgebase helps with readiness; the capability of forces to conduct the full range of military operations to defeat all enemies regardless of the threats they pose. She explained that as an officer, you should be able to do whatever you task your Soldiers to do.
"I know more now of what my Soldiers go through," explained Wain, "So when I ask them to do things, I know what it means, and I know how long it takes."
Receiving her spurs was a very humbling experience and a personal milestone for Wain. She said her goal was, and still is, to motivate females and be the example of what they can do. She commended everyone on their efforts and said regardless of if they passed or not, they are all still family.
"We are all one team, whether you finished or not," Wain said respectfully, "We all worked very hard and everybody is proud of each other."