Operating An Official Media Account
Search this page
Operations Guidance
RECORDS MANAGEMENT AND ARCHIVING
All social media content is considered an official communication, and therefore a federal record. A complete social media federal record must have content, context and structure, along with associated metadata.
Records must be captured and maintained for each Army social media platform in accordance with DA PAM 25-403, Guide to Recordkeeping in the Army, and AR 25-400-2, the Army Records Information Management System.
After departure from the government or the government position associated with the account, certain official accounts (e.g., @SecArmy) must either be transitioned to the next administration or closed.
Commands at all levels should consolidate and deactivate EOPs that detract or disrupt users searching for official DoD information. Content on any deactivated official accounts must be archived in accordance with DoDI 5015.02.
Once a platform is designated to be deactivated, the full account should be archived for records purposes. Once records are collected, they should be submitted to the organization's records manager for permanent storage. Once complete, the account can proceed with deactivation.
Social media can be captured through Sprinklr, native platform exports or other capturing methods. Captured records must be submitted to the local records manager.
It is recommended that social media managers:
Register in ARIMS and maintain an active account.
Maintain social media electronic records in-house on a quarterly basis and ensure these records are accessible to appropriate staff.
Upload designated social media records onto the ARIMS site at the end of each calendar year for permanent storage.
If utilizing a Social Media Content Scheduler, such as Hootsuite or Sprinklr, these platforms offer features to capture and download posts via a Microsoft Excel spreadsheet. This feature may not be available, however, for all platforms. If posting content solely via the platforms, follow the procedures specified below:
Facebook:
Within the designated/official platform, click on the "Insights" tab and then the "Export Data" tab; next, select the "Post Data Button" and select the "Date Range" for your postings. Save the file as an excel file to an electronic folder.
Twitter:
In the Twitter Platform, go to "Profile and Settings," then access "Analytics," then select the "Tweet" button. From here, select the "download" button and select the range of dates for which you intend to capture. Then select the "save file" button. The file will be downloaded as a Microsoft Excel spreadsheet format. Ensure you save this file electronically in an area where it can be easily accessed. Recommend saving in an office "shared" electronic file so that other personnel can access and review.
Instagram:
Screenshot series of photos which have been posted each month. Store in an electronic folder.
YouTube:
Screenshot series of videos which have been posted each month. Store in an electronic folder.
Linkedin:
To request a download of your official Linkedin data: Click on the "Me" Icon; Select "Settings & Privacy," Click the "Privacy" tab; Under "How Linkedin uses your data section click "Change" (Note: You may be prompted to sign into your account); You will now be at the "download your data" page. Within minutes, an email with a link will be sent where you can download certain categories of personal information Linkedin has for you, including your messages, connections, and contacts. Within 24 hours, Linkedin will send you a second email with a link where you can download your full archive, including your activity and account history.
TRANSPARENCY
General
According to DoDI 5400.17 Social media account managers will not remove social media content from official DoD accounts unless the content meets the criteria of the following exceptions:
Factual or typographical error
Violation of a law, policy, term of service or user agreement
Operations or information security concern
Removal of content will be publicly acknowledged and communicated to audiences to provide context and appropriate clarification for the action.
Managers must communicate and responsively engage with users regarding such removal.
MODERATING THE CONVERSATIONS ON YOUR POSTS
Audience engagement is a critical component of Army social media operations. This allows the public the ability to share and voice their opinions while allowing the Army an opportunity to increase understanding or provide context about a topic. Managers should dedicate time each day to engage with their audiences following the Army Values and the DOD Social Media Principle of Professionalism, in Section 3.2.b. of DODI 5400.17.
At times, social media managers may need to consider hiding or deleting comments. Here are some items to consider:
WHEN TO KEEP COMMENTS
It may be necessary to keep certain content in accordance with the DOD Social Media Principle of Transparency, detailed in DODI 5300.17.
Keep comments when the post is from the public and relevant to the discussion or post topic.
Keep comments that do not violate a law or the terms of service outlined on your page, even if the content is considered colorful, offensive or critical of the Army. It is not our place to censor opinions.
Keep comments that do not present an operations or information security concern.
Keep comments that may be considered a federal record and should be maintained.
HIDING AND DELETING COMMENTS
Hiding and deleting user content should be done judiciously and be the exception. Managers should only consider these tactics to prevent the mistreatment of those engaging in their threads; the spread of inaccurate information, misinformation or disinformation; or to prevent scammers from leveraging Army accounts to steal money from others.
Things to consider before you delete or hide a comment:
Examine the comment
Evaluate it in context
Review the terms of service and the online community guidelines
Determine if the comment constitutes an offense
Determine if the comment requires a response
Determine if deleting the comment would encourage additional posts
If the consensus between the PAO, account manager and/or team is to take action, then do so deliberatively and with good solid reasoning/justification
You may consider hiding or deleting comments that:
Violate a law or the terms of service outlined on your page
Appear to be from a scammer or contain spam
Contain content non-topical to the thread
Are nonsensical, irrelevant or extremely vulgar
Present an operations or information security concern.
When it is determined that the content of the post does not meet the criteria to be considered a federal record.
When you hide a user comment posted on your platform:
While hiding comments still allows the public to share their opinions with the Army, it should be done judiciously.
The comment will still be visible to the person who wrote it and their friends. This can help prevent pulling the conversation away from the original post topic.
Replies to the comment will also be hidden. If you want to hide specific replies to a comment, you can select and hide each reply separately. If you only hide replies to a comment, the original comment will still be visible to everyone.
Audience engagement is a critical component of Army social media operations. Allowing the public the ability to share and voice their opinions while allowing the Army an opportunity to increase understanding or provide context about a topic. Managers should dedicate time each day to engage with their audiences.
INTELLECTUAL PROPERTY
COPYRIGHT GUIDELINES
Copyrighted material may only be used with written permission from the owner. Government works are not copyright protected. Consult legal counsel before using the fair use exception.
Some platforms do allow use of licensed music in videos in accordance with the platform's music licensing agreements. Typically, licensed audio must be attributed or linked to the artist and include the name of the track. Review the platform's copyright policy before using any licensed content.
Material that is eligible for copyright protection includes original works of authorship fixed in any tangible medium of expression such as:
Visual or audiovisual works: videos, movies, TV shows and broadcasts, video games, paintings, photographs
Audio works: songs, musical compositions, sound recordings, spoken word recordings
Written works: books, plays, manuscripts, articles, musical scores
OFFICIAL USE OF ARMY INSIGNIA
Do not use the official Army service emblem on social media platforms. Use the Army Logo or Army Symbol instead.
Army Seal and Emblem. The Department of the Army Seal and the Department of the Army Emblem (shown below) are prohibited for use by anyone other than the Department of Defense or Department of the Army for official purposes.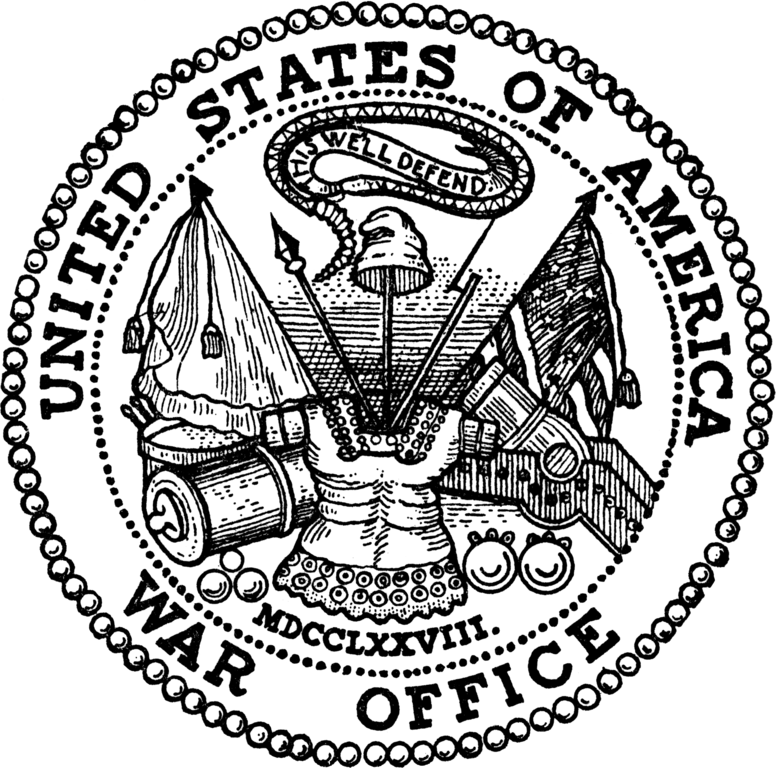 Army Logo and Symbol. PAOs and social media managers are free to use the Army Logo (fig. 1 below) and/or the Army Symbol (fig. 2 below) without prior Army Trademark Licensing Program (ATLP) approval. For official social media purposes the use of Army marks should be in conjunction with the guidance established in the Army Brand Portal which is controlled by the Army Enterprise Marketing Office.
OPERATIONS SECURITY
Social media has become a big part of our Army lives. It helps organizations share information and keep audiences connected. OPSEC and personal privacy concerns should be paramount when Soldiers use social media, both personally and professionally. Sharing seemingly trivial information online can be dangerous to loved ones and fellow Soldiers. America's enemies scour blogs, forums, chat rooms and personal websites to piece together information that can harm the U.S. and its Soldiers.
HOW CAN I ENSURE MY ACCOUNT ADHERES TO OPSEC GUIDELINES?
Designate managers.
Assign staff responsible for posting content to the official online account and ensure those individuals are current on all OPSEC training.
Submit content for OPSEC review.
Coordinate with unit OPSEC officers to review posts before publishing as needed.
Submit content for approval prior to posting.
Ensure all content is submitted to and approved by the commander or the organization's release authority prior to posting.
Review U.S. Army policies, regulations and guidance.
Ensure all content is posted in accordance with the organization's public affairs guidance, and U.S. Army and DOD policies, instructions and regulations.
Monitor your account regularly.
Ensure external social media users are not posting sensitive information on your official account.
Conduct OPSEC training regularly.
Produce training materials and conduct regular social media OPSEC training within your team and with other units in your organization. Distribute social media OPSEC training to family members. It is important to keep them just as informed and up to date as the Soldiers in your unit.
Be vigilant.
Never become complacent when it comes to OPSEC. Check social media accounts within your organization for OPSEC violations. Never stop working to protect OPSEC. Once the information is out there, you cannot get it back.
PASSWORDS
DEVELOP A PASSWORD SOP
Any organization with an official Army social media presence should establish a clear standard for creating and protecting organizational passwords. This policy can help ensure your team uses good security practices by outlining who has access to accounts and how often passwords are changed within your organization.
DO'S AND DON'TS
FOR PASSWORD SECURITY
SECURE PASSWORD PRACTICES

Keep your official Army accounts secure by enabling two-factor authentication on all organizational social media platforms and any individual account linked to an organizational account.
Consider making all organizational passwords a minimum of 15 characters in length.
Avoid using dictionary words or names.
Avoid using strings of characters (123, ABC, etc.) or noticeable patterns (letters1! or qwerty123456).
Alternate between lower and uppercase letters, special characters and numbers.
PASSWORD DON'TS

Don't email or send electronically
Don't talk about a password in front of others
Don't hint at the format of a password
Don't reveal a password on questionnaires or security forms
Don't share a password with family members or friends
Don't use the "remember password" feature of applications
Don't store passwords in a file on any computer system unencrypted
Don't write passwords on random pieces of paper
WHAT TO DO IF YOUR OFFICIAL SOCIAL MEDIA ACCOUNT IS HACKED
First, contact the respective social media platform lead at the Office of the Chief of Public Affairs Digital Media Division. The DMD POC will contact the platform on your behalf.
The platform may require additional information, such as:
A signed statement on official letterhead in the PDF file format, from this person with sufficient knowledge and authority over this matter, that includes all the following:

A description of the individual's relationship to the account (including the authority to request a change in the person(s) who manage the account, as applicable)
The name of the current person(s), who manage the account, as applicable and the relationship of the above person(s) to the account
An explanation of the request, and whether there has been a termination of the employment and/or business relationship with the named person(s), as applicable
The email address, or URL, associated with the account that is to be added as the new admin
A declaration that the information provided is true and accurate, for example: "I certify that the information provided is true and accurate", the statement must include similar language.

A copy of a valid government-issued photo ID (a current driver's license or a passport) of the individual signing the statement.
Once you've provided this information, the DMD POC will submit it to the social media platform liaison on your behalf. There may be follow-ups with additional requests for information or documentation to evaluate your request. Please remember providing the requested information doesn't guarantee that the platform will be able to fulfill your request.
---
Geotagging safety
Geotagging is the process of adding geographical identification to photographs, videos, websites and SMS messages. It is the equivalent of adding a 10-digit grid coordinate to everything posted on the Internet. Some smartphones and digital cameras automatically embed geotags into pictures and many people unknowingly upload photos to the Internet that contain location information.
One Soldier exposing his or her location can affect the entire mission. Deployed Soldiers, or Soldiers conducting operations in classified areas, should not use location-based social networking services. These services can bring the enemy right to the Army's doorstep.
---
CONDUCT
POLITICAL
Official Army social media platforms will not engage in political conversations and will not show any form of endorsement such as a share, like or other reaction to political statements, posts, graphics or other types of content.
Soldiers and Army civilians are encouraged to express their opinions of the political process, online and offline, if they are consistent with the Army Values and are not expressed as part of an organized communication campaign or as a representative of the U.S. Army. Such opinions must be expressed as an individual apart from the military and the DOD. See the Personal Use section for more information.
ENDORSEMENT
Using official Army social media to collaborate with non-federal entities (NFE), (including social media "influencers") must be done with care so as not to give the appearance of endorsement or selective benefit by the DoD. Any content should focus on the Army's involvement or support of the collaborative event, and not the NFE. A statement of fact naming the NFE as a participant is authorized. If not sure, seek guidance from your servicing legal office.
It may be necessary to include a non-endorsement disclaimer to avoid any implication of endorsement or selective benefit, such as: "Appearance of, or reference to, any non-federal entity does not constitute DoD endorsement."
PERSONALLY IDENTIFIABLE INFORMATION COLLECTION
The collection, use, maintenance and dissemination of PII must be in compliance with the applicable Privacy Act system of records notice.
Do not collect any personal information from children (i.e., individuals under the age of 13).
PRIVATE/DIRECT MESSAGES
Private or direct messaging is allowed if PAOs and social media managers identify a specific need to remain responsive to authentic public interest or questions.
Official social media accounts are not authorized to send direct or private electronic messages that automatically expire in accordance with DoDI 5400.17, para. 7.1.d.
SUPPORT
If you are experiencing difficulty with any of the following issues, here are some resources that may help.
---
What PAOs, social media managers, and Soldiers need to know about DoDI 5400.17
CLICK TO LEARN MORE
back to top