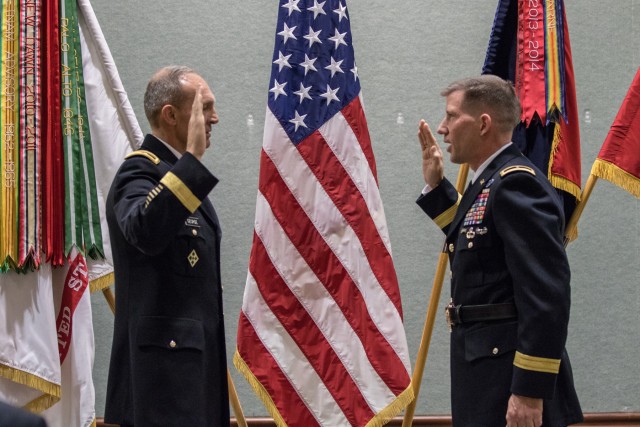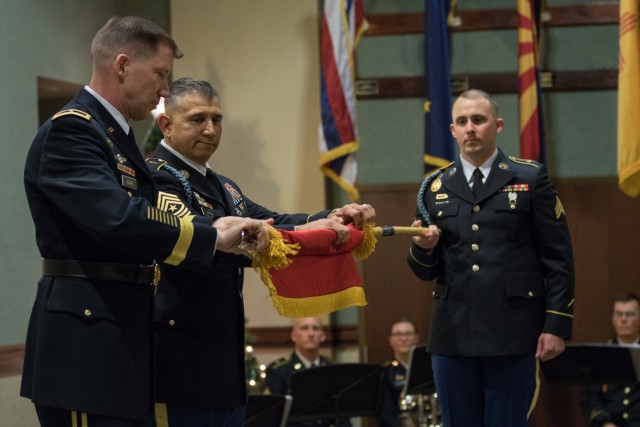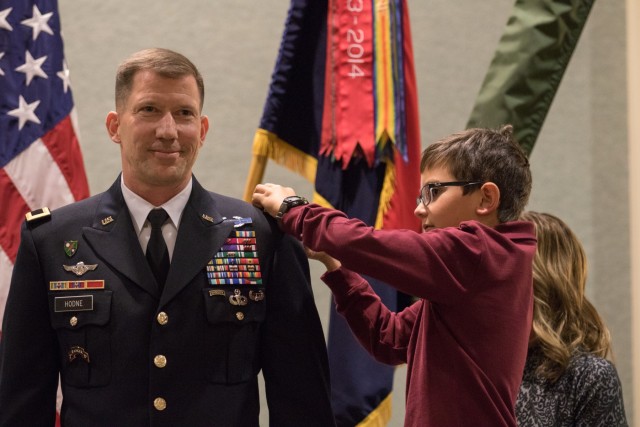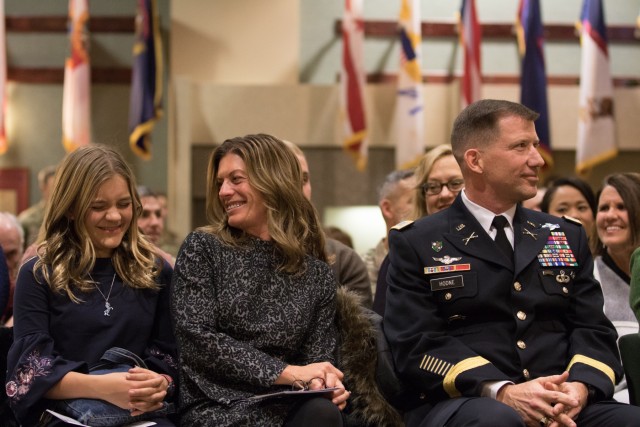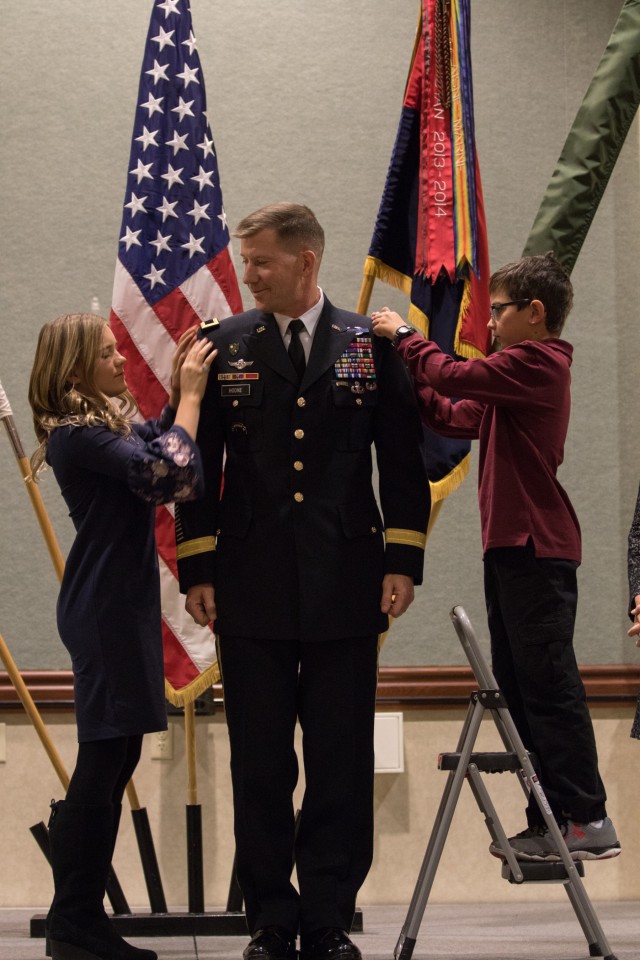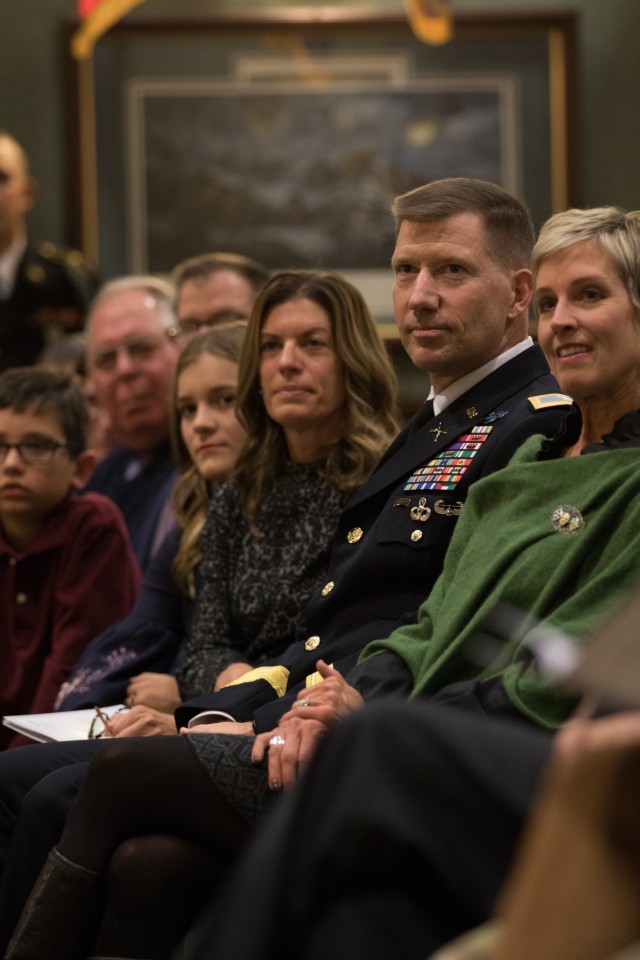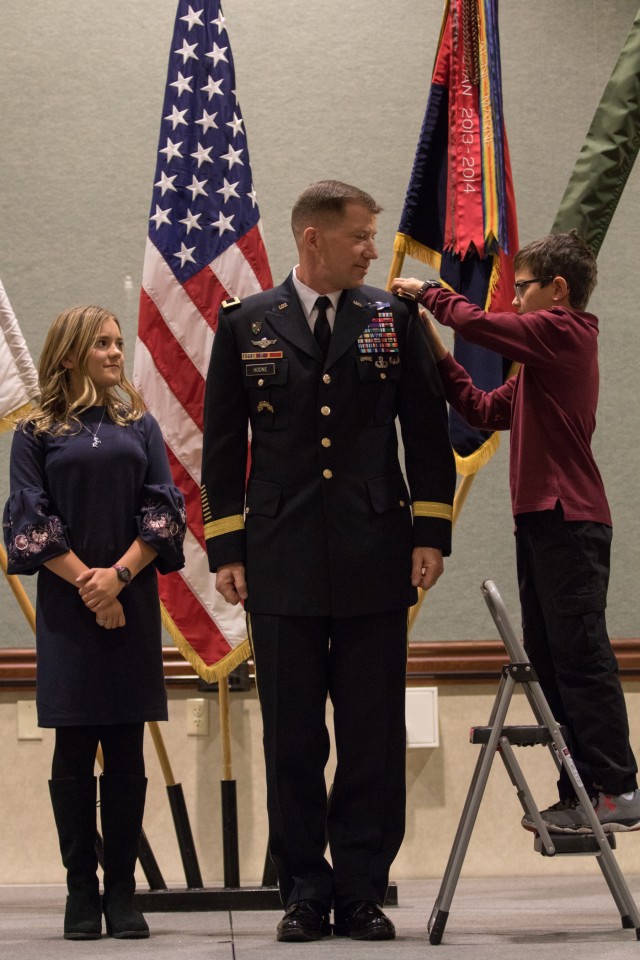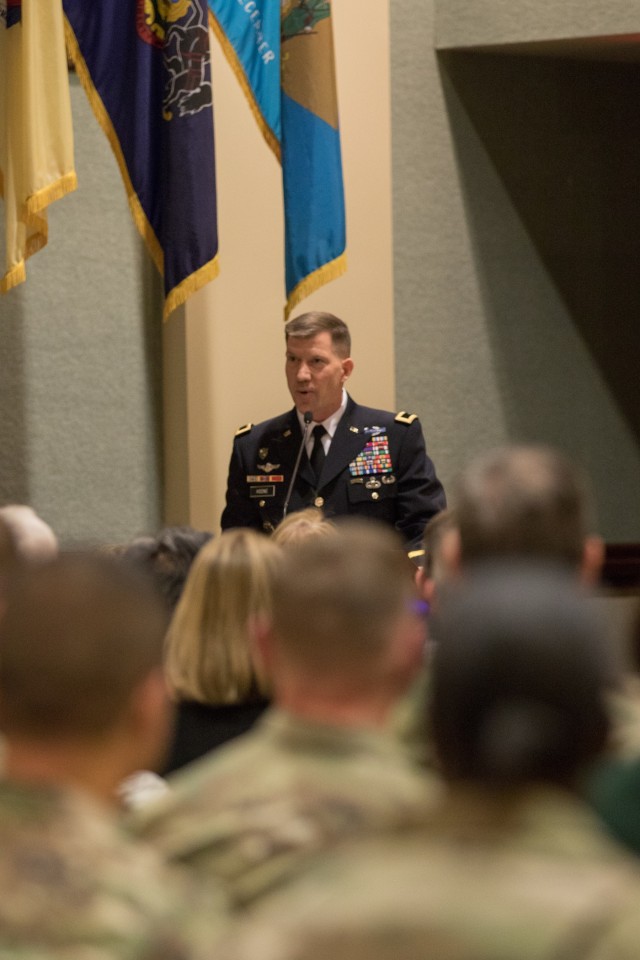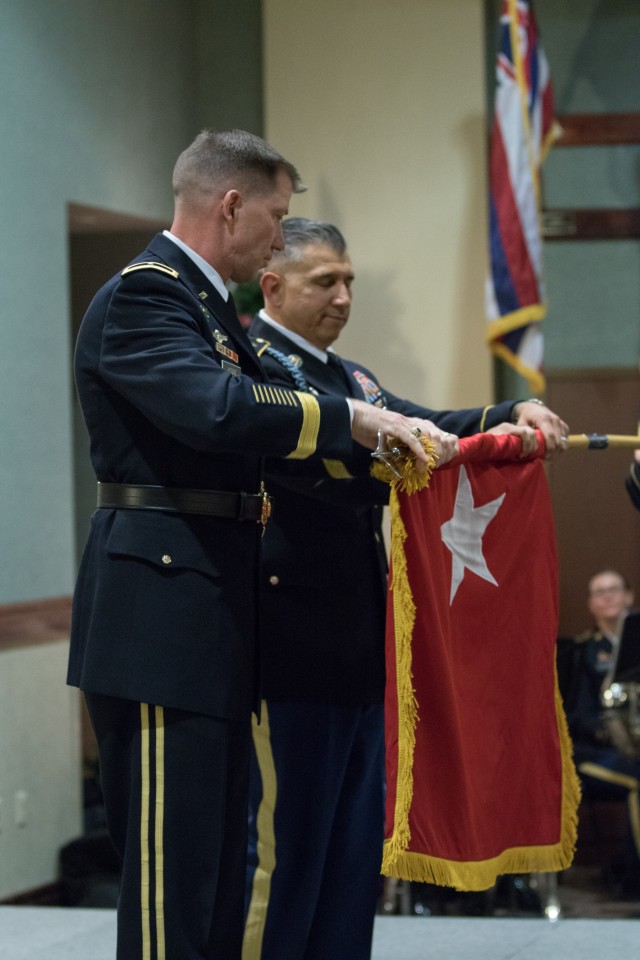 David M. Hodne, deputy commanding general, 4th Infantry Division was promoted to brigadier general during a ceremony at the division headquarters December 15, 2017.
Hodne's new rank insignia was pinned on by his daughter, Taylor, and son, Matthew; he unfurled his brigadier general's flag with former 4th Inf. Div. command sergeant major, Sgt. Maj. Richard L. Ayala Jr. The ceremony was hosted by Maj. Gen. Randy George, 4th Inf. Div. and Fort Carson commanding general with family, friends and colleagues in attendance.
"This is a great day for Dave," George said. "A great day for Dave's family, but also a great day for the 4th Inf. Div. and a great day for our Army."
George recognized the significance of the promotion and shared stories about Hodne's achievements during his 26 years of service.
"Everybody in here knows how long it takes, the journey it takes to become a general officer," George said. "I can't think of anyone more deserving to be promoted today than Dave Hodne."
Concluding, George said, "Let's make you a general."
Hodne assumed his duties as the 4th Inf. Div. Deputy Commanding General June 9, 2017. Shortly after, he deployed to Poland in support of Operation Atlantic Resolve; he served as 4th Inf. Div. Mission Command Element Commander.
Commissioned as an infantry officer from the U.S. Military Academy, West Point, New York, in 1991, Hodne has served in a variety of command and staff positions in both conventional and special operations formations with multiple combat deployments to Afghanistan and Iraq.
Hodne arrived to the U.S. Military Academy in 1987 alongside his twin brother. Col. (R) Daniel Hodne stood proud as he watched his brother become a general close to 30 years after their first day at West Point.
"I couldn't think of anything more than pride," Col. (R) Hodne said. "Pride in my brother, pride in our service together, but more importantly pride in what he will continue to do for our army."
Hodne thanked Maj. Gen. George for the ceremony and example of leadership that he intends to follow.
"Only two words adequately describe my emotions at this moment: humbled and appreciative," Hodne said. "Both for this incredible opportunity to continue to take care of soldiers and their families, to use my rank for good, but also for the incredible support I've enjoyed that made this possible."
Hodne turned to his wife and added, "There's no better example of leadership then what you do for our family. Thank you for your love, support and friendship."