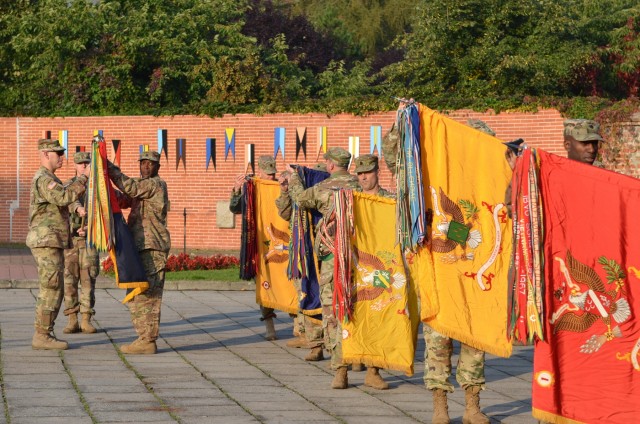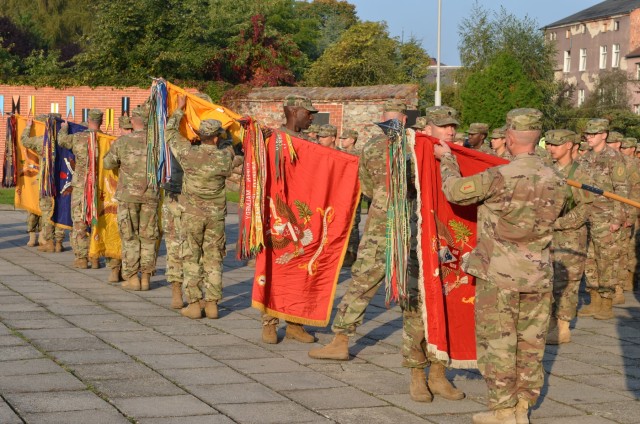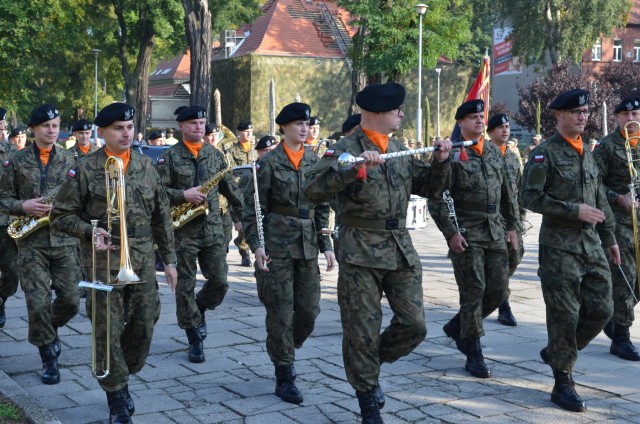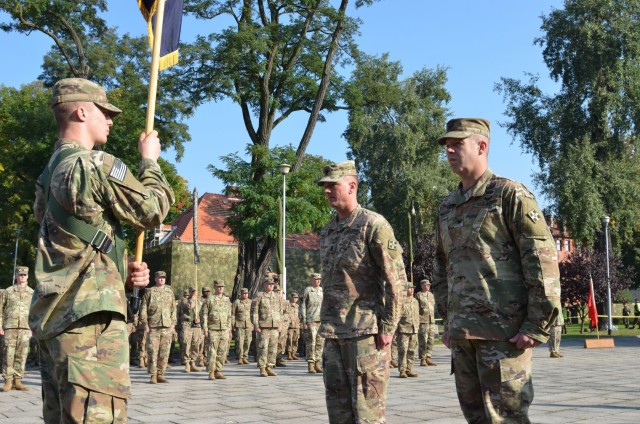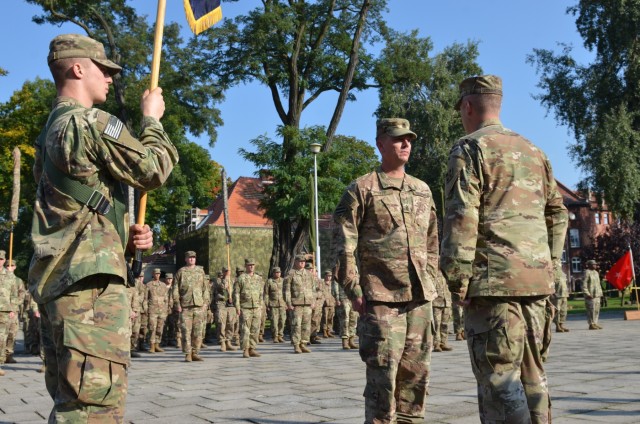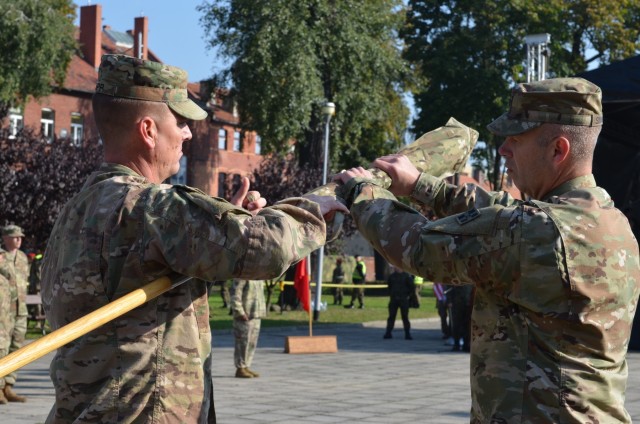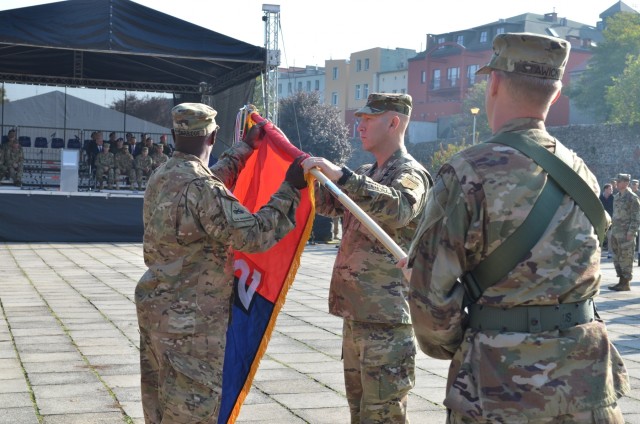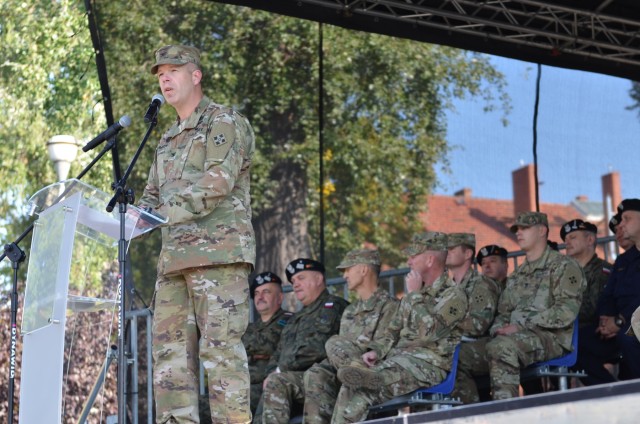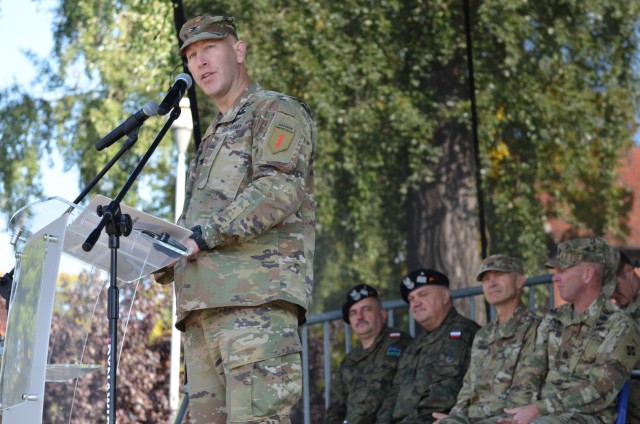 MARKET SQUARE, ZAGAN, Poland - The 2nd Armored Brigade Combat Team, "Dagger Brigade," 1st Infantry Division and the 3rd Armored Brigade Combat Team, "Iron Brigade," 4th Infantry Division conduct a transfer of authority ceremony, Zagan, Poland, Sep. 29.
Command and responsibility of being the only armored brigade combat team in Europe transitions from 3rd ABCT, 4th ID to 2nd ABCT, 1st ID as the 4th ID unit prepares to return to Fort Carson, Colo.
The transfer of authority ceremony was the first to occur in Poland since Atlantic Resolve began. Atlantic Resolve is a U.S. endeavor to fulfill NATO commitments by rotating U.S. -based units throughout the European theater and training with NATO Allies and partners.
Notable attendees to the event were Maj. Gen. Randy A. George, division commander, 4th ID, Fort Carson; Command Sgt. Maj. Timothy Metheny, division command sergeant major, 4th ID and Col. Dave Hodne, deputy commander, 4th ID, Fort Carson.
Col. Michael Simmering, commander, and Command Sgt. Maj. Samuel Rapp cased the 3rd ABCT colors in the ceremony, closing the unit's rotation. Col. David Gardner, commander, and Command Sgt. Maj. Craig Copridge uncased the 2nd ABCT colors, completing the unit's arrival in Europe.
The 3rd ABCT arrived into the European theater in early January 2017. Maj. Gen. Randy A. George reflects on the significance of the 3rd ABCT's deployment.
"The complexity and ambiguity of the threats that face us today demand a vigilant, capable and interoperable force to meet them," said Maj. Gen. George, division commander, 4th ID. "The Iron Soldiers of the 3rd ABCT were the first to meet these challenges."
The Iron Brigade Headquarters moved from Poland to Germany, Romania, Bulgaria and Hungary, supporting military training exercises like Combined Resolve VIII and Saber Guardian. The Iron Brigade participated in 13 multinational exercises, training with soldiers from 25 Allied and partnered nations.
The Iron Brigade was tasked to prove itself as a combat-ready unit. The brigade marked itself as a heavy opponent, with substantial proof in four brigade-level training exercises and 22 company-level live fires. The brigade also conducted 250 logistical convoys and traveled approximately 116,000 km. In total, the brigade fired nearly one million rounds of ammunition.
From the beginning and through it all, the 11th Armored Cavalry Division embraced and supported the 3rd ABCT, Col. Simmering said. It is only fitting the unit's journey ends in Zagan.
"In retrospect, you've all provided multiple training opportunities and powerful fighting forces that forced us to push ourselves further, faster, and for a longer period of time than this brigade has been pushed in recent history," Simmering remarked. "We are leaving Europe better because of you."
For Soldiers with 4th ID, returning home is an eagerly-awaited moment.
The rotation is finally over, said Sgt. Jesse Rambo, bradley gunner, 1st Battalion, 8th Infantry Regiment, 3rd Armored Brigade Combat Team, 4th ID Soldiers are just ready to go home and see their families.
Rambo participated in the ceremony as a member of the color guard.
"It's a little overwhelming that I got the honor to participate," Rambo said. "It's very humbling to go ahead and end this and be a part of it."
Rambo already has plans to go snowboarding immediately after his return to Fort Carson.
While the 3rd ABCT is departing, the 2nd ABCT has just arrived. The unit downloaded equipment and spread throughout Poland. The unit conducted maintenance on military vehicles, and loaded them with ammunition.
The Army asked the unit to deploy, download equipment from ships, get into Poland and be ready to fight within 10 days, Command Sgt. Maj. Craig Copridge said. The task was completed and the unit was firing on ranges within five days.
The unit plans to sustain combat readiness, continue to build relationships with Allies and improve interoperability with foreign armed forces.
The transition into Europe has been smooth, with advice from the 3rd ABCT, he said. The help of the 16th Sustainment Brigade, 21st Theater Sustainment Command, a tenant unit under U.S. Army Europe, made the move a seamless effort.
"We've been in constant contact with 3rd ABCT, so we know the pace that we're going to be expected to have," Copridge said. "Our Soldiers are up and ready for the task; we have to be ready to outpace any enemy threat."