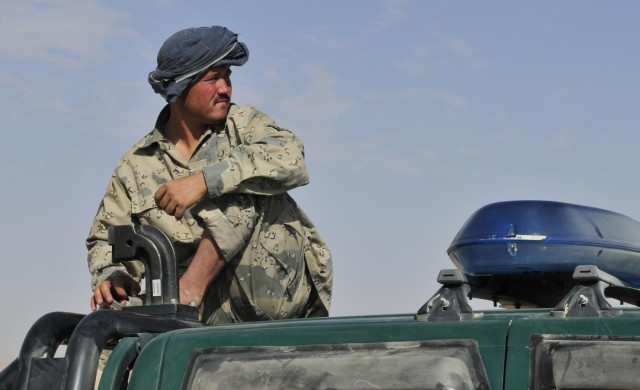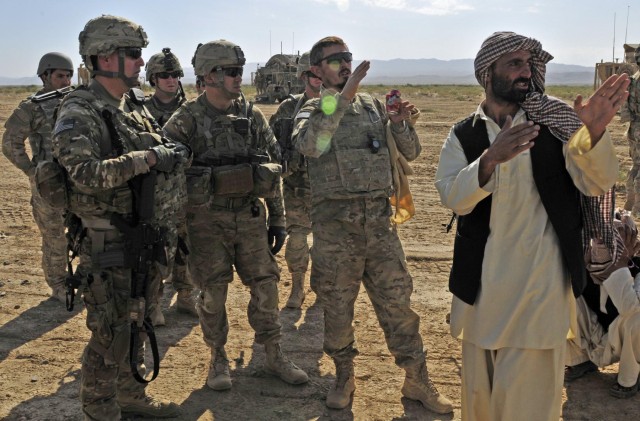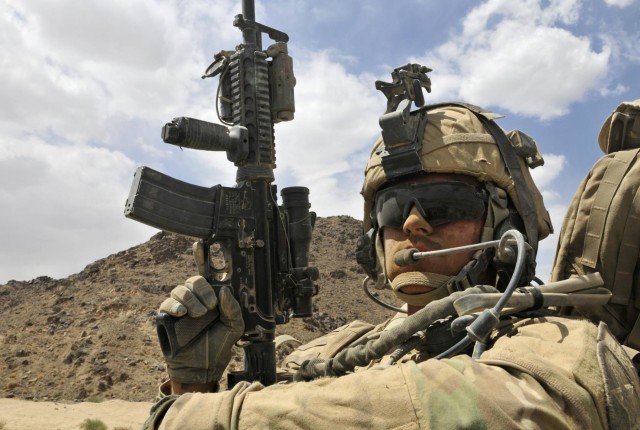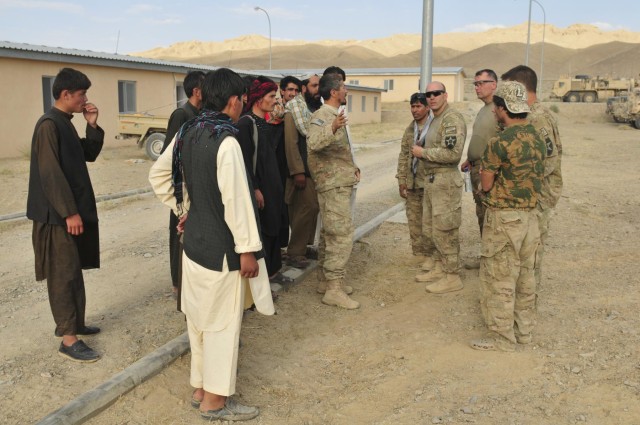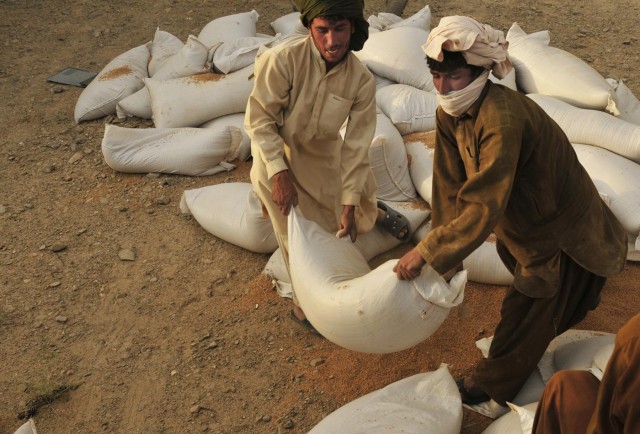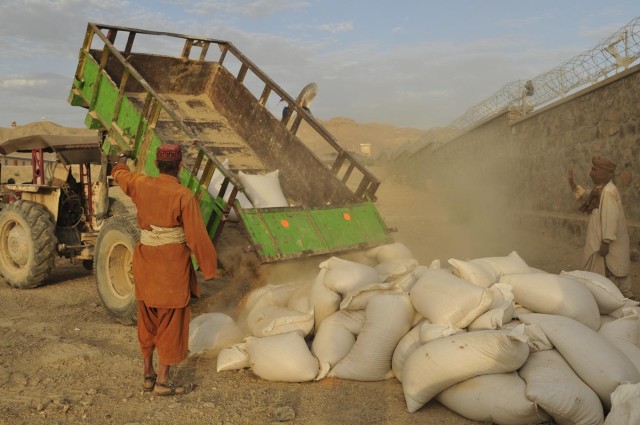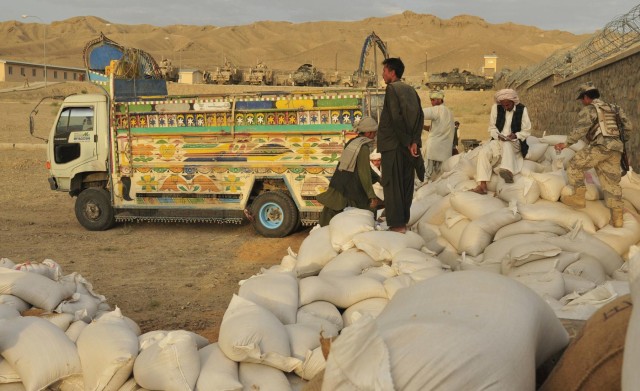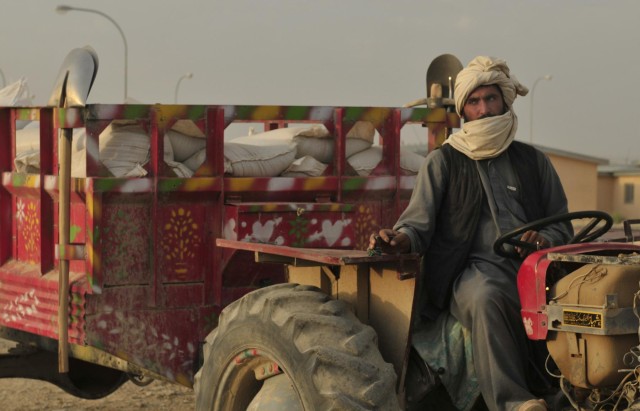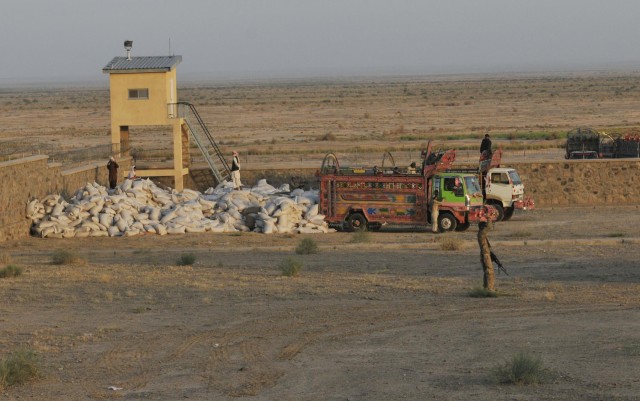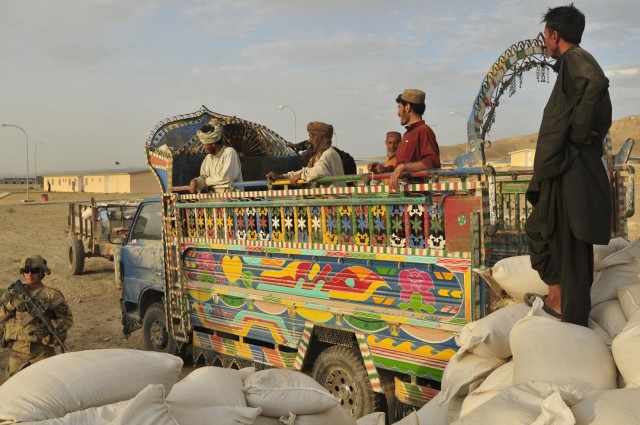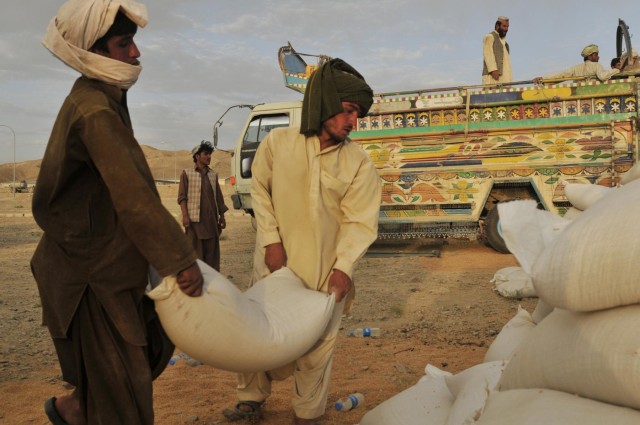 AFGHANISTAN (Army News Service, July 7, 2012) -- The 3rd Zone Afghan Border Police, together with units from Combined Task Force Buffalo, successfully cleared and secured 120 kilometers of rugged terrain and unimproved roadways in Shorabak, Afghanistan, enabling the safe passage for more than 60 trucks filled with humanitarian aid during Operation Buffalo Thunder II, which occurred from June 26 to July 3, 2012.
The mission started with the clearance of the extremely rough roadway from Forward Operating Base Spin Boldak to the district center at Shorabak. Soldiers of the 569th Engineer Company and 787th Explosive Ordnance Disposal Company, found and control-detonated four improvised explosive devices, or IEDs, during the operation.
"We're moving through a desert with significantly unimproved roads and in most cases, no road at all," said Maj. Gregory Sakimura, operations officer with the 1st Battalion, 17th Infantry Regiment, 2nd Infantry Division. "There were less IEDs than we anticipated but there were still several IEDs found."
The 3rd Zone Afghan Border Police, or ABP, retained control along the route by manning dozens of permanent checkpoints. These checkpoints not only made the roadway safe for Combined Task Force , or CTF, Buffalo and the 'jingle' trucks loaded with humanitarian aid, but also served to deter Taliban activity in the area.
The fleet of trucks, packed with approximately 600 tons of grain, arrived and was unloaded at the district center in Shorabak, between June 30 and July 1.
Brig. Gen. Haji Abdul Razziq, chief of police of Kandahar province, and Tooryalai Samad Wesa, provincial governor of Kandahar, said the humanitarian aid would be distributed to locals throughout the month of July.
This operation marked an unprecedented success for the Afghan National Security Force, for whom it was the first time taking the lead in planning, resourcing and executing an operation of this size.
"The ABP had multiple battalions synchronized, operating together in close proximity," Sakimura said. "It was a real step forward in their development and all for the benefit of delivering supplies to people that were in need."
Afghan units that contributed to the operation included the 4th Kandak, 5th Kandak and the Quick Reaction Force Kandak of the 3rd Zone ABP, supplying more than 210 policemen strategically mounted and dismounted throughout the district.
CTF Buffalo consisted of Soldiers and airmen with the 1st Battalion, 17th Infantry Regiment, 2nd Infantry Division; 569th Engineer Company, 223rd Engineer Battalion; 787th Explosive Ordnance Disposal Company; Security Force Assistance Team 5; and the 502nd Military Intelligence Battalion. Overall, roughly 125 service members participated in the operation.
"Shorabak is not an easy place to visit due to the terrain," said Capt. Daniel Capozza, company commander of the Headquarters and Headquarters Company of the 1st Battalion, 17th Infantry Regiment, 2nd Infantry Division. "But [this operation] will show the people of Shorabak that the government of Afghanistan is capable of making a presence here, which is huge."
(For more ARNEWS stories, visit our homepage at www.army.mil/ARNews, or our Facebook page at www.facebook.com/ArmyNewsService)
Related Links:
Afghan Border Police lead successful operation in southern Afghanistan
Army.mil: Current Operations News
3rd Stryker Brigade Combat Team, 2nd Infantry Division on Facebook
International Security Assistance Force on Facebook