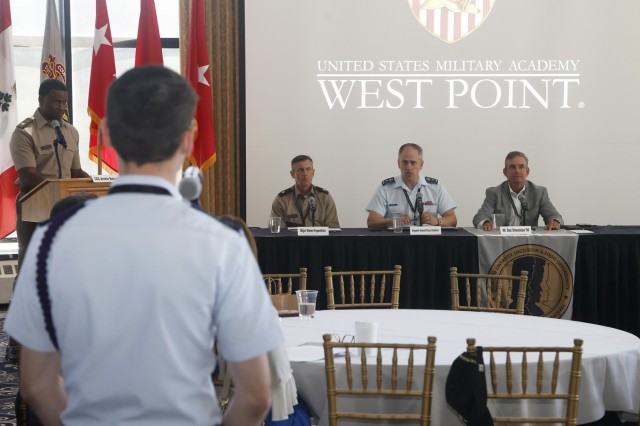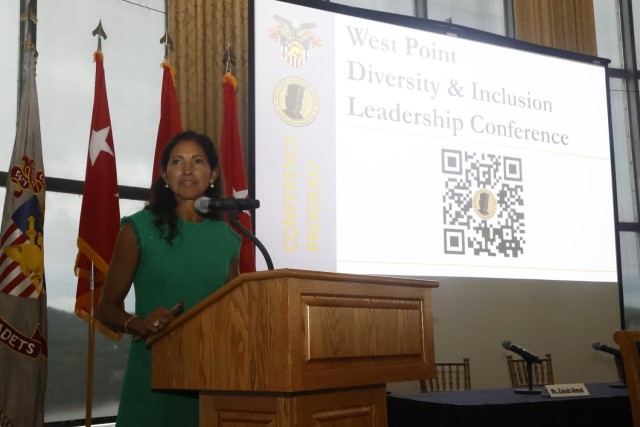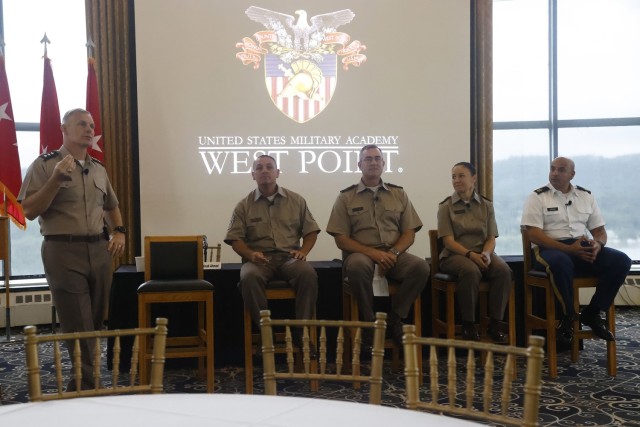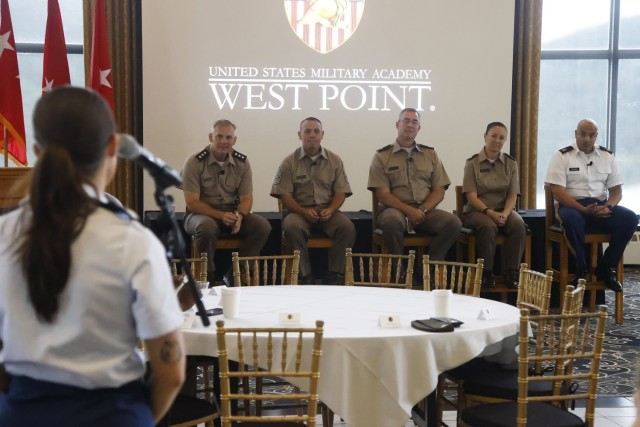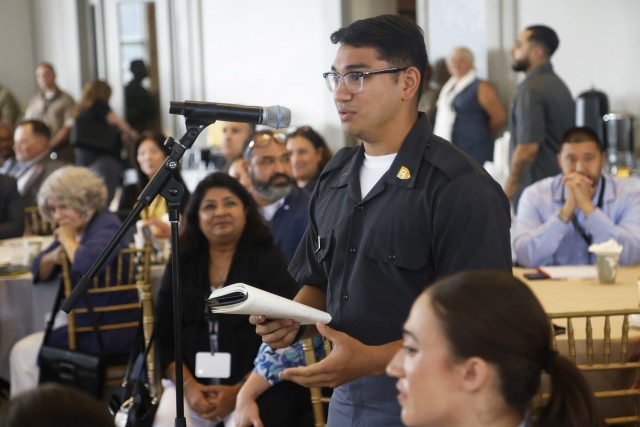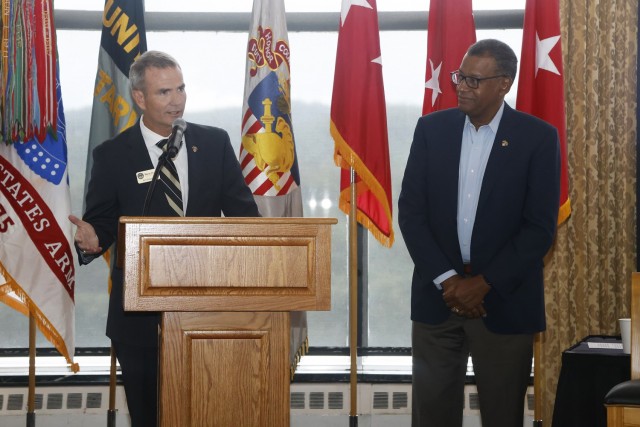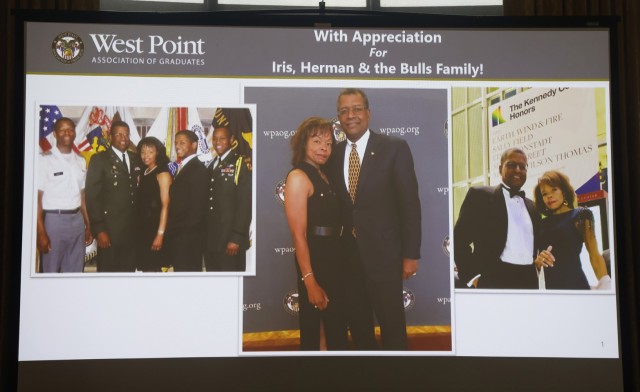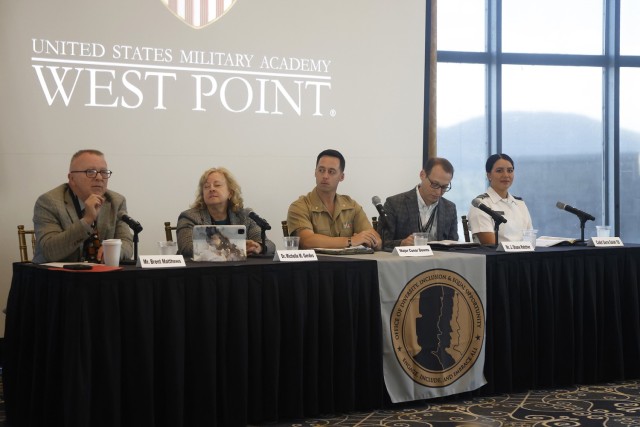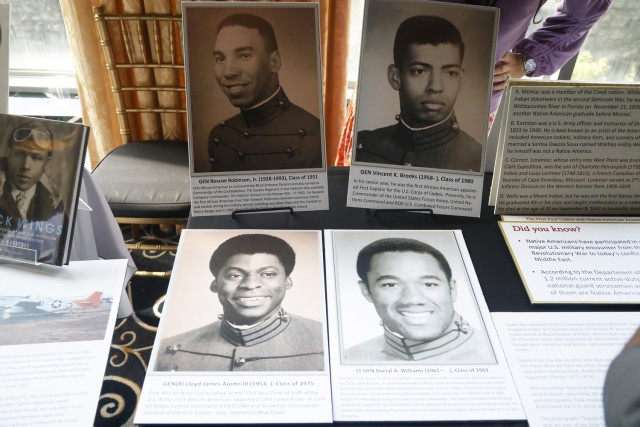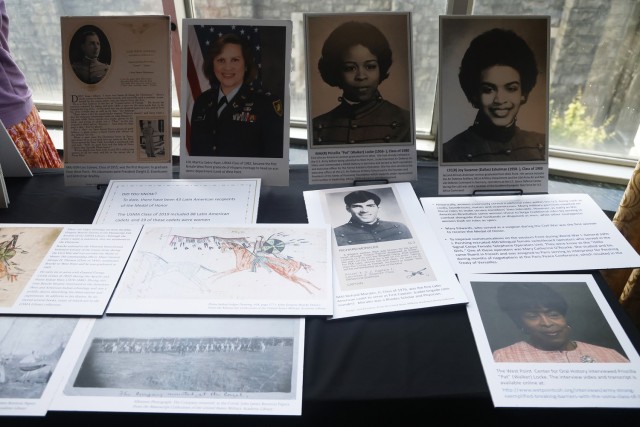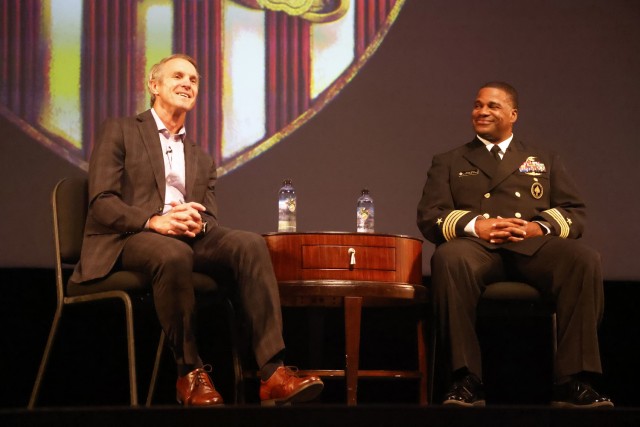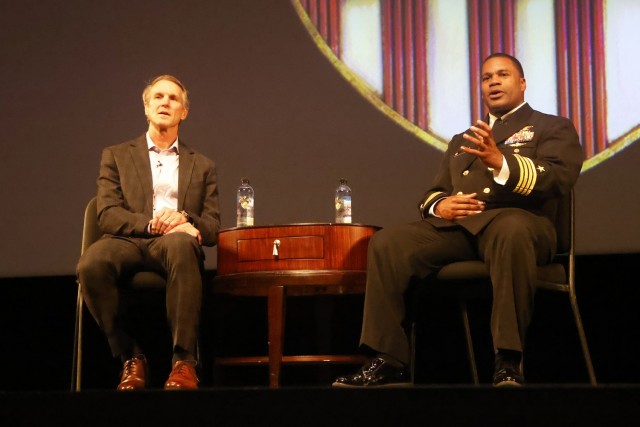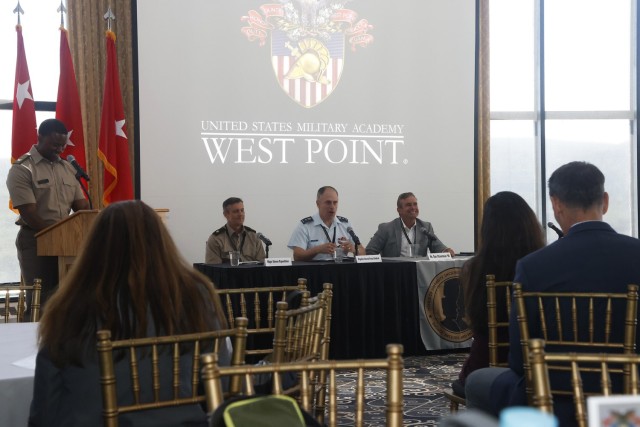 To adjoin with the U.S. Military Academy's academic year theme of "Innovation, Technology and the Future of National Defense," the 20th annual West Point Diversity and Inclusion Leadership Conference organized a corresponding theme of "Shaping Tomorrow's Defense: The Intersection of Diversity, Innovation and National Defense" during a two-day event, hosted by the Office of Diversity, Inclusion and Equal Opportunity (ODIEO), Aug. 30-31 at West Point.
"We tied our conference theme to the Dean's academic year 23/24 theme as the goal was to discuss why diversity and inclusion is important and how the importance of diversity and inclusion is to the defense of our nation," said Lisa Benitez, the West Point chief diversity officer in the ODIEO and a 1988 USMA graduate. "From the Buffalo Soldiers, the Navajo Code Talkers in World War II to the Borinqueneers and women in our Special Operations Cultural Support Teams – the diversity of our military makes us stronger."
The two-day conference set a record for attendance, with more than 400 registered attendees with about 40 panelists and moderators who discussed various topics covering the breadth of diversity and inclusion at the academy and throughout the military.
Among the attendees were West Point cadets, West Point alumni, cadets from the U.S. Air Force Academy (USAFA) and U.S. Coast Guard Academy (USCGA), servicemembers from the Army and Air Force, staff and faculty from multiple colleges and universities, including Historically Black Colleges and Universities (HBCUs) such as Norfolk State University, Fayetteville State University, Spelman College, Morgan State University, and officials from NASA, corporate CEOs, diversity and inclusion professionals as well as the commandant from the Royal Military College of Canada, Brig. Gen. Pascal Godbout.
The keynote speaker for the conference was retired Gen. Richard Clarke, former commander of U.S. Special Forces Command and a 1984 USMA graduate, who talked about diversity being a Special Forces operational imperative during his fireside chat with featured guest, U.S. Navy Capt. Jason Birch, a U.S. Naval Academy 3rd Battalion Officer and a 1999 USNA graduate.
Overall, the primary purpose of the conference, Benitez said, was to "discuss best practices on developing inclusive leaders and how to leverage their talents to enhance collaboration, communication, engagement and innovation with their organizations."
When the conference kicked off, Benitez implored the attendees through the duration of the event to keep three things in mind on the three rules of inclusive leadership and that was to "get out of your comfort zone, respect each other's perspective and leverage the knowledge, skills and experiences of others because we are better, smarter and stronger together."
One the key things that Benitez witnessed and came away with from the conference was how the leaders of tomorrow were thoroughly immersed and trying to gather as much knowledge as they could during the two days.
"It was great to see how many questions our cadets from USMA, USCGA and USAFA had for our speakers and panelists," Benitez said. "In addition to getting answers from subject matter experts, they had the opportunity to meet and engage with them. There is no doubt in my mind that new relationships and mentorships were established."
There was a combination of nine workshops or panels that touched on themes such as "Conversations not Confrontations," "Diversity in National Security," "Inclusive Intelligence," "Measuring DEI success," "USMA International Cadet Program," "Diversity is Universal," "Best Practices on Recruiting, Hiring and Retention," "The Future of College Admissions," and "Innovation through Diversity Research."
But before the workshops, panels, fireside chat and a breakfast table talk with 1980 USMA graduate Pat Locke, the USMA leadership team welcomed the attendees and spoke in-depth about the importance of diversity and inclusion to the current and future of the military and national defense.
In his welcome letter, USMA Superintendent Lt. Gen. Steven Gilland mentioned innovation being at the heart of the National Defense Strategy and the U.S. Army's efforts to build the Army of 2030 and beyond. At the heart of innovation, he explained, are people and "cohesive teams that fully harness a broad and diverse range of backgrounds, experiences and perspectives toward creative problem-solving."
As the conference brought together a diverse group of leaders and professionals, Gilland began his speech on the topic of diversity and "how important and how critical it is not only to our U.S. Military Academy, to our military but especially to our nation."
"Diversity is a broad spectrum of different thoughts and ideas," Gilland said. "We try very deliberately to get a very broad section of that because it matters as we think about how we are developing leaders of character at the U.S. Military Academy – that's our mission. When we think about it, we deliver leaders of character to you as citizens of our nation, to lead our Army and lead our nation."
Subsequently, Gilland seamlessly led the conversation into inclusion to "make sure everybody's on the same team."
"It's not just being a part of the team, it's being a contributing member of a team … it's incredibly important for the U.S. Military Academy and our Army," Gilland said. "When we think about who our Army represents, which is the citizens of our nation, which is the entire population, and we look at our goal here at the U.S. Military Academy is when we graduate, our graduates are representative of our Army … we pull from across the nation, young men and women serve our military all over the world. We have got to make sure that we are representative of our nation."
Command Sgt. Maj. Phil K. Baretto, USMA CSM, spoke next about diversity as a man born and raised in Hawaii, which he calls "the melting pot of the United States." He said that the Army is similar to where he grew up because of the diverse backgrounds of its Soldiers.
"As we all know, the strength of our Army and our military services is diversity of backgrounds, our experiences, our knowledge, where we came from, and the barriers that all people have had to go in and knock out every day," Baretto said. "Our diversity is what makes us stronger … no matter where you came from or what you believe in – it's our diversity that continues to make us strong and it is only going to get stronger."
Dean of the Academic Board Brig. Gen. Shane Reeves then exclaimed that this is one of his favorite conferences of the year, where he gets to meet many people from many different places, including some old friends and classmates.
Reeves talked about how innovation and diversity are greatly connected, and that innovation is not encapsulated in a single discipline or a single perspective or a single approach.
"Innovation is an interdisciplinary, really transdisciplinary approach to problem-solving," Reeves said. "We don't solve problems in a myopic way any longer, and we can't. We have to step up and look across disciplines and look across people. We need all people to come together to help us have innovative approaches to some of the problems that we're facing. Many times, when we think of innovation, we think tech, quantum computing, AI, but innovation is actually something different – it's organizational, it's procedural, it's legal … it's all interconnected.
"That interconnectedness only can come through having a broad range of perspectives and different approaches to problem-solving, which means the most important thing when it comes to innovation is the human element," Reeves added. "We're trying to develop a certain type of leader who has that innovative, creative and entrepreneurial mindset. What that means is we need someone who is not risk averse, who can mitigate risks, someone who is humble, but also going to think broadly and be willing to listen to all perspectives.
"We need our cadets to be able to be pushed in the classroom as we do in all other areas … that pushing comes, oftentimes, through making them uncomfortable," Reeves concluded. "That uncomfortability can be challenging assumptions, challenging things that they think, and oftentimes, that means they're trying to move from being binary thinkers into something more sophisticated and can take into account all types of perspectives – and think on a spectrum. In doing that, we become a much more powerful Army and nation."
After Reeves, USMA Commandant Brig. Gen. Lori L. Robinson talked about how inclusion is tied into national defense by the simple reality that the United States doesn't fight alone in its battles. She spoke about her time in Afghanistan in 2019 where she had the opportunity to serve in the headquarters in Kabul, alongside 38 NATO partners.
"As we think about inclusion within our own force, and we focus on those seeds today, it is wider than that," Robinson said. "Other nations look to the United States and to our military as an example of how we do that, and how we bring it together. As I think about the development of the cadets here, it's important to start developing inclusive leaders from the onset.
"Everyone has a different story that brought them here, that's the first story of their life," Robinson said. "Just take a minute and get to know someone else's story. It's going to open your eyes to some different backgrounds, some different thoughts and perspectives that maybe you didn't consider … if we take time to listen, I think that brings everyone together. That allows us to communicate better, to collaborate better because as we develop relationships, in periods of calm just like this conference today, so that in times of crisis, we can have hard discussions if we need to have them."
Last, but not least, before the question-and-answer session was U.S. Corps of Cadets Command Sgt. Maj. Robert Craven, who usually comes with the right amount of enthusiasm when talking to a large group. The Southwest Louisiana native proclaimed that "I am not a graduate of the U.S. Military Academy, but I've been a consumer of the West Point product for 28 years," which elicited a big laugh and applause from the crowd.
He discussed one of the workshop themes of "Conversations not Confrontations," and that in his opinion a good conversation sometimes feels like a confrontation.
"I will tell you that the reason why NCOs are here at this institution is because we owe unadulterated feedback to your commissioned officers who will no doubt lead the sons and daughters of America and who will no doubt lay down their lives for them," Craven said. "You have to know where I'm from, you have to know my story, you have to know that in 1995, I walked into the 101st Airborne Division, and as light skinned as I am and everyone can see my demographics, my first sergeant said, 'You know, Craven, I didn't know you were black until you started talking.'"
From there, Craven spoke about having conversations, about being respectful and don't be fake, especially as he owes it to the cadets who will be lieutenants in how to understand how to navigate the landscape of a diverse Army and he said "it ain't easy."
"I love you Dean … but, sir, there is not one book in your library that can prepare these men and women for the things they are about to walk into," Craven said. "I'm just being real with you. Emotional intelligence, empathy, all the buzzwords that people think make us weak – I say make us strong."
Then Craven got real without filter on his thoughts about the one word he hates, the word "woke."
"I've been all around the world, and within these institutions, I hear this word," Craven explained. "First of all, you don't want me to tell you what I think it really means. But second of all, I will tell you that it's sickening. It's sickening to see that we would allow to project a title like that onto men and women who will absolutely lead the sons and daughters of our nation.
"There's a lot of adjectives that I can use to describe West Point, my brothers and sisters woke is not one of them," Craven added. "What I'm telling you is it breaks my heart that all the good things that these young cadets do gets hijacked into a narrative of things that you've taken to a different level. I'll digress on that because I'm pushing a hot button issue, but I'm comfortable with being uncomfortable."
Craven spoke about how people want candor until it's time to be candid and that "we all like unadulterated feedback until that feedback is directed at us, and I've been there."
The biggest part of challenging the status quo is to build cohesive teams and develop innovative leaders, which in turn cultivates inclusive, diverse environments that foster innovation within organizations, which begins with conferences like the Diversity and Inclusion Leadership Conference.
When a question was broached to Gilland about narratives that seem to exclusively focus on race, ethnicity or gender during the academy selection process to ensure that the nomination process is representative of the nation's demographic, including people of all backgrounds, Gilland used his own experience to help show it strengthens and broadens the landscape of the leadership spectrum.
"It's not just race and gender. What we're fortunate to have is that we've got representation from all 50 states, we got representation from around the world … when we talk about advancing the narrative, I'm really looking for help because it's our community leaders, it's our school superintendents, it's counselors, it's principals, it's people within the community who identify those young men and women to say, 'hey, you got what it takes – you've got the talent, you got the capabilities to go to one of our service academies.'"
Gilland spoke about how the tendency is to look at the scores, the prospective cadets who score high in the SAT, ACT, go to AP classes or are captains of athletic teams or who are actively involved in community service. However, he said don't discount those prospective cadets who didn't grow up in households that allowed them to organically be the best they can be due to unfortunate circumstances.
"You know why? Because they're working a job to help out their family. They don't have those opportunities," Gilland said. "We have to identify them. We've got to bring them forward because they've got grit, they've got perseverance, they've got character traits that we're looking for, and it can't just reside within the academic spectrum.
"That's how I see diversity is to bring people in because of their stories, people who are out there who haven't been introduced to what the U.S. Military Academy or any of our service academies can do for somebody," Gilland added. "I'll tell you first and foremost, I think it changes the trajectory of people's lives and it changed the trajectory of my life. I grew up on a farm in Western Illinois to a single mom. I had no idea about this place until I showed up on the first day — R-Day.
"But here I am, 33-plus years later. I met my wife here. My son came here …" Gilland concluded. "It changed the trajectory of my life, and I would even say it had a generational impact. Again, I need folks helping that … and we have to keep that in mind that there's talent across our nation that exists in all forms, and you got to identify it."
Herman Bulls and the future of the West Point Diversity and Inclusion Leadership Conference
After the command group finished taking a few more questions, Gilland immediately made a major announcement and welcomed an inspiring person from the audience who had done many remarkable things for the academy – Herman Bulls, a USMA 1978 graduate.
Bulls, who is the vice chair of the West Point Association of Graduates (WPAOG) Board of Directors, endowed the conference, which will now go forward to include his name, his wife's name, Iris, and the entire Bulls family.
Mark Bieger, the president of the WPAOG and a 1991 USMA graduate, introduced Bulls while talking about his impact as a cadet as he played football and studied engineering. He then moved onto 12 years of military service as an Airborne Ranger before moving into the corporate world where he started companies and led boards while also currently serving on the Defense Policy Board for the Secretary of Defense. Two of his three sons, Herman Jr. ('05) and Jonathan ('11), are also West Point graduates and his wife also served in the Army.
Bieger read a quick note from WPAOG's Chairman of the Board, Bob McDonald, who said of Bulls, "I want to thank Herman for his leadership and partnership as vice chair of AOG and his generous donations to the (West Point Ready Campaign)."
"Since 1996, Herman has served AOG in various roles," Bieger said. "Herman's steadfast commitment to ensure that graduates with diverse backgrounds remain connected to and engaged with West Point, and helped launch the very first Diversity and Inclusion Conference, and it is fitting that this conference will now forever be associated with Iris and Herman Bulls and their family. Herman with your time and talent, you have impacted West Point in meaningful ways."
However, Benitez did say that the endowment agreement and the naming of the conference are still not yet completed, but the plan is to include both Herman and Iris Bulls' names to go along with the current "West Point Diversity and Inclusion Leadership Conference."
"Thanks to the Bulls family, this conference will be funded in perpetuity," said Benitez, who first met Bulls in May 1997 when she first started working at WPAOG.
She first started at the Office of Development and discussed many philanthropic opportunities that were close to Herman and Iris' heart.
"Iris was one of the first diversity officers at West Point in the early '80s and she was also passionate about foreign languages," Benitez said. "Herman's passions were linked to diversity, athletics and the social sciences department. His philanthropic support spans various Margin of Excellence programs. A few years ago, when Herman expressed interest in creating an endowment, I suggested the West Point Diversity and Inclusion Leadership Conference as an option. When I was informed he made the decision to endow the conference, I was like, 'Yes!' He was one of the founders of the first conference back in 1996, so this is very apropos."
Bulls came up to the podium, spoke for a few minutes, and started by giving thanks to the USMA command team for their participation and support of the conference.
"Your efforts are really invaluable, a model of senior leadership for all of us of what it means for you to support diversity and inclusion," Bulls said.
Bulls talked about how fitting it was to convene the conference a couple of days after the 60th anniversary of the March on Washington, but for as much progress that there has been in the ensuing 60 years that there is "still a lot of ground to cover."
When speaking about Craven's earlier comments, from Bulls' own experience on the Defense Policy Board, he receives many questions about wokeness and critical race theory all the time, but he summarized his usual response to such queries.
"We teach cadets how to think, not what to think, and that's critically important as they go out and lead America's son and daughters," Bulls said. "Within the process, we prepare them to operate in a very dynamic, uncertain environment."
Then he transitioned to the importance of what the two-day conference offers in reviewing the state of diversity, sharing best practices and developing solutions, which will "make our Army, our Department of Defense and our nation better."
"It's important that we provide this opportunity so each Soldier and civilian can bring their authentic selves to work each day, collaborate as a team, and ultimately, provide for the defense of our nation," Bulls said. "That's a big task but we anticipate each of you will contribute during the conference."
Bulls remarked how he and his fellow 1978 classmate, Curtis Harris, were once considered the "fly in the ointment" when they began the process of starting the earlier version of the diversity conference in 1996.
The thought of this conference at West Point came from his experience in participating in student government during his master's work at Harvard Business School. There were issues of getting African American graduates to participate in reunions since their numbers were not exceptionally large or conducive.
"The reason for that is people generally come back to things where they had fond memories – they have reasons to want to come back," Bulls said. "What we did there is we said, OK, you have 10 (black) people in this class at the reunion … so let's get all the classes to bring the African Americans. It turned out to be a phenomenal process and it worked very well – the camaraderie, the connection, etc."
At the same time, Bulls was on the faculty at West Point in the Social Sciences Department, and in his mind, he saw it as an opportunity to galvanize the black graduates. So, he got together with Harris and Minton Francis, a 1944 USMA graduate, who was the first African American to serve on West Point's Board of Trustees.
They all convened with the Chairman of the AOG Board at the time, Shy Meyer, a 1951 USMA graduate, with the objective to "have people recognize this important group of people because of the way our mission was going."
"Through (those meetings), we were able to establish the AOG Diversity Committee … we had our first conference in 1996, which we went out and raised the money," Bulls said. "We raised about three times the costs of the conference, so that showed the interest was there."
Bulls has a deep love for West Point and mentioned how it has been an integral part of his family's life. He emotionally spoke about how he and his late wife, Iris, danced on the West Point Club Ballroom floor, where most of the conference took place, almost 43 years to the day.
"It's fitting that we're here … additionally to being married here, it's a little bit full circle because Iris is buried here at West Point, so it's always a great opportunity for me to come back," Bulls said. "Our family is really glad to support this conference with an endowment in memory of Iris, and to have the legacy of her contribution to the nation memorized."
Then, he also added that prior to Iris' passing that she identified the Department of Foreign Languages as a gift beneficiary to support minority cadets to receive additional training in language and culture.
"I'm happy to report that along with endowing this conference, our family also endowed that program in the Department of Foreign Languages. She also established a similar endowment at her alma mater, Virginia State University, which is an HBCU," Bulls said. "Our family is privileged to have the opportunity to support this very important initiative … our hope is that the outcome of this conference and future gatherings will contribute to a more perfect union. We've got some big minds in the audience, and I know you can do it.
"On behalf of my three sons – Herman Jr., Nathaniel and Jonathan – and the rest of the Bulls family, thank you very much for providing me the opportunity to share words about Iris," Bulls concluded. "And, most importantly, thank you for taking time to participate today and have a great conference."