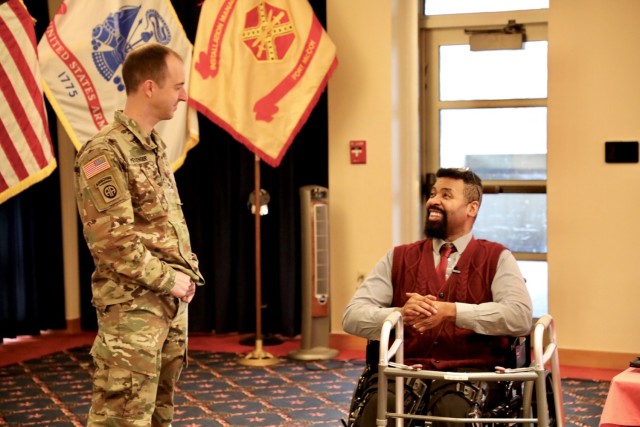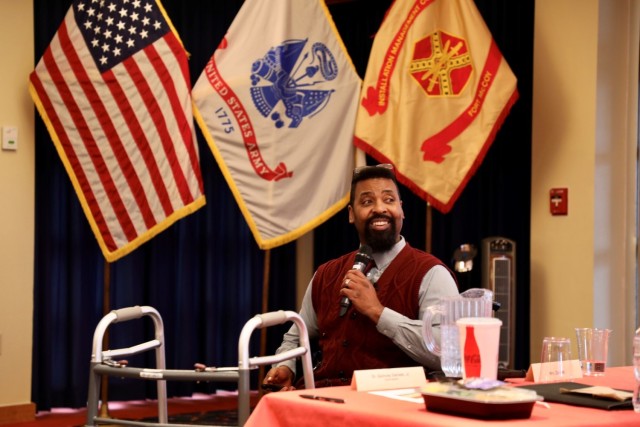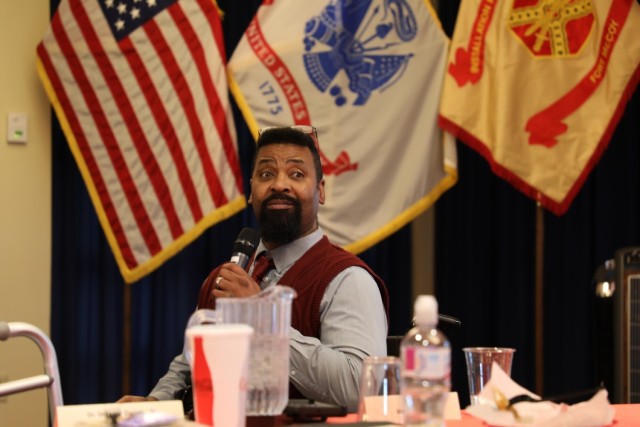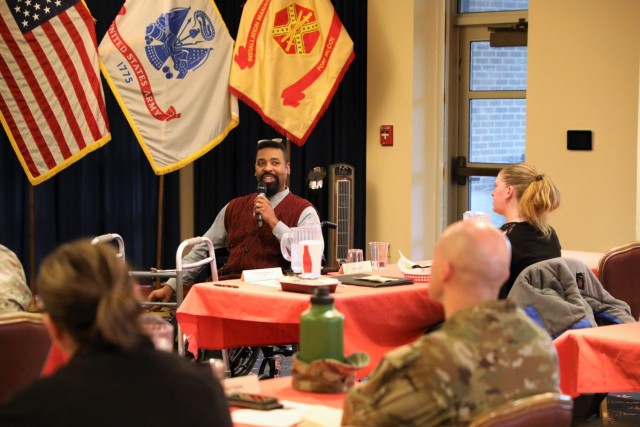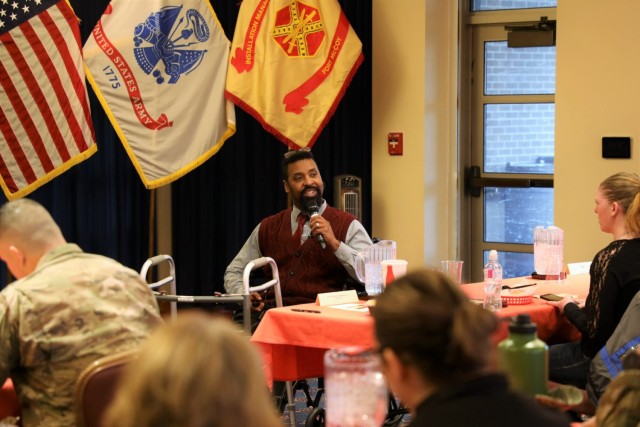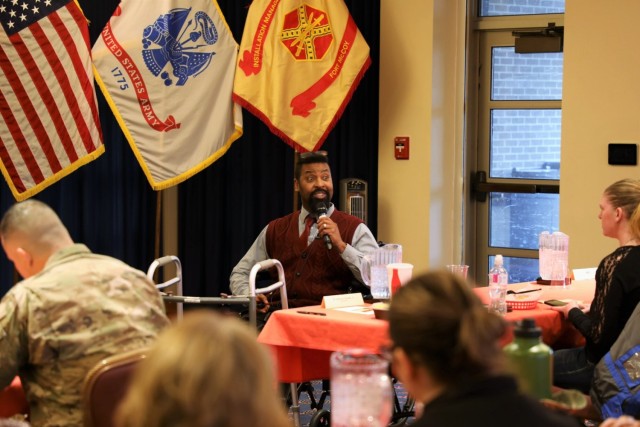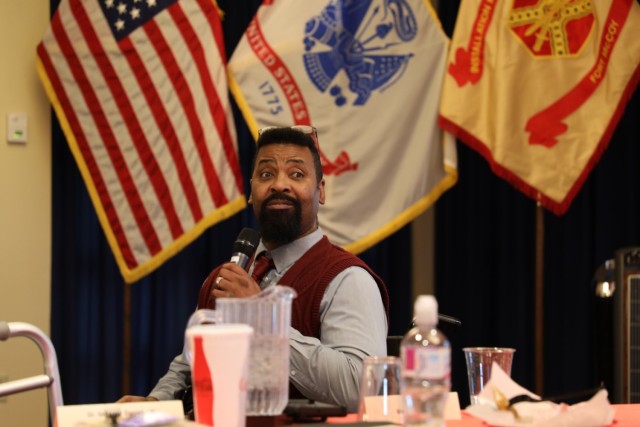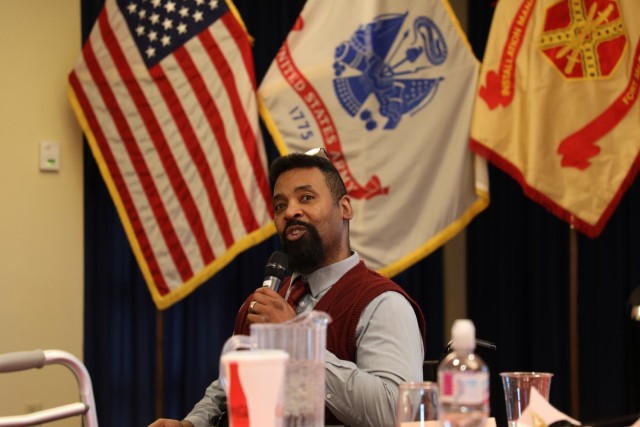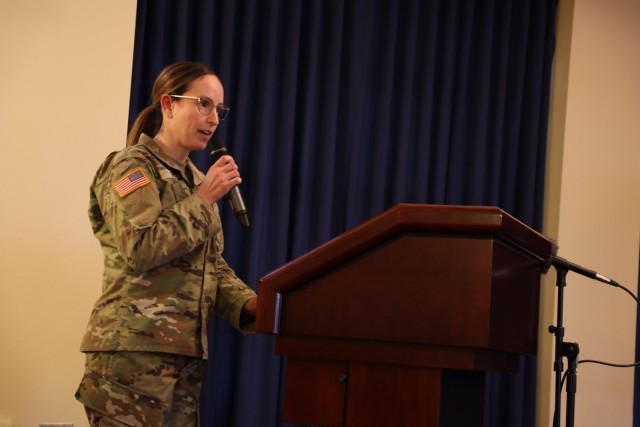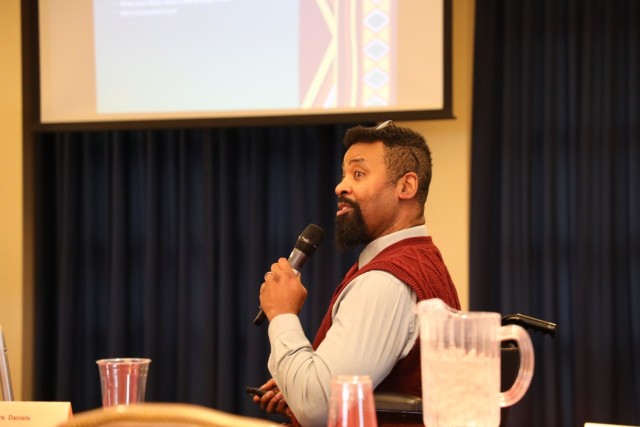 Fort McCoy held its 2023 Black History Month observance Feb. 16 at McCoy's Community Center with Dr. Quincey Daniels Jr. serving as the featured guest speaker.
Black History Month, also known as National African American History Month, is an annual celebration in February of achievements by black Americans and a time to recognize the positive impact they've had on the history of the United States.
The observance was organized by the Fort McCoy Equal Opportunity Office. Master Sgt. Ana Guzman with the office opened the observance with opening remarks. She was followed by Chaplain (Lt. Col.) Amy Noble, garrison chaplain, with the Fort McCoy Religious Support Office who gave the invocation.
Guzman then introduced Daniels. Daniels is a former Army officer and veteran of many deployments. He's also an educator and serves as a dissertation chair and organizational program lead in the School of Education at National University. He's a native of San Antonio, Texas, and is a current resident of Mindoro, Wis.
During his presentation, Daniels shared personal experiences about himself and his family, and more.
"Well first thank you for having me here," Daniels said. "I really appreciate the time to be back on Fort McCoy since it's been a part of my life since 1991. … Black history is American history. That's typically what everybody can remember. Black history is American history.
"What does it mean to me? … We make a difference, and we can do the mission just like everybody else. … Everybody is better when we work together. That's the key message," Daniels said.
Daniels also talked about his father Quincey Daniels — an Airman in the U.S. Air Force and a boxer on the 1960 U.S. Olympic team where he earned a bronze medal. His father was also the 1959 U.S. Amateur Lightweight Champion and the 1970 U.S. Amateur Light Welterweight Champion.
"He was a member of the 1960 Olympic boxing team and what he wanted to do was serve his country, even though civil rights were not guaranteed back then," Daniels said. "And I grew up in that time frame. … But his claim to fame is that he had this little-known thing ... he always had the resting, I'm tired face, and he went with this rambunctious Cassius Clay who became Muhammad Ali.
"So, the family line or lineage has always been boxing or serving or something … everybody does some form of service," Daniels said.
Daniels described his father's struggle for equality and how much it bothered him.
"It's like here I am serving my country, winning a medal against competitors from all over the world, and I had no rights," Daniels said in describing his father's feelings.
Daniels then went on to share some more about his service overseas one how proud he has been to carry on his family legacy, which he also shares with his own children.
After Daniels completed his presentation, Garrison Commander Col. Stephen Messenger thanked Daniels for supporting the observance and presented him with a special appreciation plaque. Chaplain Noble then gave the benediction, and Guzman then closed the observance.
Fort McCoy's motto is to be the "Total Force Training Center."
Located in the heart of the upper Midwest, Fort McCoy is the only U.S. Army installation in Wisconsin.
The installation has provided support and facilities for the field and classroom training of more than 100,000 military personnel from all services nearly every year since 1984.
Learn more about Fort McCoy online at https://home.army.mil/mccoy, on the Defense Visual Information Distribution System at https://www.dvidshub.net/fmpao, on Facebook by searching "ftmccoy," and on Twitter by searching "usagmccoy."
Also try downloading the Digital Garrison app to your smartphone and set "Fort McCoy" or another installation as your preferred base.