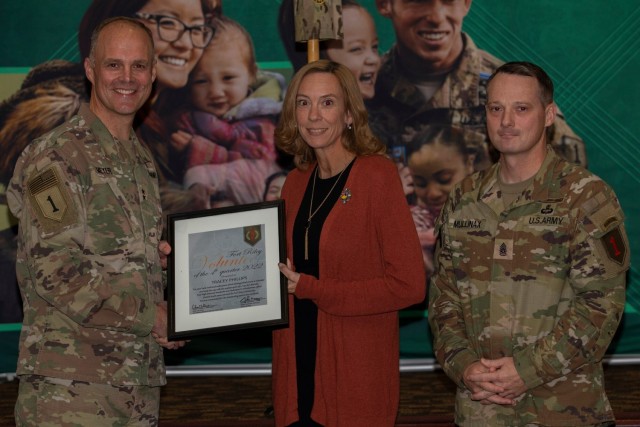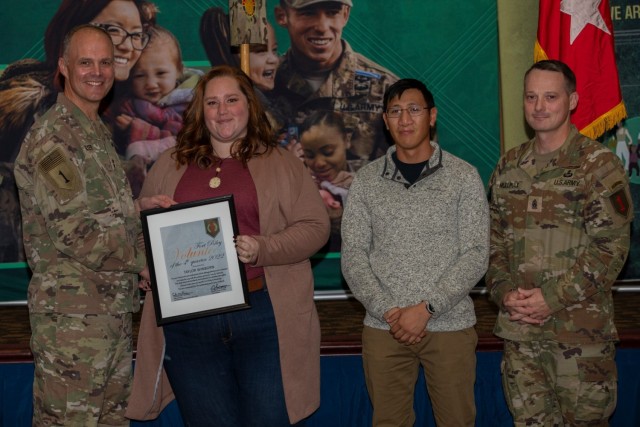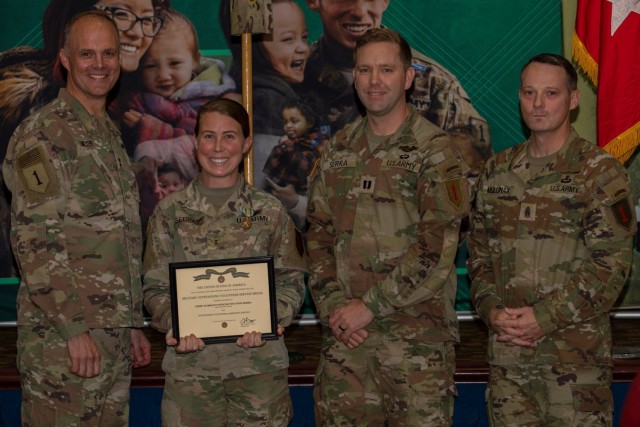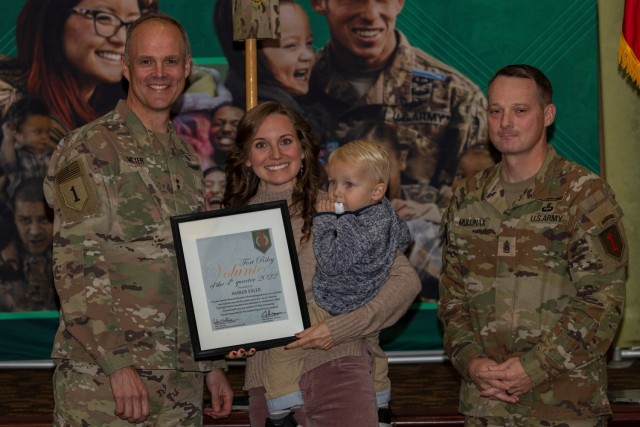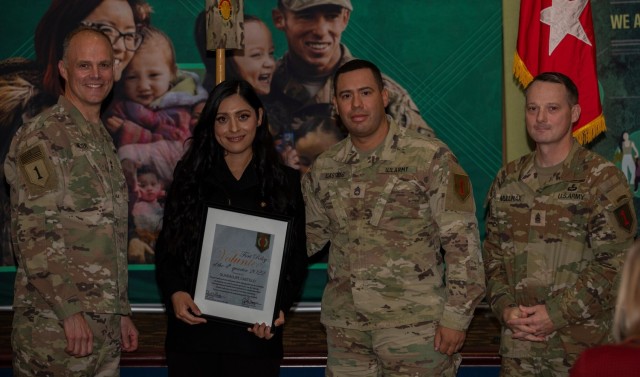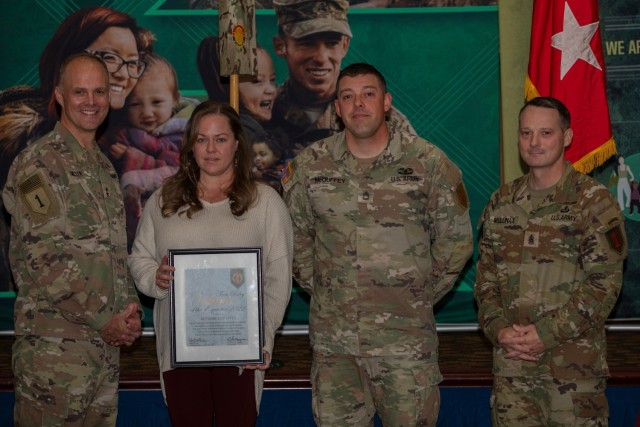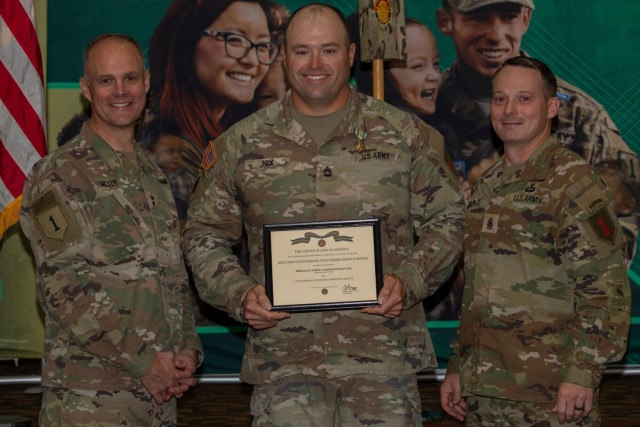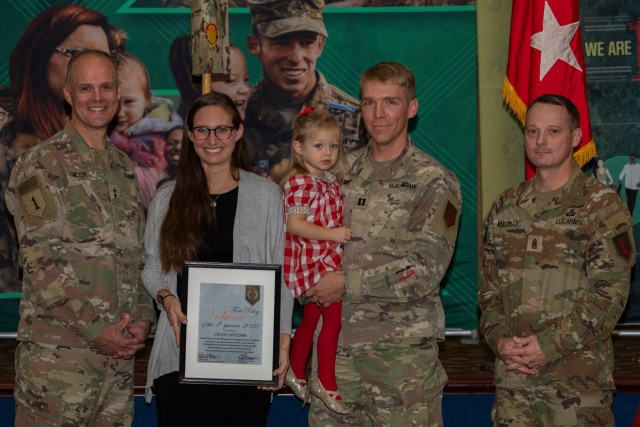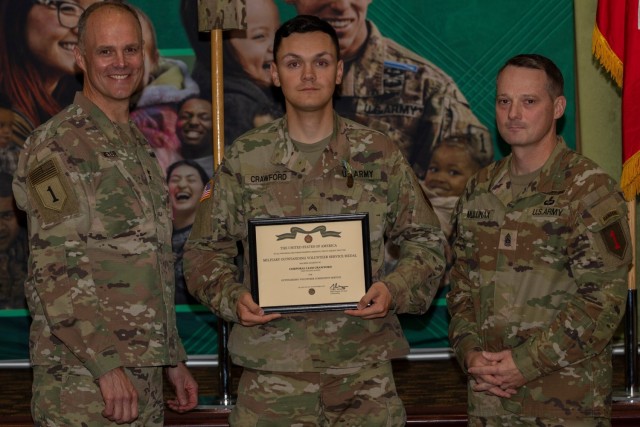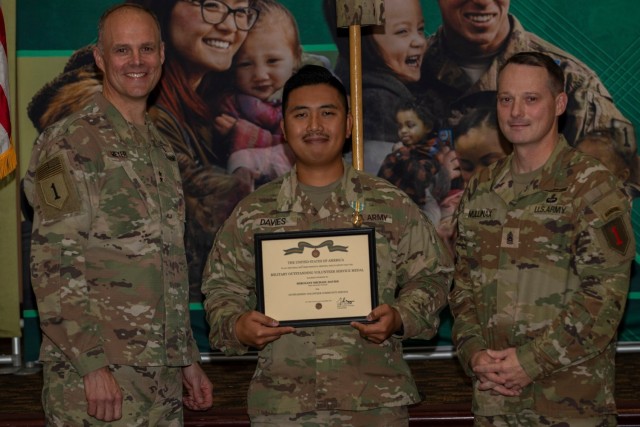 FORT RILEY, Kan. — The 1st Infantry Division and Fort Riley held a Volunteer of the Quarter Ceremony on Nov. 7, 2022, at Victory Hall.
The ceremony was held to recognize Big Red One Soldiers and local Fort Riley community members who have invested countless hours and resources into the installation and community through volunteering within the last 3 months.
"It's really important to take the opportunity while we're home to recognize these individuals," said U.S. Army Maj. Gen. John V. Meyer III, the commanding general of the 1st Infantry Division and Fort Riley.
During the ceremony, 21 Soldiers and community members were recognized and awarded either the Military Outstanding Volunteer Service Medal for Soldiers or the Volunteer of the Quarter Award for civilians.
"At the end of the day, the Army is not made up of tanks or bradleys or paladins," said Meyer. "The Army is made up of Soldiers, civilians and family members who volunteer- that's the United States Army. That's our community."
Those receiving the Military Outstanding Volunteer Service Medal at the ceremony were 2nd Lt. Tanner Villasenor, Sgt. Zachary Manteghi, Chief Warrant Officer 2 Toni Serra, Cpl. Liam Crawford, Spc. Savannaly Melo, Sgt. 1st Class Matthew Nix, Sgt. Michael Davies and Spc. Owen Barnett.
Those receiving the Volunteer of the Quarter Award at the ceremony were Erin Gallatin, Jamie Oakley, Tracey Phillips, Stephanie Fodness, Taylor Winborn, Lillian Bowers, Ezmeralda Niewenhuis, Amber Exler, Guadalupe Castillo, Ashley Jarvis, Gracie Lipscomb, Autumn McGuffey and Sherry Wright.
"It feels nice to be recognized," said Gallatin. "I'm appreciative to all the people who made sure it happened."
Gallatin's work directly supports the 1st Inf. Div. and Fort Riley. She currently volunteers as the Headquarters and Headquarters Company, 2nd Battalion 34th Armored Regiment, 1st Armored Brigade Combat Team, 1st Inf. Div. Soldier Family Readiness Group leader, while simultaneously serving as the president of the Fort Riley Spouses Club. She also works as the Stroller Warriors coordinator and regularly volunteers for Operation Home Front.
"I like to be able to help other people" said Gallatin. "Wherever I go, I like to leave that place better than I found it. It's always nice to make sure to volunteer and provide that support that communities need."