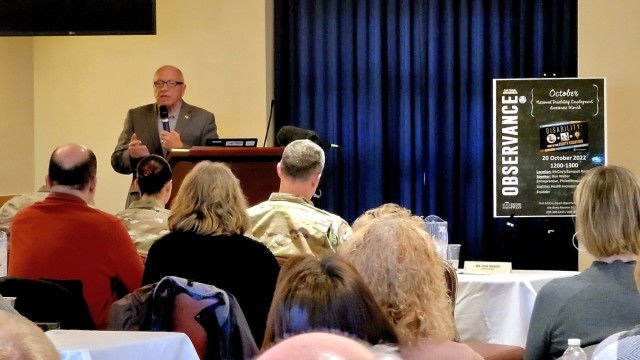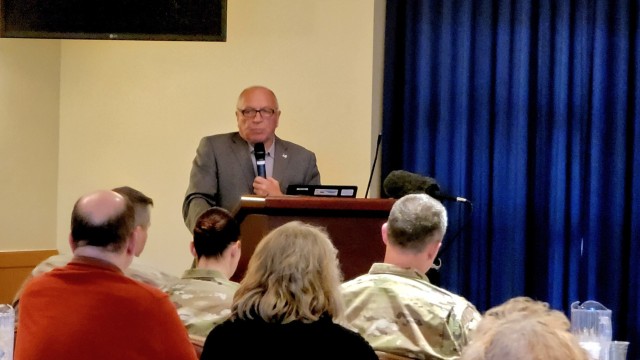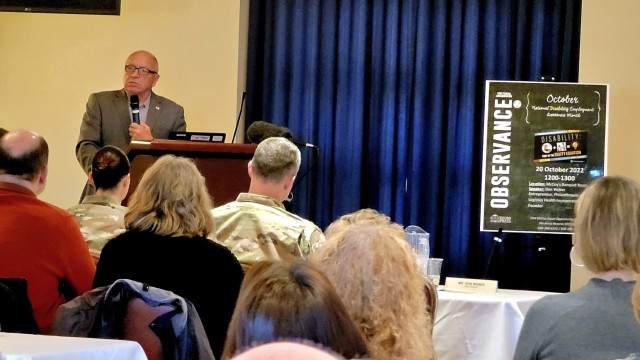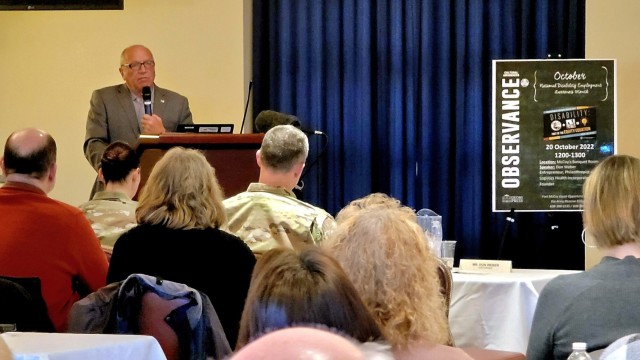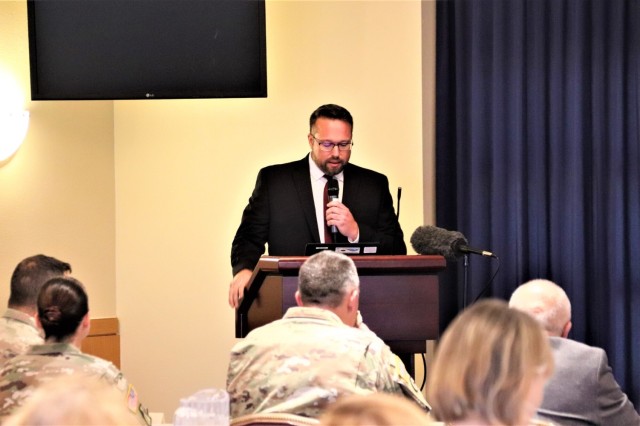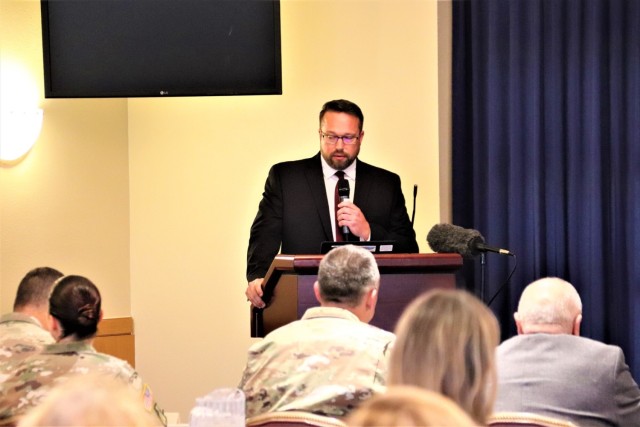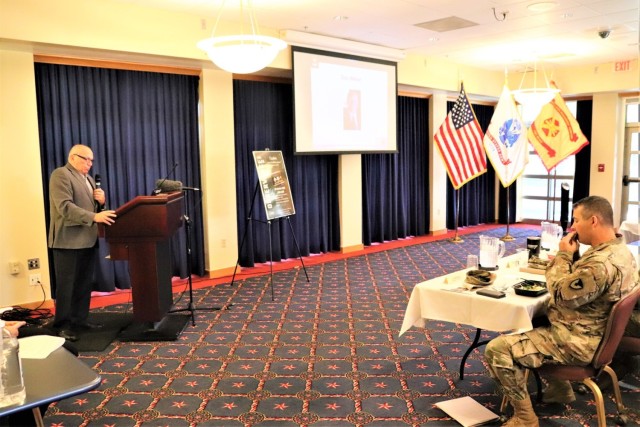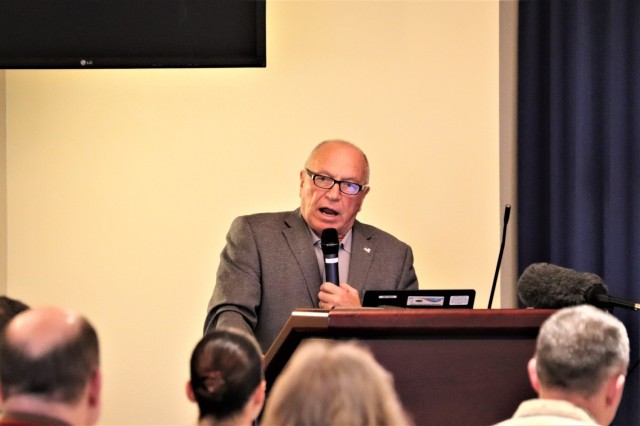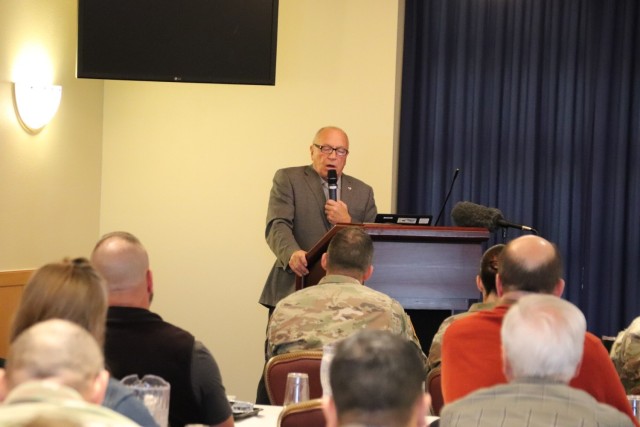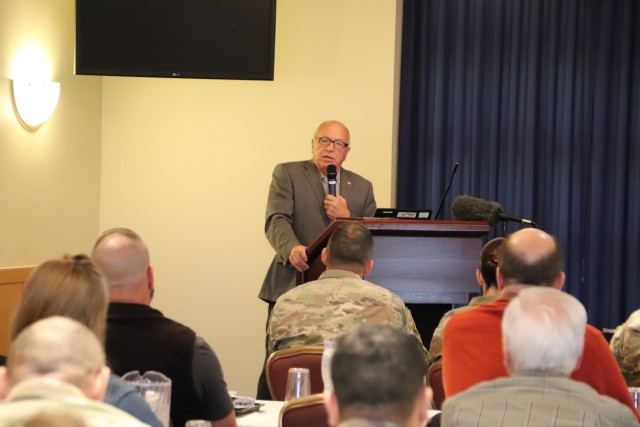 Entrepreneur and business leader Don Weber served as the guest speaker during the 2022 Fort McCoy observance Oct. 20 for Disability Employment Awareness Month at McCoy's Community Center.
Dozens of people attended the event that featured Weber, who is the CEO and founder of Weber Health Logistics and the founder Logistics Health Incorporated (LHI — now OptumServe Health Services) of La Crosse, Wis., recall memories from his youth as well as the importance of the contributions of people with disabilities have in the workplace.
"I don't tour and speak a lot," Weber said. "I don't. … I'm a farm boy. And I went into the military as a Marine when I was 18, and it truly had so much to do with shaping my life and where I am today. I have so much respect for you. Men and women who serve — you're less than 1 percent of our population. Think about that."
According to the Library of Congress at https://www.loc.gov/accessibility/disability-employment-awareness-month, in October, "Americans observe National Disability Employment Awareness Month by paying tribute to the accomplishments of the men and women with disabilities whose work helps keep the nation's economy strong and by reaffirming their commitment to ensure equal opportunity for all citizens.
"This effort to educate the public about the issues related to disability and employment began in 1945, when Congress enacted Public Law 176, declaring the first week of October each year as National Employ the Physically Handicapped Week. In 1962, the word 'physically' was removed to acknowledge the employment needs and contributions of individuals with all types of disabilities. Some 25 years later, Congress expanded the week to a month and changed the name to National Disability Employment Awareness Month."
Weber also discussed in his opening about his father and how veterans fight through post-traumatic stress disability to continue with their lives in employment and more.
"You know — the freedoms we enjoy every day — in the greatest country in the world, are because of … your sacrifices … you signed on that dotted line," Weber said. "But we don't realize, in some cases, it's a lifelong commitment. It's always here. Suicide rates amongst our veterans is 1.5 times greater than the general population.
"So, when I was asked to speak about disabilities, I got thinking back about my father," Weber said. "Seventy-seven years ago right now (he) was in a concentration camp. You're down about 100 pounds, starvation, sleep deprivation, torture — all the things they went through. He believed he was going to die there. So he tries to escape. … He had the courage to face his fears.
"As I've gone through life, I realized some of the finest things in life are placed on the other side of fear," Weber said. "You walk towards your fears, not away from them. … He had a disability. … He lived with that disability."
Weber also talked of a man with disabilities he got to know who now works for the company he founded.
"It was about 10 years ago, his name is Hunter Wagner," Weber said. "He had been blind since birth, but he has this beautiful voice. So back then when I had LHI, we hosted a huge concert every year for veterans causes called Freedom Fest. So, I asked Hunter if he'd be willing to open the event singing the national anthem.
"And it was really interesting," Weber said. "We got him up on the stage, and all of a sudden, it's hush with over 1,000 people (in the audience). We've had the likes of Chicago, Three Dog Night, and John Fogerty, but there has never been a more heartfelt performance, and I dare to say truly by the time Hunter was done singing the national anthem, there wasn't really a dry eye in the house."
Weber also shared how he learned a lot from Wagner's experiences and from others with disabilities, and he hopes that progress continues to be made.
"It's my solemn hope that we continue on this path to achieving a more diverse and inclusive workforce, even when the pandemic fades into history, and long after the barriers to accessibility no longer affect the general population," Weber said. "To get there, we have to look out over the employment landscape and envision in our mind's eyes what's possible. We must listen to and learn from the experience and perspectives of our brothers and sisters with disabilities, and we must continue to seek out, embrace, and leverage solutions that remove the barriers to accessibility."
Army Reserve Disability Program Manager Derrick Caulkins served as the master of ceremonies for the event. The event was organized by the Army Reserve Equal Employment Opportunity Office at Fort McCoy and by Master Sgt. Ana Guzman with the Fort McCoy Equal Opportunity Office.
Weber received a special appreciation plaque for serving as guest speaker from the Fort McCoy Garrison command team as well.
Fort McCoy was established in 1909 and its motto is to be the "Total Force Training Center."
Located in the heart of the upper Midwest, Fort McCoy is the only U.S. Army installation in Wisconsin.
The installation has provided support and facilities for the field and classroom training of more than 100,000 military personnel from all services nearly every year since 1984.
Learn more about Fort McCoy online at https://home.army.mil/mccoy, on the Defense Visual Information Distribution System at https://www.dvidshub.net/fmpao, on Facebook by searching "ftmccoy," and on Twitter by searching "usagmccoy."
Also try downloading the Digital Garrison app to your smartphone and set "Fort McCoy" or another installation as your preferred base.