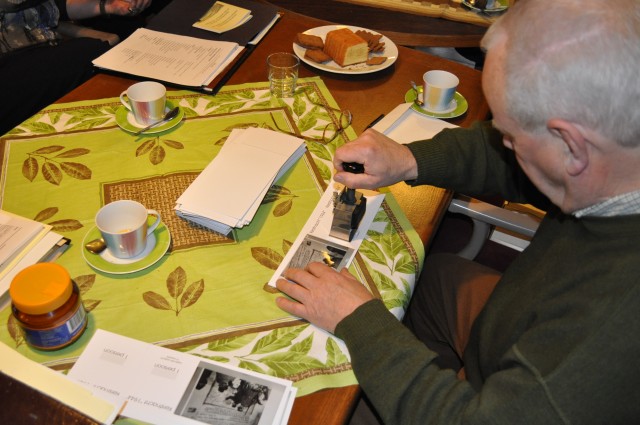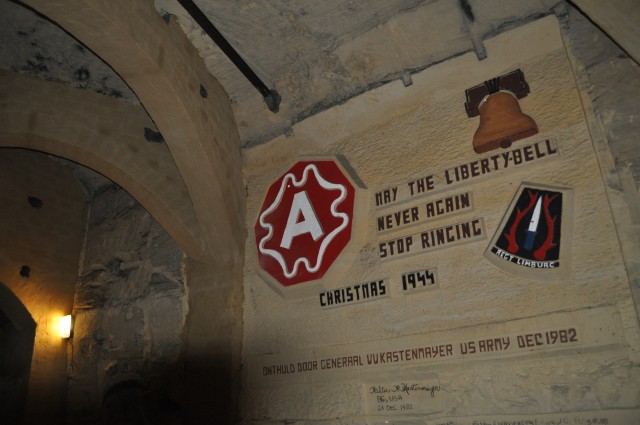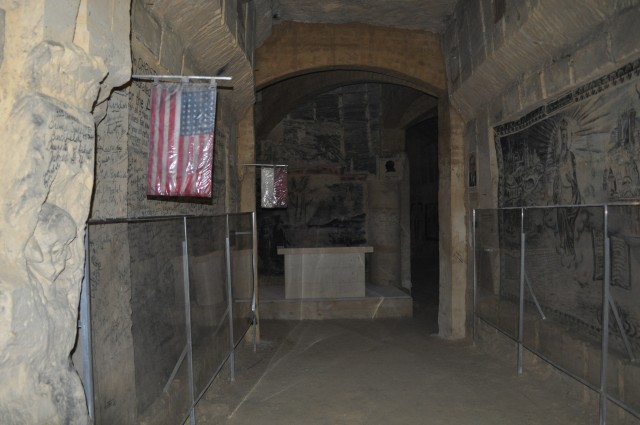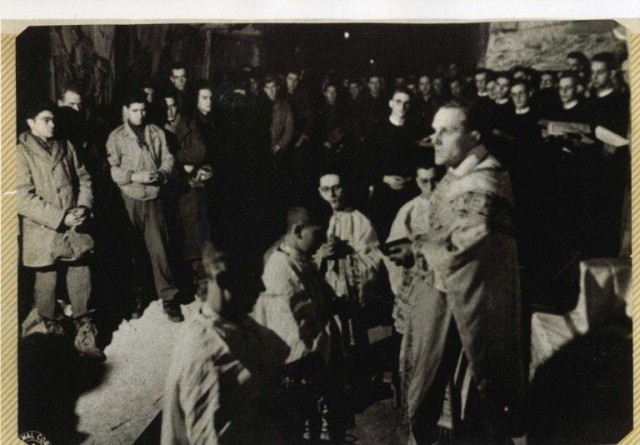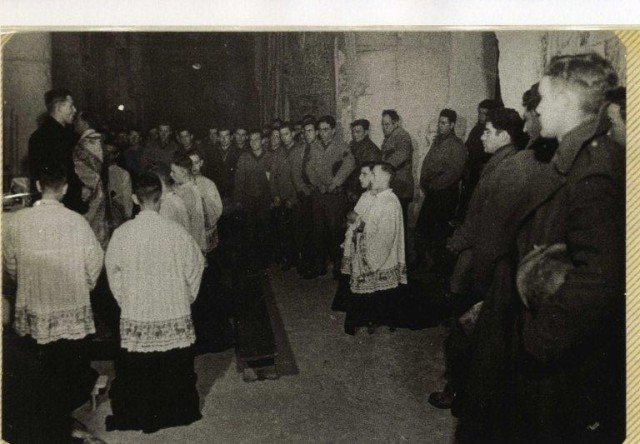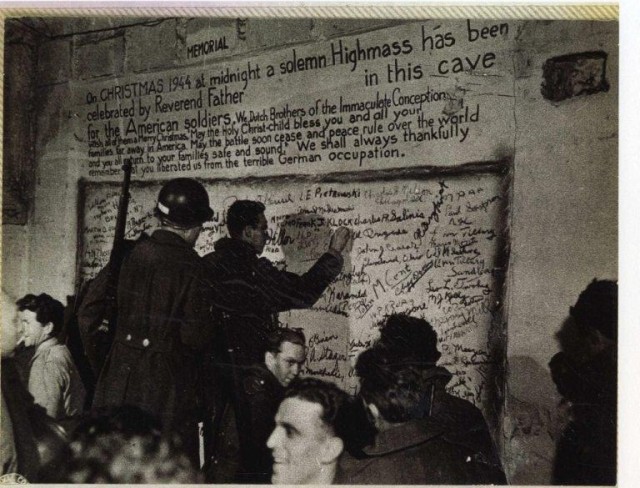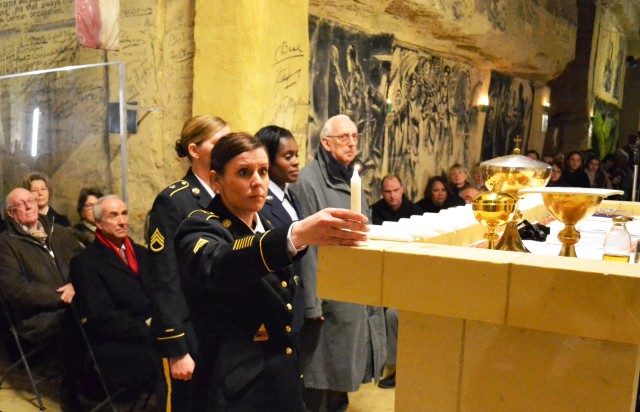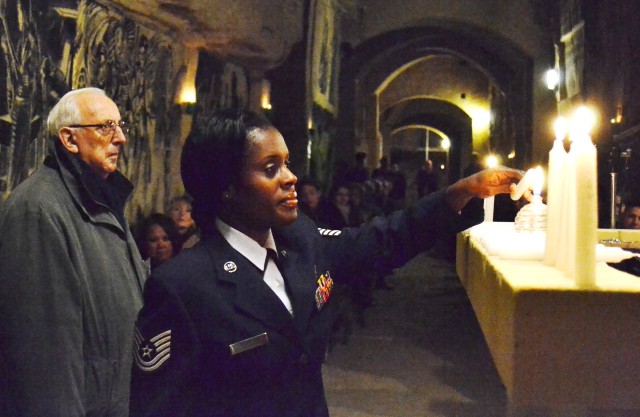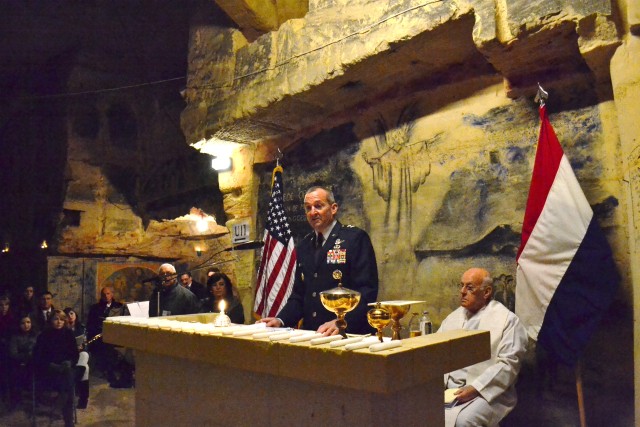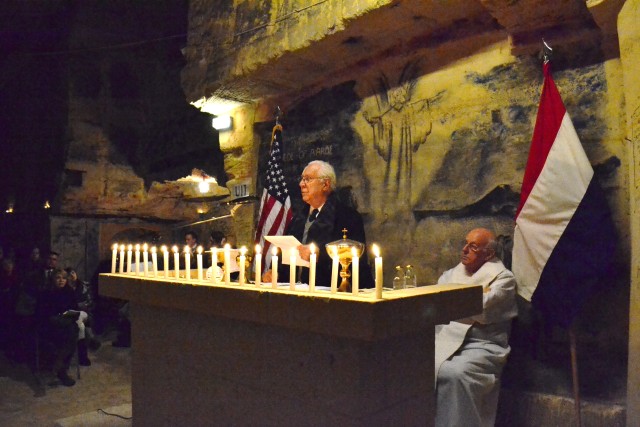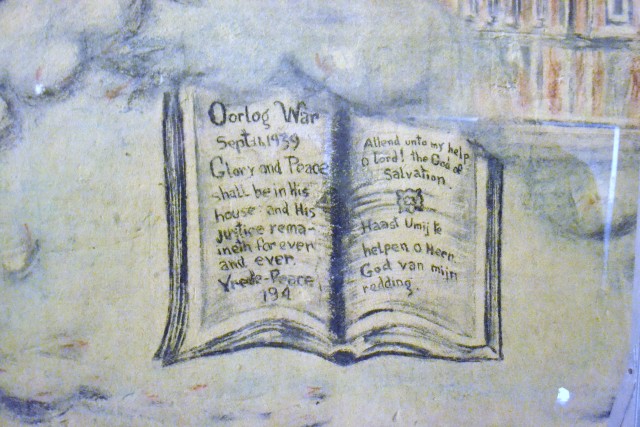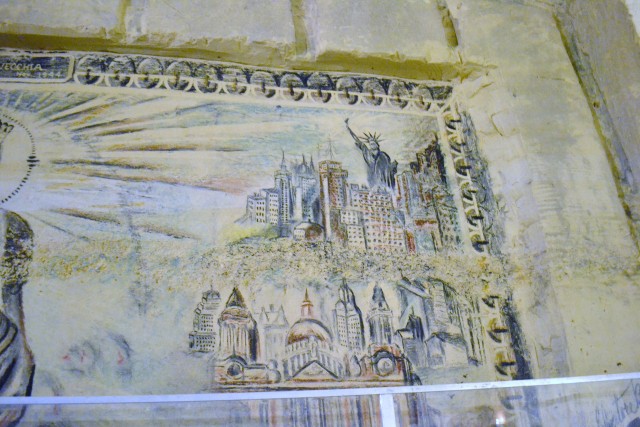 MAASTRICHT, Netherlands -- "I remember times bunkered down as rounds impacted near-by, but I don't think it was ever at the magnitude these men endured," said U.S. Army Staff Sgt. Rachel D. Weimar, a four-time war Iraq War Veteran from Cleveland, Minnesota, who lit candles today to honor Soldiers who celebrated Christmas Eve 1944 in the De Schark Caves here before facing the Battle of the Bulge.
The Battle of the Bulge took place in the winter of 1944 and 1945, marked a turning point for Allied Forces and is where all armies involved suffered approximately 190,000 casualties (killed, captured or missing).
In 1944 and inside the sandstone galleries of the De Schark cave, Brothers of the Dutch Monastery Beyart had built an altar where they held services safe from aerial bombardment. Approximately 300 Soldiers were invited to celebrate Christmas Mass.
Tonight over 200 U.S. and Dutch personnel participated in a special service to honor the courage of those Soldiers.
The 1944 Christmas Eve Mass was led by a Father Dobrzynski from New York and whose full name escapes research efforts at the time this story was released.
Tonight's service was led by the Monastery Beyart's Father Koos Janssen and USAG Schinnen Garrison Chaplain Lt. Col. John Etterbeek.
The sandstone walls of the De Schark Cave are home to many carved monuments. One area was flattened and decorated by Corporal Salvatore Barraveccia where he left a charcoal etching and a few hopeful words to mark the Christmas Mass held there in 1944, "May the battle soon cease and peace rule over the world and you all return to your families safe."
At the end of the 1944 Mass, the Soldiers wrote their names on the flattened area Cpl. Barraveccia made and is now their self-made memorial.
"In 2011 it is a stretch to fully understand and comprehend the emotions and feelings of those men who inscribed their names on that wall on December 24, 1944, 67 years ago," said U.S. Air Force Maj. Gen. Joseph Reynes, Operations Director at NATO's Joint Forces Headquarters Brunssum and the U.S. Senior Military Representative to the Netherlands.
"They gathered together as a fraternity forged in combat knowing that it may be their last Christmas," Reynes said, with his remarks followed by a traditional Mass.
"I was standing there," said Aloisio van den Broek, a Brother of the Dutch Monastery Beyart as he pointed to the wall inscribed with names of Americans and Dutch who participated in the 1944 Christmas Eve Mass. Then he was 20 years old.
"I was standing there with my fellow Brothers. We were happy young men, most of us 20 years old. Happy because we had been liberated from oppression, hunger and fear," Broek said.
"On that side there stood the Americans. I can see them still clearly before me. They had just come straight from the front lines," Broek said as he pointed towards a passage in the cave where participants sat and listened to his account.
"We lived with these Americans for about three months. We ate with them. We saw them in our convent… and we shared wild snowball fights together," Broek said.
Approximately 800 Soldiers were assigned in the Maastricht area in Dec. 1944, which served as a logistics and "rest and relaxation" location. Most of them went on to fight in the Battle of the Bulge. Historical accounts indicate only 55 of these 800 survived, but it's difficult to confirm their actual fate.
The service included a roll call of 15 U.S. and five Dutch Soldiers killed in action. As each name was recited, a Dutch or U.S. Soldier lit a candle, including Staff. Sgt Weimer.
"I remember how I would drive down a main supply route in Iraq clenching my fist to the steering wheel in fear that at any time something would detonate underneath me and take my life or limbs, but I at least had some protection around me. These men left that cave on Christmas morning on foot, without this kind of protection I had, to face the elements of weather and likely an ammo shortage," Weimar said.
The Battle of the Bulge severely strained army supply lines. It was made worse by a frigid, brittle winter and is remembered as one of the most arduous battles in military history.
"Tears grow in my eyes when I put into perspective what that night was like for those men and to be able to attend this service in the same cave they did 67 years ago is surreal, sincerely my pleasure and an honor," Weimar said.
Historical records confirm that most of the Soldiers who participated in the 1944 Mass were from the 117th, 119th and 120th Regiment, 30th Infantry Division Old Hickory, as well as some stranded crew members from allied aircraft that had been shot down. The Soldiers were part of the XIX US Army Corps, Tomahawk, who fought with the 113th Cavalry Group Red Horse and the 2nd Armored "Hell on Wheels" Division totaling approximately 30,000 soldiers who were responsible for liberating South Limburg.
Limburg is the Netherland's southern-most province and the Municipality of Schinnen hosts the home of U.S. Army Garrison Schinnen. USAG Schinnen was formally established there in 1969 and today supports over 5,000 U.S. Military Service Members, Government Service Civilians and their Family Members stationed across northern Germany, northern Belgium and the Netherlands to international and NATO military communities.
"I was born in 1954 and heard the stories from my elders about the war and lived with its effects. We had to buy our food with paper coupons because everything was still being rationed when I was growing up. We know the importance of what the Americans did. That's why this service is so important to us," said Rinus van Oostrom, a member of the Commemoration Foundation.
The Commemoration Foundation, or the Foundation of the Commemoration of the American Christmas Celebration 1944, is a group of Dutch citizens who is passionately committed to preserving the memory of the De Schark Cave and the Americans who liberated their country in 1944 and 1945.
In 1980, Maastricht ex-Commando veteran Charles Smitshuysen joined with the Brothers of the Beyart to hold a commemoration service in the De Schark Cave. Although an annual Mass was held in the caves since 1944, the tradition was made more formal in 1980. In 1981 a special relief was carved into the sandstone walls of the cave and unveiled by Honorable Fons Baeten, then the Mayor of Maastricht, to commemorate the 1944 event.
In 1982 a special plague was attached to the wall and unveiled by U.S. Army Brig. Gen. Walter W. Kastenmayer, who once served at NATO's Headquarters Allied Forces Central in Brunssum, Netherlands before its recent re-designation as "Joint Forces Command Brunssum" in 2010.
In 2005, the DeSchark Cave was closed for repairs. Led by the coordinating efforts of Mr. Alphonse Brüll, Chairman of the Commemoration Foundation, the caves were made safe to resume the tradition, but blizzard conditions forced the event to be cancelled Dec. 24, 2010.
"The foundation worked with great enthusiasm to get the caves ready. We worked with land owners and the City of Maastricht to arrange permits... we are grateful to the American base in Schinnen who helped us share this night with American Soldiers and their Families," van Oostrom said.
The Roll Call
The 2011 service included one Dutch Military and three U.S. Members Service Members who lit candles in remembrance of Service Members who fell in the line of duty.
The U.S. Soldiers whose name was called were: Pfc. Billey Abrams, 18th Infantry Regiment, 1st Infantry Division; Staff Sgt. Glen Brady, 379th Bomber Group, Eighth Army Air Force; Pfc. Roy C. Ervin, 320th Infantry Regiment, 35 Infantry Division; Pfc. Raymond A. Hogan, 414th Infantry Regiment, 104th Infantry Division; Pfc. Jose L. Kline, 36th infantry Regiment, 3rd Armored Division; Sgt. Richard J. Lowry, 406 Infantry Regiment, 102nd Infantry Division; Tech. Sgt. Kenneth C. McDonald, 466th Parachute Field Artillery Battalion, 17th Airborne Division; 2nd Lt. Clyde V. Proby, 119th Infantry Battalion, 30th Infantry Division; 1st Lt. Robert O. Stine, 401st Bomber Group, Eighth Army Air Force; Pfc. Henry Walker, 17th Engineer Battalion 2nd Armored Division; Staff Sgt. Grant E. Allen, 412th Bomber Squadron 95th Bomber Group; Pfc. David R. Diehl, 335th Infantry 84th Division; Pvt. Chin T. Tom, 513th Parachute Infantry Regiment, 17th ABN Division; Sgt. Raymond W. Fritzinger, 614th Bomber Squadron, 401st Bomber Group (H); and Pvt. Edward F. Keller, 407th Infantry 102nd Division.
All of these Service Members are buried or listed on the Wall of Missing at the Netherlands American Cemetery and Memorial in Margraten, Netherlands, which is maintained by the American Battle Monuments Commission and where, today, all 8,301 U.S. graves and 1,722 names on the Wall of the Missing have been adopted by local Dutch citizens who pass on this privilege and responsibility from generation to generation. Each year, on the American Memorial Day, the Dutch hold a special Memorial Day Ceremony in concert with the American Battle Monuments Commission to remember all those who have sacrificed in times of war. This annual event began when the American Cemetery was first established by the U.S. 611th Graves Registration Company in September 1944.
The Dutch Soldiers whose names were called were: Royal Marine Soldier Hubertus Caris, Royal Marine Soldier Martinus, Royal Marine 2nd Lt. Pablo Mendes de Leon, Royal Marine Soldier Habertus Sanders, and Royal Marine Soldier Josef van Wunnik.
"I was given the opportunity to light candles that flicker among the Soldiers spirits whose names were called tonight. To me, this means that these men and all the forces that fought in the Battle of the Bulge, friend or foe, will never be forgotten," Weimar said.
"To the committee and volunteers who put this evening together and who maintain the spirit of those men, please accept our sincere gratitude and appreciation for sustaining their memories and passing the understanding of their sacrifice from generation to generation," Reynes said.
----------------------
Note: Special thanks to retired NATO Public Affairs Specialist Ed Frieser who contributed to this story.
Related Links:
U.S. Army shares anniversary celebrations in 2009 with Municipality of Schinnen
American Memorial Day observed at Margraten, Netherlands
American Memorial Day honored by Dutch at Margraten
Army Features: Battle of the Bulge
Get the U.S. Army App for iPhone, iPod Touch and iPad here