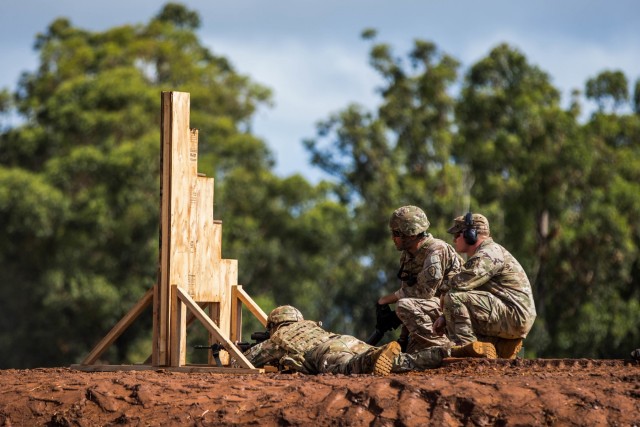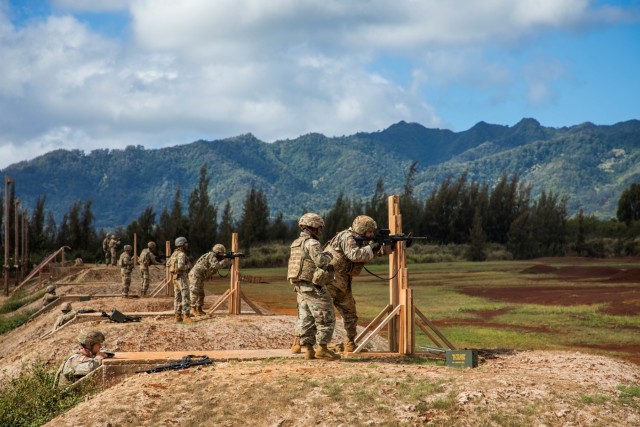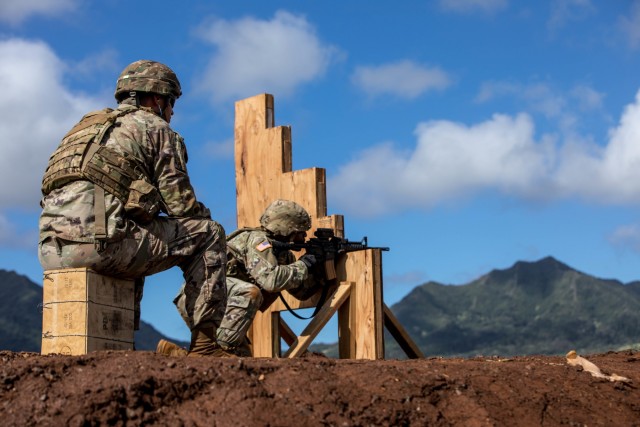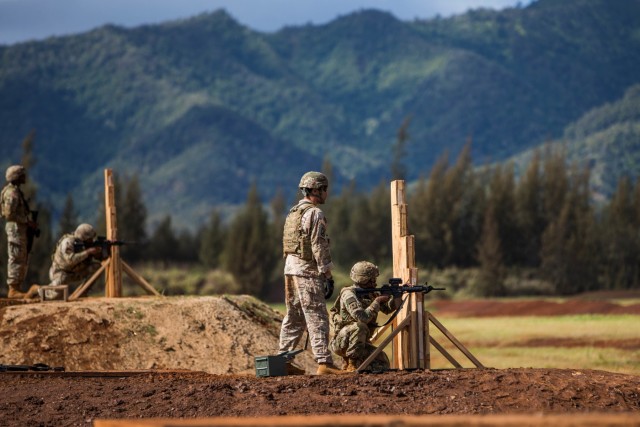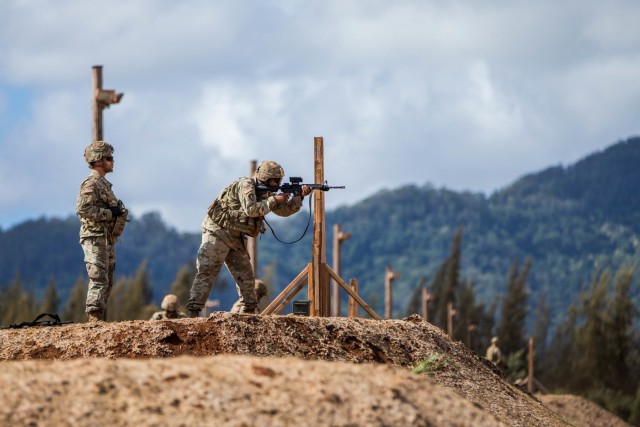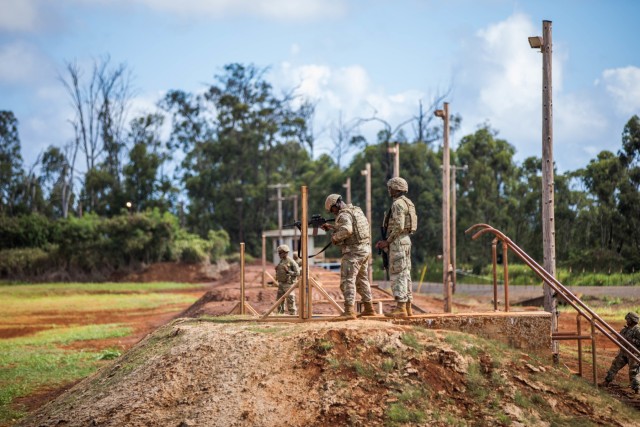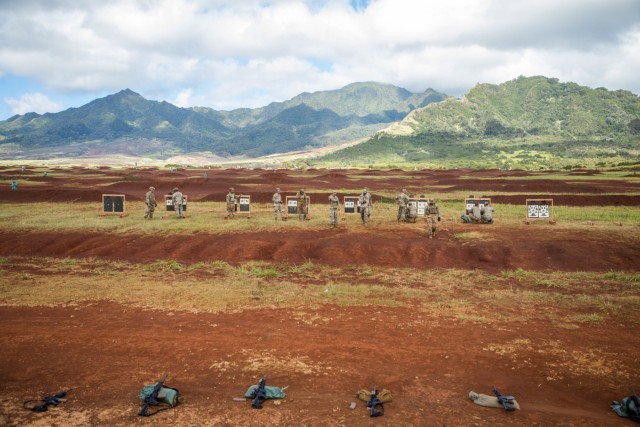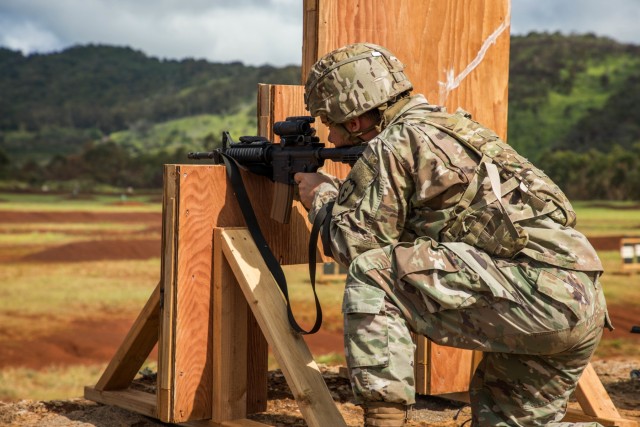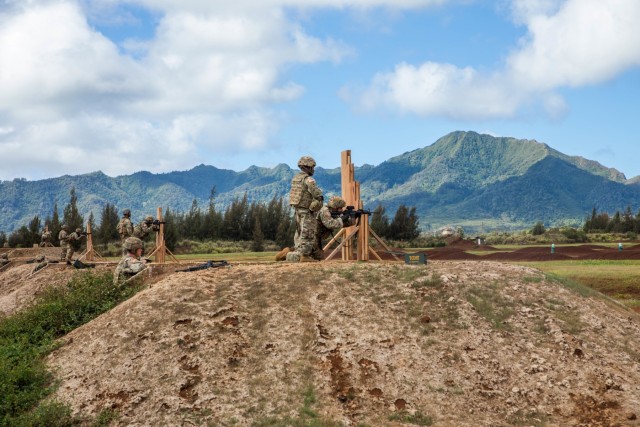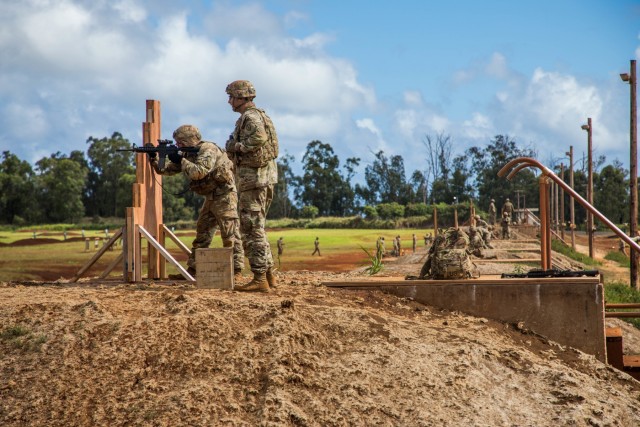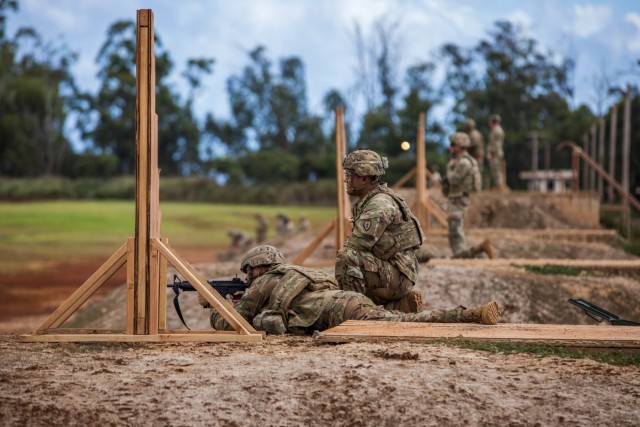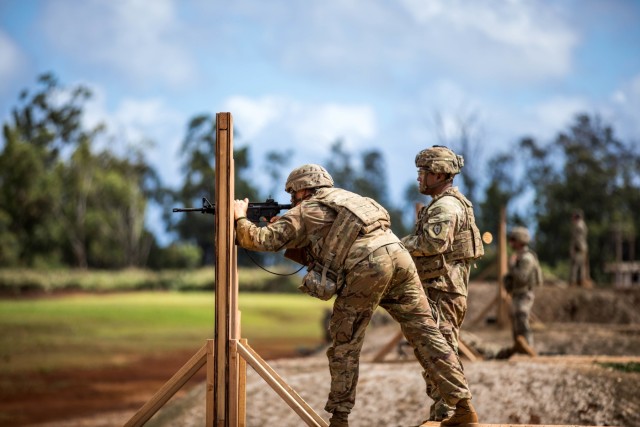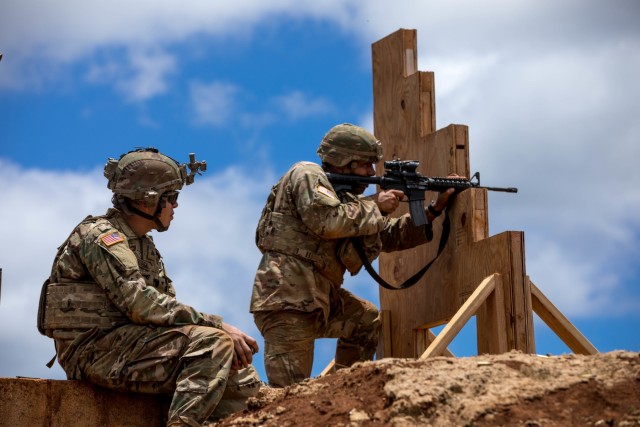 SCHOFIELD BARRACKS, Hawaii -- Similar to the implementation of the new Army Combat Fitness Test (ACFT), the Army is now changing how Soldiers qualify with their weapons, making individual weapons qualification more combat focused beginning October 2019.
Soldiers across the 25th Infantry Division with varying skill levels prepared for the new marksmanship standards by conducting a pilot program to assess current installation support capabilities at Schofield Barracks, Hawaii.
The new four-phase course will now feature standing firing positions. Soldiers are issued four 10-round magazines to engage 40 pop-up targets from the four shooting positions. Soldiers start in the standing position then go to the prone unsupported, then prone supported, kneeling supported and finally the standing supported position. Soldiers utilize a barricade and will have 8-10 second intervals to change magazine and positions.
The new course will replace the current marksmanship qualification course with one that requires Soldiers to engage targets faster and to operate as they would during an enemy engagement.
"The old qualification did not help in combat situations, so they incorporated magazine exchanges and position changes by yourself to represent combat," said Staff Sgt. Tadeysz Showers, assigned to the 25th Sustainment Brigade. "No matter the military occupational specialty (MOS), any MOS can teach a Soldier how to do this new weapons qualification."
The division marksmanship pilot program was led by the Lightning Academy Senior Instructor Staff Sgt. Daniel Martin and three other instructors through preliminary marksmanship instruction (PMI), Engagement Skills Trainer (EST), and qualification tables on a standard pop-up range.
In the current qualification course, Soldiers take instructions from the range tower, such as when to change magazines and firing positions. "Now, the qualification only has commands to begin the qualification and when it has ended," said Martin. "The four 10-round magazines will be in your kit, and you will transition your position and conduct magazine changes on your own without any commands from the tower."
"The new qualification saves time," said Showers. "The old qualification took about 20 minutes, this one takes about four minutes to execute and is much faster paced."
The course is set to become the Army-wide standard for rifle marksmanship. Qualification implementation begins October 2019.
"The new qualification is more challenging, but a lot more realistic," said Martin. "Some Soldiers have never conducted magazine exchanges on their own without being told when to on the line during the Automatic Record Fire. The course is helping the Army become more efficient in urban combat scenarios."
"Soldiers start by receiving a series of classes on how to properly zero the rifle, whether it's a bare rifle or with optics," said Showers. "Soldiers received classes on laser bore sight, Minute of Angle (MOA), zeroing process, windage, ballistics, and also received EST training and practiced position changes before going to a live range."
The new weapons qualification maintains the same score requirements as the current system to pass in each category; Soldiers must hit 23 targets out of 40 to qualify. Soldiers must hit 23 to 29 targets for a Marksman rating, 30 to 35 for Sharpshooter and 36 to 40 to qualify for Expert.
"This new weapons qualification is more combat oriented with changing positions, changing magazines and engaging the targets," said Sgt. Octavius Moon assigned to the 25th Sustainment Brigade. "This will help Soldiers shoot better as well as make ranges faster and have more Soldiers qualified. It helps Soldiers become more knowledgeable about their weapon as well."
For more photos visit Flickr page https://flic.kr/s/aHsmFSwpef
Related Links: