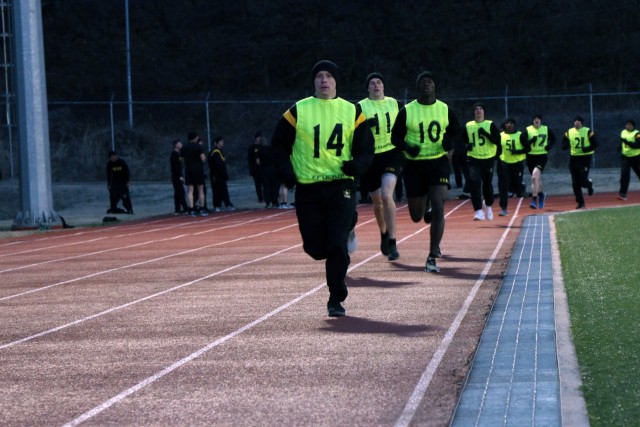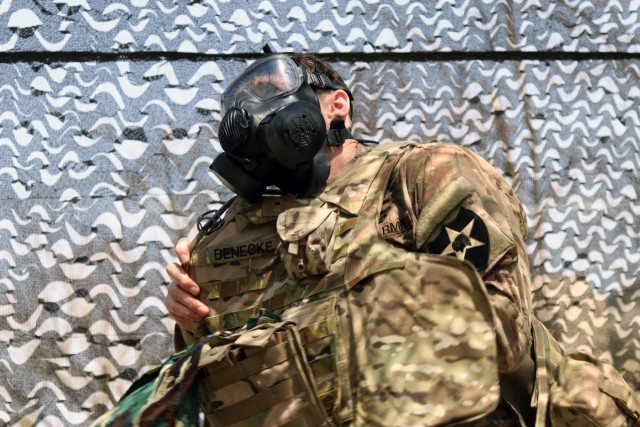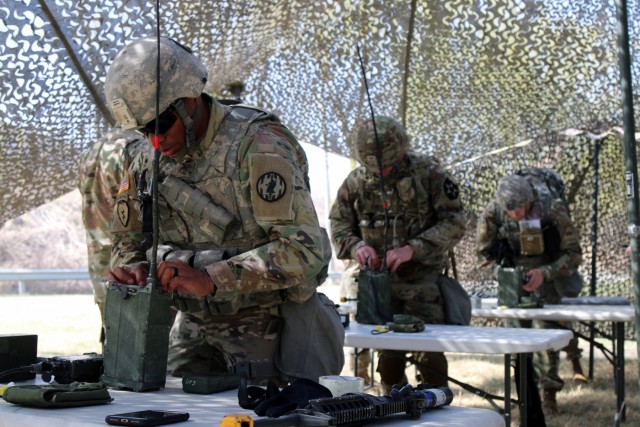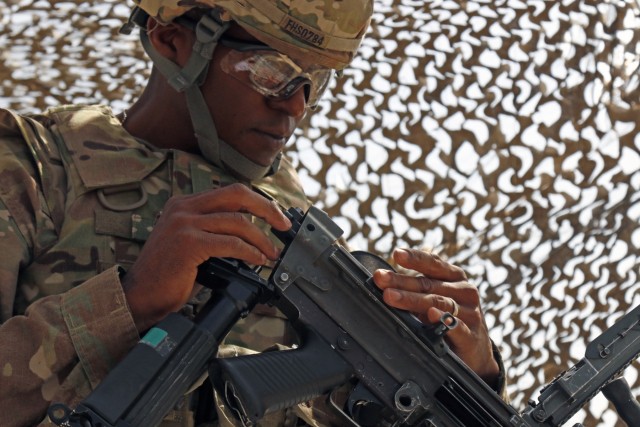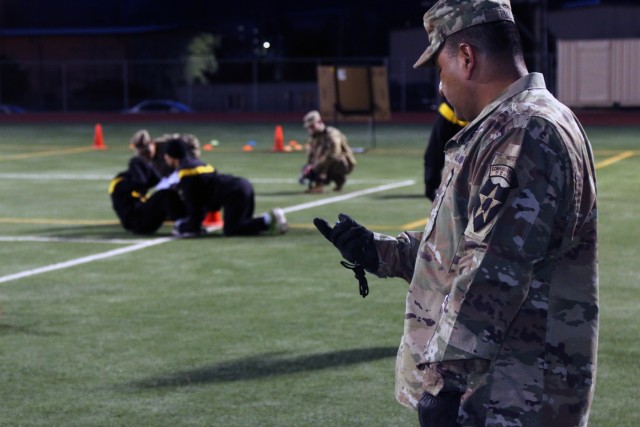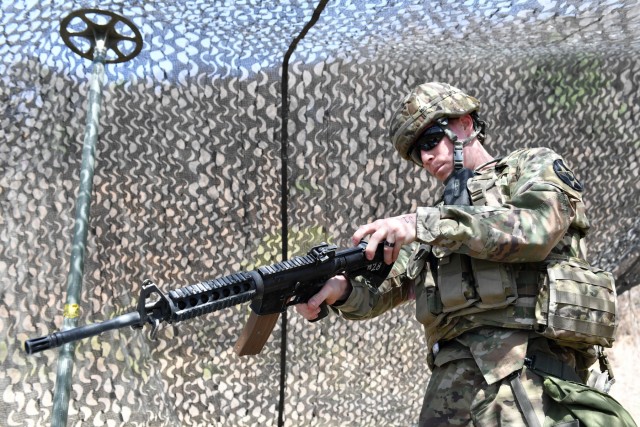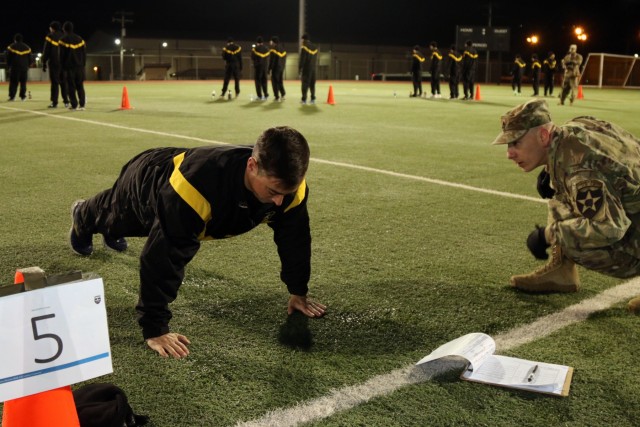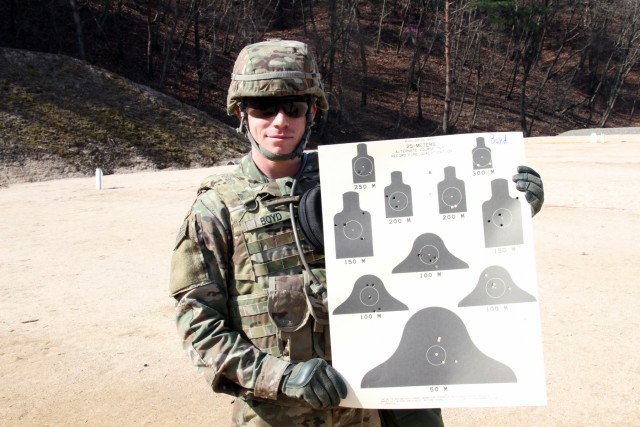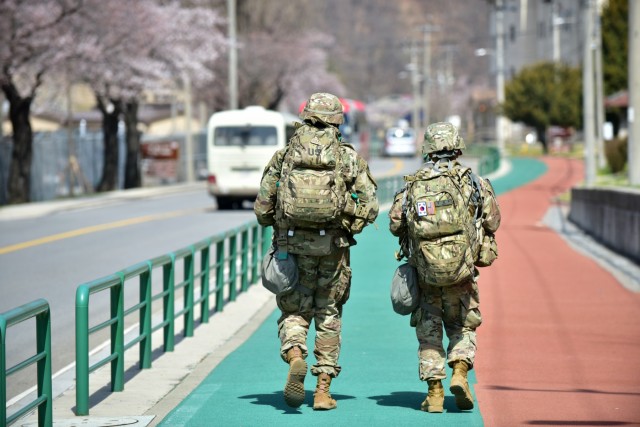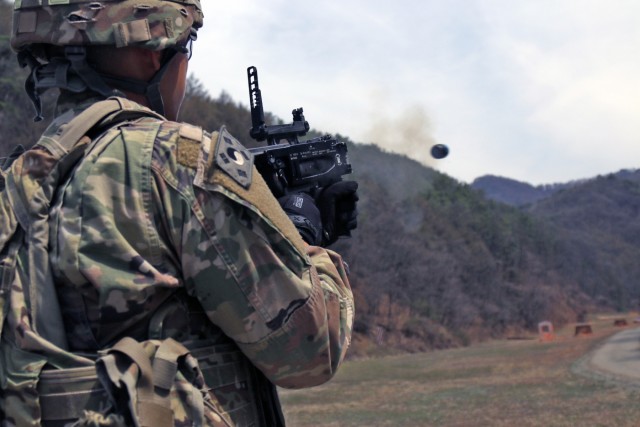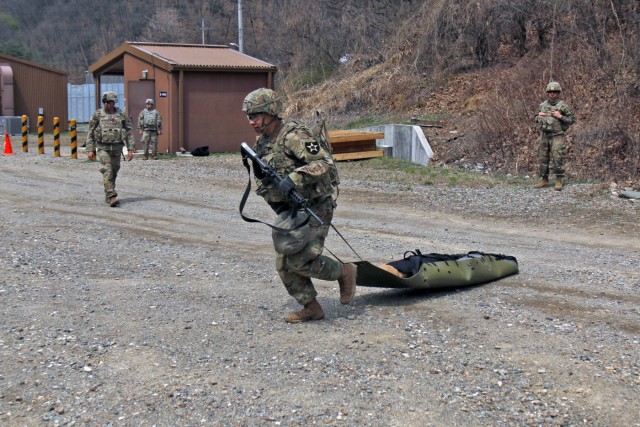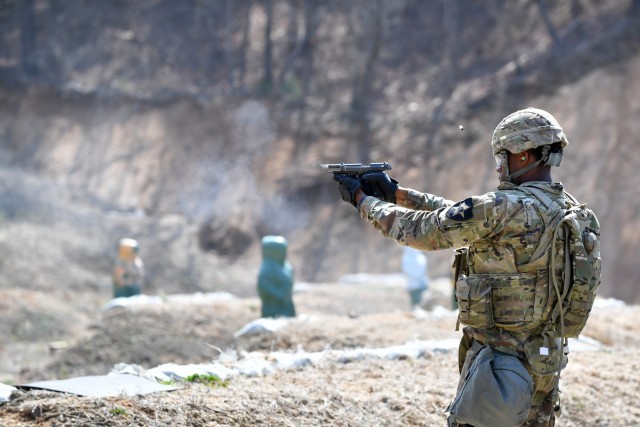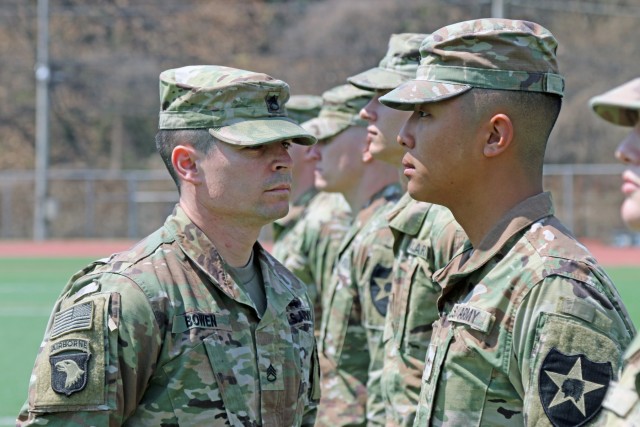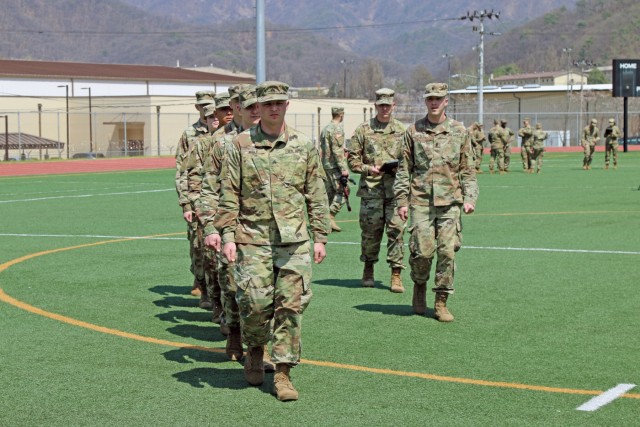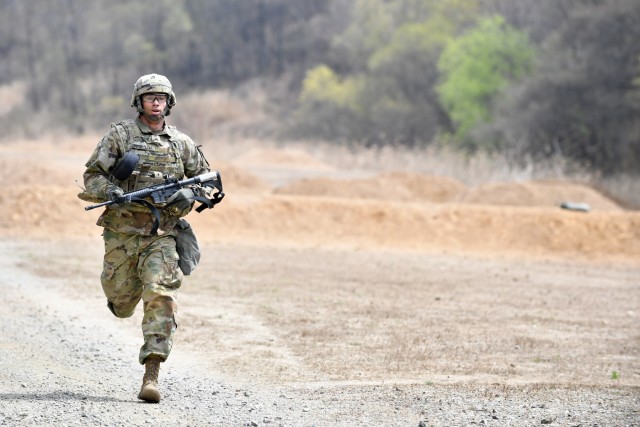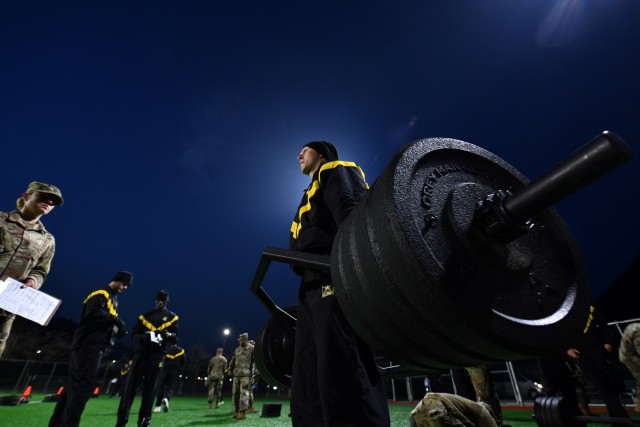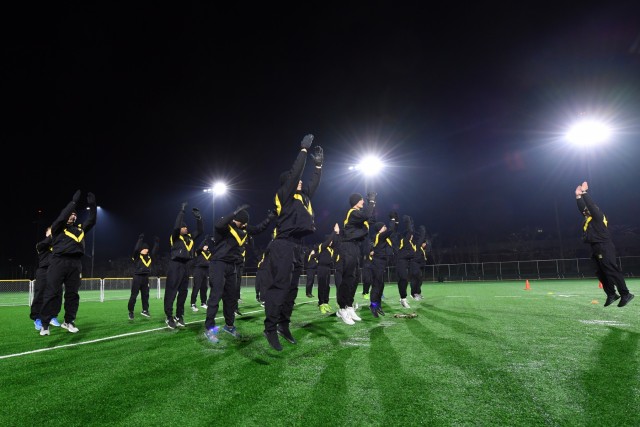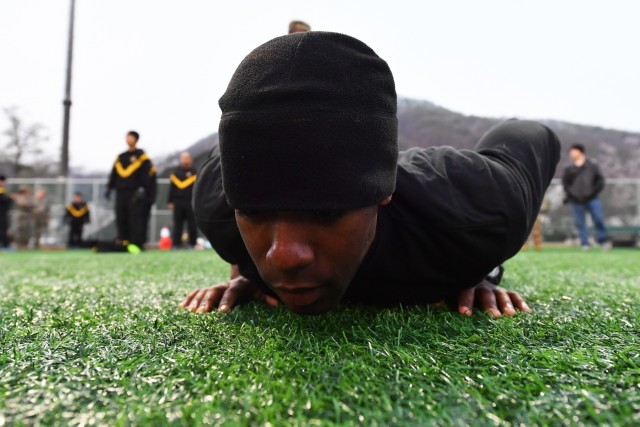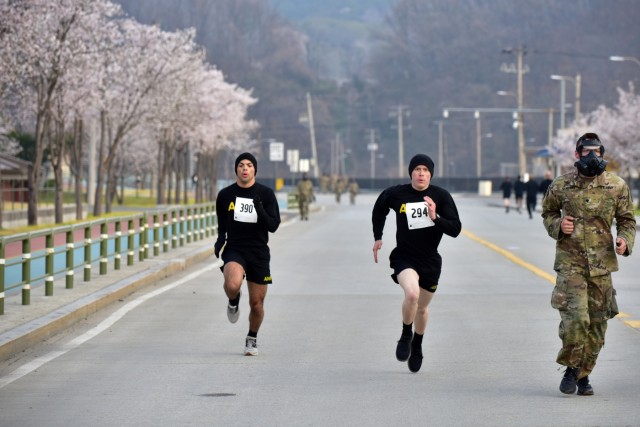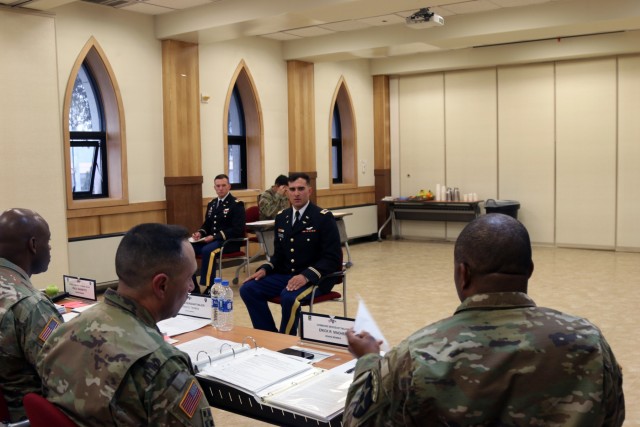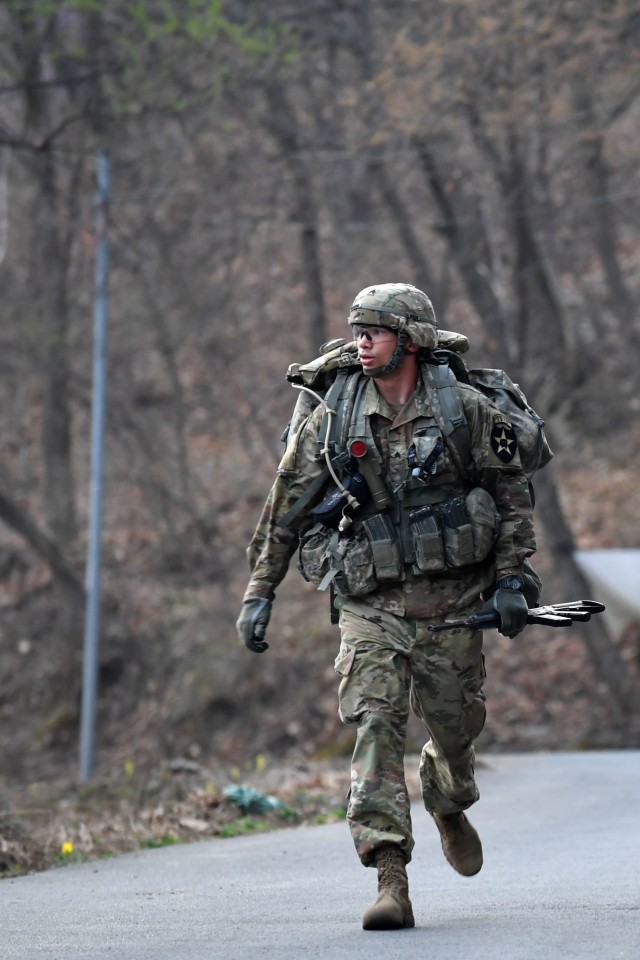 CAMP CASEY, Republic of Korea - Twenty-five Warriors competed in the 2nd Infantry Division/ROK-U.S. Combined Division 2019 Best Warrior Competition to determine who will represent the division at Eighth Army's BWC in May.
The week-long competition challenged the Soldiers with orienteering, a written essay, an obstacle course, land navigation, marksmanship, media engagement training, drill and ceremony, an eight-mile foot march, a formal board and the Army Combat Fitness Test to identify and recognize the most outstanding officer, warrant officer, noncommissioned officer, junior enlisted Soldier and Korean Augmentation to the United States Army (KATUSA) within the division.
"We brought Soldiers from all five MSCs (major subordinate commands) here to find out who is the best officer, warrant officer, NCO, junior enlisted and KATUSA in 2ID," said Sgt. Maj. Anthony Gregerson, San Diego, California native and fire support element operations sergeant major, 2ID/RUCD. "The winner of this will advance to the Eighth Army competition, which will then feed into the USARPAC (U.S. Army Pacific) competition and then feed into the big Army competition."
Staff Sgt Simon Bowen, UH-60 Black Hawk helicopter repairer, Boston, Massachusetts native, 2-2 Assault Helicopter Battalion, 2nd Combat Aviation Brigade, said he competed to show his Soldiers that rank is not a factor when it comes to self-improvement.
"I wanted to lead from the front," said Bowen. "It's easy to get complacent. I wanted to show Soldiers that being an NCO doesn't mean you stop doing what you're supposed to do. The best way to do that is through competitions like this."
Bowen and fellow competitors proved their leadership and well-roundedness by pushing themselves further throughout the grueling tournament vying for the coveted title of Best Warrior.
"Inherently, all Soldiers want to be the best," said Gregerson. "You don't join the Army to be mediocre. Most Soldiers want to compete and win. Winning matters."
A winning attitude and competitive mindset led Spc. Reno D. Boyd, UH-60 Black Hawk helicopter repairer, 2-2 AHB, 2CAB, to join other peers and leaders in the annual competition.
"I've always loved challenging myself ever since I was young," said Boyd. "I've always wanted to see how far I could push myself. When I heard there was a Best Warrior Competition scheduled, I knew I wanted to compete."
Boyd's family and unit also provided support to get him through the mentally and physically draining week.
"My wife, who is stationed here with me, has been a huge help," said Boyd. "My unit has also done so much to ensure I was ready to compete and win. I know I represent the brigade while I'm out here and I want to make them proud."
Command Sgt. Maj. Phil A. Barretto, Aeia, Hawaii native and 2ID/RUCD senior enlisted advisor, said he couldn't be prouder of the hard work BWC contenders demonstrated all week.
"People ask why I'm still in the Army. This is why," said Barretto. "I'm still here for what these guys do every day. There was zero quit in these Soldiers. This is true Warrior country."
Only five competitors will advance to the next level of competition.
The BWC winners are as follows:
Officer: 1st. Lt. Justice Van Ness, Lacey, Washington native, 3rd Armored Brigade Combat Team, 1st Armored Division
Warrant Officer: Warrant Officer James Benecke, 2nd Infantry Division 2nd Sustainment Brigade
NCO: Staff Sgt. Desmund Rolle, military policemen and Batavia, New York native, 3rd ABCT, 1 AD
Junior Enlisted Soldier: Pfc. Mark Lacanlale, chemical biological, radiological, nuclear specialist and Lacey, Washington native, 210th Field Artillery Brigade
KATUSA: Pfc. Kim, Yeon Bong, human resources specialist and Suwon, Republic of Korea native, 210th Field Artillery Brigade
"You don't have to know everything and be great at everything to succeed," said Benecke. "At the brigade-level competition I was weak in certain areas and improved my weakness for the division-level competition.
"Where I was weak here, I'll be strong at Eighth Army," he continued. "Don't be afraid to acknowledge your deficiencies and make improvements as you go along."
The winners will represent 2ID/RUCD at Eighth Army's Best Warrior Competition in May.