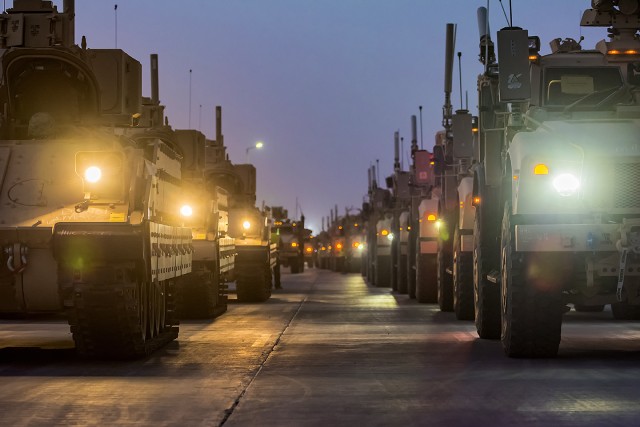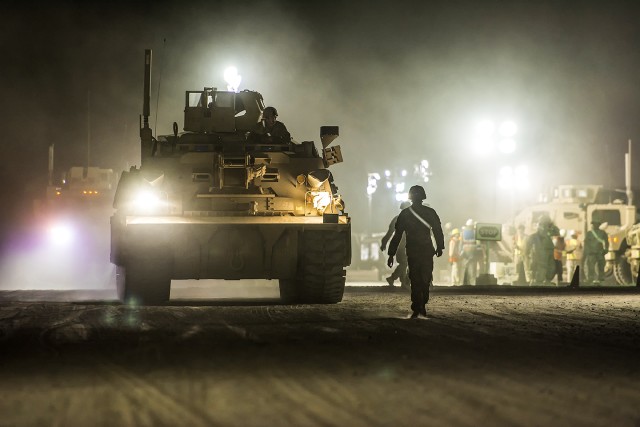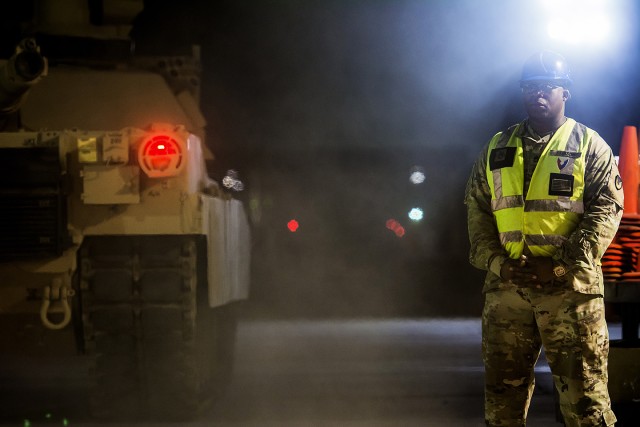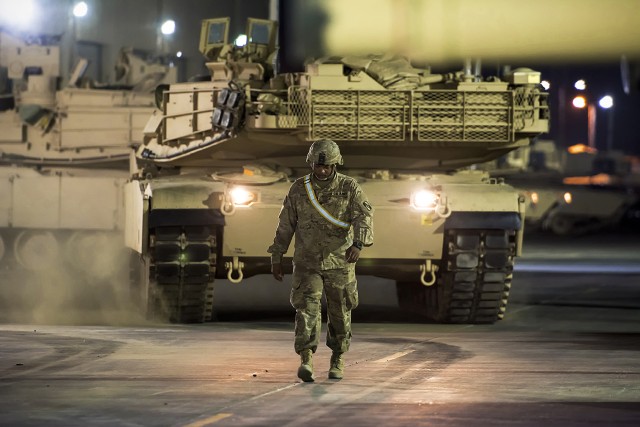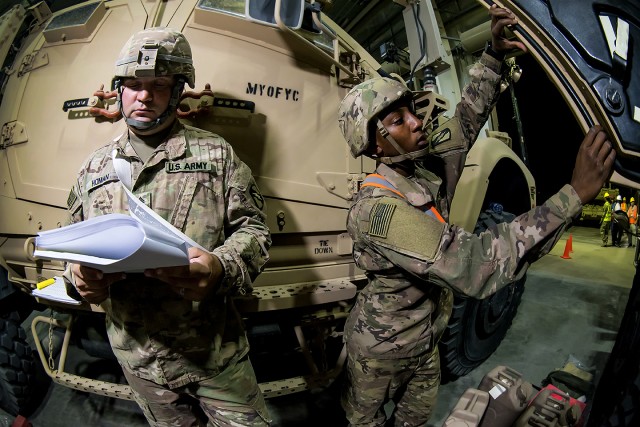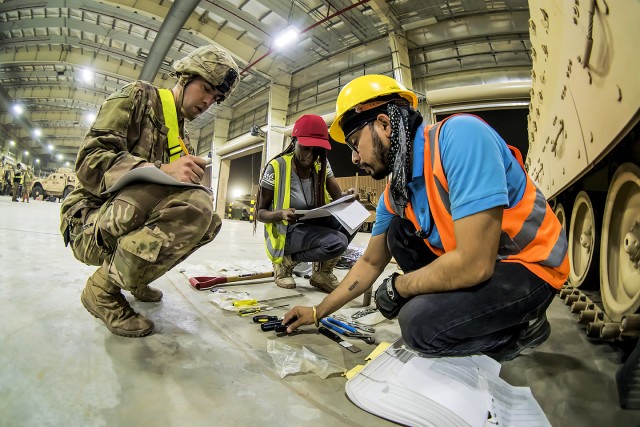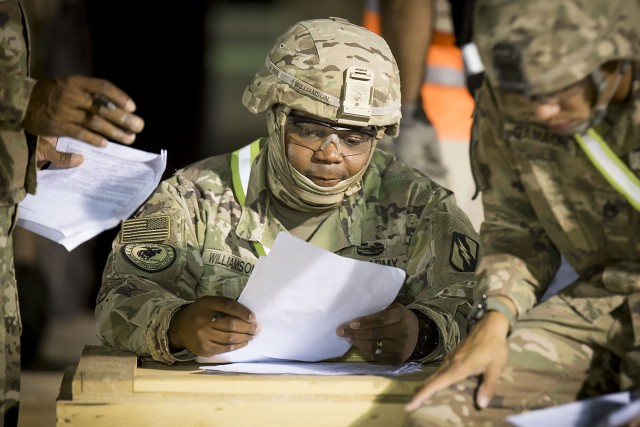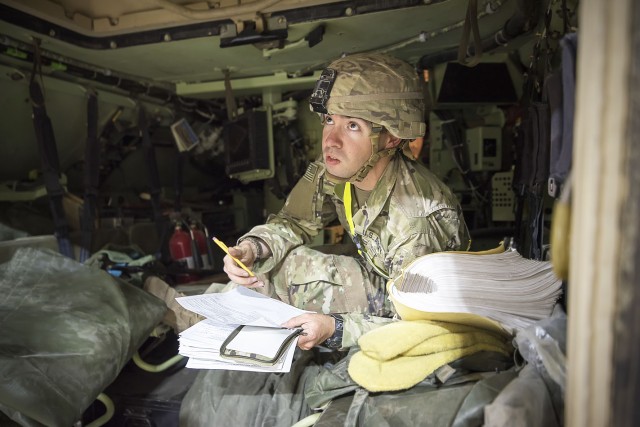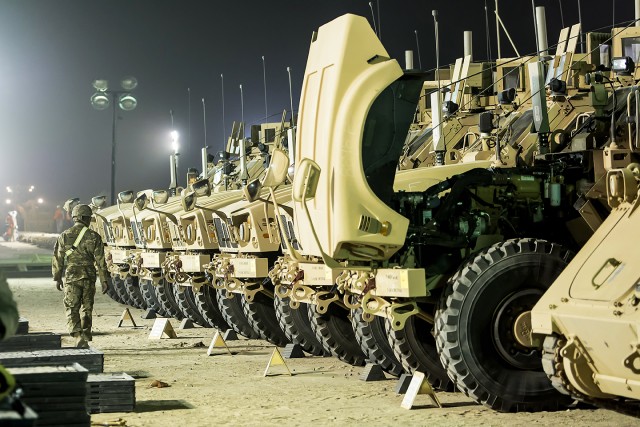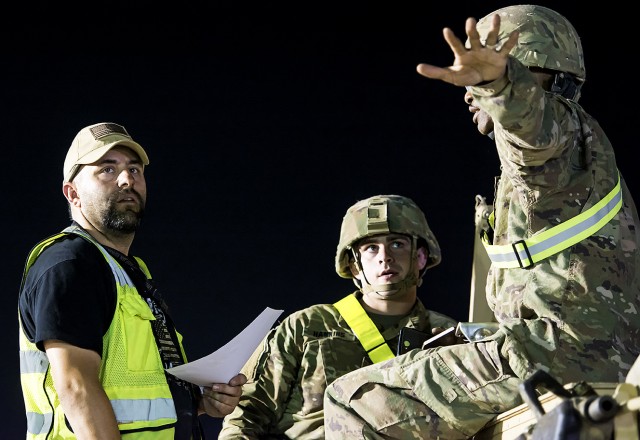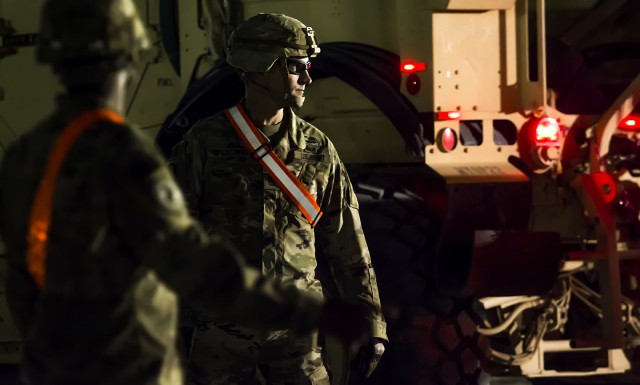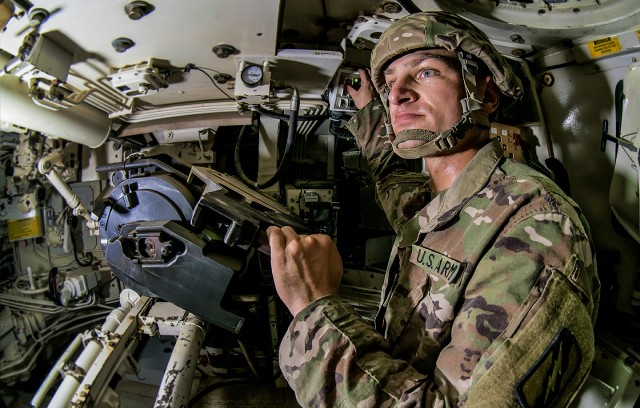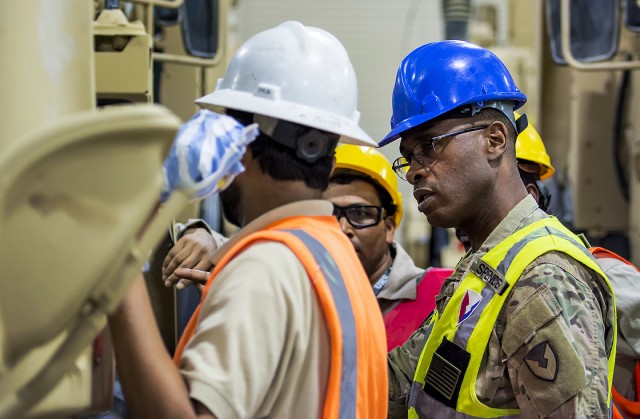 CAMP ARIFJAN, Kuwait -- The 401st Army Field Support Brigade completed the largest ever equipment issue from Army Prepositioned Stocks-5 here, July 9.
Over 19 days, the 401st AFSB issued a full Armored Brigade Combat Team equipment set to the 155th ABCT in support of Operation Spartan Shield.
"It has gone exceptionally well," said. Col. Jeffrey Niemi, commander, 401st AFSB.
"The equipment is in some of the best shape I've ever seen, anywhere in the Army," Niemi said. "So for the Soldiers that are drawing the equipment, we have absolute confidence that they can go out and execute their mission with the equipment they received from APS-5."
More than 13,000 fully mission capable pieces of equipment were issued to the 155th ABCT during the process, which was completed five days ahead of schedule.
Only five pieces of equipment were deemed non-mission capable and retained in APS-5. They are awaiting on-order parts, and are slated to be issued after repairs are complete.
"When you look at the overall fully mission capable standards across the Army, 90 percent is what the Army looks at as a success," Niemi said. "Our overall percentage is 99 percent fully mission capable at the end of this ABCT issue. Looking at it from this large of a scale, the problems that we had in terms of maintenance were minimal."
When a fault on a vehicle is identified during the issue process, contracted maintenance teams attempt to fix the fault within two hours. If a repair can't be made within two hours, the vehicle is replaced with another of the same platform.
"Anytime you're trying to issue thousands of pieces of equipment, you're going to run into some kind of maintenance concern," Niemi said. "But I think from the gaining unit's perspective, and up through the division and to the broader Army, the proof is in the execution. The equipment has been issued out at a high state of readiness and five days faster than planned."
The equipment issue was initially set on a deliberate timeline of June 20 -- July 13, but the 155th ABCT Soldiers got ahead of schedule on the very first night.
"I think the flexibility of both the 155th ABCT and the 401st AFSB has been a huge success story," said Lt. Col. Jason Nelson, deputy commander, 155th ABCT.
"As our Soldiers got more comfortable and familiar, we started moving even faster," Nelson said. "As we got faster, the 401st AFSB was able to flex with us and get more vehicles ready to go in a faster manner so we could stay ahead of schedule."
The 401st AFSB transitioned APS-5's ABCT equipment set from Care of Supplies in Storage (COSIS), or "cold storage," to a configured for combat posture during the last year. Combat configured vehicles have all of the basic issue items and Soldier technologies mounted on and inside platform.
The vehicles and systems also receive more frequent service and testing when configured for combat, which results in the ability for gaining units to draw equipment faster -- even during a deliberate equipment issue like the one just completed from APS-5.
"It's easier knowing the systems are mounted on the platforms and have all been checked already," Nelson said. "It saves some time because the Soldiers don't have install and troubleshoot it, and it gives the Soldiers some confidence knowing everything has been tested and is working already."
Throughout the inventory process and Preventative Maintenance Checks and Services (PMCS) inspections, Army Field Support Battalion-Kuwait personnel and contracted maintenance experts were present to assist 155th ABCT Soldiers.
"The level of support that the 401st AFSB provides made things much quicker for everybody," Nelson said. "Having those guys who are subject matter experts on a piece of equipment and have been maintaining it for several years -- they understand each nuance of each piece of equipment, and they are right there to help that Soldier as they encounter a problem, or question where something is located."
Due to the intense summer heat in Kuwait, the entire equipment issue process was "reverse cycled," meaning all of the activity occurred throughout the night instead of the daytime.
"When it's 120 degrees outside, not only do you worry about Soldier safety, but in some cases you can't even get on the equipment because the metal gets so hot," Nelson said. "Operating at night has allowed us to stay aggressive with our draw-plan and really move quicker. That decision was key in terms of planning."
Each night, after the inventoried equipment was officially transferred from APS-5 to the 155th ABCT's hand receipts, everything moved to a remote APS-5 staging lot. After arriving at the remote lot, equipment was loaded onto commercial trucks and transported to the 155th ABCT's operational area.
"Our Soldiers are ready for the mission. They're ready to do their jobs. They're ready to embrace our Operation Spartan Shield mission," Nelson said. "We want to build our readiness, that's priority No. 1. Also, we really want to embrace and engage in the partnerships throughout the region. Building those partnerships strengthens the region."
Beginning with the planning phase that started in early 2018, through the preparation and assembly of vehicles, and to the end of the issue process, communication between the 401st AFSB and the 155th ABCT remained constant.
"What it all boils down to is teamwork and communication," said Niemi. "The operational force has a requirement, and as logisticians we have to understand what that requirement is and we need to be the ones to adjust to the requirement."
Although this large-scale equipment issue was an overall success, a benefit of a mission this complex is that challenges become learning opportunities for everyone, Niemi said.
"For many Soldiers, it's probably the first time that they've seen equipment laid out that methodically in their career. They got to go through it and truly conduct inventory and see it done correctly," Niemi said.
"We had some maintenance challenges that occurred along the way, but we had a plan to address those challenges and we got to put that into practice," he said. "So there's a benefit in it for the 401st AFSB and for the gaining unit."
The success of this deliberate equipment issue builds confidence in the Configured for Combat concept and the ability to conduct a hasty issue very rapidly if needed, said Niemi.
"We've shown that APS-5 is ready and able to meet the combatant commander's requirements here in the U.S. Central Command area of operation," Niemi said. "I would feel absolutely confident to put any Soldier in any of these pieces of equipment, on any given day, to go out there and execute any mission they are called upon to do."
Related Links: