NATIVE AMERICANS IN THE U.S. ARMY
Clarence L. Tinker
Conspicuous gallantry and intrepidity
Tinker, a member of the Osage Nation, was also the first American general to die in World War II.
Tinker Air Force Base is named for Maj. Gen. Clarence L. Tinker, a native Oklahoman who lost his life while on a combat mission against Wake Island in the Pacific, during World War II. Born north of Pawhuska, in the Osage Nation, Nov. 21, 1887.
Tinker's formal military education began when he enrolled in Wentworth Military Academy, Lexington, Missouri. After graduating in 1908, he entered the uniformed service as a third lieutenant in the Philippine Constabulary. He gained a commission in the U.S. Army Infantry in March 1912. In 1920, Tinker joined the Air Service and began his flying career. Graduating from the Army's Command and General Staff School in 1926, he became the Assistant Military Attaché for Aviation in London. A few months after arriving in Great Britain, he earned the Soldier's Medal for rescuing a Navy pilot from their burning aircraft wreckage.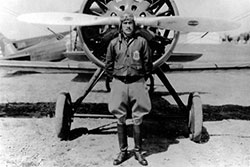 In January 1942, the general pinned on his second star and became the highest-ranking officer with Native-American ancestry in the U.S. Army. While participating in his planned, long-range, bombing attack against the Pacific enemy, Tinker's LB-30 fell out of formation and disappeared into the clouds below. He was the first American general lost in action in World War II. The Distinguished Service Medal was awarded posthumously to General Tinker for his gallant action in personally leading the dangerous mission. Lt. Gen. Delos C. Emmons, military governor of Hawaii, said, "He died knowing that he had an important part in winning a great victory."