Competition History
Command information in the form of Army Journalism began during World War I. Hand and type-written news was spread by couriers to soldiers in combat zones.
This era of Army information saw the beginning of news bulletins at various levels of command. Writing was done by the intelligence or adjutant section in most units. The Army newspaper was born.
The establishment of the Bureau of Public Relations in February, 1941, triggered the development of the Office of the Chief of Information, Department of the Army. Under this new department, the Command Information Division and its mission to prepare and define policies for Army Command Information was developed.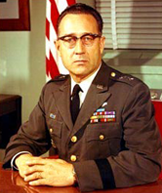 Maj. Gen. Keith L. Ware Biography
Maj. Gen. Keith L. Ware was born in Denver on November 23, 1915. His military career began on July 9, 1941 when he undertook his basic training at Camp Roberts, California following his induction into the Army under the Selective Service Act. He attended Officer Candidate School at Fort Benning, Georgia and was commissioned a Second Lieutenant of Infantry on July 18, 1942.
Assigned to the 3rd Infantry Division, he sailed on October 22, 1942 from Hampton Roads, Virginia and was part of the North African invasion force. He participated in the...