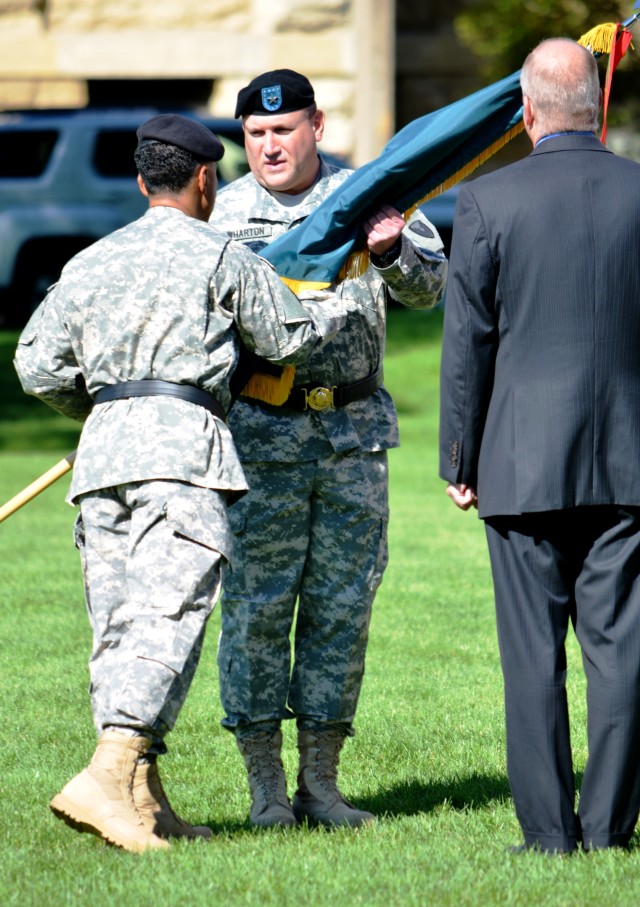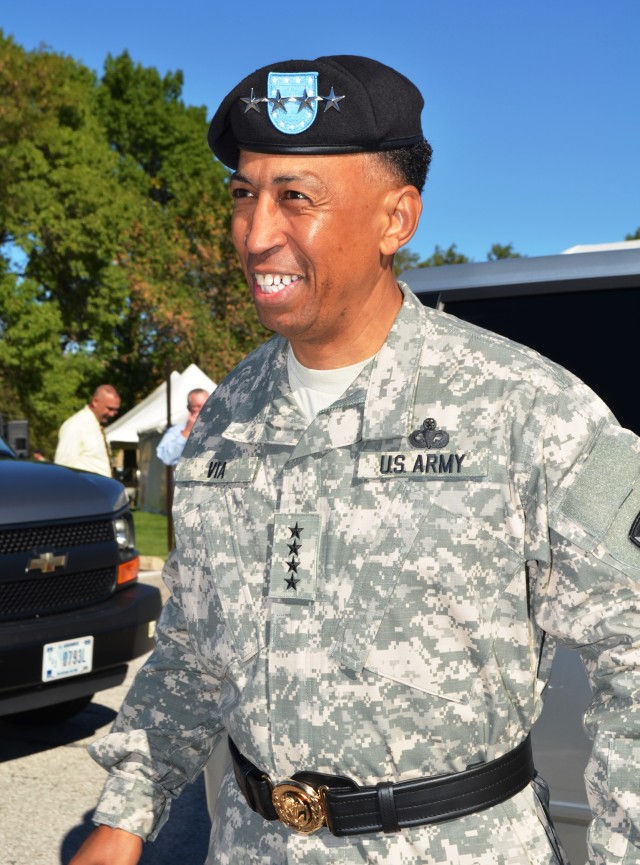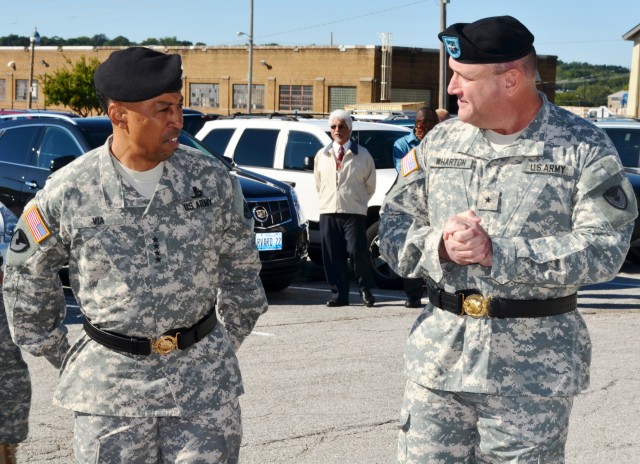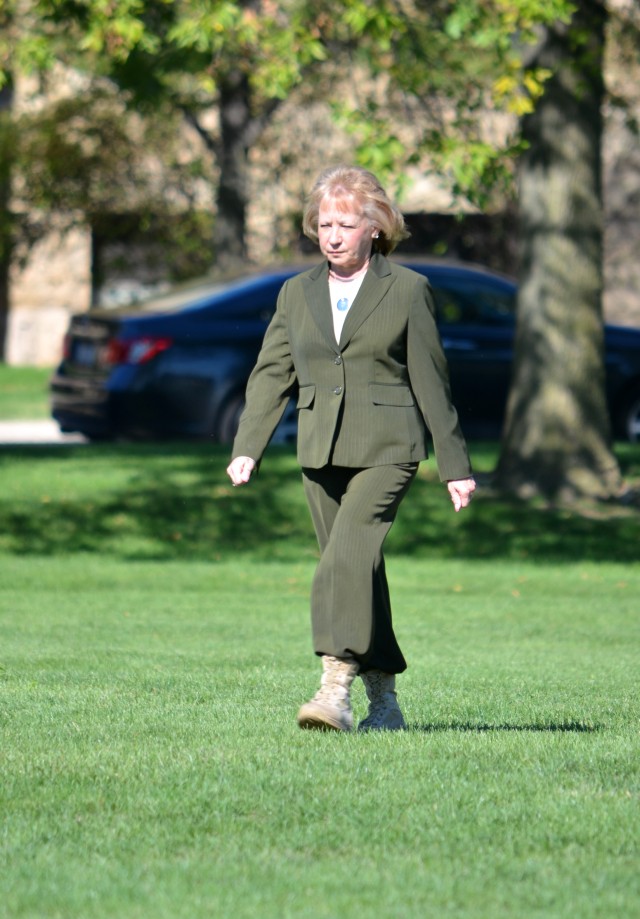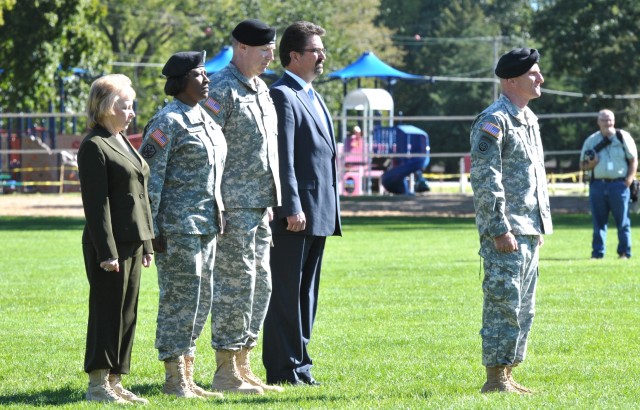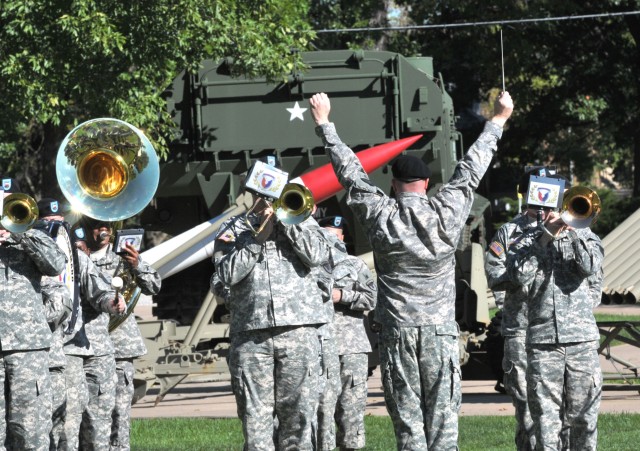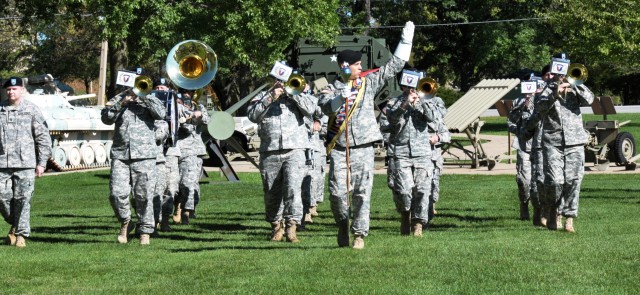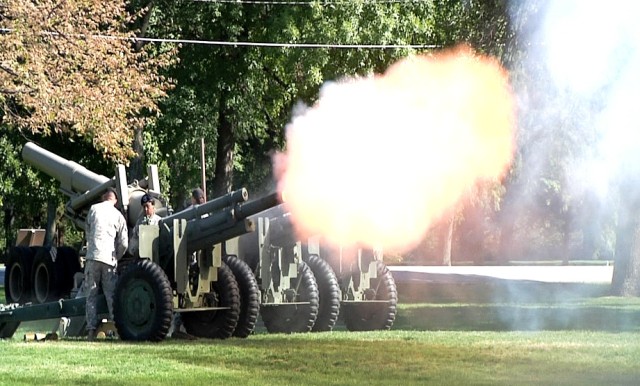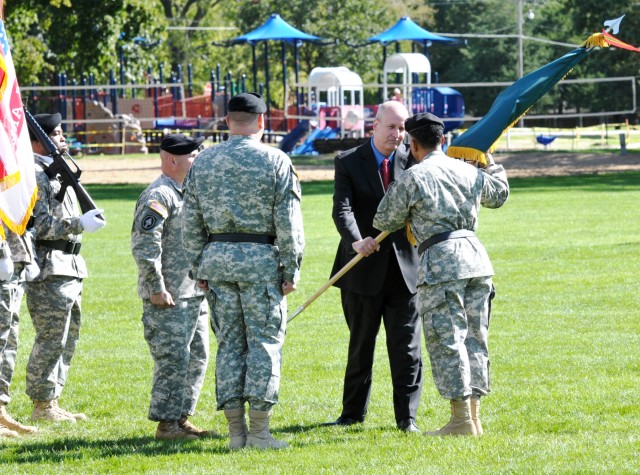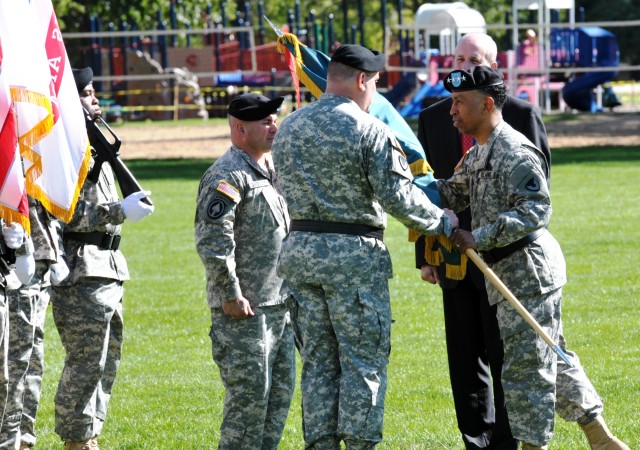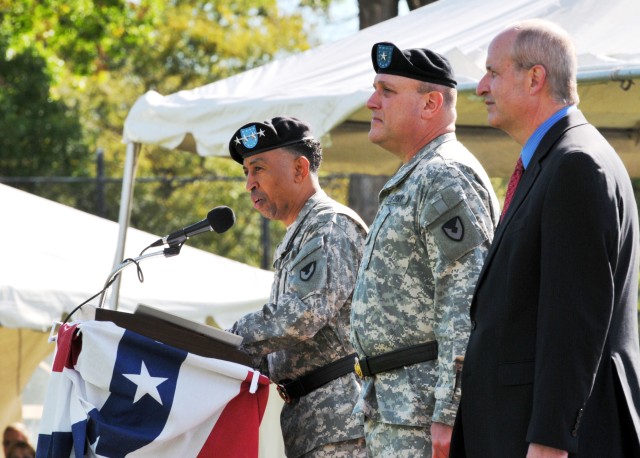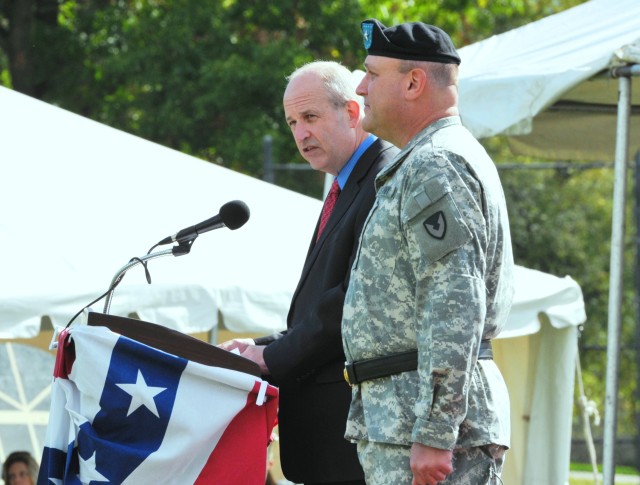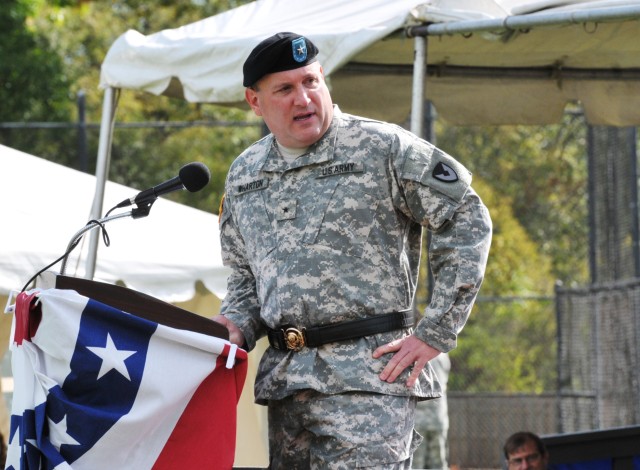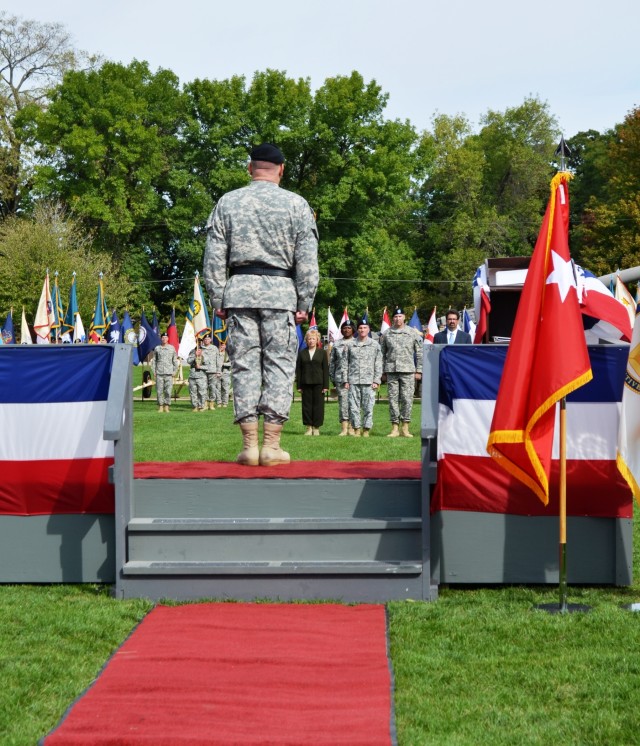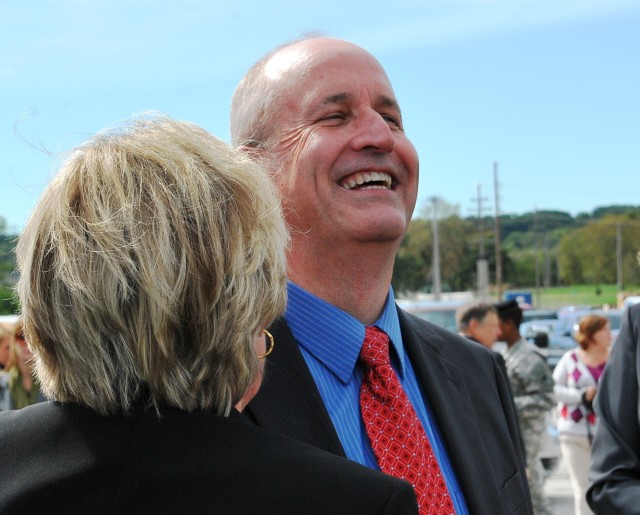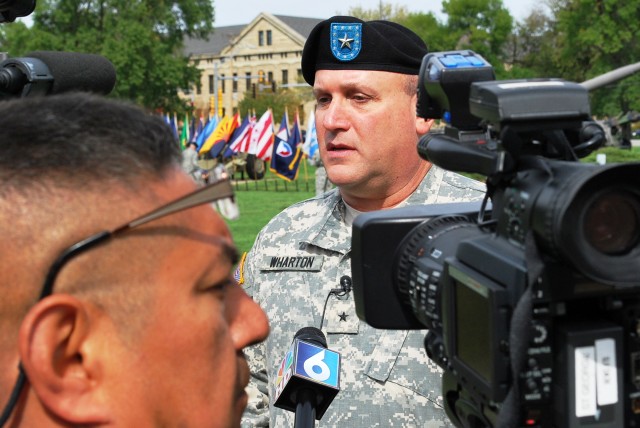 ROCK ISLAND ARSENAL, Ill. -- Army Sustainment Command welcomed a new commanding general at an assumption of command ceremony here Sept. 18.
Brig. Gen. John F. Wharton assumed command from ASC Executive Director D. Scott Welker during a ceremony at Memorial Field presided over by Gen. Dennis L. Via, commanding general of Army Materiel Command, and attended by hundreds of dignitaries and guests.
Wharton came to ASC from AMC, where he served as chief of staff. Welker will return to his position as the ASC deputy to the commander.
"Good morning everyone. It's great to be back at Rock Island [Arsenal], and what a beautiful day to welcome the new commander of Army Sustainment Command." Via said. "Today's assumption of command marks a significant event for the Army Sustainment Command. This simple, yet symbolic, ceremony represents more than just a change in leaders. It symbolizes the rich heritage of our great Army and reaffirms the unique authority and responsibility vested by our Army and our nation in the commander. Inherent in that responsibility is the greatest privilege given to all commanders upon assuming command. The privilege of leading and caring for America's most precious resource, its sons and daughters."
Via praised Welker for his service to ASC.
"I want to publicly thank Mr. Scott Welker for the outstanding job he did as ASC's executive director for the past two months and for your continued service as the deputy to the commander," Via said. "I've been told it's been about 29 years since you drove over here from Washington state in that '74 Ford Mustang to take a job as a GS-5 intern. I hope the trip has been nearly as enjoyable [for you] as your service to our Army has been effective."
Welker assumed command of ASC during a transfer of authority ceremony July 27 from Maj. Gen. Patricia E. McQuistion, who was later promoted to lieutenant general and now serves as deputy commanding general of AMC.
"ASC, as Gen. Via said, has been a major part of my life for nearly 29 years. I've been a part of it since it was just a concept," Welker said. "And now to lead that best command with the best people in the entire Army, and keep it moving even for this short period of time, is the most rewarding experience that anyone could ever ask for in their career."
Via also welcomed Wharton in his remarks.
"It gives me great privilege to introduce and welcome the new command team of the Army Sustainment command Brigadier General John Wharton and his wife, Rebekah," Via said. "Over the course of his stellar career in the United States Army, Brigadier General Wharton has done it all. [He] joins the Army Sustainment Command team here from Redstone Arsenal in Huntsville, Alabama, where I've gotten to know him very well serving as our chief of staff at AMC headquarters. John was the point man for the headquarters, ensuring all matters for the command and staff were well coordinated and synchronized. General Wharton knows about complex global organizations and he knows how to lead them. The men and women of Army Sustainment Command and the Rock Island Community are very fortunate to have Brigadier General Wharton take the reins of this command today. Under your tremendous leadership Army Sustainment Command will continue to provide America's Warfighters with the decisive edge that keeps our Army strong."
Wharton then greeted the Rock Island Arsenal community as ASC's new commanding general.
"To the Soldiers, noncommissioned officers, civilians, family members and contractors, your reputation for excellence is renowned as you represent the AMC patch around the world," Wharton said. "It is truly an honor and distinct privilege to be here with you today and to take command of this unit. The Army Sustainment Command is a very special organization at a very special time for our Army and for our nation."
Wharton has held key command and staff assignments at Fort Hood, Texas; Fort Bragg, N.C.; Fort Shafter, Hawaii; and Fort Drum, N.Y.; along with assignments in the Pentagon; and at the U.S. Army Personnel Center in Arlington, Va. He served in Haiti during Operation Restore Democracy and in Egypt with the peacekeeping force in the Sinai Peninsula. He deployed to Kuwait as commanding general of all Army Materiel Command forces in Southwest Asia, supporting the wars in Iraq and Afghanistan.
Wharton was commissioned a second lieutenant following graduation from the U.S. Military Academy at West Point in 1981. His education also includes the Quartermaster Basic and Advanced Courses, the Inspector General's Course, the Command and General Staff College, and the Naval War College. He holds a master's degree in national security and strategic studies.
His awards include the Defense Distinguished Service Medal, Legion of Merit (with Two Oak Leaf Clusters), Bronze Star Medal, Defense Meritorious Service Medal (with Oak Leaf Cluster), Meritorious Service Medal (with Silver Oak Leaf Cluster), Army Commendation Medal, Army Achievement Medal (with two OLC), Army Good Conduct Medal, National Defense Service Medal (with Service Star) and the Armed Forces Expeditionary Medal. He also wears the Joint Chiefs of Staff Identification Badge, the Army Staff Identification Badge, and the Airborne and Air Assault Badges.
ASC is a global organization responsible for providing front-line logistics support to combat units. The command manages Army pre-positioned stocks located in strategic sites around the world; maintains weapons and equipment at bases in forward areas; and oversees the Logistics Civil Augmentation Program, which provides contractor support in theaters of operation.