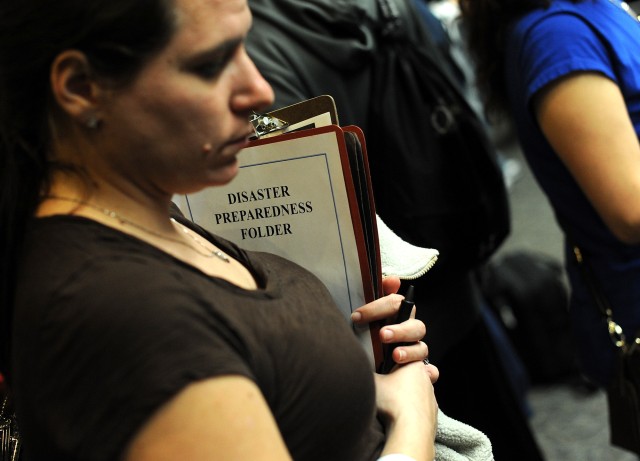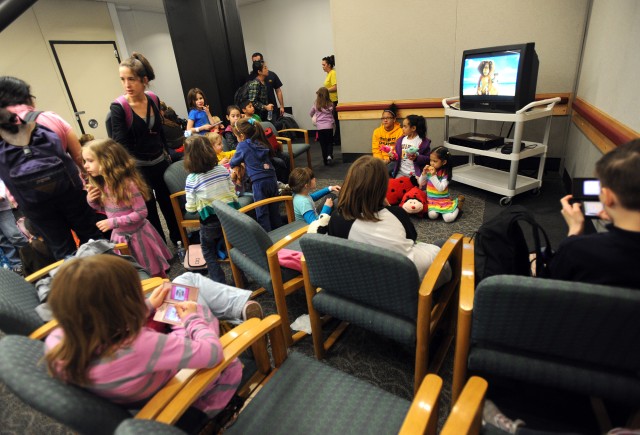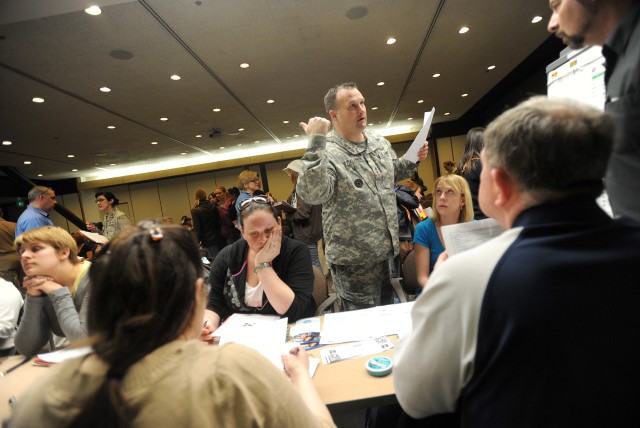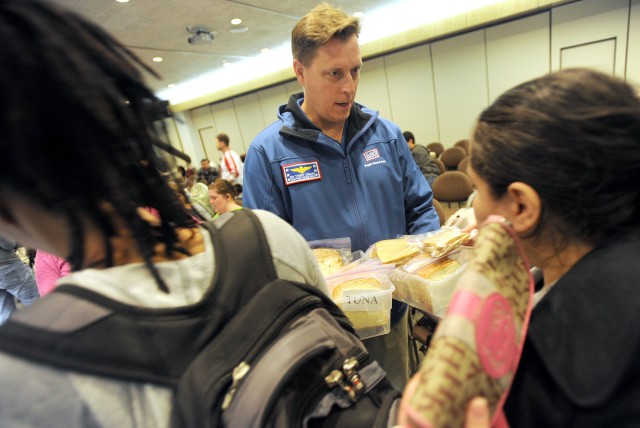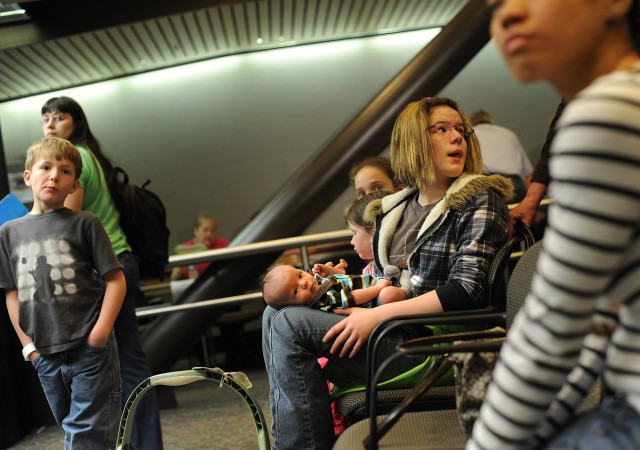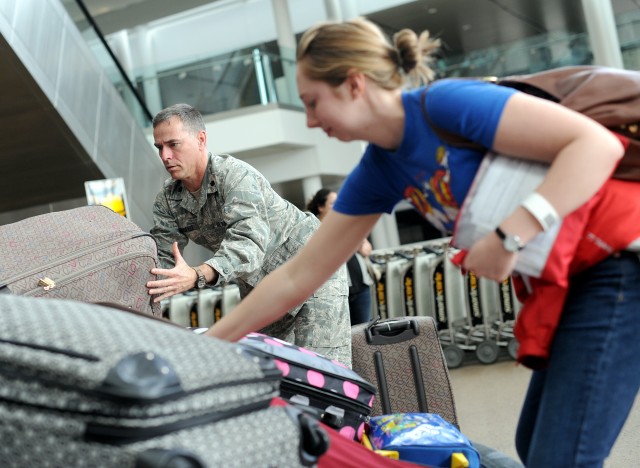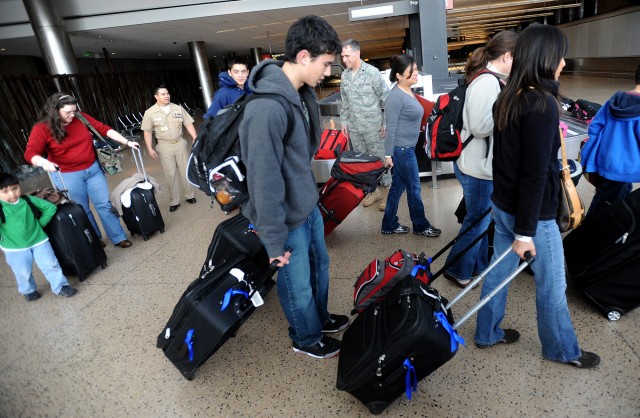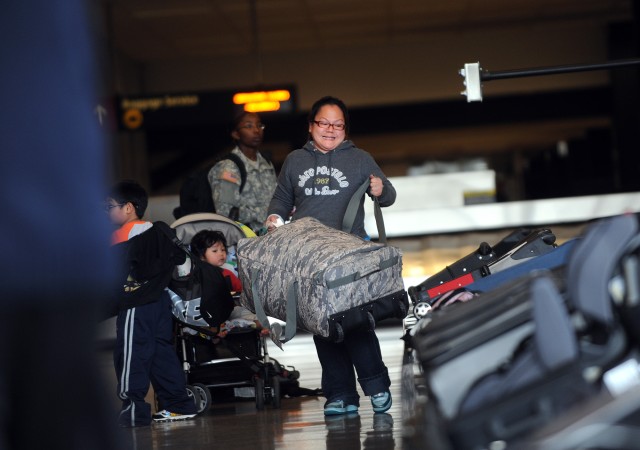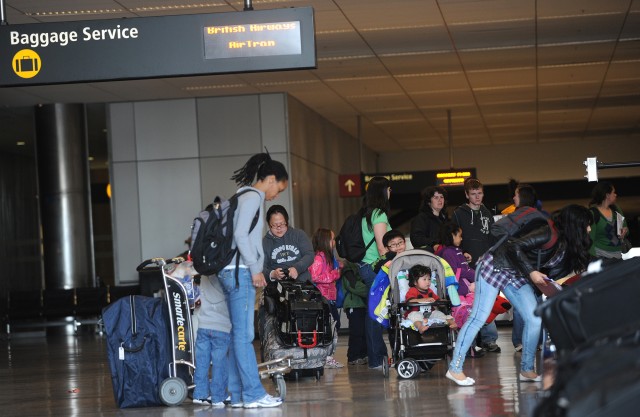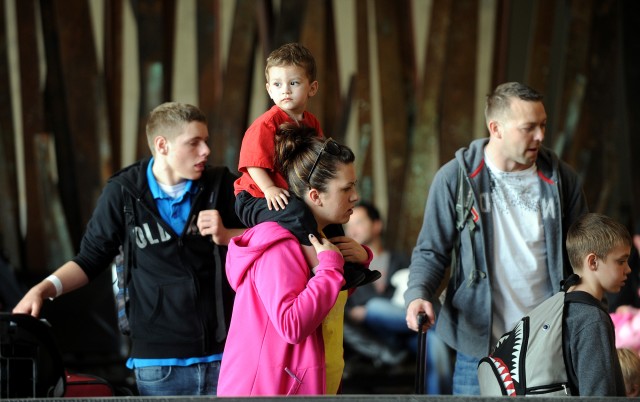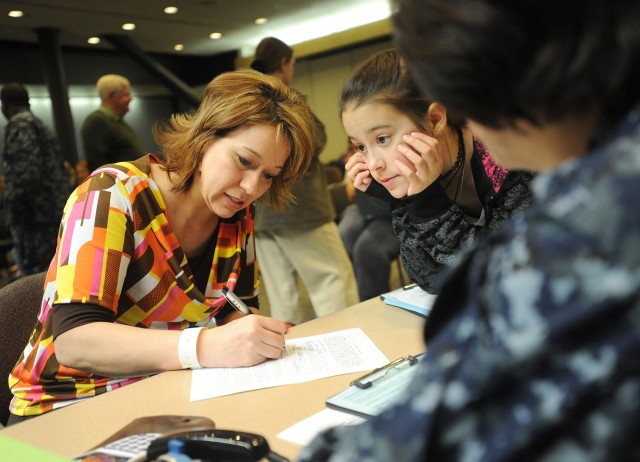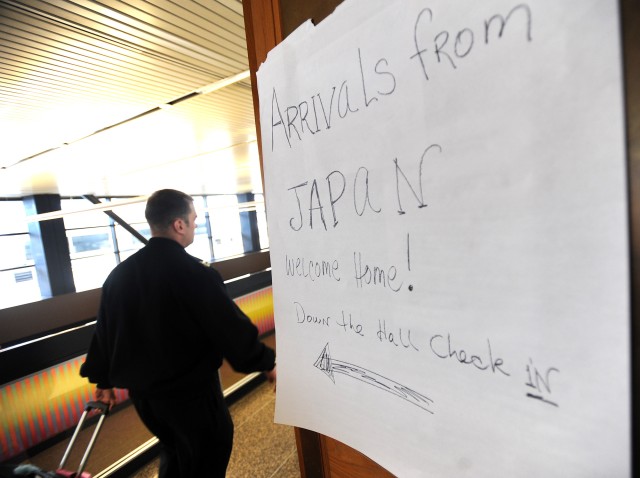 JOINT BASE LEWIS-MCCHORD, Wash., March 22, 2011 -- An influx of people arriving this week at the Seattle-Tacoma International Airport from the earthquake and tsunami-ravaged country of Japan have prompted a multi-agency response by the federal government.
Thursday, the Defense Department offered eligible family members of United States servicemembers and some civilian employees the opportunity to voluntarily leave the country at government expense through what is now called Operation Pacific Passage.
As of Monday, nearly 400 people had arrived at Sea-Tac with thousands more expected during the next few days.
Local Air Force, Marine, Navy and Army civilian and service personnel are working around the clock to ensure a quick transition for the family members and civilians en route to destinations across the U.S.
"It's not a service-specific operation," said Lt. Col. Rich Whitaker, deputy commander of the 1st Joint Mobilization Brigade and the officer-in-charge at Sea-Tac. "This is taking care of family members."
"We're there with support when it comes to helping (those leaving Japan) with their ticketing," Whitaker said. "We're trying to provide a smooth process so that when they arrive, we can call up the commercial ticket office at [Joint Base Lewis-McChord] and get them flights to their final destinations."
Joint Base Lewis-McChord Army Community Service Mobilization and Deployment Program Manager Wayne Johnson said he was overwhelmed by the response.
"We're getting great support from Sea-Tac Airport, and the Sea-Tac USO has been excellent in providing food and water support," Johnson said.
All of our military agencies are coming together - all aspects of it, not just the family support - but all who support what we are. That is probably (what is most) impressive to me."
Johnson said the family members and civilians have been "very courageous" despite suffering from travel fatigue.
"We're trying to make them comfortable as quickly as possible," he said, "do the processing, get their paperwork taken care of and any needs that they may have."
Once connecting travel arrangements are made, people who need lodging support are bused to nearby hotels. Johnson estimates they spend about three hours transitioning at Sea-Tac.
Child Youth and School Services has set up a professionally staffed Child Development Center to accommodate the large number of children traveling with a parent. On Saturday, 190 of the 233 travelers were children.
"When a parent arrives after getting off a 10-hour-plus flight and they have a place where they can drop their kids and go work on orders or a flight home, or walk the dog, that's huge," Whitaker said.
According to Whitaker, most people leave for their final destination in 24 to 48 hours.
Throughout this operation, more than 20 flights from Japan are scheduled to arrive in the United States.
Two flights are being diverted to San Francisco later today, but officials anticipate that up to 900 people will arrive at Sea-Tac.
"We're adding staff in some areas to improve thru-put and we've also made contingencies, if we have flights stacking up on each other," Whitaker said.
United States Northern Command is standing up ports of entry in Denver and at Travis Air Force Base outside of San Francisco to help ease the influx of people to Sea-Tac.
Medical supplies including over-the-counter pain, cold, flu and other common medications are available for dispensing by a medical team working at Sea-Tac, Madigan's Strategic Communication Director Jay Ebbeson said via e-mail.
Should the need arise, local military medical facilities like Madigan Healthcare System or Everett Naval Hospital will provide medical support and resources to family members.
"My priority is that whatever medical needs (they) may have upon arrival, our medical team is prepared to provide the care needed, either at Madigan or the closest available medical treatment location," said Col. Dallas Homas, Madigan Healthcare System commander.
Col. Kevin Kilb, 62nd Airlift Wing commander, greeted the first group of travelers arriving at Sea-Tac on Saturday.
"I'm proud of the team and their great work and pleased we have the opportunity to welcome and take care of these family members," Kilb said in an interview with the 62nd Airlift Wing. "We're very grateful (for) the heroic support of the USO at Sea-Tac."
"This is a tremendous team effort from the entire Joint Base community aimed at easing a difficult time for DOD families," he said.
For more information about Operation Pacific Passage, visit the U.S. Forces Japan website: http://www.usfj.mil/ or http://cpol.army.mil/japan2011/.
Related Links:
Gates authorizes humanitarian funds for Japan, voluntary evacuation of Honshu families
Japan-based military Families remain top concern
Military family members arrive in Seattle from Japan
Army.mil: Asia and Pacific News
DoD Special Report: Japan Earthquake Relief
U.S. Army Garrison - Japan on Facebook
US Army Japan & I Corps Forward on Facebook