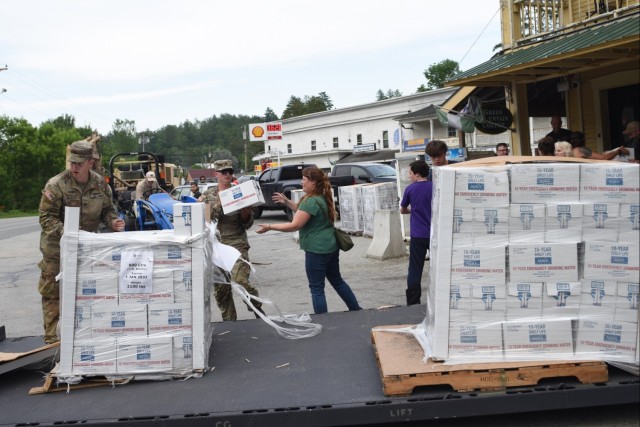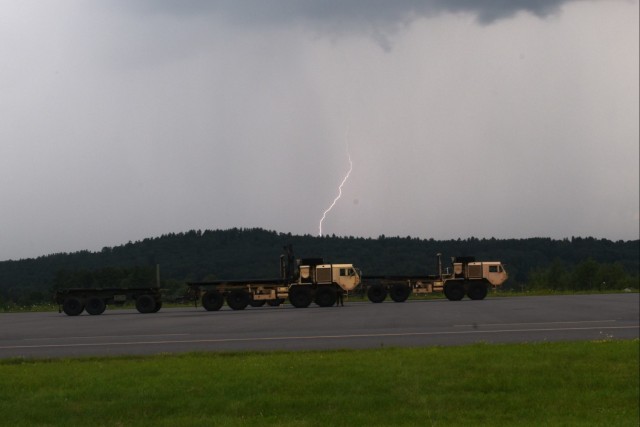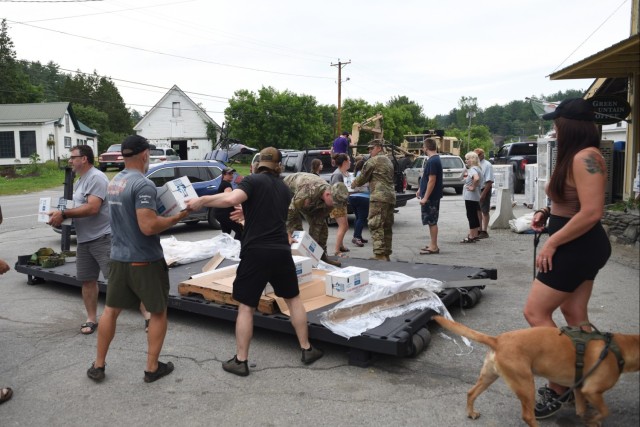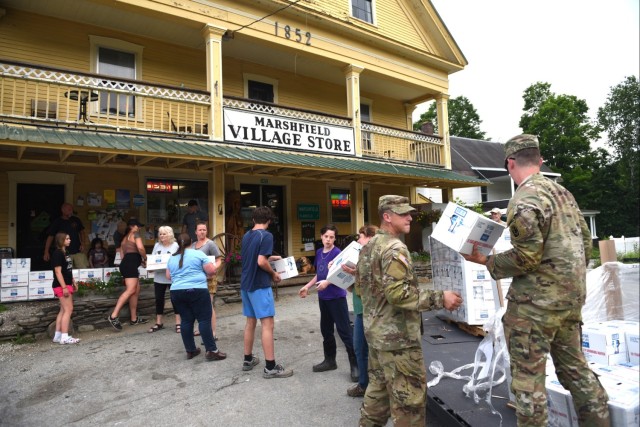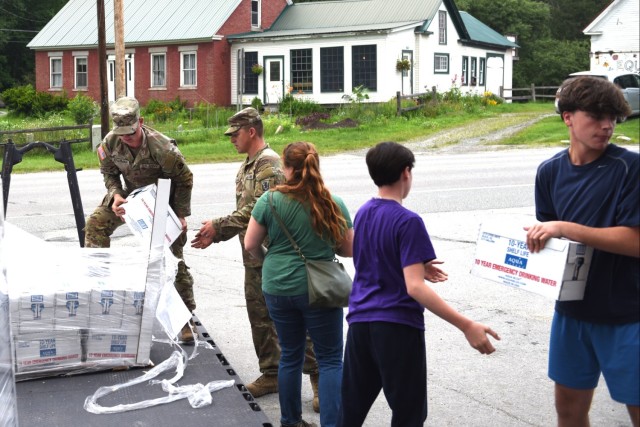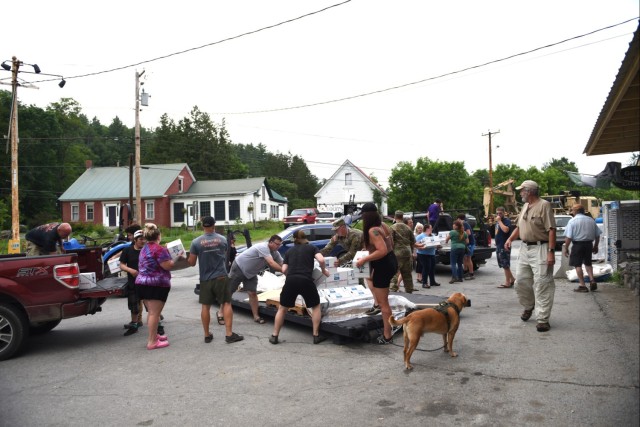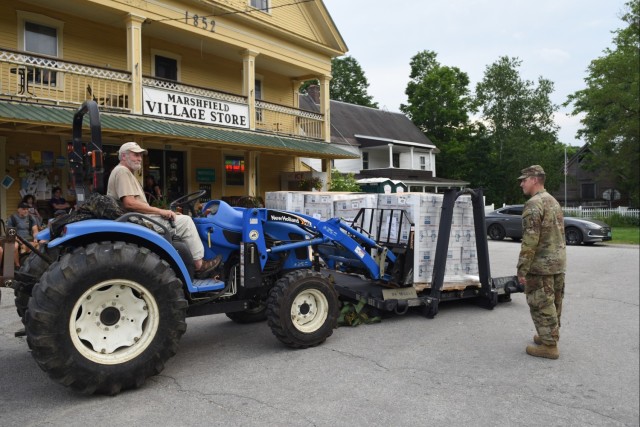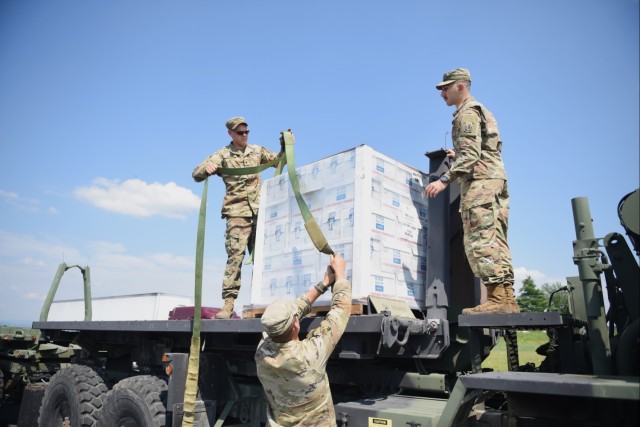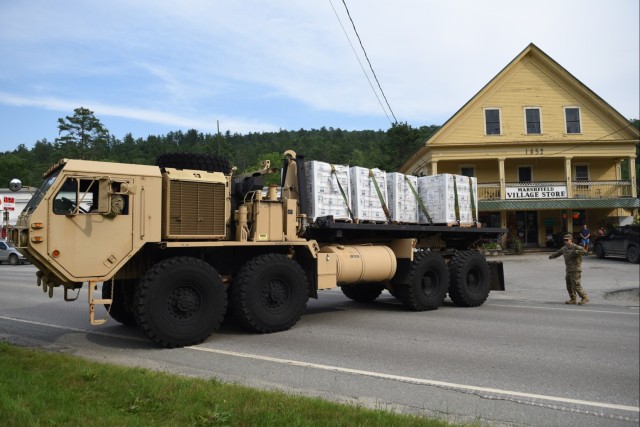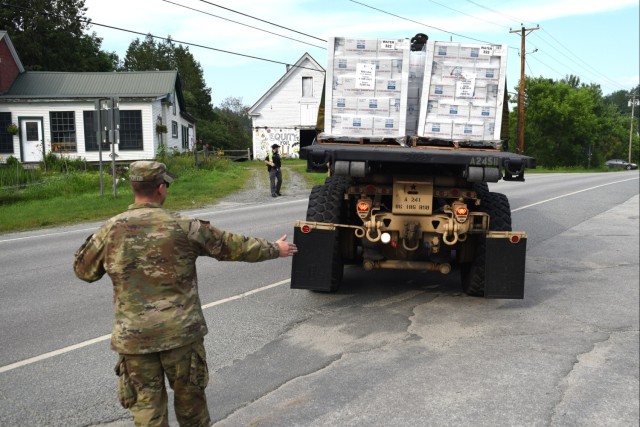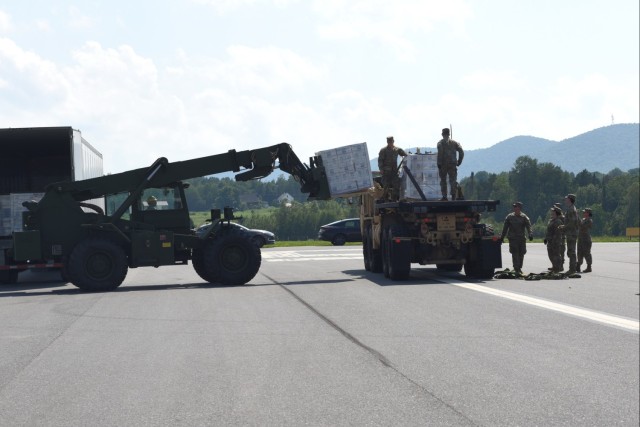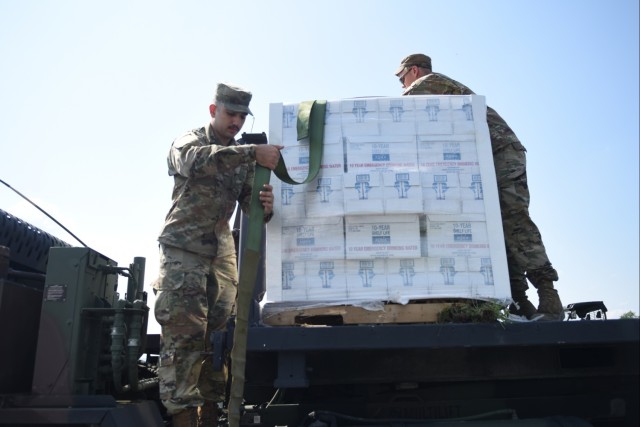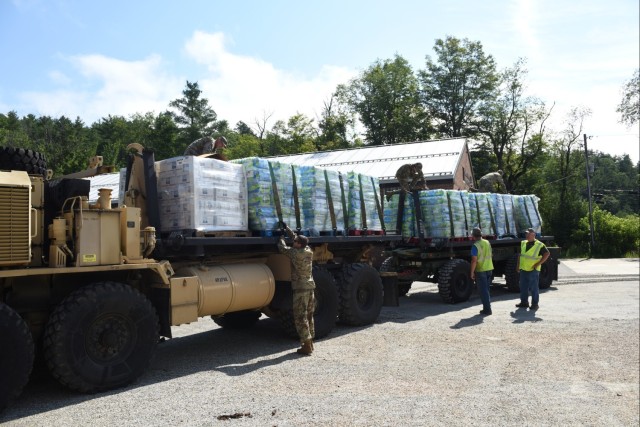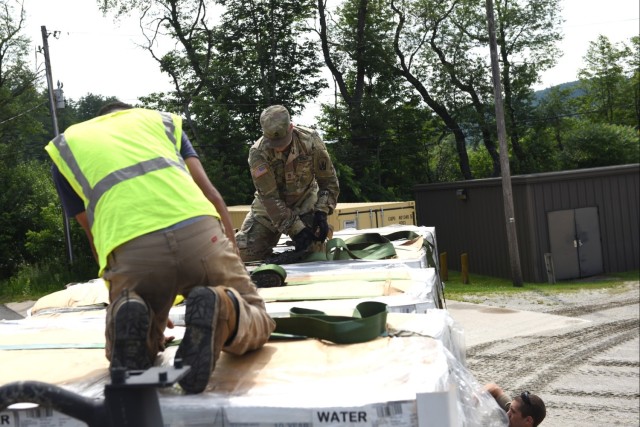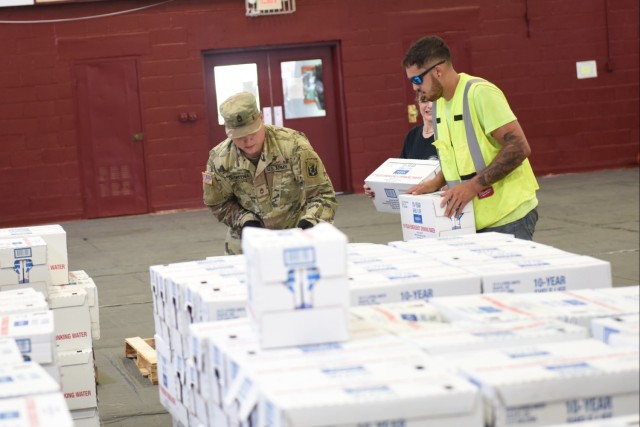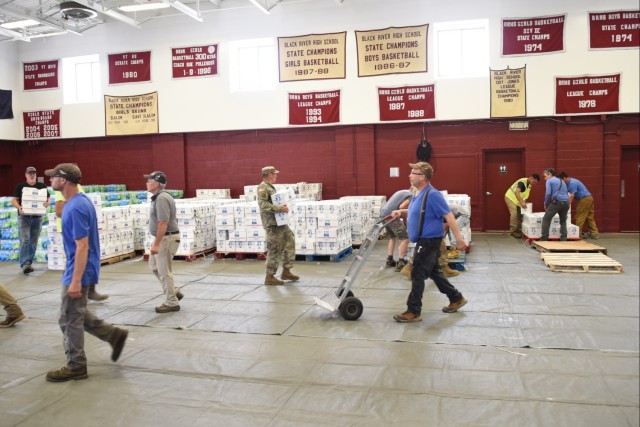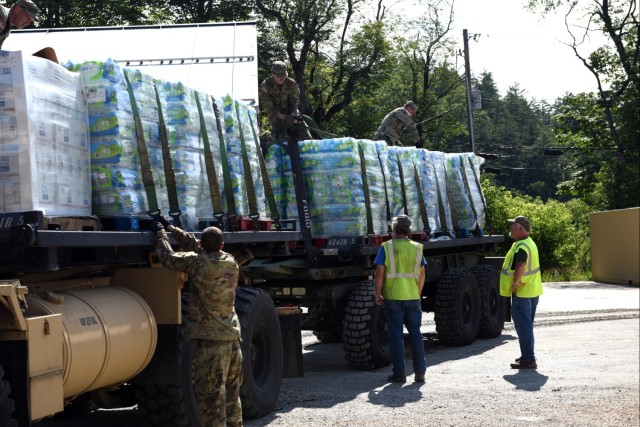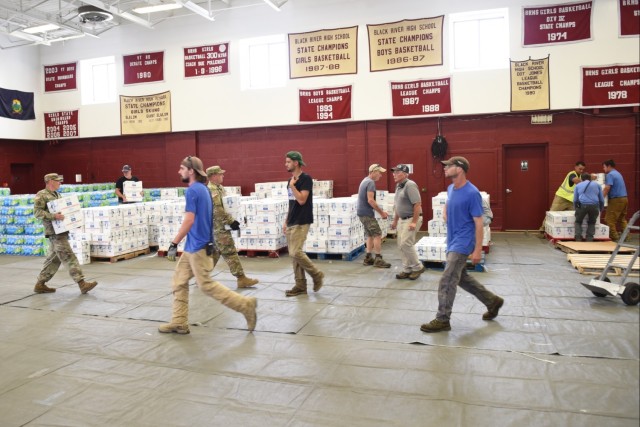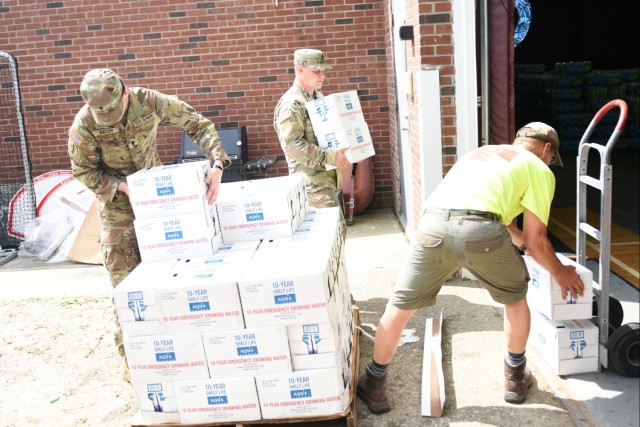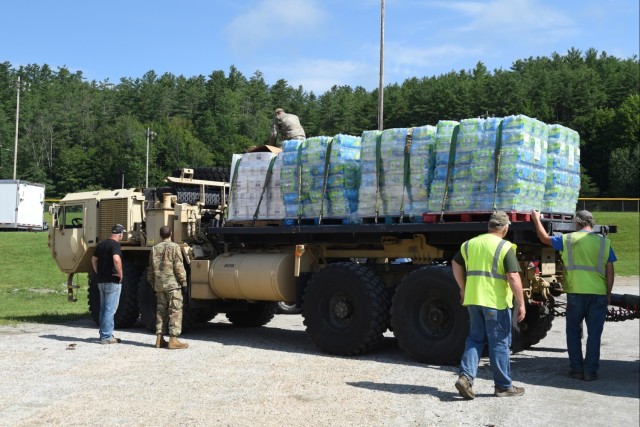 BERLIN, Vt. – In response to the recent floods that struck several towns in Vermont, 186th Brigade Support Battalion Soldiers stepped up to provide critical aid. On July 13-14, the battalion delivered approximately 70,000 liters of water, contained in 92 pallets, to the towns of Marshfield, Morrisville, Woodstock, and Ludlow, ensuring that essential supplies reached the affected communities.
Prompted by the need for assistance, the Federal Emergency Management Agency (FEMA) coordinated with the Vermont Army National Guard to distribute the water supplies. Under state active-duty orders, the Soldiers deployed their expertise and resources to facilitate the mission.
"We are here to assist and provide logistical support however we can help," said U.S. Army Capt. Jimmy Fox, commander of Alpha Company (Distro), 186th Brigade Support Battalion, 86th Infantry Brigade Combat Team (Mountain), Vermont Army National Guard. "After the initial flood damage, there were communities that needed water and our unit worked to receive water from FEMA and get that water distributed to people who need it."
The logistical operation was efficiently executed with the deployment of Heavy Expanded Mobility Tactical Trucks with Load Handling Systems (HEMMT-LHS). The versatile vehicles are capable of moving a payload of 11 tons on their flatbed in addition to pulling an 11-ton payload on an attached trailer according to the manufacturer's website
"We were able to transport a lot of water using our unit's vehicles," said Sgt. 1st Class Anthony Degreenia, motor vehicle operator, with Echo Company, 186th BSB, who delivered water to Ludlow. "It was great being able to pull into town, see people light up as they saw the water we were bringing, and hopefully offer some relief as they knew we were there to support."
FEMA delivered the water to the Edward F. Knapp State Airport in Berlin, where the Vermont National Guardsmen unloaded the trucks and loaded the water onto HEMMTs and trailers.
Water, supplies, and other resources can be requested through the state of Vermont and Vermont Emergency Management. The arrival of the Vermont Army National Guard's convoy, laden with 70,000 liters of water, was provided through such a request and provided relief to areas with boil or do not drink water notices.
"This is one of the reasons I joined the Vermont National Guard. I want to be one of the people helping our state when needed, that's what I do," said Sgt. Jeffrey Coleman, motor vehicle operator, also with Alpha Company, who delivered water to Marshfield "When I was told there would be an activation for this, I said I wanted to be one of the people to help."
Video: Vermont National Guard Water Delivery-Ludlow