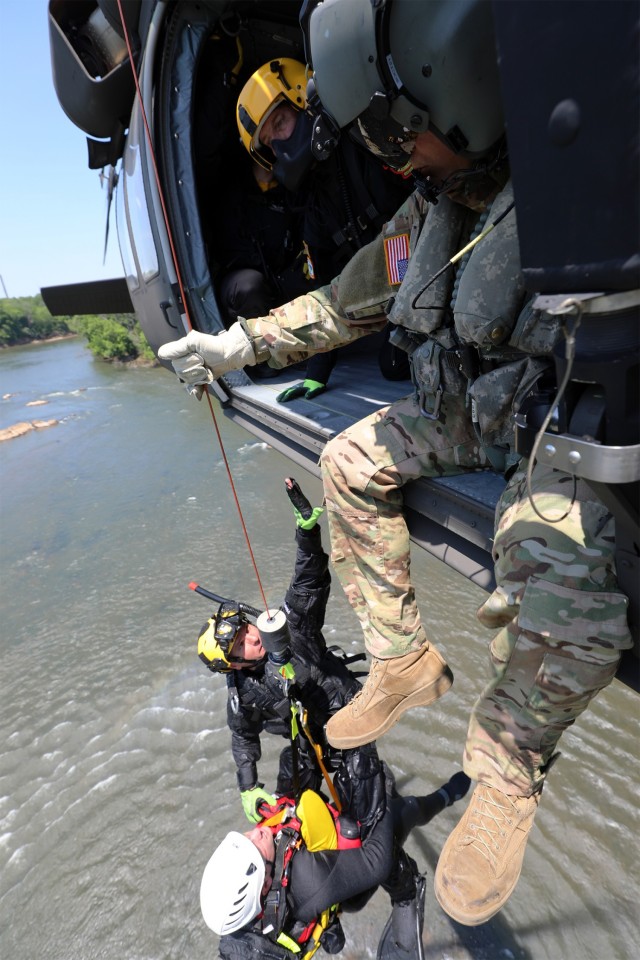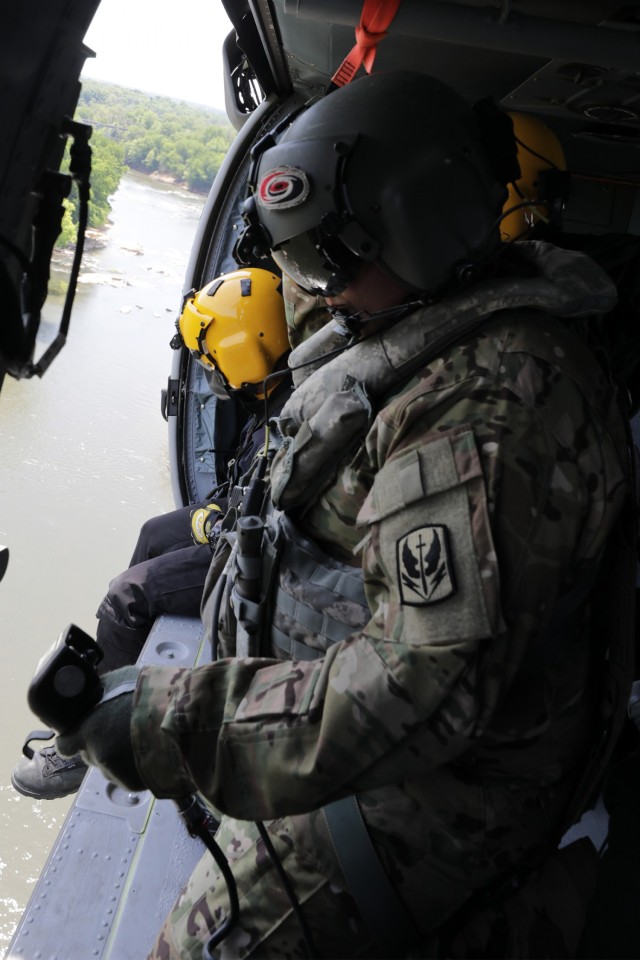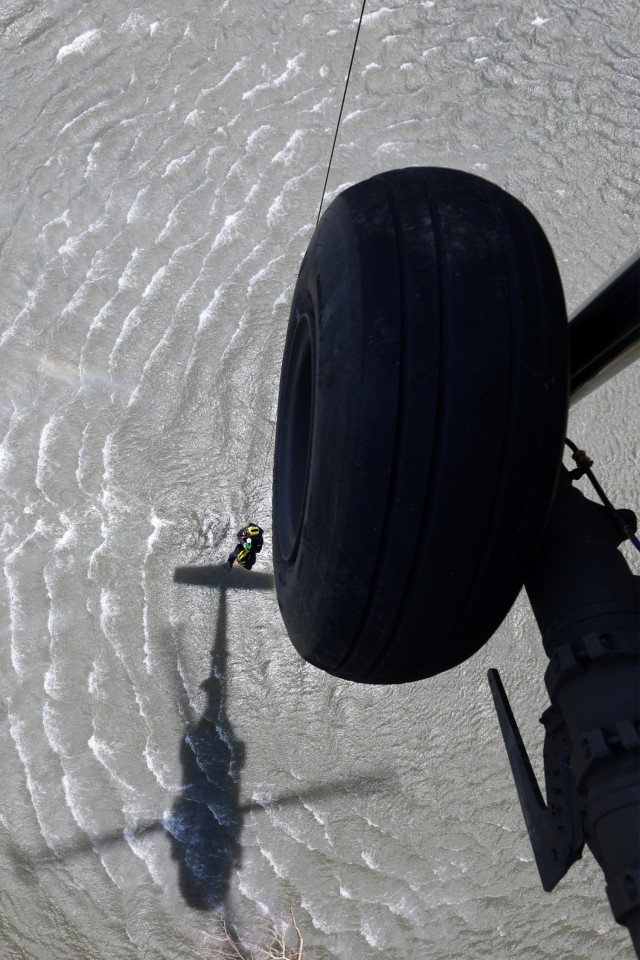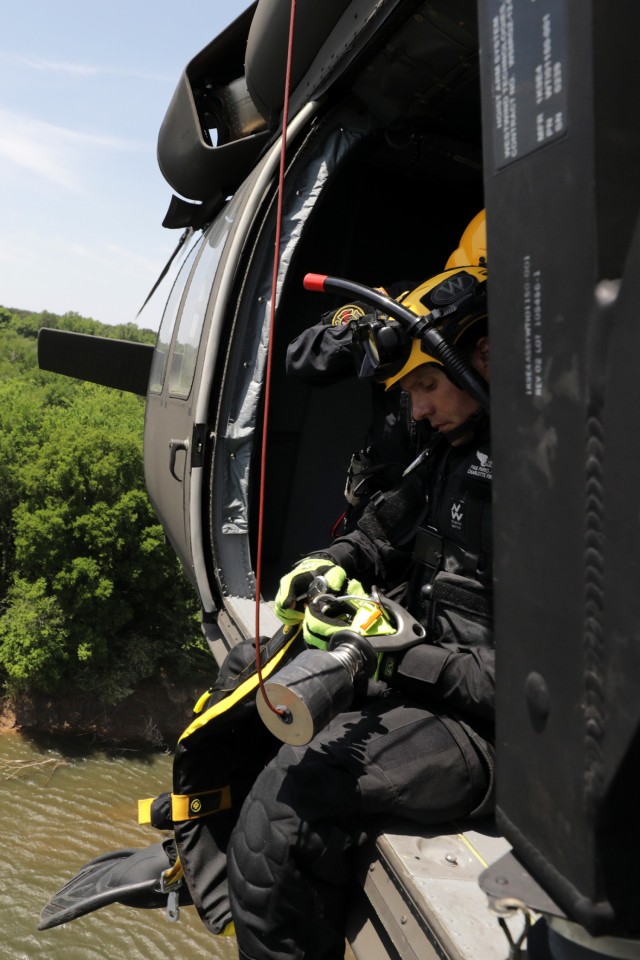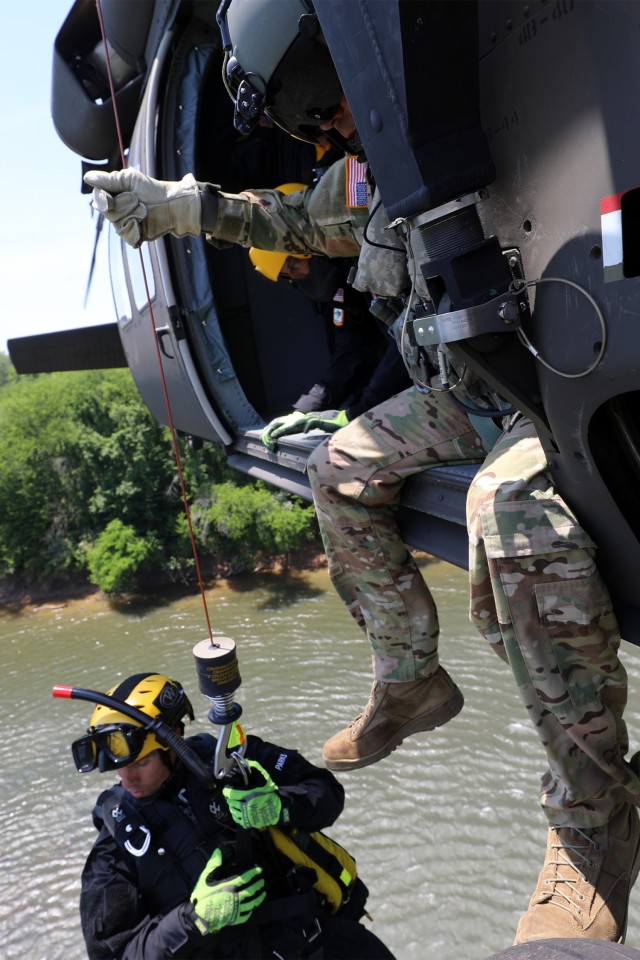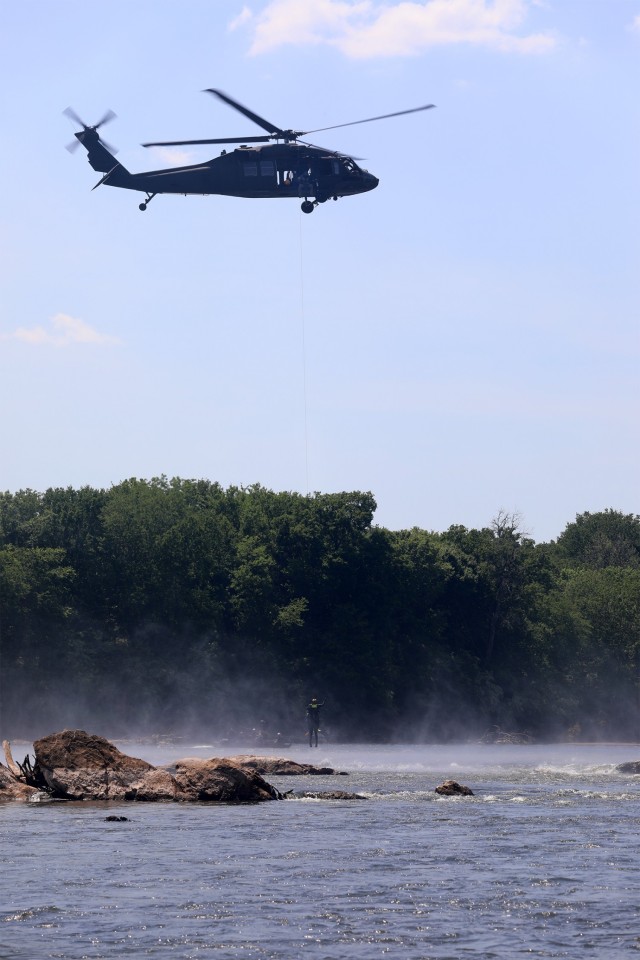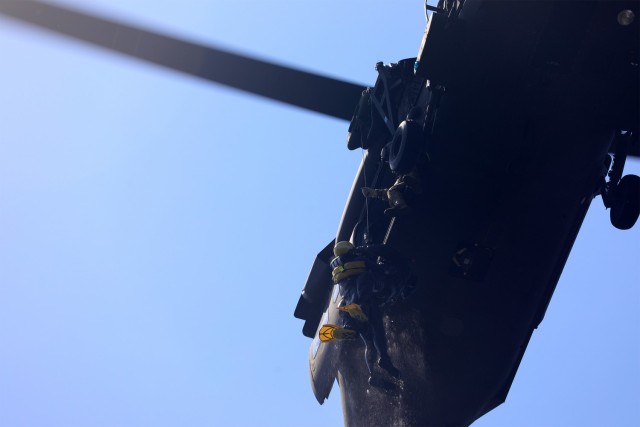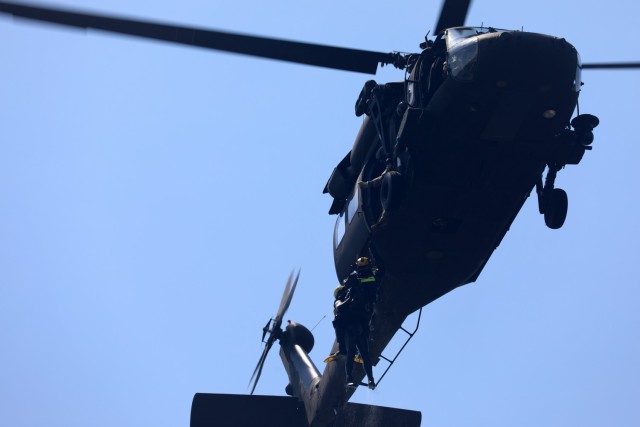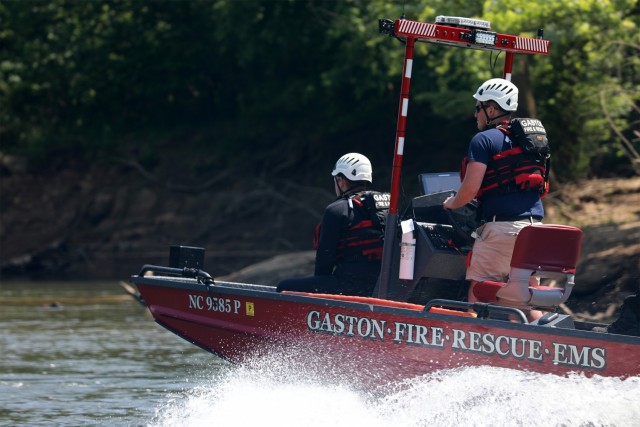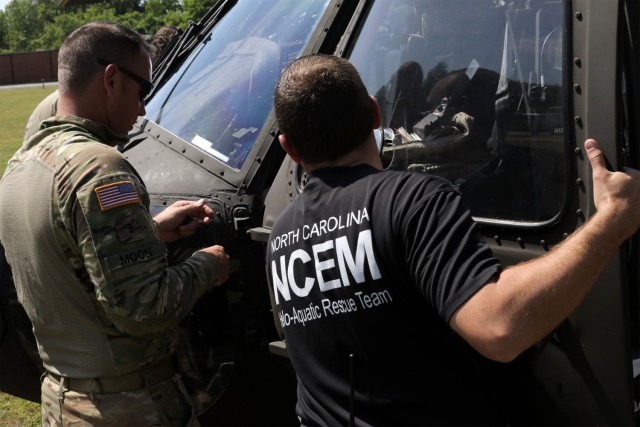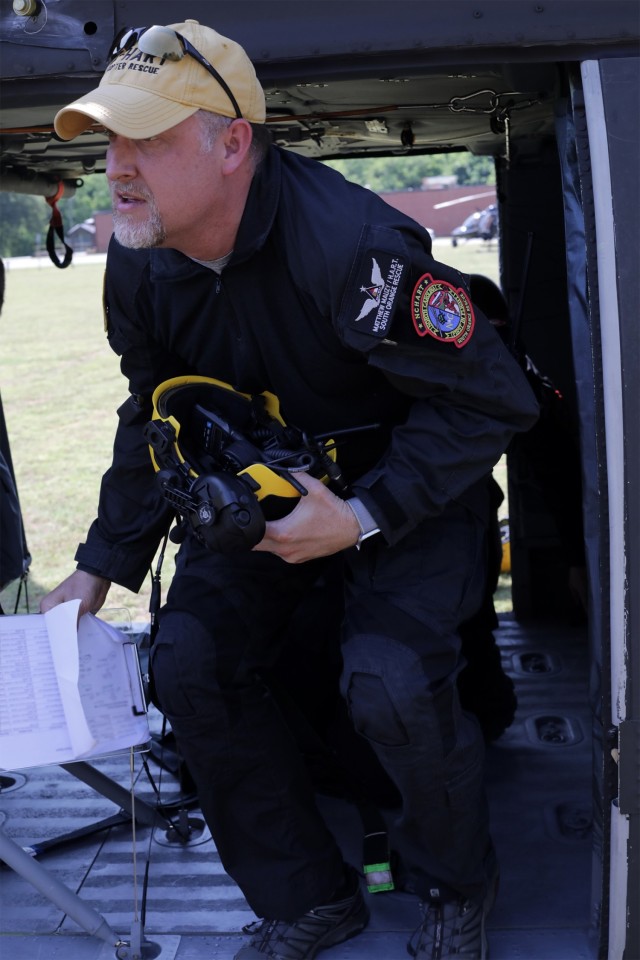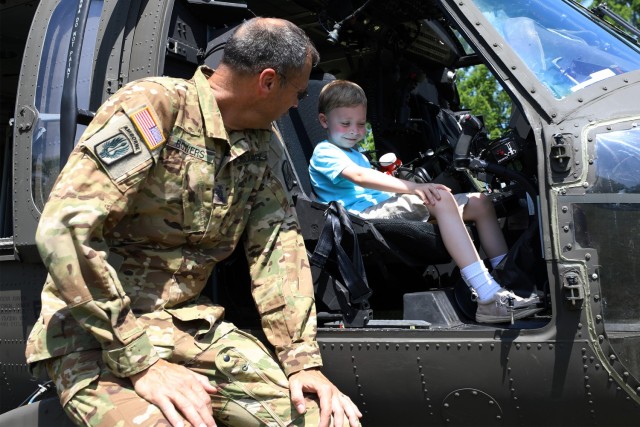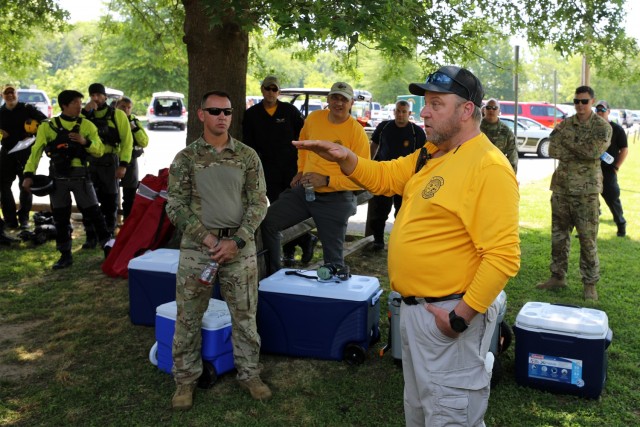 North Carolina National Guard Aviators joined first responders from 16 state and local agencies for North Carolina Helicopter Aquatic Rescue Team training at Weldon, North Carolina, May 19 - 20, 2021.
The training at the rapids of the Roanoke River simulated swift water rescue missions.
"NC HART partners conduct training rescues over land, water, tree, and building ten times a year on average to prepare for Hurricane season," said Army Lt. Col. Benny Collins, NCNG State Army Aviation Officer.
Before mission, NCNG Aviators and civilian aviation staff swarmed over the 64-foot-long twin engine UH-60 Black Hawk helicopter preparing it for water rescue. Seats and doors are prepped to allow for civilian first responders to be lowered by hoist.
The NCNG crew chief briefed the teams of civilian first responders on safety and each person's responsibilities during the mission. The teams then board the helicopter and lift off from the improvised airfield, a small park's athletic field next to the river.
Pilots and aircrew look out the windows for a fellow first responder in the river needing rescue.
Once spotted, the pilots position the helicopter to lower a first responder by hoist down to the river nearly 100 feet below. A NCNG crew chief guides the long metal cable holding the rescuer close as possible to another first responder simulating someone trapped in the swirling rapids.
"We increased our skills at responding to a wide area flood," said Chief Warrant Officer 3 Jay Moon, NC HART UH-60 Lead Technician and NCNG pilot.
It was a carefully rehearsed maneuver, the helicopter must safely hover as close as possible without the wind, caused by the rotors, interfering. The rescuers fought the current and secured the simulated rescue to the harness. Once both are attached, the hoist lifted them back up to the helicopter for the crew to pull to safety inside.
The return flight practiced coordination with the other agencies' helicopters and ground personnel to keep a steady pace of operations.
"We work out communication kinks with other agencies and establish face to face relationships," said Moon.
NC HART deploys aircraft and aircrews from the NCNG and North Carolina State Highway Patrol with rescue technicians employed by fire departments and rescue squads from across the state on request by civilian officials through North Carolina Emergency Management.