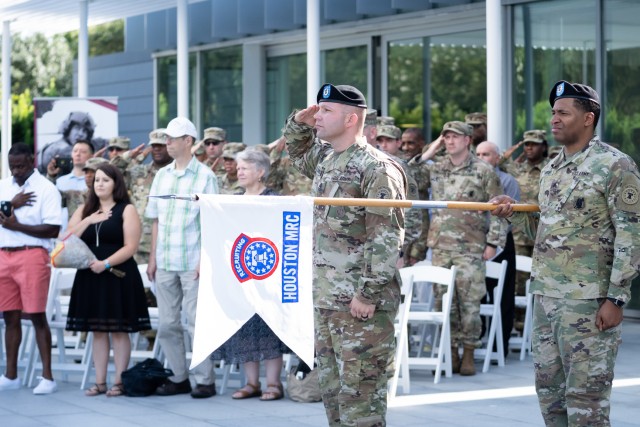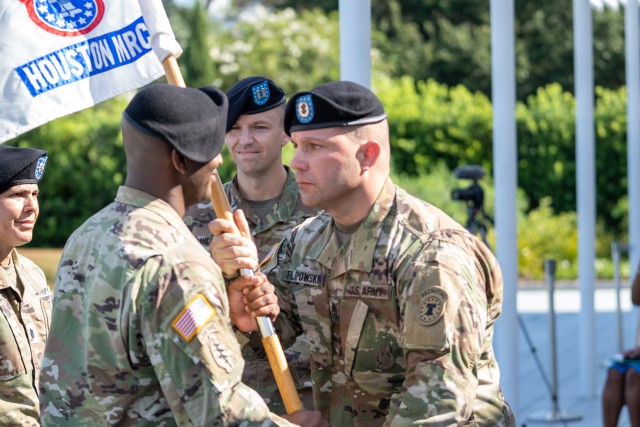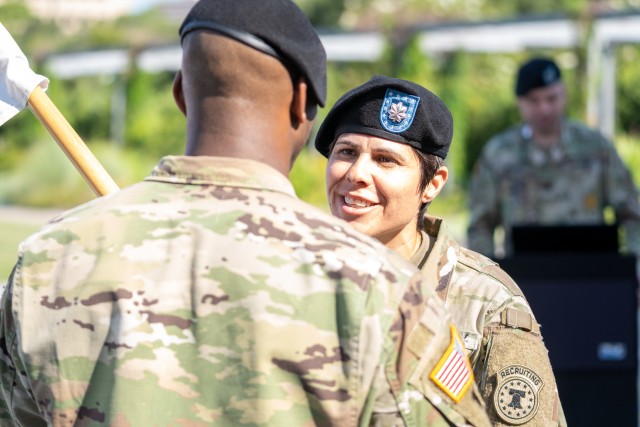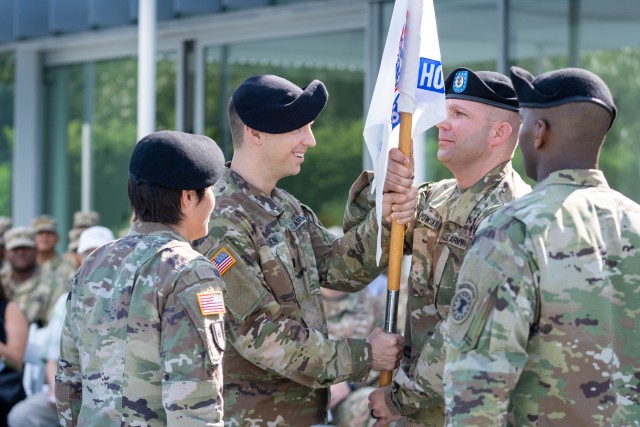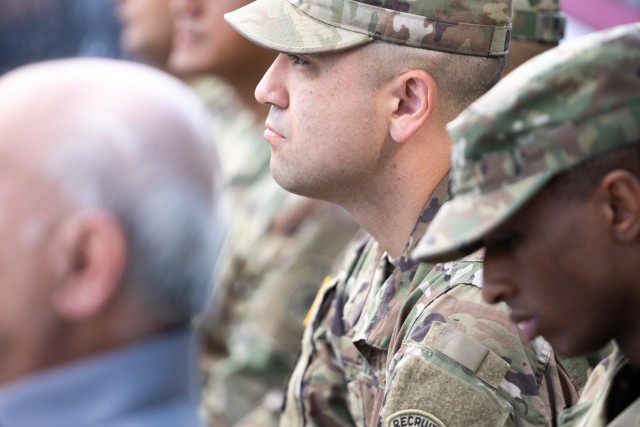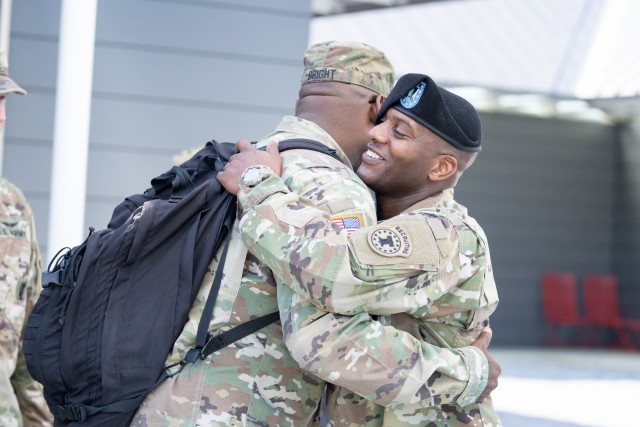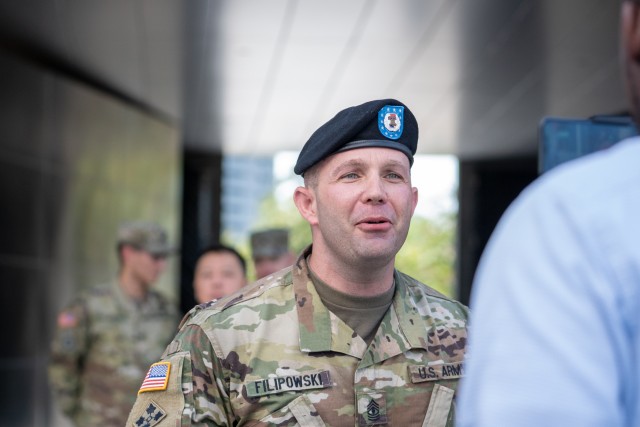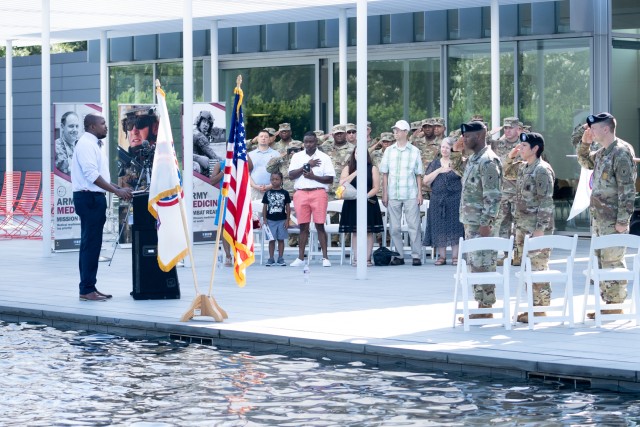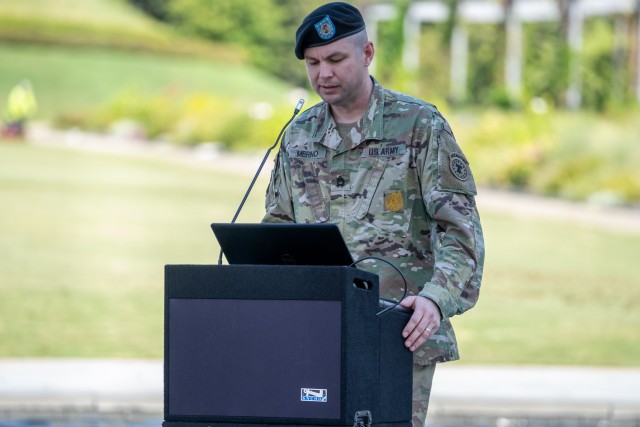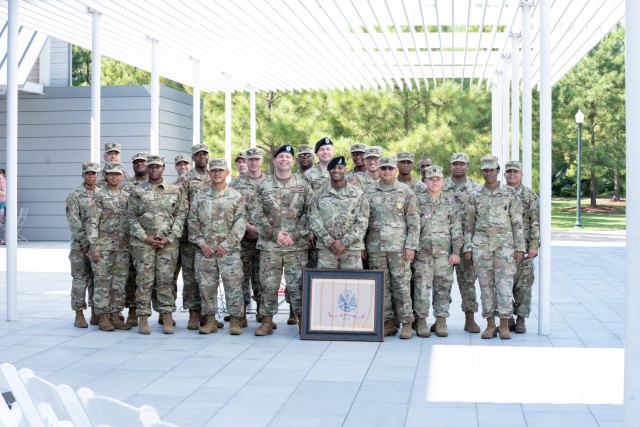 HOUSTON - Soldiers assigned to the Houston Medical Recruiting Company carry out the U.S. Army's medical recruiting mission across four states (southeast Texas, Arkansas, Louisiana, and part of west Mississippi), but they were able to rally together in Houston for their company's biennial change of command ceremony at Hermann Park Conservancy, Sept. 5.
During the ceremony, Capt. Ryan Sanders, the outgoing company commander, relinquished command to Capt. David Hilden, the incoming company commander, signifying the official transfer of authority and responsibility as the unit's commanding officer.
Lt. Col. Mary Rivera, battalion commander, 5th Medical Recruiting Battalion, served as the ceremony host.
"Thank you very much for being here to celebrate with us the great accomplishments of Ryan and his 'Avenger Team,' and to welcome David and his family," Rivera said. "It is always a great pleasure to be here with the Avengers. The team's energy and motivation is refreshing."
Sanders, a Florida native and an Army Medical Service Corps officer, took command of the Houston Medical Recruiting Company two years ago. He said during his first week in Houston, Hurricane Harvey hit and he got "swept off his feet."
During that time, the Houston Medical Recruiting Company faced one challenge after another, and with a new leader, the Soldiers were not expecting what would happen next.
"My first impressions of Capt. Sanders were - this guy's quiet," explained Sgt. 1st Class Anthony Merino, an Army recruiter assigned to the Houston Medical Recruiting Station. "He first came in and sat down with us and started going over some things … and I started thinking, 'Man this guy is way too quiet.' It's the quiet ones you gotta worry about, is what I've always been told."
That all changed a week later when Hurricane Harvey hit the Houston area on Aug. 27, 2017.
"Over three to four days, we got 52 inches of rain. Much of the city was underwater. My neighborhood was underwater. There was a lot of chaos, a lot of confusion … And a lot of folks didn't know what to do … We didn't know what to do," Merino said. "And out of nowhere one day, guess who shows up at my house in the middle of Hurricane Harvey? -- Capt. Sanders. That was the best day during that flood … having my future company commander stop at the house to come and check on me, and the family. Ever since then, I thought to myself, 'This is the type of person I want to be, this is the type of leader I want to be.'"
Over the next two years, Sanders demonstrated the exact leadership qualities that the Soldiers of the Houston Medical Recruiting Company needed. He was even recognized by the battalion commander, along with the unit's most senior enlisted advisor, 1st Sgt. Brian Filipowski, for "completely turning this company around."
The secret to their success was due to the launching of a new "superhero" recruitment effort.
HOW IT ALL STARTED
In 2017, when the unit was attending a governance forum, they realized their team name - the "Gladiators" was the same name as another unit in the brigade. So they knew they had to change it.
Filipowski explained, "When we got back from the forum … Capt. Sanders told me, 'Man we need to have our own identity … We need a culture and something different in the way we operate. It needs to be at a different level … a step above everything else in everything that we do.' I was thinking, 'man this commander is on it. He is all about the mission; he is all about the team … he is spot-on. Then Capt. Sanders said, what about the 'Avengers' … And you know me being a first sergeant, I'm like … uh, sir, this is the Army. We gotta be like the 'Spartans,' the 'Gladiators,' the 'Olympians,' the 'Titans.' Those are Army names."
Sanders then explained his vision. This new "Avenger" identity would empower the company's four medical recruiting stations to have their own identity as superheroes, yet still be a part of the team (the Houston Medical Recruiting Company).
Filipowski was finally convinced.
"So we sat down with each of the station leaders and had them pick their 'Avenger,'" he said. "The Houston station leader chose 'Captain America,' New Orleans chose 'Team Hulk,' Shreveport chose 'Team Ironman,' and Little Rock choose … 'Team Vision.'"
It wasn't long before this team of medical recruiting "superheroes" developed a "supernatural synergy." With this new-found synergy, the company was able to double its production two years in a row.
THE AVENGER WAY
"And ever since then, we did things 'The Avenger Way,'" Filipowski said. "Which is a culture and a way of living. Not only through recruiting operations, but in the way we live life. It was a level above everybody else. And that's what I'll always remember Capt. Sanders for … that's what he was about in all aspects of his life … inspiring others to live at a different level, to be something more than you ever thought you could be, because you are, and you can be. So thank you, sir."
During the ceremony, Sanders provided his final remarks as the Houston Medical Recruiting Company commander.
"I want to thank the mighty 'Avengers' that are in the crowd today," he said. "You know I'd be remiss if I didn't explain what it means to embody being an 'Avenger.' So I want to start with the first letter, and that's …
A -- meaning attitude. An 'Avenger' always shows up with the right attitude when going into work each and every day to accomplish their set tasks.
V -- for vision. An 'Avenger' sets a clear path to accomplish their mission.
E -- for excellence. An 'Avenger' always strives for excellence in everything that we do.
N -- for never quit. 'Avengers' are resilient and persevere through any assignment.
G -- for goal-oriented. 'Avengers' understand that to clear any obstacle, they must have a plan. And that's what you guys do.
E -- for effort. As 'Avengers' we realize that effort is only measured by the individual and it's between "you-and-you," and we understand that.
R -- is for reliable. 'Avengers' understand they must be accountable, but are ready to meet the demands that brigade requires.
And lastly is the letter ...
S -- for strong. I don't need to state why we're strong; we're superheroes. We have supernatural talents.
So that's what it means to embody an Avenger. And in closing, I just want to thank everybody for being an important part of this story. And, 'you don't even understand.' - Avengers 6 -- signing out."
Related Links:
5th Medical Recruiting Battalion Facebook