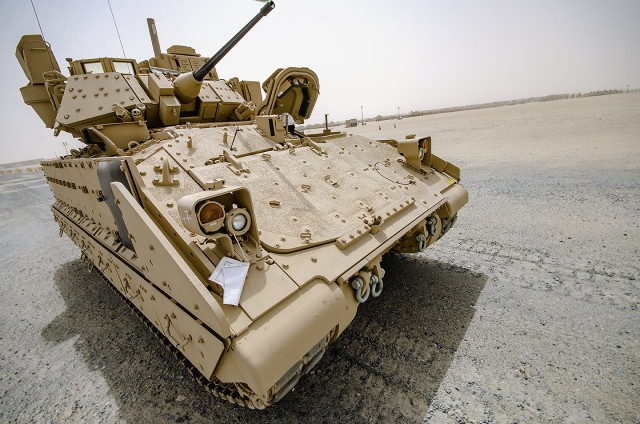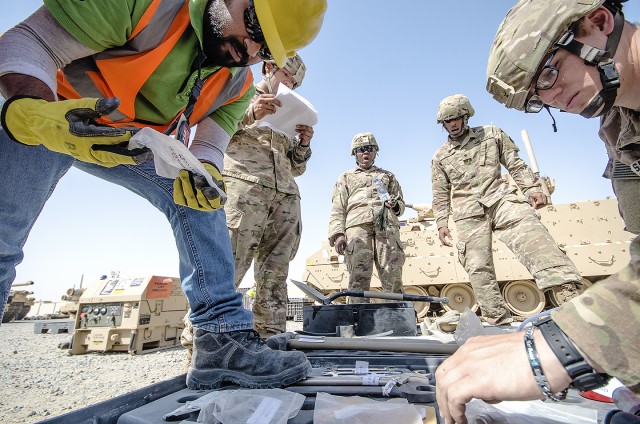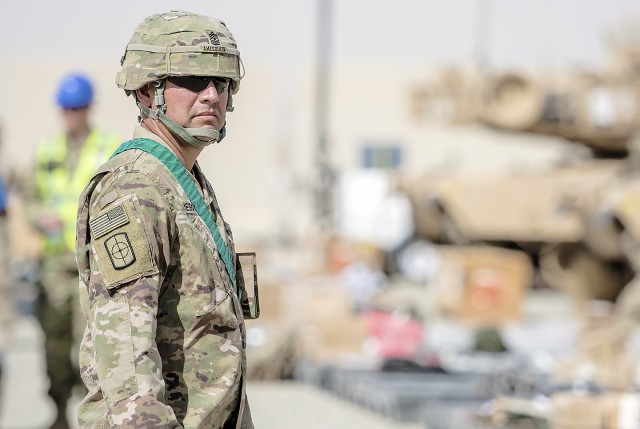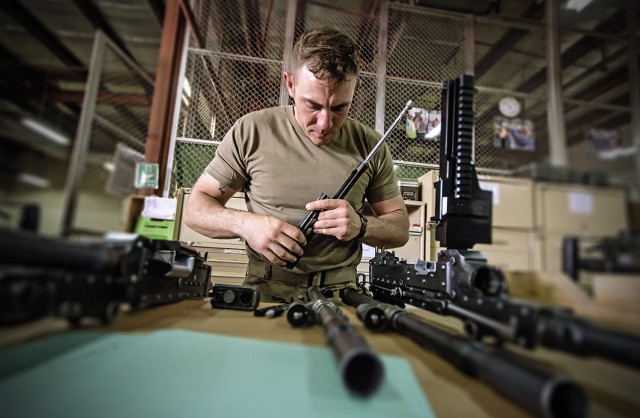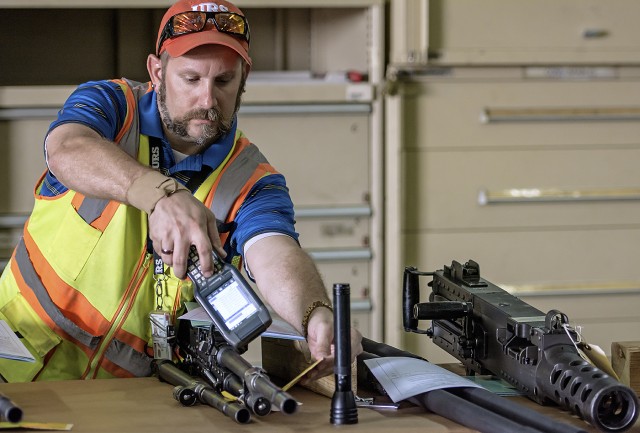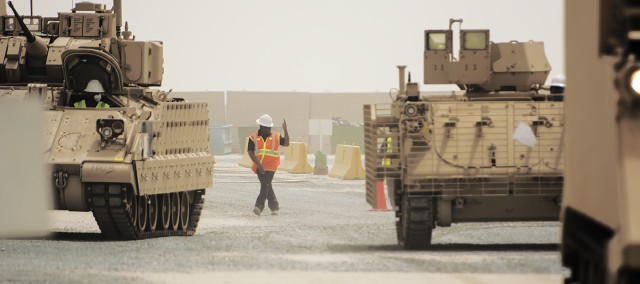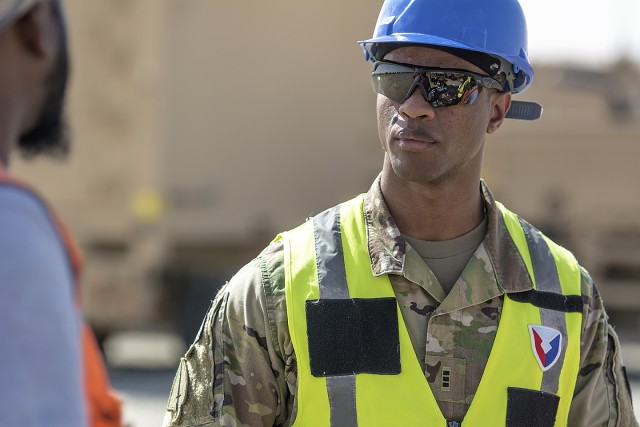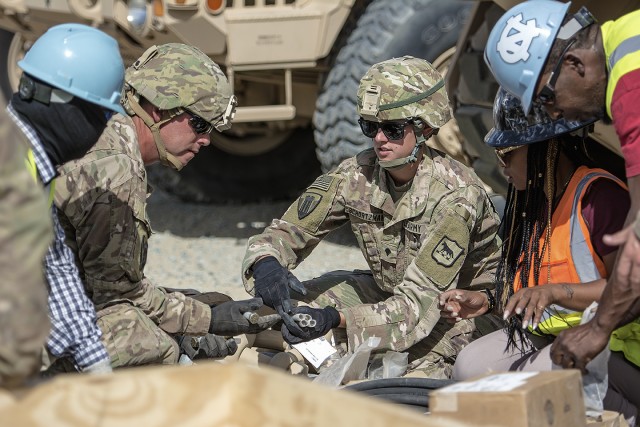 CAMP ARIFJAN, Kuwait -- The 401st Army Field Support Brigade issued 264 pieces of equipment from Army Prepositioned Stocks-5, including vehicles, weapons and support packages in a total of 12 hours during an issue exercise here, June 19-22.
The exercise, led by the Army Field Support Battalion-Kuwait, spanned three days and was intended to assess speed of issue from APS-5 to a gaining tactical unit as the Army looks to further operationalize APS-5.
"We can issue out a full brigade combat team in 10 days," said Lt. Col. Tim Haylett, commander, AFSBn-Kuwait. "We took a smaller approach to that for this exercise and opted for a task force. This is about a company sized element. We figured it would take about 48 hours, and we were able to issue out this task force in about 12 hours."
The battalion issued a total of 33 military vehicles, which included multiple variations of tanks, mine resistant ambush protected troop carriers, fuel trucks, wreckers and recovery vehicles.
Repair parts, fuel products, and shelf life items were issued along with the vehicles as small push packages that are necessary to support the vehicles for about 30 days.
"We did very well at identifying all of the different equipment and locating it throughout our warehouses, bringing it out to the grid, and laying out the inventory palettes in a timely manner," Haylett said. "We had a rehearsal of concept drill on the first day of the exercise to go over everything, which contributed greatly to how quickly we were able to execute all the movement, staging, and inventory."
The 420th Engineer Brigade acted as the gaining tactical unit for the three-day exercise, which began with a series of briefings and a rehearsal of concept drill followed by the issue process throughout the second day, and the reset process on the third day.
"It was a smooth process," said Sgt. Maj. Eduardo Amesquita, S-4 (logistics) sergeant major, 420th Engineer Brigade. "All of the equipment was out there and ready, and we just fell onto it to conduct inventory of the equipment. The AFSBn-Kuwait and URS set us up for success."
Amesquita said the initial briefings and the rehearsal of concept drill that took place before the actual issue process made a large impact on his unit's ability to successfully draw all of the necessary equipment.
"We knew exactly how the rolling stock would be positioned outside on the grids at lot 58," Amesquita said. "On lot 52 we knew exactly how many weapons systems we were going to account for. So, we were able to determine what teams were going to be where for the exercise."
By using an engineer brigade that was mostly unfamiliar with the equipment being issued as the receiving unit for the exercise, the AFSBn-Kuwait was able to better assess their processes and contracted support.
"We're an engineer group and we were receiving more of a maneuver set, but we overcame that because the 401st AFSB and URS had subject matter experts on each piece of equipment out there," Amesquita said. "So, as far as receiving and returning an M1 Abrams, there were experts there to help us throughout the whole process."
Lack of familiarity with the equipment wasn't the only challenge. In addition to the Kuwait summer heat, most of the exercise occurred in the middle of a substantial sand storm.
"The sand has been frustrating, but we're Soldiers and we came prepared to train in real world field conditions," Amesquita said. "We had a lot of safety personnel here with us so we were able to work through the sand and the heat safely and effectively."
Out of 264 pieces of equipment that were issued during the exercise, only three faults were identified. Two tanks had small hub leaks, and one MaxxPro MRAP needed a new tire. The faults were all able to be repaired within two hours at a unit maintenance control point that was set up on the grid next to the lines of equipment palettes.
"It was good that we were able to exercise the real time maintenance piece, but even better that we only had minimal maintenance problems," said Haylett. "We equate that to this stuff being stored inside and being maintained at 1020 standards."
New APS-5 warehouses opened in November of 2016, allowing the 401st AFSB to move an additional 20 percent of its rolling stock into climate controlled conditions, which has resulted in increased readiness and faster speed of issue.
"Another thing that really helps the speed at which we can operate is we've just started implementing a Liaison Officer cell," Haylett said. "That worked extremely well, and we plan on keeping the LNO cell fully implemented as we look forward."
Sgt. 1st Class Kenneth Coffee, contract officer representative, AFSBn-Kuwait, was appointed as the LNO for the exercise.
In that role, Coffee served as the lynchpin between the Army Materiel Enterprise, the contractor support, and the gaining tactical unit.
He sent out a welcome letter prior to the exercise that explained how many personnel the gaining unit needed to bring, what types of personnel, and when and where they needed to be. He also set up housing and transportation.
"The issue process went a lot faster than we had actually anticipated because we were able to communicate effectively with the gaining tactical unit," Coffee said. "The information tools that we provided ahead of time seemed to prepare them to come in and operate efficiently."
The gaining unit appreciated the clear communication and preparation tools that were provided, according to Coffee.
"Given that the feedback we're receiving from the gaining unit is positive, and the fact that we were able to do this faster than expected, it looks good as we move forward," Coffee said. "We are going to be able to provide following gaining units with the equipment they need, and we're going to be able to do it in a very rapid way to meet the needs of combatant commanders so they can get forces to the fight as quickly as possible."
The 401st AFSB leadership plans to assess what improvements can be made to the issue process and conduct another issue exercise in early 2018 that would double the amount of equipment involved.
Related Links: