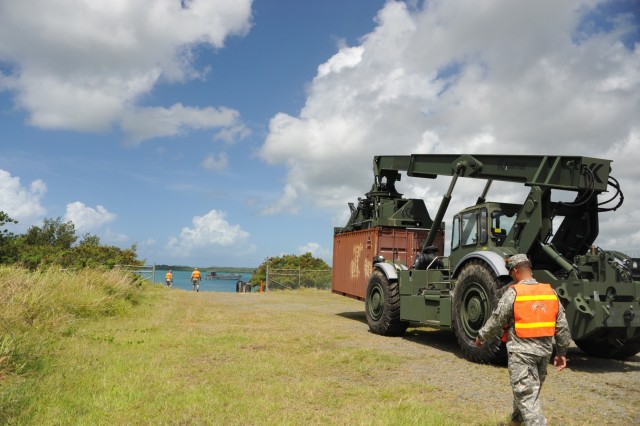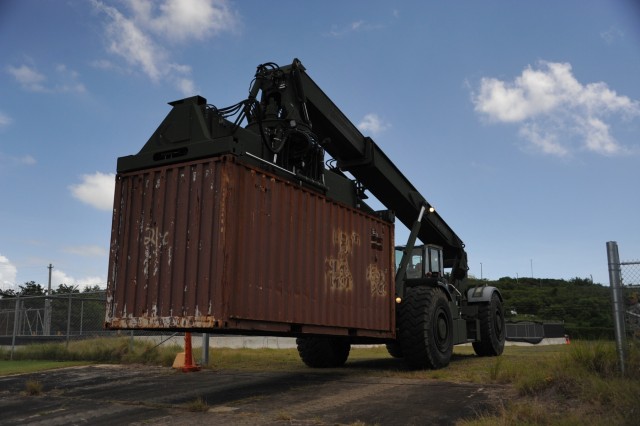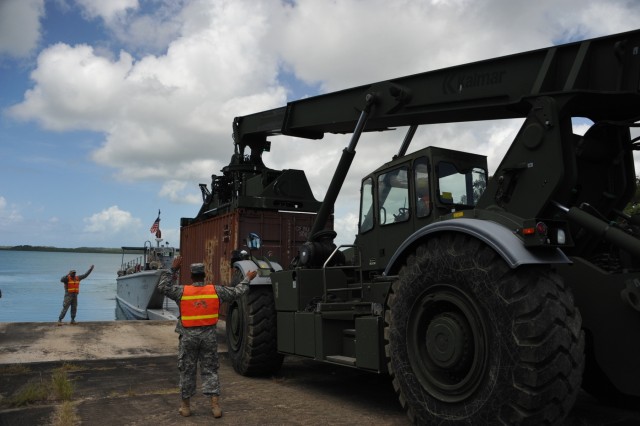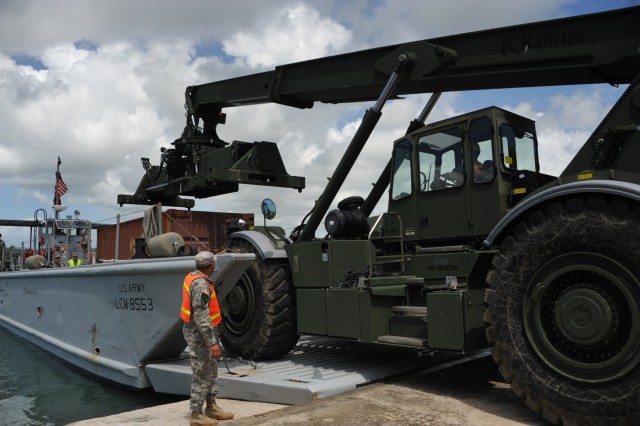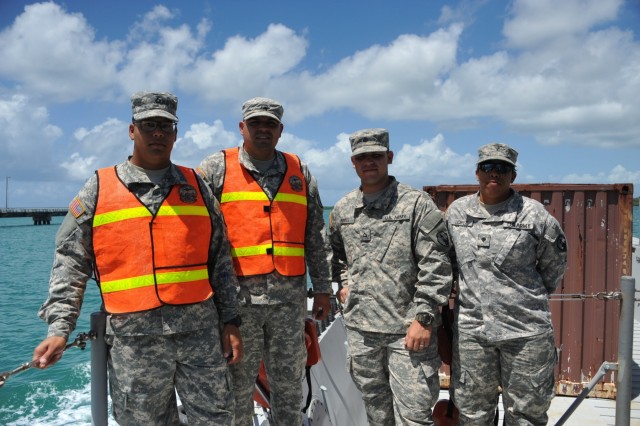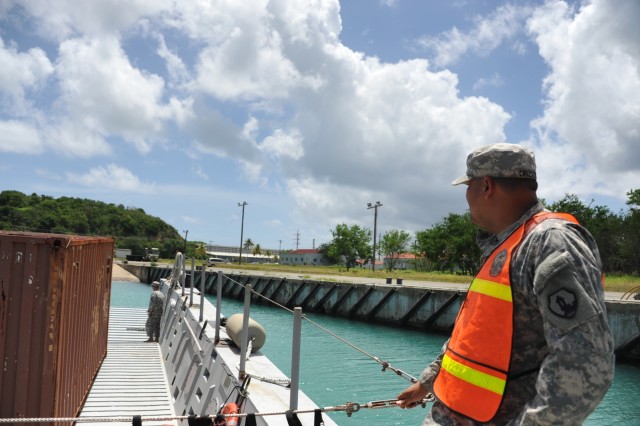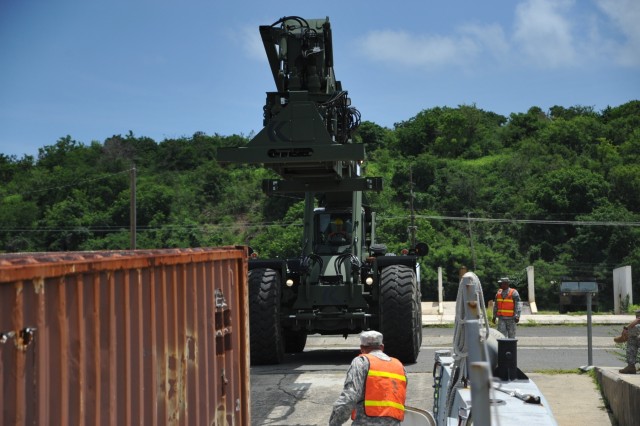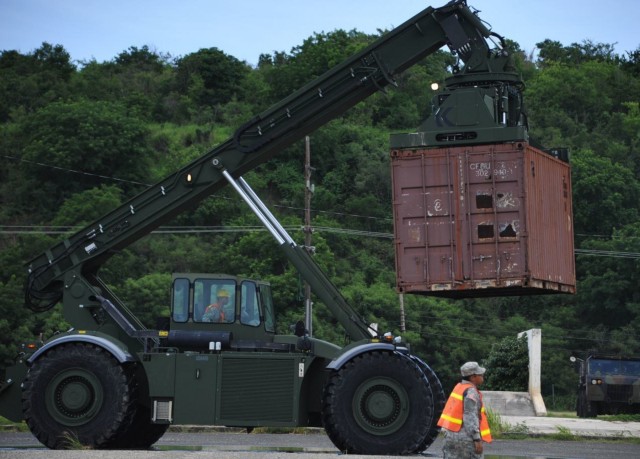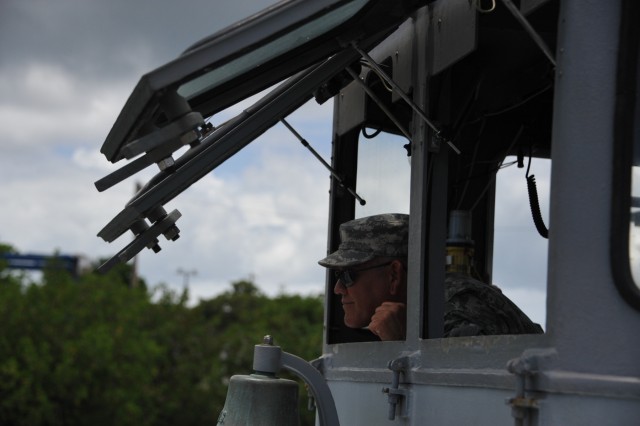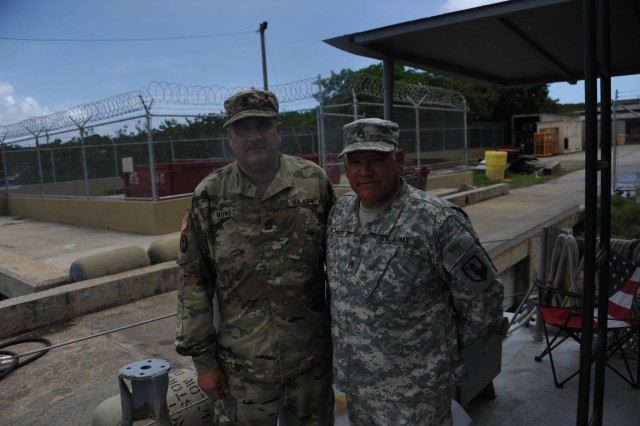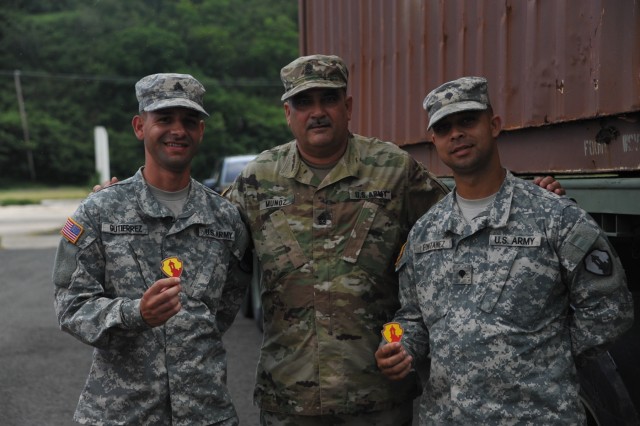 CEIBA, Puerto Rico - The 390th Seaport Operations Company (SPOC), US Army Reserve - Puerto Rico, and the Land Craft Detachment (LCD), Puerto Rico Army National Guard, came together to enhance their capabilities during their Home Station Annual Training, 13-24 June.
The purpose of this training was to conduct a joint mission between the 390th SPOC and the LCD. Getting hands on training with the heavy ground vehicles and Land Craft Mechanized (LCM) in order to maintain Soldier Military Occupational Specialty (MOS) readiness.
The 390th SPOC Soldiers moved 11,000-pound containers onto the LCM by utilizing a Rough Terrain Container Handler (RTCH). An RTCH can support up to 50,000lbs, even though it is not recommended.
Staff Sgt. Gilberto Robles from the PRANG and Captain of the LCM, sees the value added to multicomponent training. "I am glad to see the Army Reserve and National Guard working together, hopefully this happens more often" said Robles, "It gives us the opportunity to bond and share our stories."
Before any Soldier is allowed on the LCM, a safety briefing is given to ensure everyone is properly wearing the life vest and knows what safety measures to take in case of an emergency. Spc. Ricardo Cartagena from the PRANG, LCD, was designated as the safety instructor and delivered the briefing to everyone present.
The operator of the RTCH, Sgt. Kris Gutierrez, 390th SPOC, commented on the additional training requirements needed in order to operate the RTCH. "To be an operator, we have to attend an 80 hour RTCH Operator course," said Gutierrez. "I enjoy utilizing the RTCH because it is so well equipped and it even has air conditioning."
In order to safely operate the RTCH, additional personnel serve as ground guides and are the additional pair of eyes the operator needs. Sgt. Reynaldo Cruzsierra and Pvt. 1st Class Luis Arzon assisted the RTCH operator by giving instructions to safely move and place the container on the LCM.
"It gives me and the Soldiers motivation to put in practice what we have learned throughout our careers," said Sgt. Cruzsierra. "I understand that we should get more hands on training rather than sitting in a classroom listening to the same things over and over again".
Master Sgt. Abner Zacheus, 390th SPOC, bring a wealth of knowledge and experience to the unit and Soldiers confidently seek advice from him during training. "It is always good to see young Soldiers getting hands on training and it is even better when I see the USAR and the PRANG on a joint mission," said Zacheus.
The 1st MSC command team expects to see more joint planning with the PRANG and continue enhancing their partnership.
Related Links: