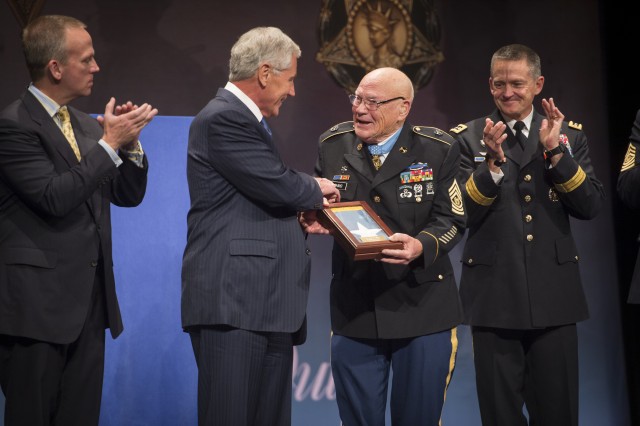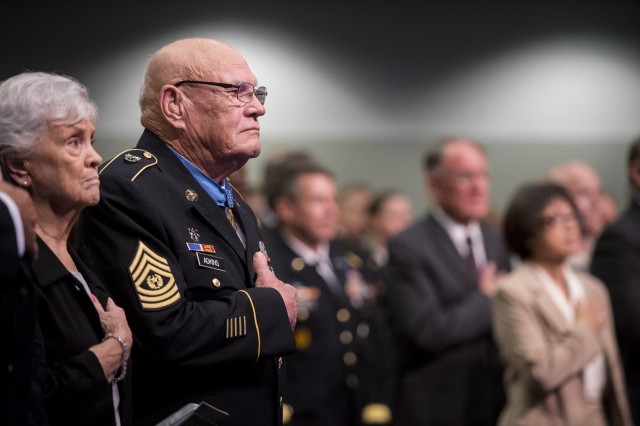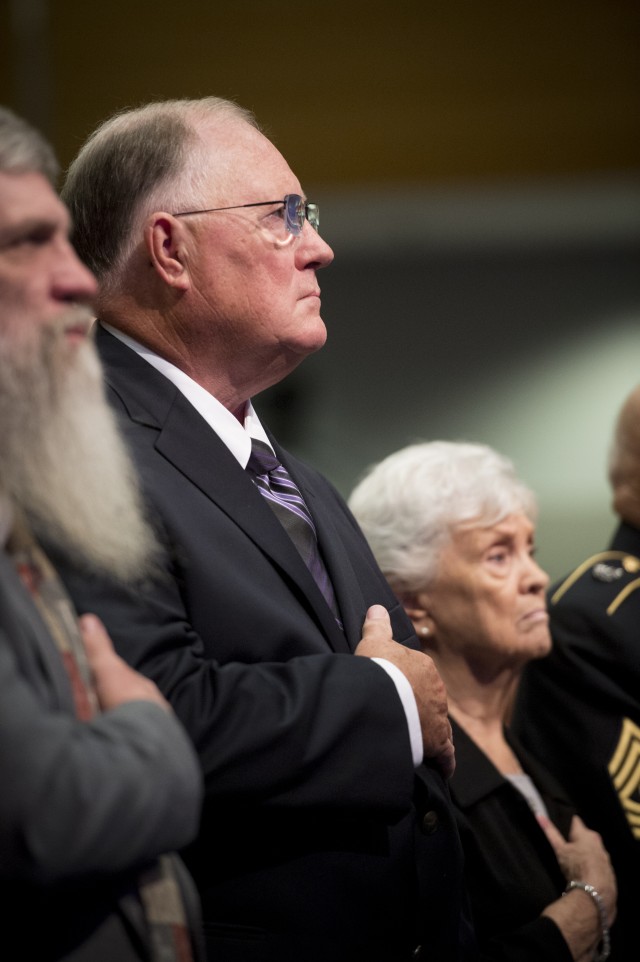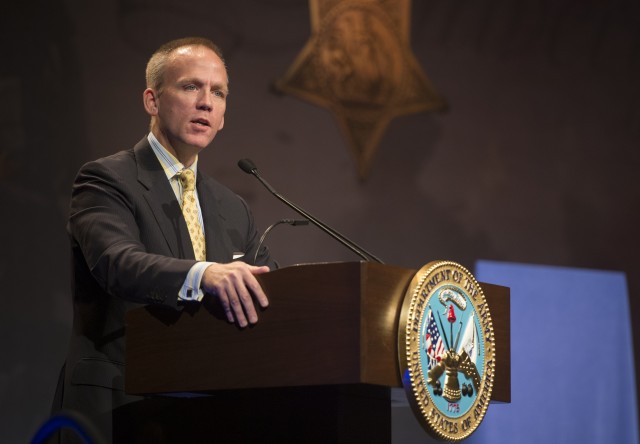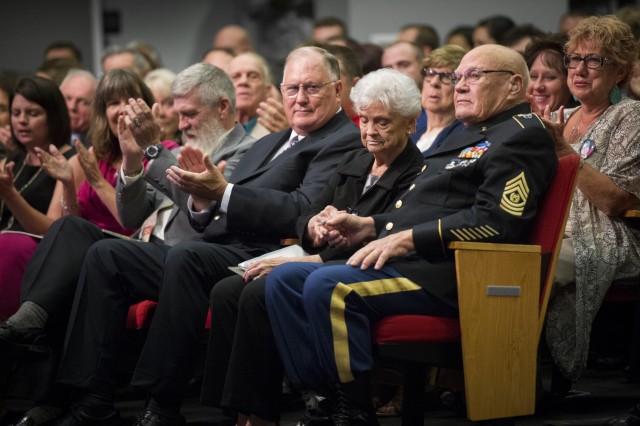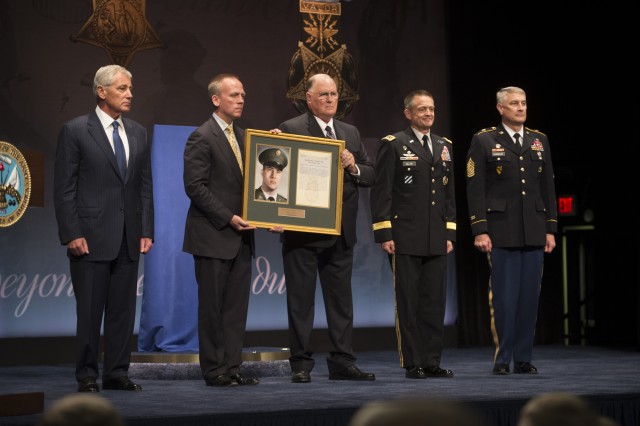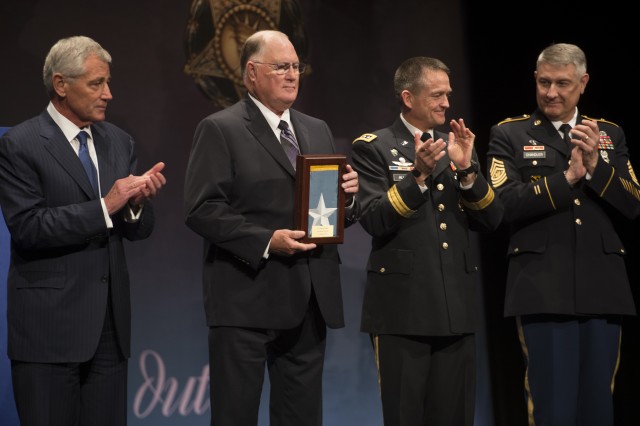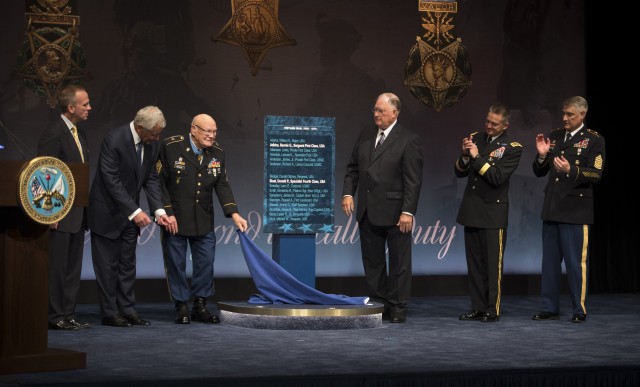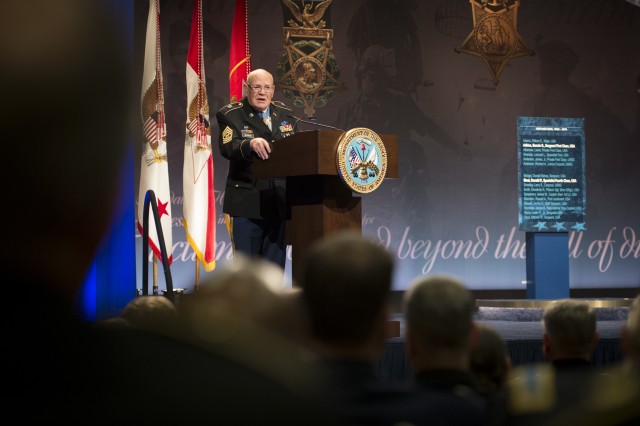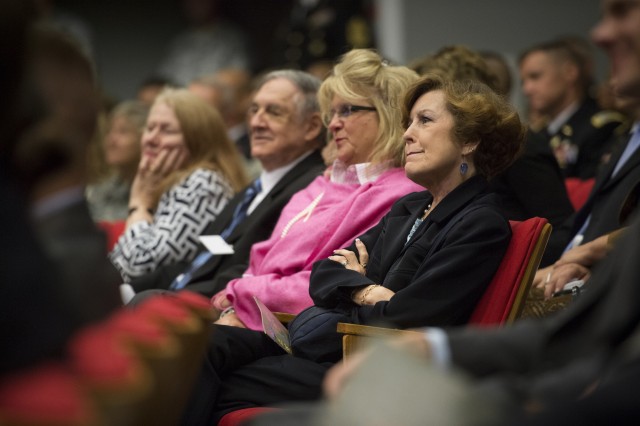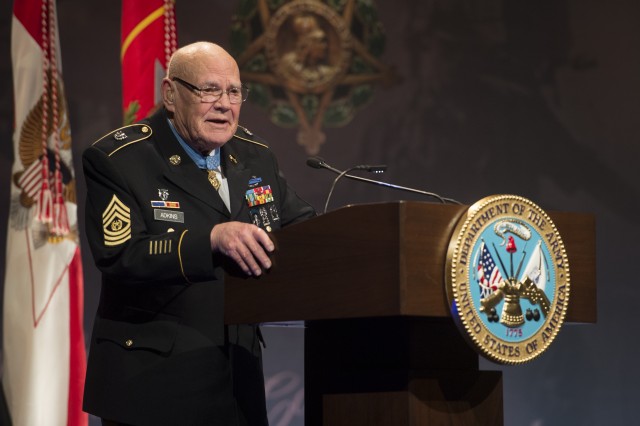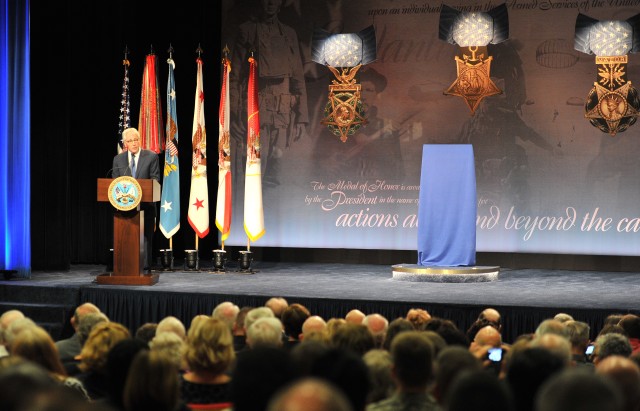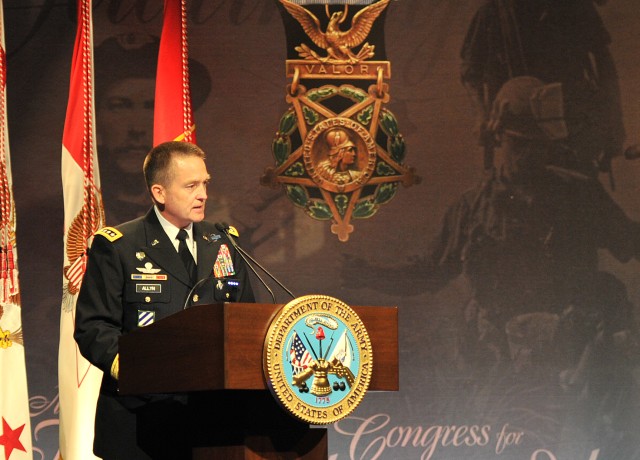 WASHINGTON (Army News Service, Sept. 16, 2014) -- Two Vietnam War Soldiers who were presented with Medals of Honor for their valor beyond the call of duty yesterday at the White House, were celebrated and inducted into the Pentagon's Hall of Heroes, Sept. 16.
Retired Command Sgt. Maj. Bennie G. Adkins and Spc. 4 Donald P. Sloat were paid tribute and honored with standing ovations by a standing-room-only audience. Adkins and Sloat were presented framed citations attesting to their courage and bravery.
Now 80, Adkins, a Special Forces Soldier accepted his citation and personal Medal of Honor flag for his actions in 1966, in which he was credited with killing more than 135 enemy Soldiers while suffering 18 wounds in a 38-hour battle, then leading his men on a 48-hour escape and evasion.
Dr. Bill Sloat accepted the citation and flag on behalf of his brother, who was killed when his squad was conducting a patrol serving as a blocking element in support of tanks and armored personnel carriers. The lead Soldier tripped a booby-trapped grenade which rolled down the hill. Sloat grabbed it and realizing he didn't have time to throw it, drew the grenade into his body to absorb the explosion and shield his comrades in the 1970 action.
Before the presentation, host Secretary of Defense Chuck Hagel praised the families of both men for standing by their Soldiers as well as the six Soldiers present who served with Adkins during the battle.
Under Secretary of the Army Brad Carson next told the audience:
"It is now as Secretary Hagel mentioned almost 50 years, half a century since those acts of valor we recognize today," he said. "If today's ceremony is, well a little belated, it takes nothing away from the inspiration we draw from our two recipients whose names will join a sacred role, a fraternity forged in fire alongside those names we also honor today if only in silence.
"So, what does lead men to act so valiantly -- it is indeed tempting to ask how such men are created," he continued. "The courage of this sort is beyond words, even beyond understanding, and maybe we can be satisfied only with knowing there exists in some people, something so inviolable, something so precious that they would sacrifice their own lives to protect it, to ensure its continued vitality.
"Let us call it duty, honor, patriotism, love, whatever we call it, let us be grateful, let us be grateful that our country seems to be blessed with an abundance of this scarce breed of person," Carson said who was followed by Army Vice Chief of Staff Gen. Daniel B. Allyn.
"Though delayed for over 40 years, it is essential we celebrate their valorous service and sacrifice to our nation," said Allyn acknowledging and asking Adkins' six brothers-in-arms and the families of both men to rise.
"Describing his experience in Vietnam, Lt. Gen. Harold Moore wrote, 'We discovered in that depressing, hellish place where death was our constant companion that we loved each other. We killed for each other, we died for each other and yes, we wept for each other,'" Allyn said.
"Love of comrades certainly motivates Soldiers to fight and commit to one another and both of these warriors we honor today exemplify this inseparable bond of Soldiers who share the hell of combat," he said.
"Today at long last we welcome Command Sgt. Maj. Bennie G. Adkins and Spc. 4 Donald P. Sloat into the Hall of Heroes," Allyn said. "We honor their uncommon valor and their courage in combat, their commitment to our nation and to their fellow Soldiers epitomizes the Army profession."
Related Links:
Two Vietnam War Soldiers, one from Civil War to receive Medal of Honor
Grueling 38-hour struggle in jungle leads to Medal of Honor
Medal of Honor nominee reflects on Vietnam battle
Righting a 44-year-old mistake: Vietnam hero to receive posthumous MOH
Two Vietnam War Soldiers receive Medal of Honor
Medal of Honor: Command Sgt. Maj. Bennie Adkins
Medal of Honor: Spc. 4 Donald P. Sloat
STAND-TO!: Medal of Honor for Command Sgt. Maj. Bennie G. Adkins and Spc. 4 Donald P. Sloat