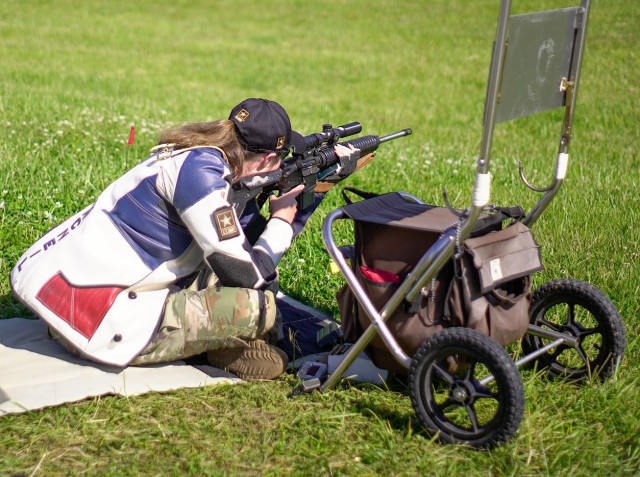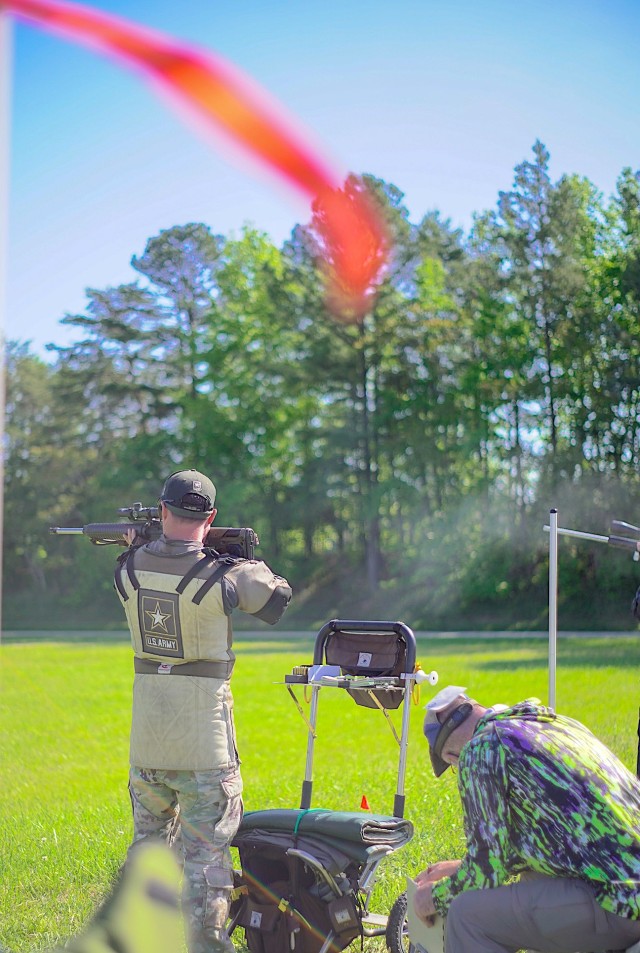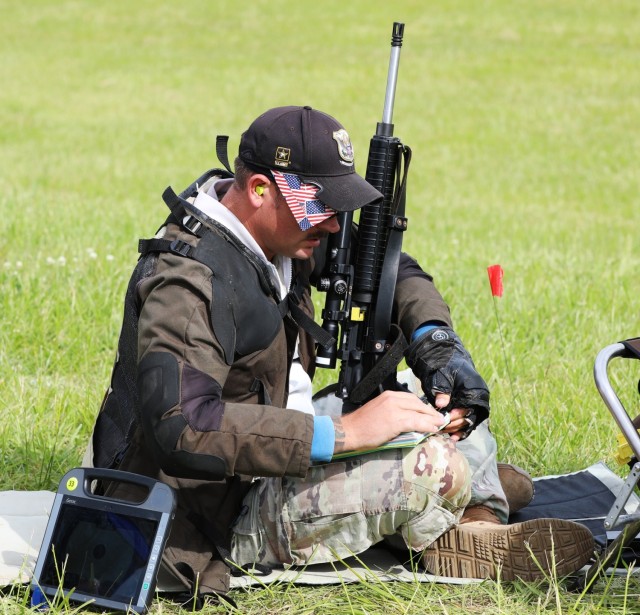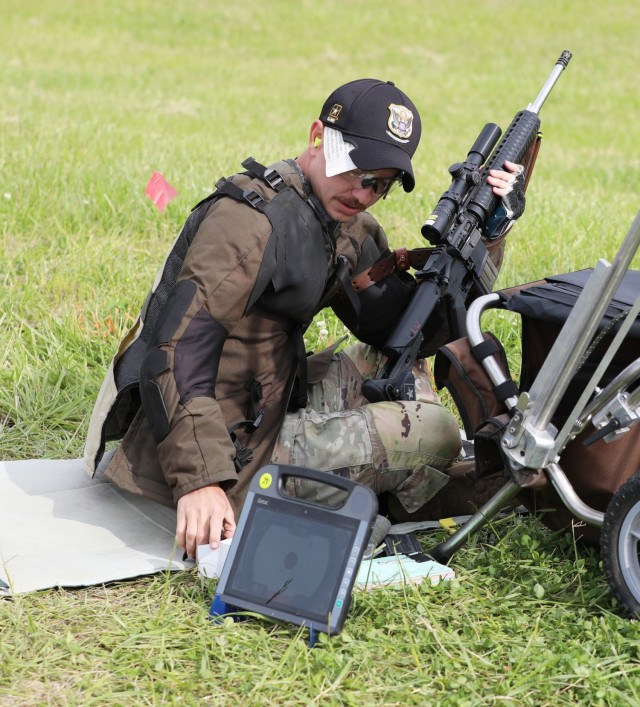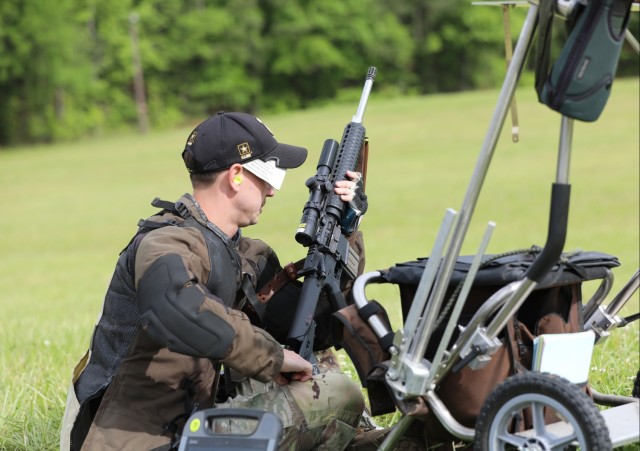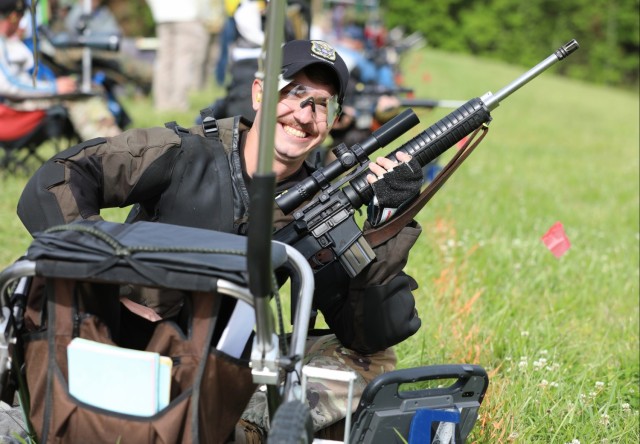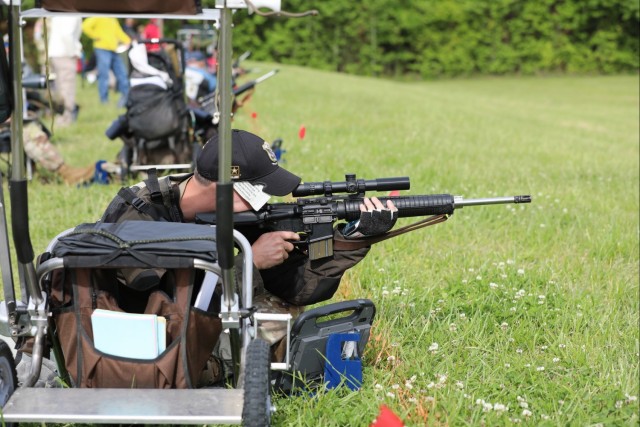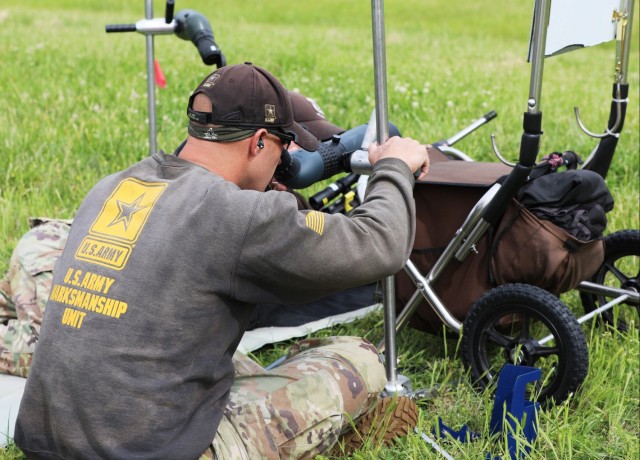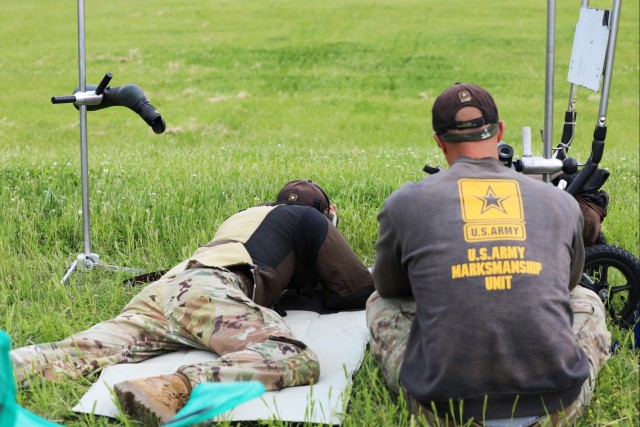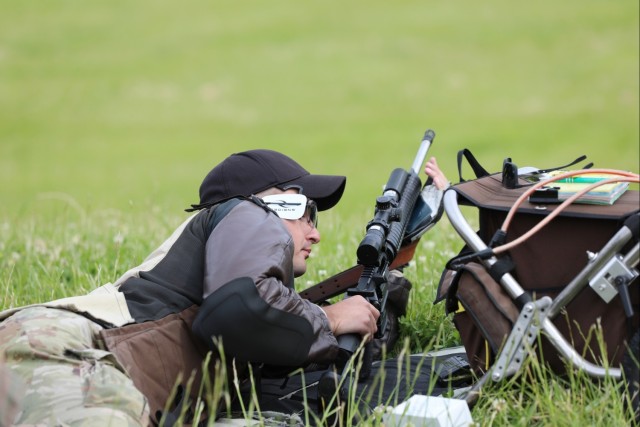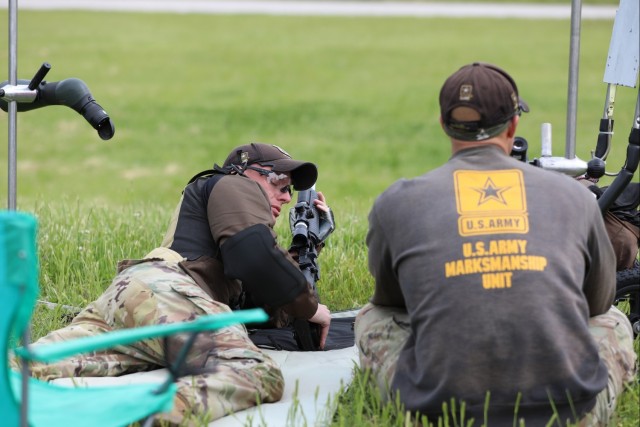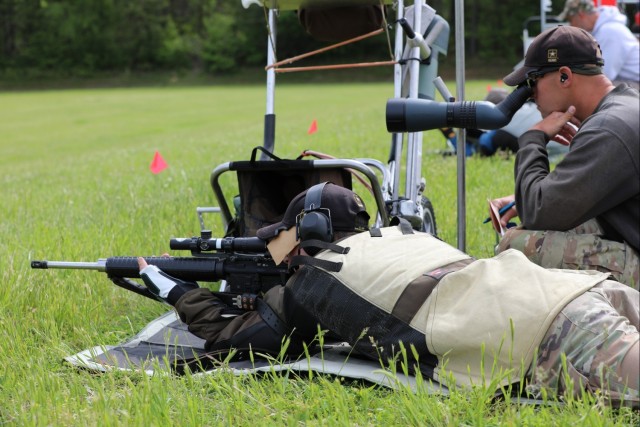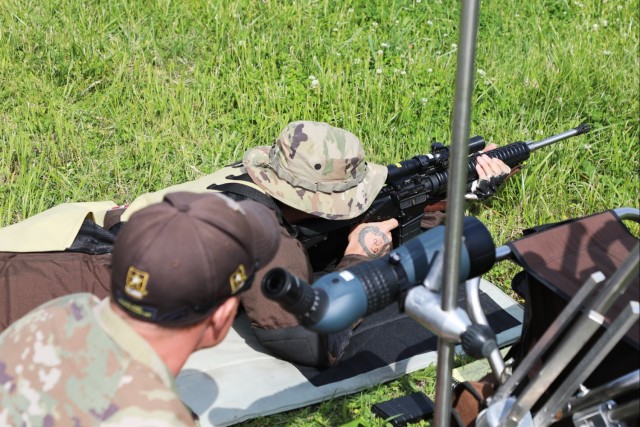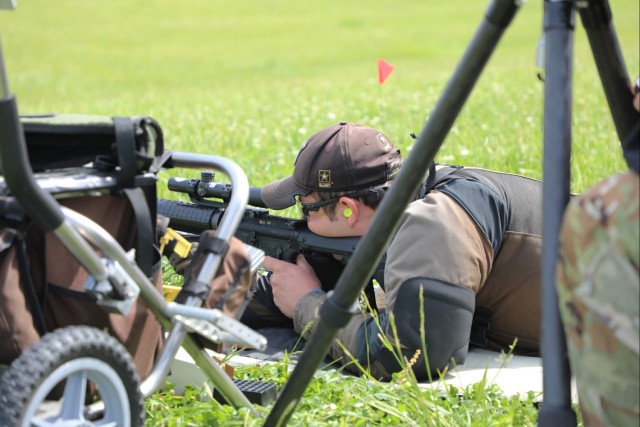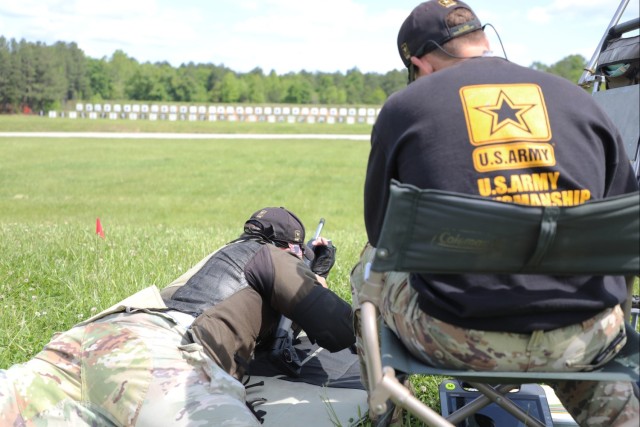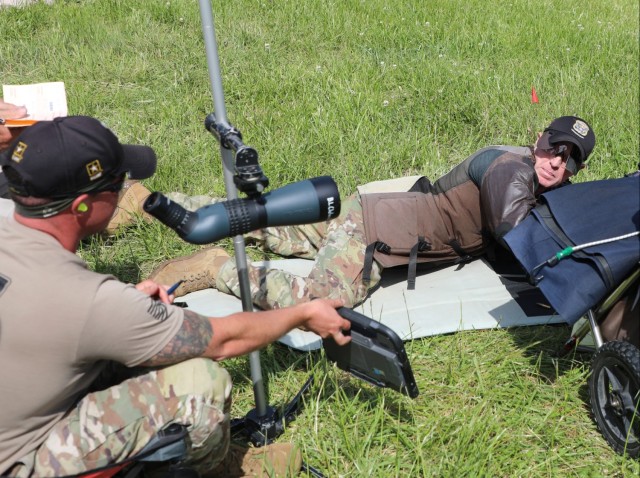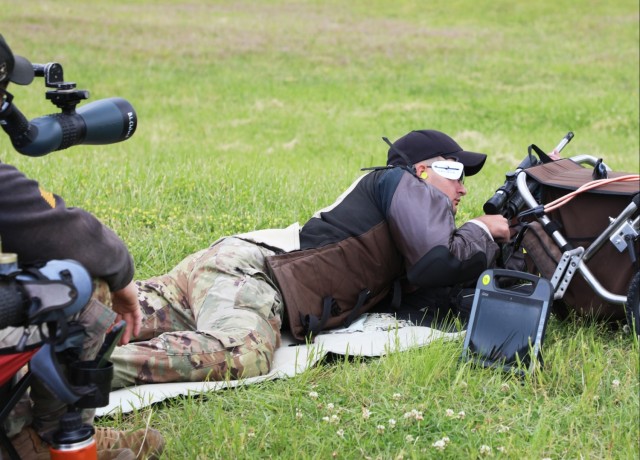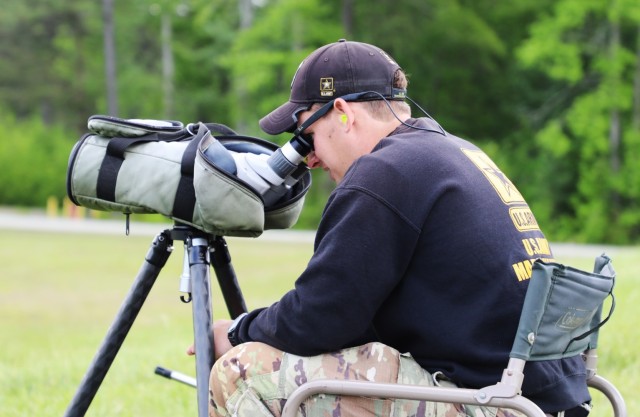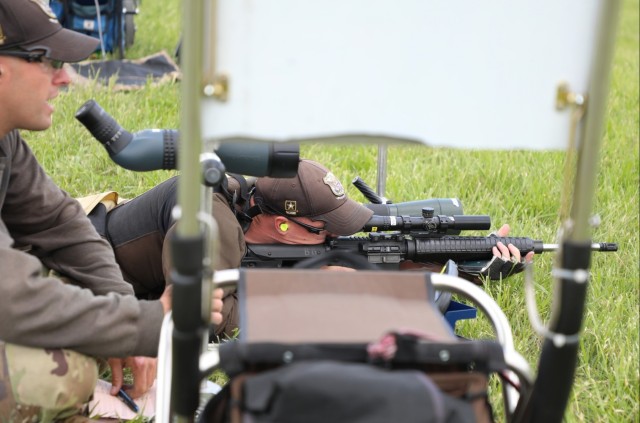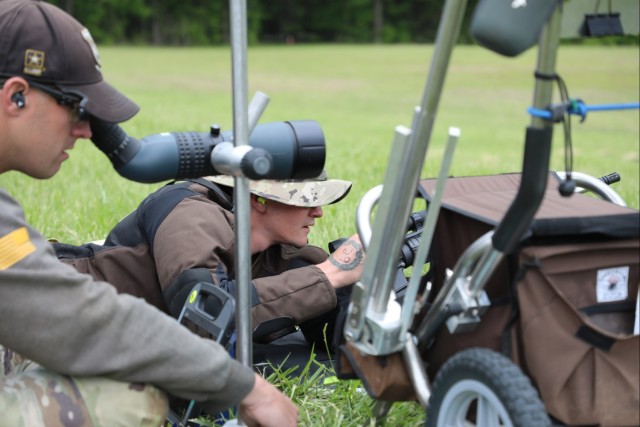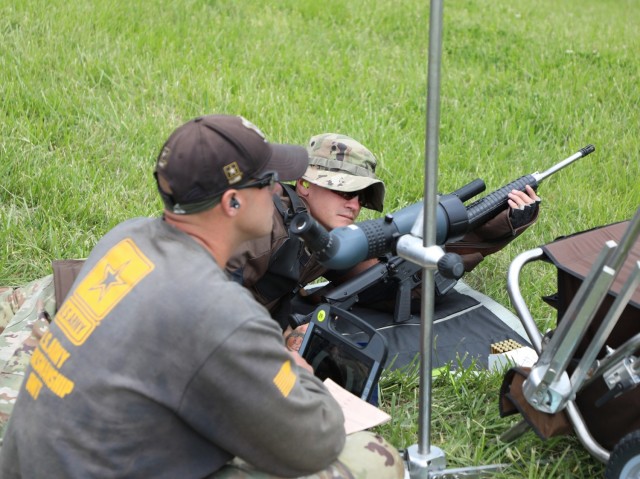 Soldiers with the U.S. Army Marksmanship Unit Service Rifle Team won the Four-Man Team Match at the 2023 Civilian Marksmanship Program's Eastern Games at Camp Butner, North Carolina April 28 - May 6.
The Fort Moore, Georgia team secured a 26-point lead over the second place team with their combined total score of 1982-83x.
The winning team, USAMU Red, included: Staff Sgt. Ben Cleland (coach), a Swanton, Ohio native, a; Sgt. 1st Class Brandon Green, a Covington, Lousiania native; Spc. Zevin Linse, a Kent, Washington native; and Staff Sgt. Jarrod McGaffic, a West Milton, Ohio native. Green led the team with an individual score of 497-19x while Linse scored a 496-21x, Cleland scored a 495-19x and McGaffic scored a 494-24x.
Two more USAMU teams, USAMU Blue and USAMU Greenwood, took up third and forth places on the roster of 19 total teams from around the United States, which included both civilian and military teams.
Green's top team score also earned him the honor of being the top scoring individual out of all the teams competing in the Four-Man Match. Five more USAMU Soldiers earned scores placing them in the top seven scorers out of 95 marksmen. Linse took up second with his 496-21x. Priv. 1st Class Dustin Carr, a San Diego, California, native, placed third with a 496-19x while on the 3rd place team, USAMU Blue. Cleland and McGaffic followed behind in fourth in fifth places, and Staff Sgt. Jacob Blackburn, a Cleveland, Tennessee native who was also on team USAMU Blue, placed seventh with a 494-20x.
With the team match complete, the Soldiers now needed to focus on their individual marksmanship skills, and the Eastern Games have proven to be a key test for just that, said Sgt. 1st Class Erin O'Neill, the USAMU Service Rifle Team Chief who hails from Fort Wayne, Indiana.
"This match is very important to test the skills we have been working on in our training, whether position, wind, or mental. This range can be tricky as there is generally a wind tunnel on one side of the range or the other. This means that one side is affected far greater than the other on how much value the wind has (how far it will push your bullet in flight). Being able to understand the wind and mirage changes on a range like this becomes essential to being able to shoot a good score."
Linse, Cleland and Green shot great scores and claimed first, second and fourth, respectively, in the Service Rifle/Military Category in the High Power Rifle Day 1 Match with scores of 796-32x, 788-29x and 787-34x. Five more USAMU Soldiers completed the top nine spots, out of a total of 26 competitors. The top scoring civilian score for that day was 790-31x.
O'Neill seized the win in the Service Rifle/Military Category of the High Power Rifle Day 2 Match with a 795-39x. Green followed her with a 793-38x and Staff Sgt. Verne Conant, a Billerica, Massachusetts native, took third with a 793-32x. Six more USAMU Soldiers filled out the top ten scorers for that match. The top civilian score for the day was 790-28x.
In the Service Rifle/Military Category of High Power Rifle Day 3 Match, Cleland claimed the win with a 794-42x. Conant was right behind his teammate trailing by only 1 X. Seven more USAMU Soldiers completed the top ten scorers for this match. The top civilian score for this day was 797-36x.
The next course of fire up was the CMP 2400 Aggregate, which required the 145 competitors to shoot in three different positions at four different distances: standing at 200 yards, sitting at 200 yards, and prone at 300 yards and 600 yards. Linse and O'Neill earned second and third place respectively with their scores of 2375-102x and 2373-106x in the Service Rifle Category. In addition, O'Neill's bronze-medal placement also earned her the honor as the High Woman in the 2400 Aggregate. Then, six more USAMU Soldiers filled up spaces in the top ten marksmen. McGaffic took second in the Match Rifle Category with his score of 2368-125x.
The final match was the coveted Excellence in Competition Match. Cleland and O'Neill earned second and third while four more USAMU Soldiers completed the top ten out of 109 total distinguished marksmen. In the non-distinguished category, Staff Sgt. Logan Frost, an Anchorage, Alaska native, took the win over 78 other competitors with his score of 491-15x.
Overall, O'Neill said the USAMU Service Rifle Team put out some great scores, and even some personal records. However, there are always ways to improve, said the Team Chief.
"We had quite a few people in the top ten, but there is definitely still room for improvement. We look forward to training to fine tune some things and compete in the upcoming Interservice Rifle Championships."