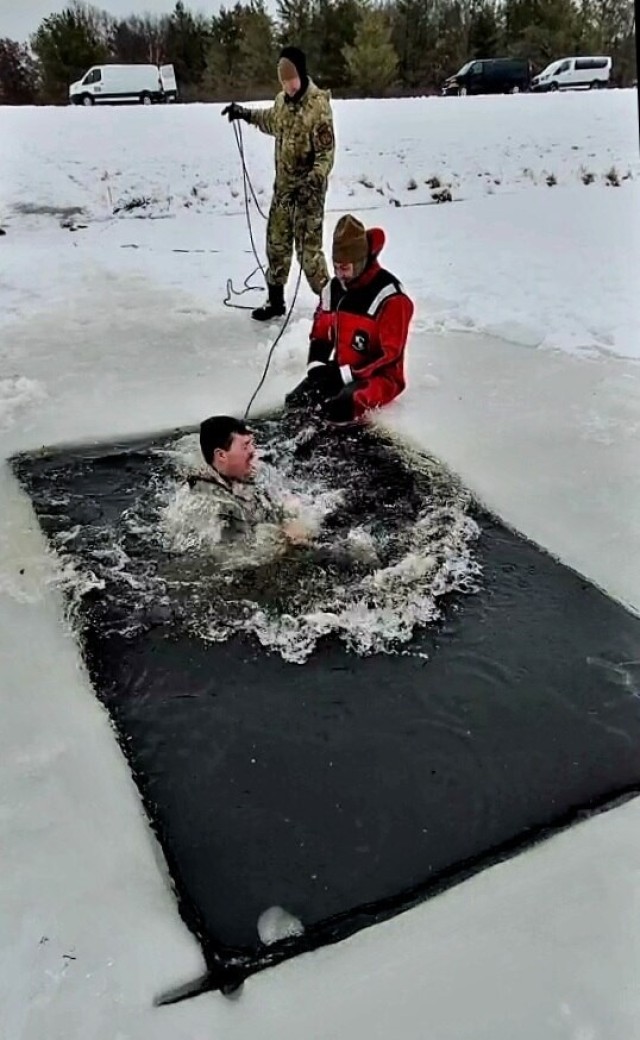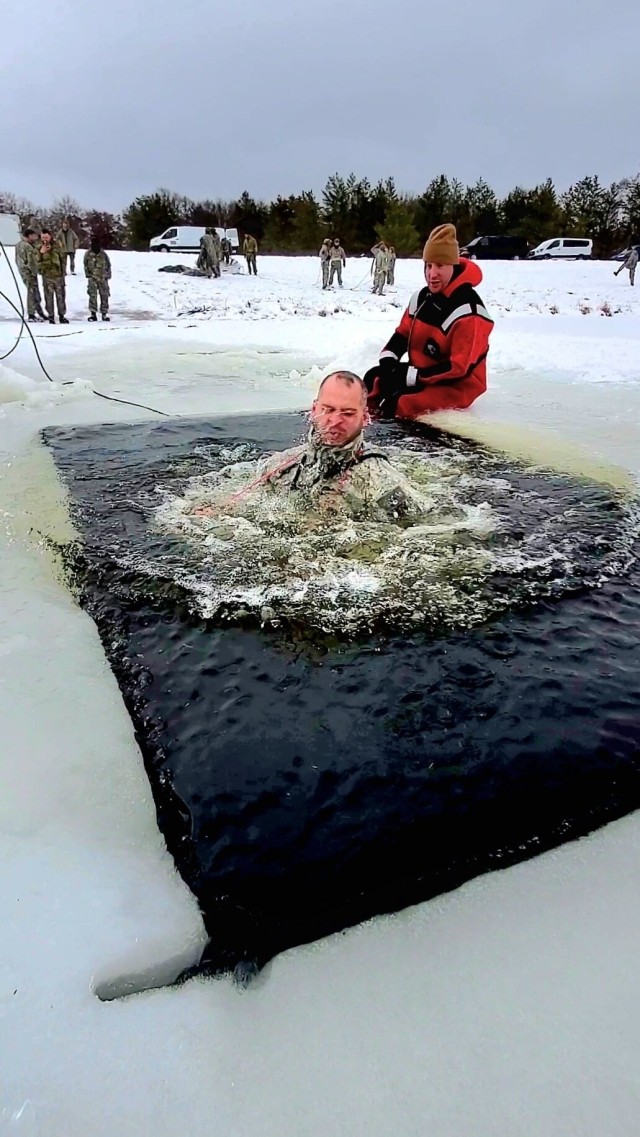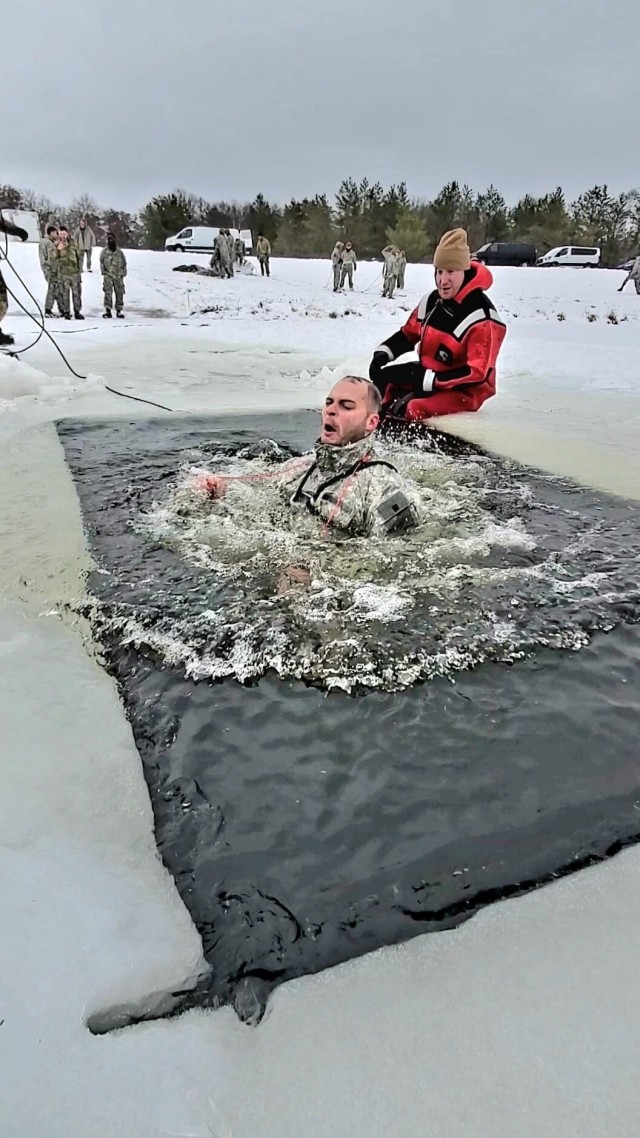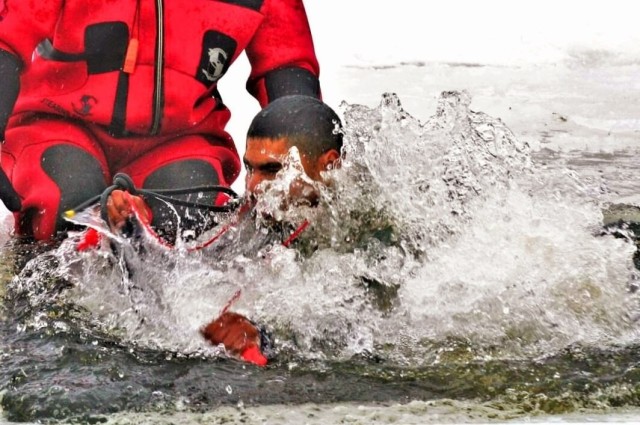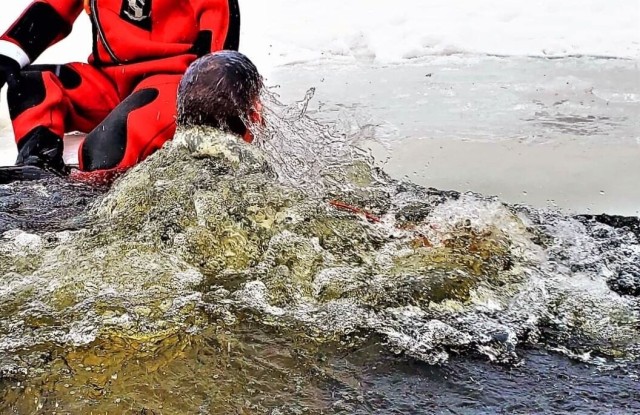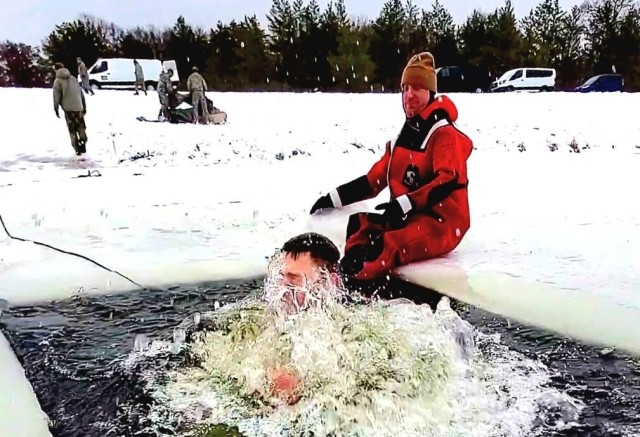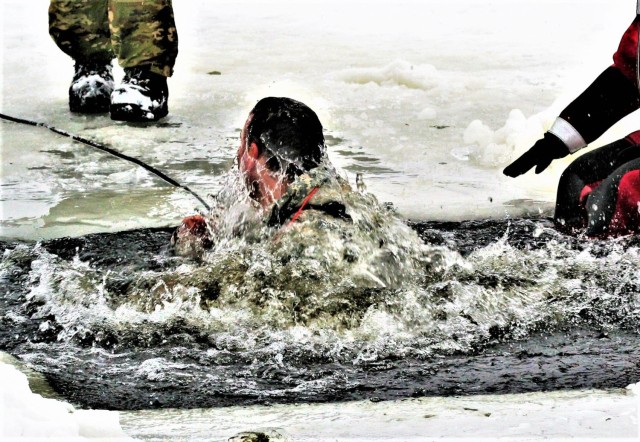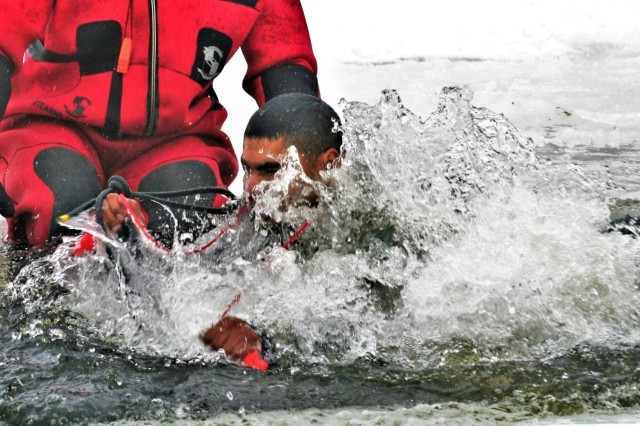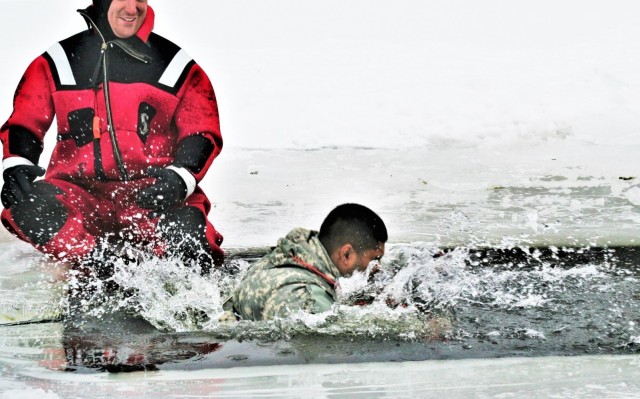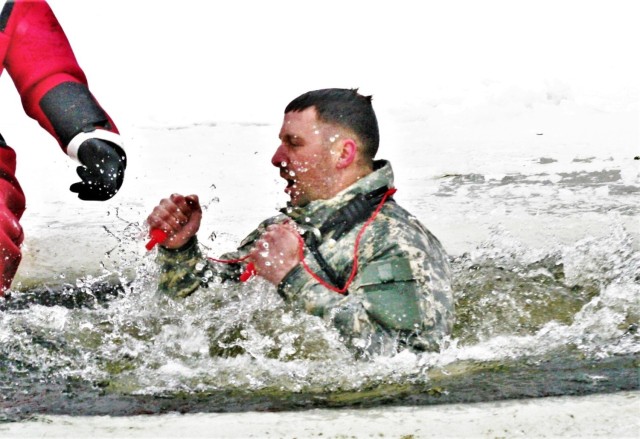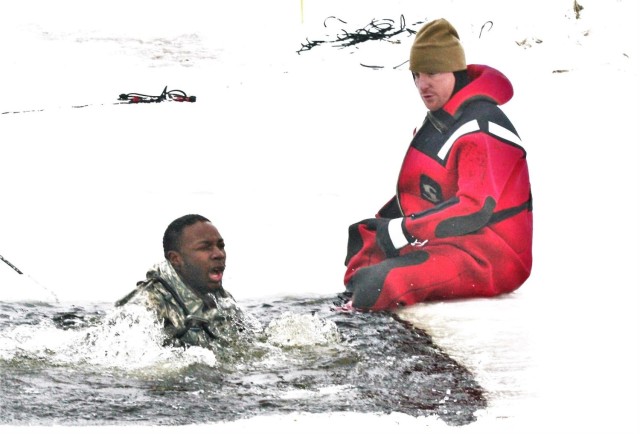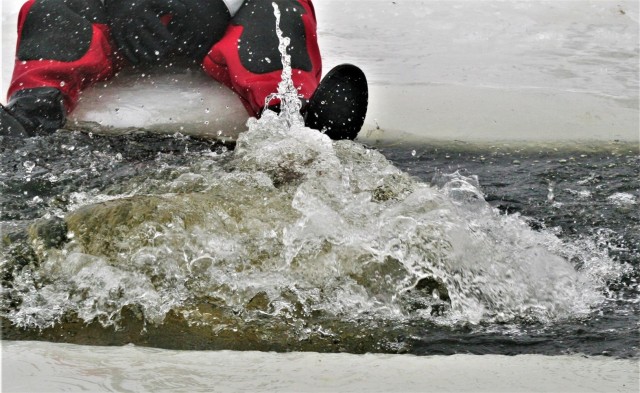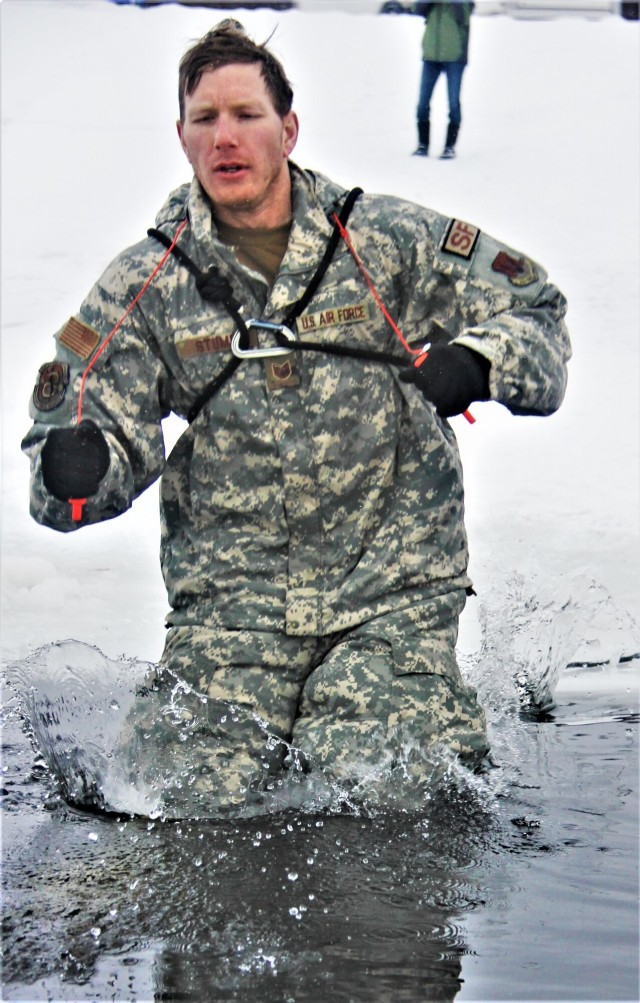 Fifty Airmen with multiple Air National Guard units participating in a 16-day, Air Force-led Cold-Weather Operations Course spent a full day of that course Jan. 27 having students learn about the effects of falling through the ice during cold-water immersion training at Big Sandy Lake at Fort McCoy.
All the Airmen were with the security forces career field for the Air Force and the instructors for the course had previously trained in a Fort McCoy Cold Weather Operations Course. Tech. Sgt. Michael Samsa, one of the instructors supporting the training who's with the 164th Security Forces Squadron at Memphis, said this kind of training isn't the typical Air Force training venue, but it's definitely good for any Airman to go through.
"It builds that resiliency, that toughness, and that confidence in our Airmen that they don't usually get," Samsa said. "And of course, it could be other career fields other than security forces. It could be across the board. It's good training."
Cold-water immersion training is completed in quite a few military training venues, including U.S. Army Ranger School. In a Defense Technical Information Center post about cold-water immersion training called, "Evaluation of Immersion Time Limits for Risk of Hypothermia during Waterborne Movements at U.S. Army Ranger School," it discusses the benefits of the training.
"Cold-water immersion presents one of the most challenging environmental conditions — due to the risk of hypothermia," the post states. "The environmental stress becomes greater with colder water temperature, greater immersion depth, and longer duration of exposure. Understanding these influences improves mission planning and risk mitigation."
Hunter Heard, a former Fort McCoy Cold-Weather Operations Course instructor, was also on hand to observe the Jan. 27 training. In previous years, he led the training at Fort McCoy where he described how cold-water immersion really tests a person's strength, stamina, and more.
"Cold-water immersion … tests the students both mentally and physically," Heard said. "For a person to fall into water in that environment, the onset of panic generally introduces itself quickly. For our service members who will be operating in an extreme-cold environment, it is a task that, if not trained for, can produce unnecessary casualties."
Another former Fort McCoy Cold-Weather Operations Course instructor Joe Ernst described cold-water immersion even further in 2022.
"The human body's reaction to falling through ice and into frigid water starts with the mind," Enst said. "The shock to the system generally results in an immediate response of a heightened rate of breathing. Visual limitations (tunnel effect), confusion, and muscle tension are common reactions. The ability of a person to regain control and composure after getting in this situation is possible."
The cold-water immersion training event was the last big training event for the 50 Airmen training in the course. Samsa said there were quite a few Airmen participating in the training who "never really experienced anything like this," and that the training proves to be a good experience for everyone involved.
"It's good to build the knowledge and the capabilities like this because then we'll be able to deploy effectively to austere environments that may be covered in snow or anything like that," he said.
Besides cold-water immersion, the class also had training that focused on weather analysis, risk management, cold-weather clothing, developing winter fighting positions in the field, camouflage and concealment, shelter building, snowshoeing and using ahkio sleds, and numerous other areas that are important to know in order to operate in a cold-weather environment.
Similar training environments offered within the Air Force take place at the Air Force Expeditionary Center at Joint Base McGuire-Dix-Lakehurst, N.J., through the 421st Combat Training Squadron and the center's Expeditionary Operations School, Airmen can train in contingency response, fieldcraft, security forces, and other training. Learn more by visiting www.expeditionarycenter.af.mil.
Fort McCoy's motto is to be the "Total Force Training Center."
Located in the heart of the upper Midwest, Fort McCoy is the only U.S. Army installation in Wisconsin.
The installation has provided support and facilities for the field and classroom training of more than 100,000 military personnel from all services nearly every year since 1984.
Learn more about Fort McCoy online at https://home.army.mil/mccoy, on the Defense Visual Information Distribution System at https://www.dvidshub.net/fmpao, on Facebook by searching "ftmccoy," and on Twitter by searching "usagmccoy."