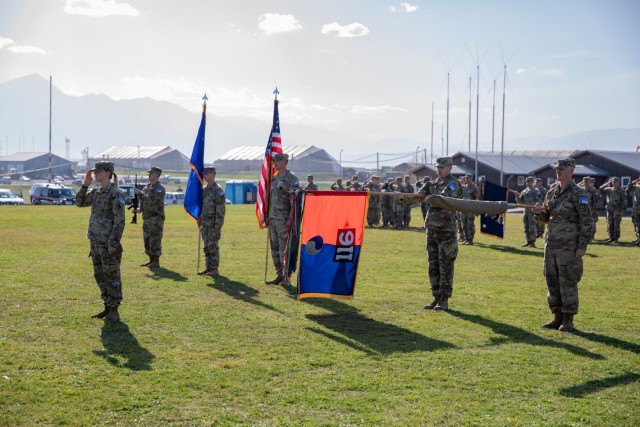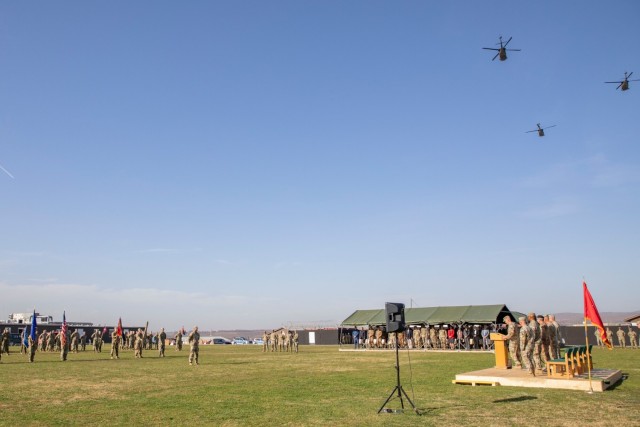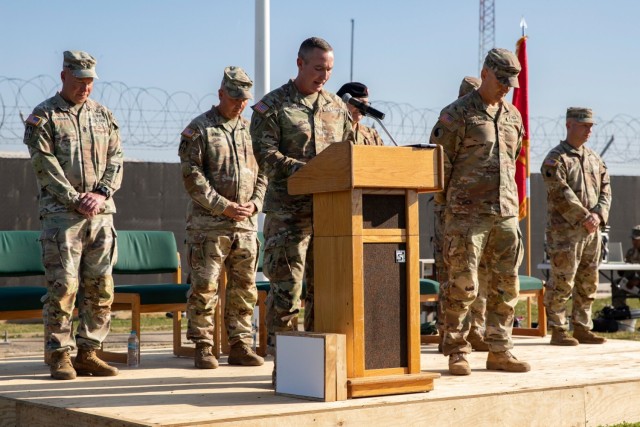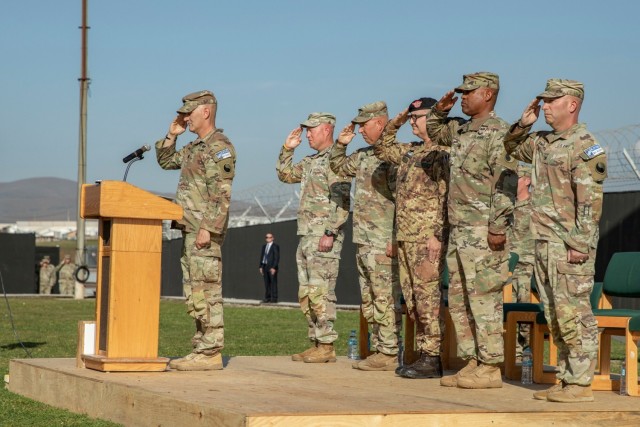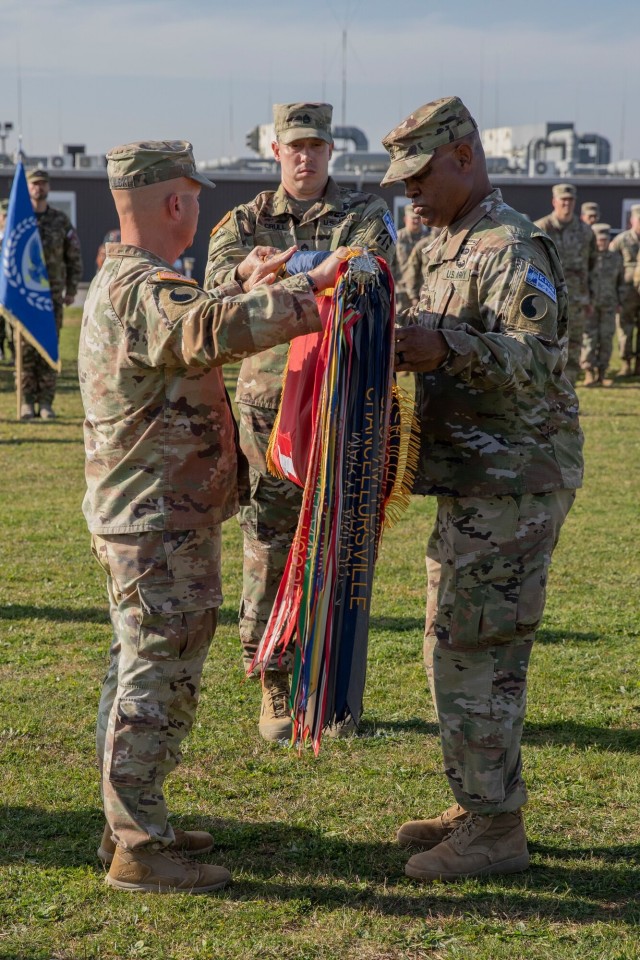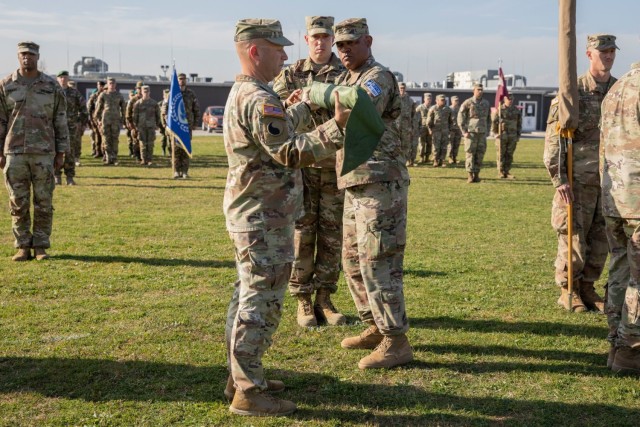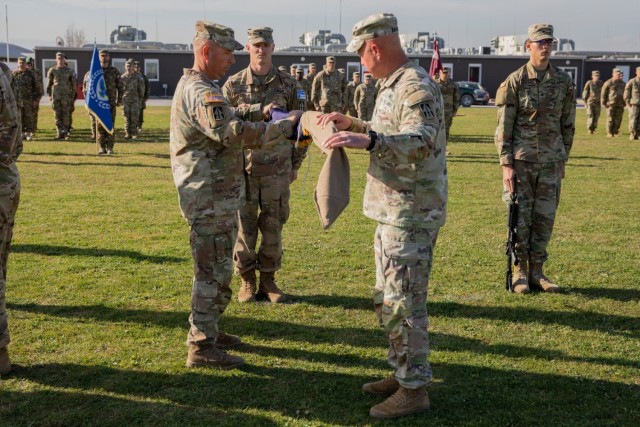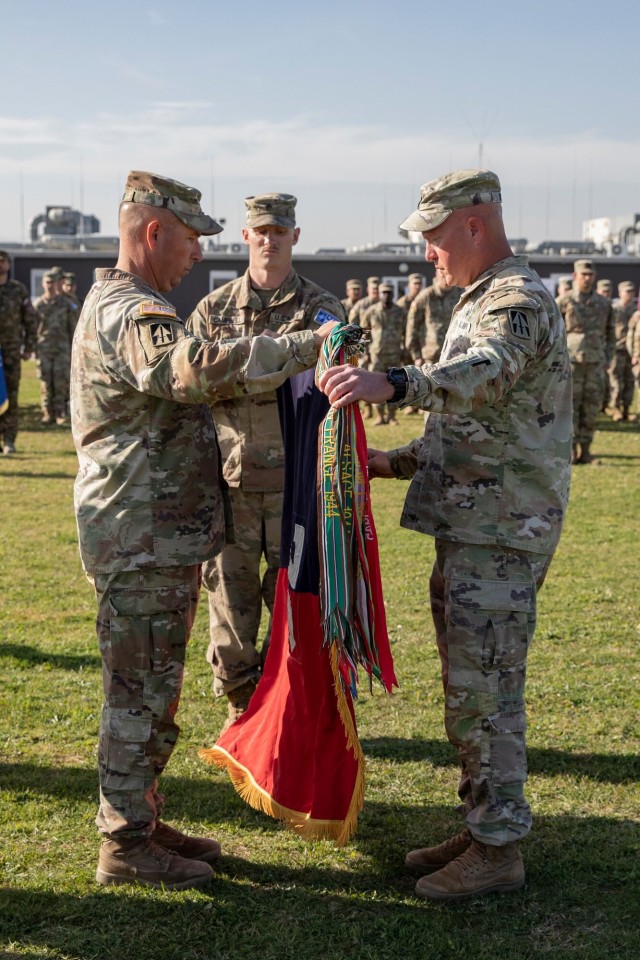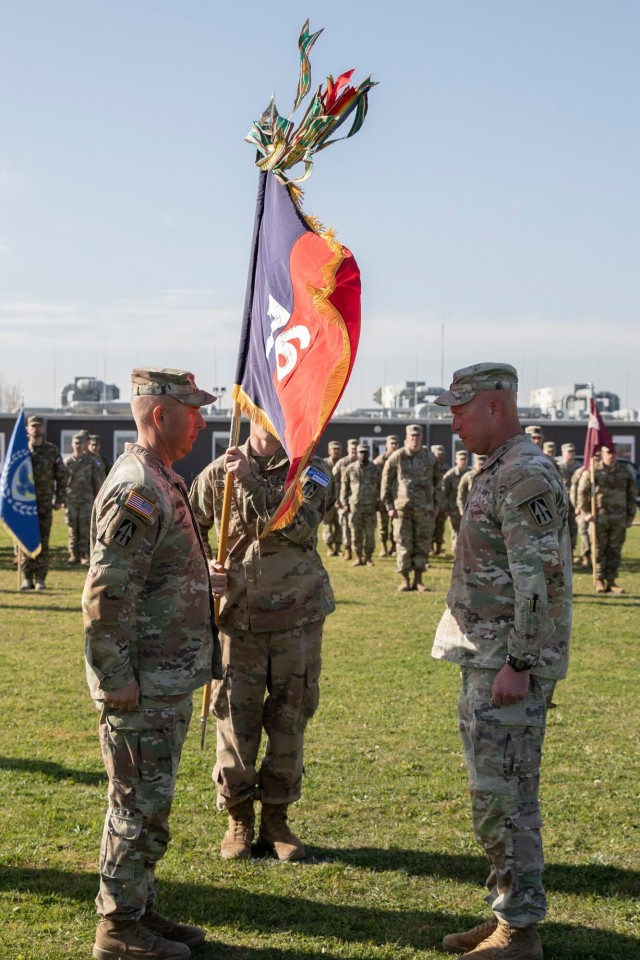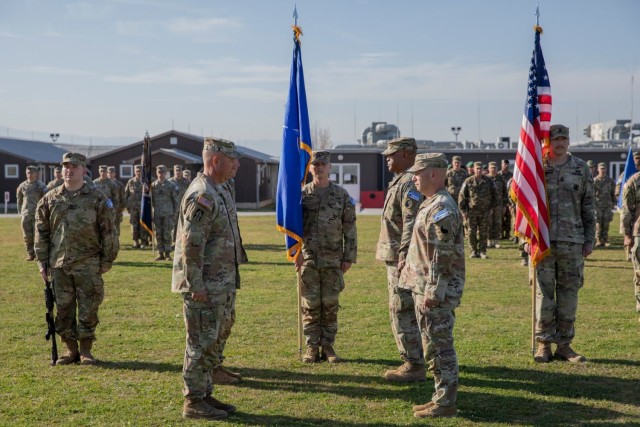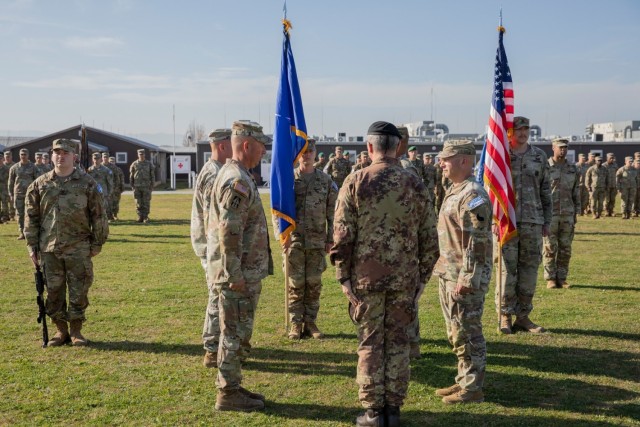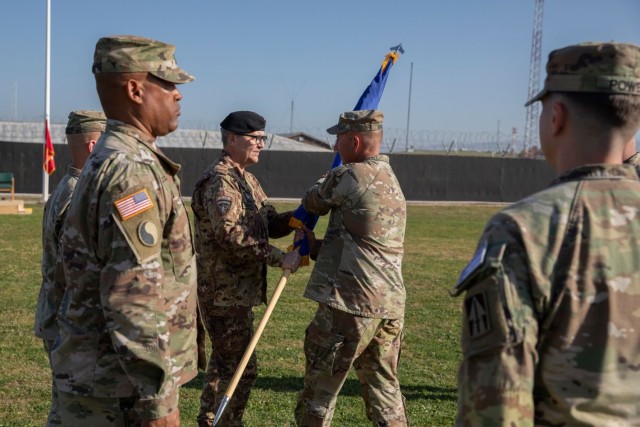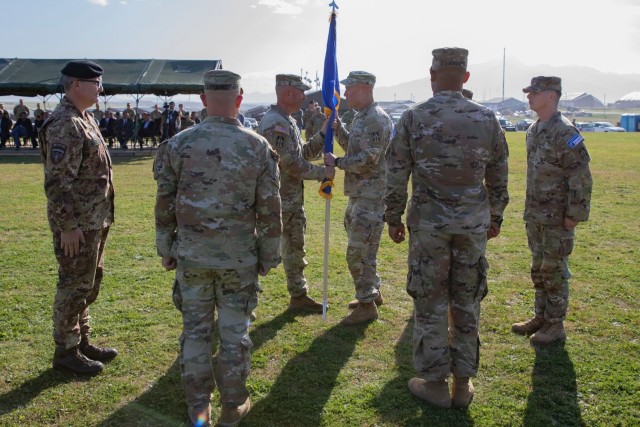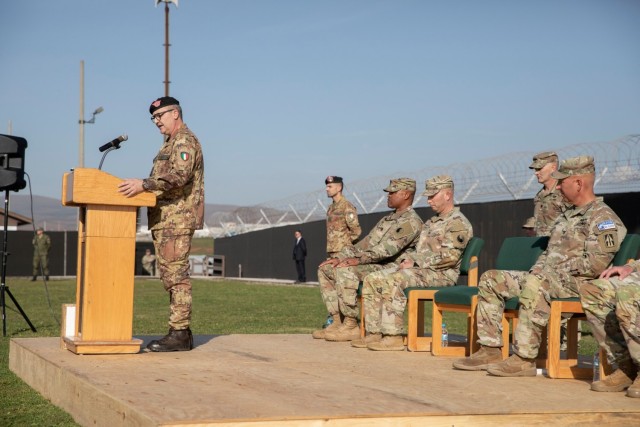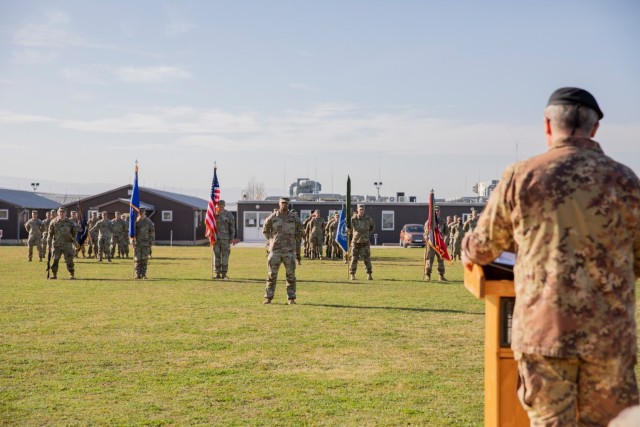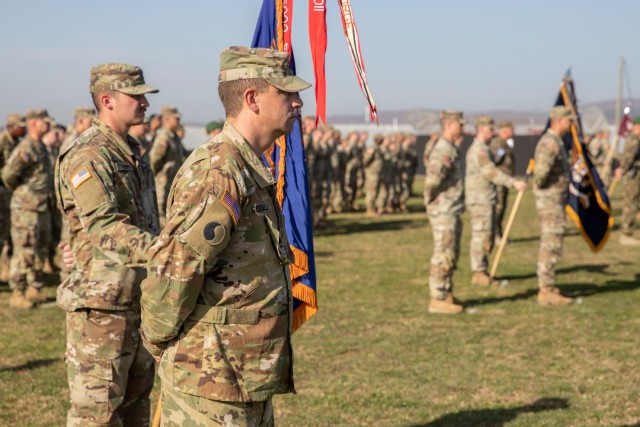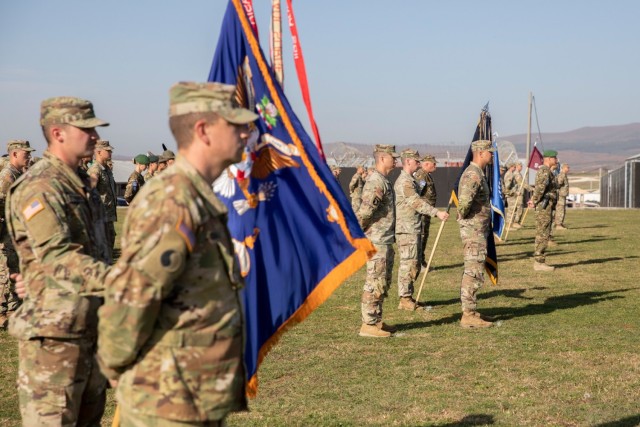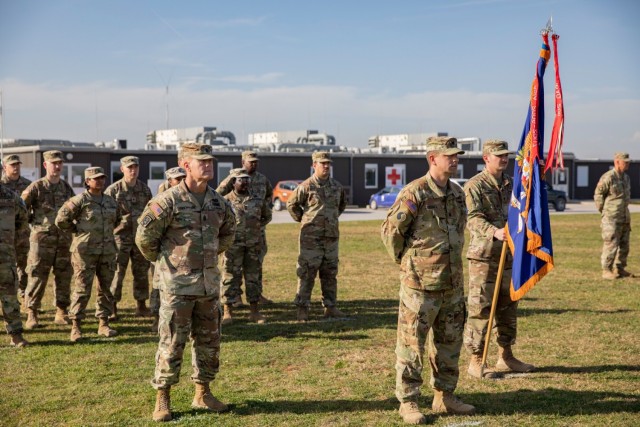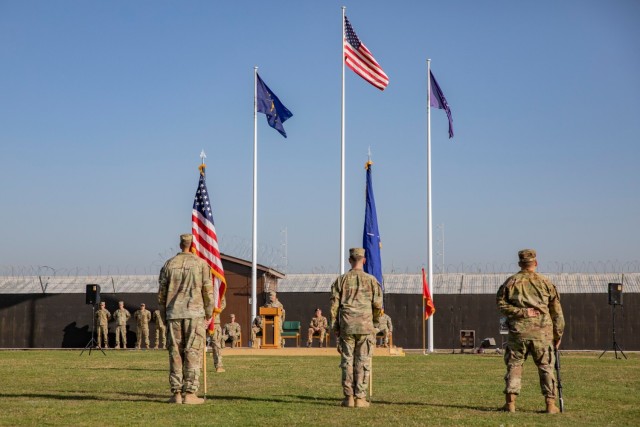 CAMP BONDSTEEL, KOSOVO – Kosovo Force (KFOR) transferred authority between outgoing Regional Command-East (RC-East) team, 116th Infantry Brigade Combat Team (IBCT), Virginia Army National Guard, and incoming 76th IBCT, Indiana Army National Guard, during a casing of the colors ceremony at Camp Bondsteel, Kosovo, on Nov. 2, 2022.
During the ceremony, the 116th IBCT, Task Force St. Lo, cased their unit's flag, signifying the end of their nine-month mission in Kosovo. The 76th IBCT, Task Force Nighthawk, then unfurled their unit's colors, representing the beginning of their support of KFOR's mission.
The KFOR commander, Maj. Gen. Angelo Ristuccia, thanked Col. Christopher Samulski, outgoing RC-E commander, for his commitment and duty to KFOR.
"Your actions and contributions have been invaluable and will have lasting impacts for years to come," said Ristuccia.
Task Force St. Lo successfully conducted over 5,000 liaison monitoring teams meetings and over 3,000 soldier lead engagements during their rotation.
Lt. Col. Chris Mabis, the incoming RC-East commander, thanked Samulski and his team for their support in training as Task Force Nighthawk readied for RC-East command.
"We've spent nearly a year preparing for this mission and I appreciate the time you [Samulski] and your soldiers and leaders spent helping us prepare," said Mabis. "I'm confident that we are ready to assume the Regional Command-East mission for KFOR 31."
Mabis also assured that KFOR 31 will ensure a safe and secure environment and freedom of movement for all people, in all communities, in Kosovo.
"We will continue to work together with our NATO allies and partners to preserve stability and support healthy dialogue," Mabis said.
As he said farewell to KFOR, Samulski spoke about the friendships the 116th IBCT had formed during their time in Kosovo and how their combined efforts had laid the foundation of future successes.
"To our partners, it was our pleasure to work with some of the finest soldiers from all over Europe," Samulski said.
Samulski closed his speech thanking the people of Kosovo for sharing their culture, food and views with the team.
"Everyday when I met people throughout Kosovo, I was always greeted with a smile and kind word," said Samulski.
"We admire your work ethic; we felt your love and appreciation and hopefully we made some meaningful friendships that will continue into the future. Thank you for being wonderful hosts."
KFOR RC-East comprises ten contributing NATO partner nations. Its mission is to maintain a safe and secure environment and freedom of movement for all communities in Kosovo, as mandated by the United Nations Security Council Resolution 1244 of 1999.