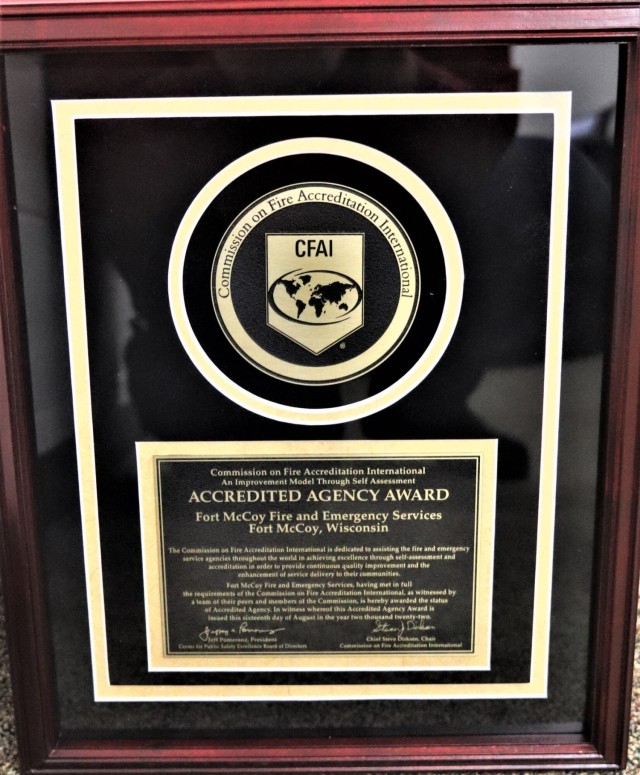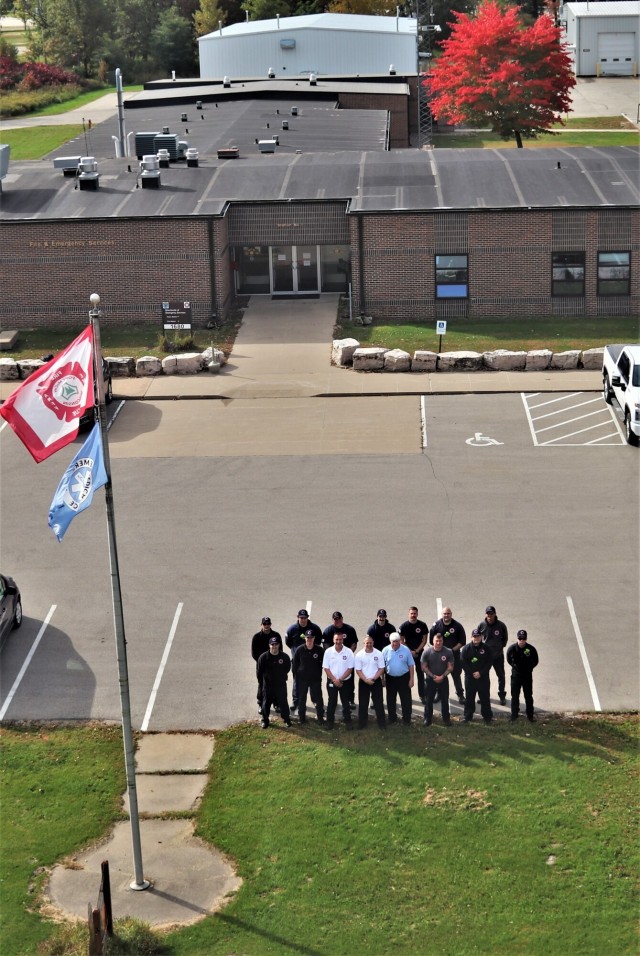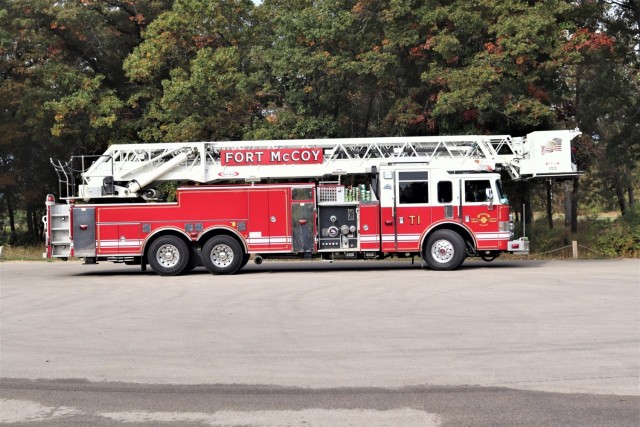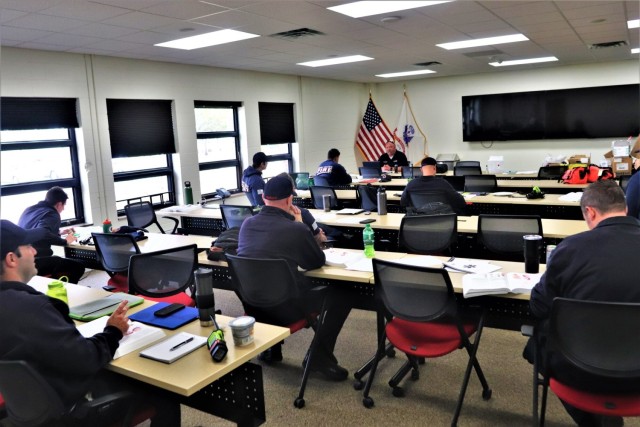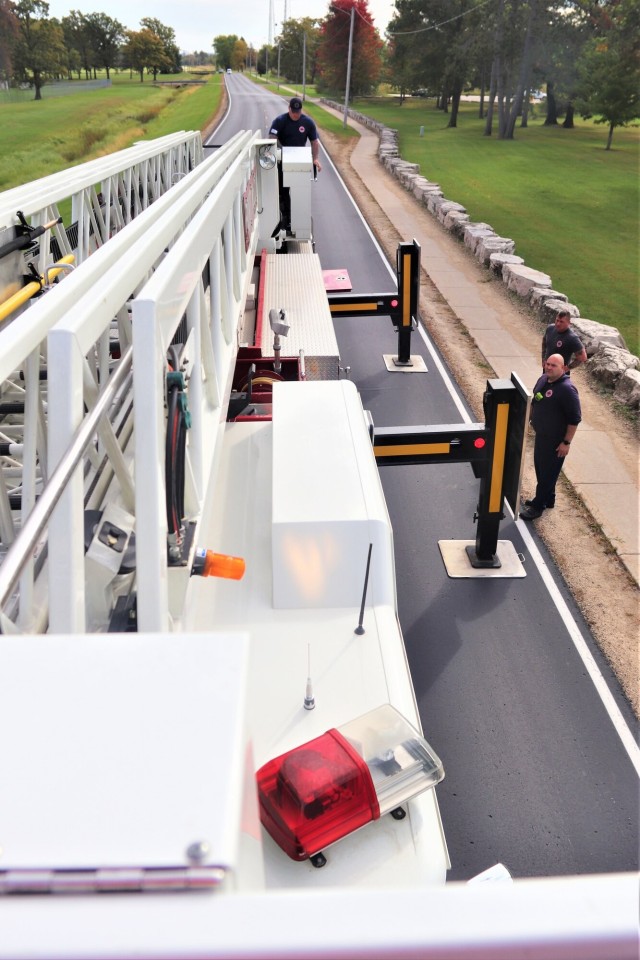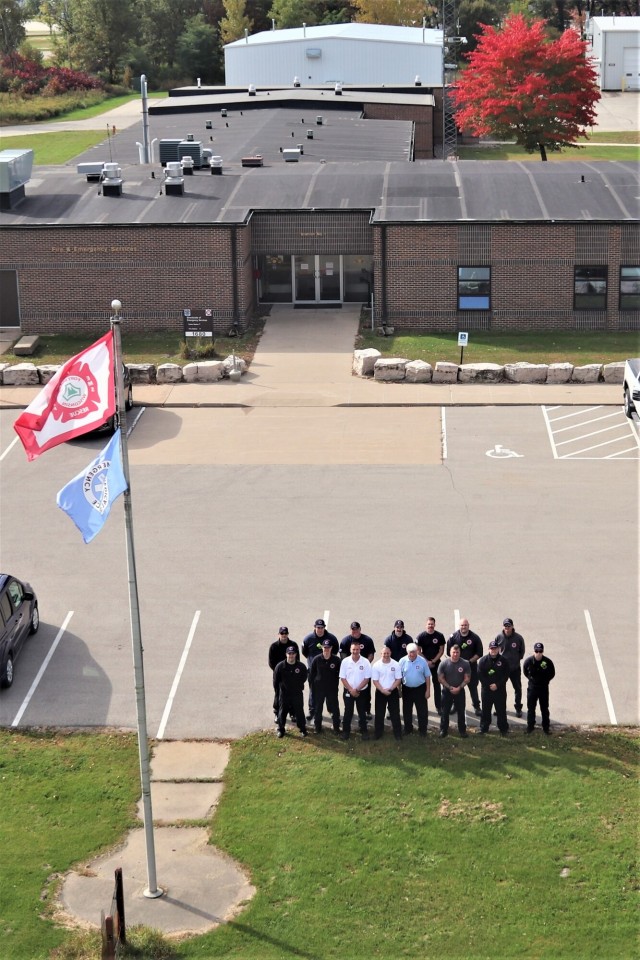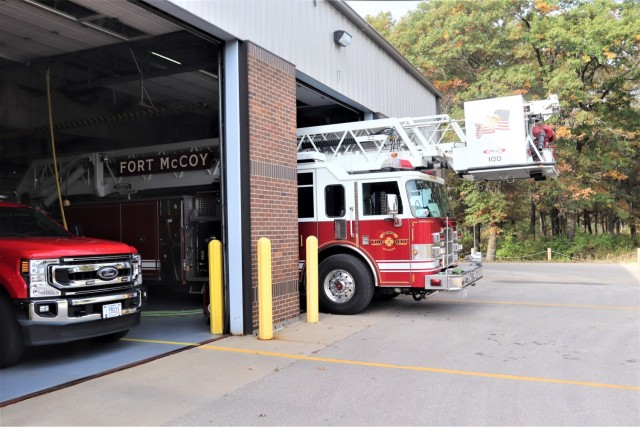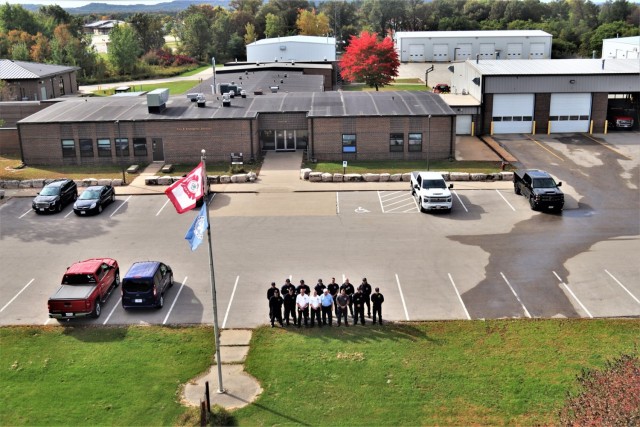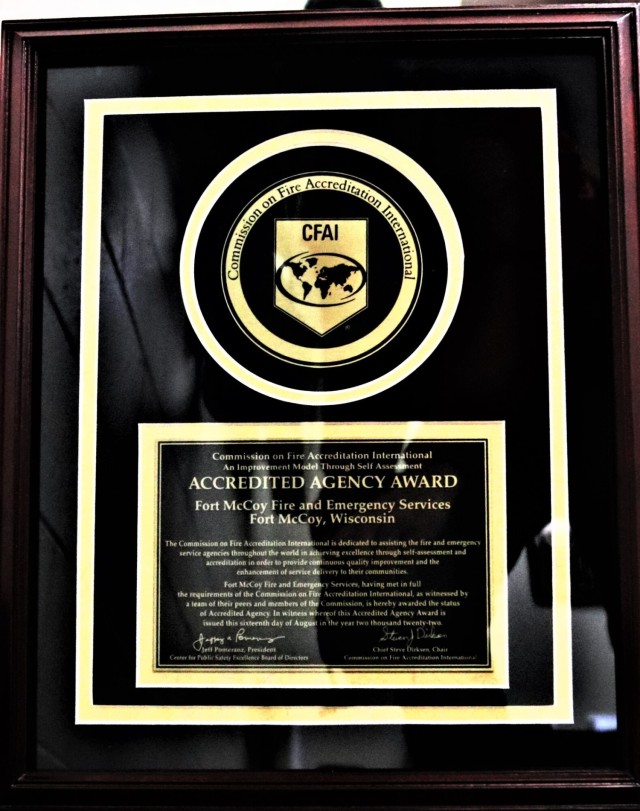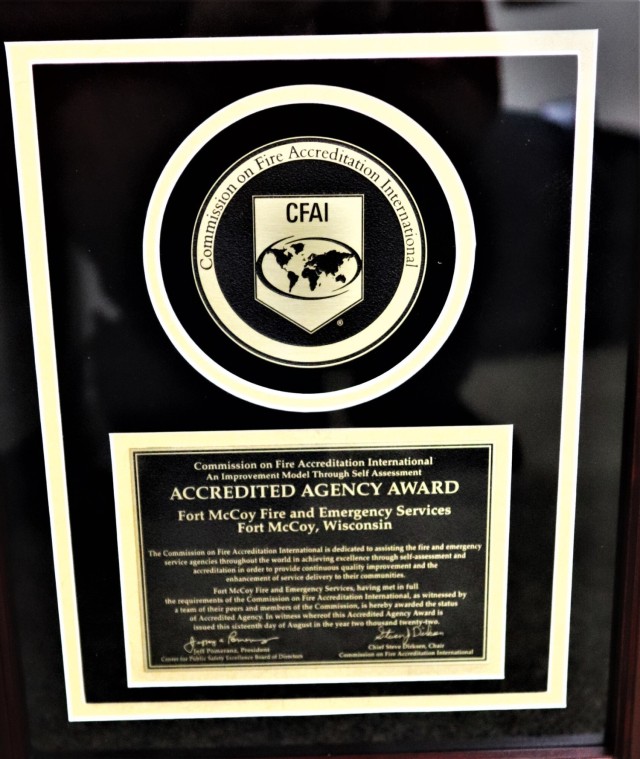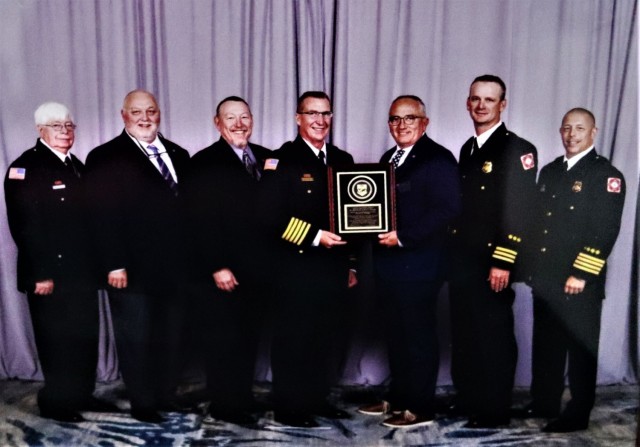 The Fort McCoy Directorate of Emergency Services (DES) Fire Department was reaccredited by the Commission on Fire Accreditation International for the third time earlier in 2022.
DES Director Mark Reaves, Fire Chief Tim Jorgensen, Assistant Fire Chief Brady Brever, Assistant Fire Chief Hunter Young, and Fire Prevention Inspector/Safety Officer Curt Ladwig traveled to Denver from Aug. 15-17 to complete the accreditation process and sit before a board.
"This is our third time receiving this accreditation," Jorgensen said. "Our first time receiving the accreditation was in 2012."
The accreditation process takes place every five years, Brever said. The Fort McCoy Fire Department is one of more than 200 agencies to achieve Internationally Accredited Agency status with the Commission on Fire Accreditation International and the Center for Public Safety Excellence.
Brever discussed the accreditation process for the fire department.
"It's an international accreditation from a third party," Brever said. "They are looking at the department as a whole and all the programs and processes that are in place to conduct business as a fire department. The accreditation process allows a fire department to review their programs and identify strengths in programs that are going well and weaknesses that provide opportunities for improvement. We see accreditation as a continuous improvement plan for the fire department to be able to provide the best emergency response to the community we serve and protect."
Brever also said the accreditation process begins with documentation. The three primary documents are the standards of cover, strategic plan, and self-assessment manual consisting of 250 performance indicators. When complete, the documents are turned into a peer assessment team for review and evaluation. If the documents are approved, the peer assessment team schedules a site visit to the fire department.
"The peer team spends a week with reviewing department documents, taking a look at our equipment, interviewing personnel in the department, and based on what they find, they write a report that either recommends the department for accreditation or recommends they differ and continue working on their documentation," Brever said. "Our peer team assessed us and determined that we met all criteria, and our documentation was correct. We were referred to appear before the accreditation board in Denver. The board reviews the peer assessment team report and asks follow on questions.
"Then the board asks a few questions specific to the report and then will recommend accredited status or deferral," Brever said. "We were recommended for accredited status."
The Fort McCoy Fire Department is one of only eight Army fire departments to be internationally accredited, Brever said. He said accreditation is important to the department because they are always striving for improvement.
"I think that the key is that it's a continuous improvement plan," Brever said. "So as a department, I think you need to look at your programs and your processes on a continuous basis and really evaluate. You have to ask yourself, 'Are we doing the very best for our community?' So, the accreditation process forces you to really kind of peel back the onion and look at your department and identify, honestly, your strengths and your weaknesses and then work on your opportunities for improvement and maintain what you're doing well.
"So really, to me, with all the changes we've had over the last five, 10 years, we've increased our response capabilities for the local community, and we've also identified some things that we can do a little bit better," Brever said. "The (accreditation) process has really made us a better department as a whole."
Brever said the assessment this year included an updated assessment manual to complete the process.
"They went from the ninth edition of the assessment manual to the 10th edition, which required a complete rewrite," Brever said. "So, we really had to go through all the categories of the assessment manual and rewrite them. It really forced us to go back and look at all aspects of the department and really identify whether or not we are doing as well as we think or are there areas we can improve on."
Brever said the fire department has gone through a lot of changes in the last decade since the first accreditation, but they've been changes for the better.
"I would say that we've definitely shown improvement overall in our processes and in our capabilities," Brever said. "This is from going through the accreditation process because again it helped us identify those areas that we can work on. I would say that the difference from when I first started working at Fort McCoy to the current day now is that we have a different look at day-to-day operations. We maintain a scheduled day to make sure that we incorporate all the training needed for the different areas that we now provide service for, including technical rescue, hazardous material response, structural and wildland firefighting, EMS and more. With so many skills, continuous training is incorporated into our duty day."
And in addition to continuing and supporting their own training, Brever said the fire department also continues to support training for military units when they ask for it as well.
"We feel that we are part of Fort McCoy as a Total Force Training Center and we want to provide the opportunity for units to come and train at Fort McCoy as well," Brever said. "Chief Jorgensen, as a matter of fact, has been working on building a new firefighting training site that will provide even more opportunities for units. I've been with the Army Reserve firefighters for years, and I've had a wonderful relationship with Fort McCoy even before I was employed here. We do take a lot of pride in having the ability to train these guys that come out. We work with the 416th Theater Engineer Command as they provide the annual driver operator certification training for the pump operations, mobile water supply and aircraft rescue firefighting in the springtime. The 416th also provides professional development certification classes that we support with the us of our classroom.
"We facilitate as much as we can," Brever said. "We don't necessarily have the capability to provide full-time instructors, but we facilitate as much as possible to give them the best opportunity to get the training they need to meet their requirements annually."
Brever said the department will continue to look at having the accreditation as part of their operations.
"To us, having this accreditation is a pretty big thing, and we definitely want to continue with it," Brever said. "We've seen the benefits of it — just overall as a department and the way that we've been able to grow our programs and to really grow our training."
Fort McCoy's motto is to be the "Total Force Training Center."
Located in the heart of the upper Midwest, Fort McCoy is the only U.S. Army installation in Wisconsin.
The installation has provided support and facilities for the field and classroom training of more than 100,000 military personnel from all services nearly every year since 1984.
Learn more about Fort McCoy online at https://home.army.mil/mccoy, on the Defense Visual Information Distribution System at https://www.dvidshub.net/fmpao, on Facebook by searching "ftmccoy," and on Twitter by searching "usagmccoy."