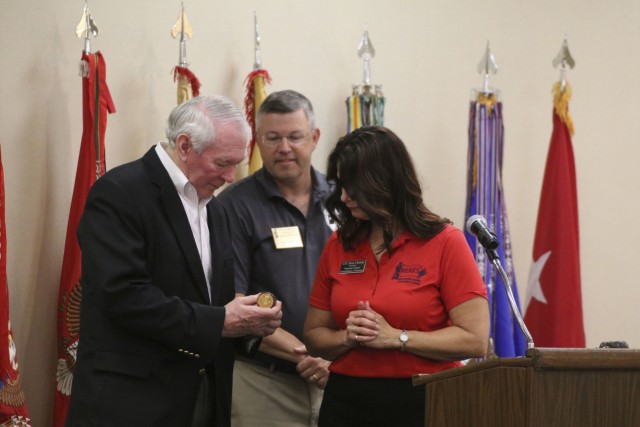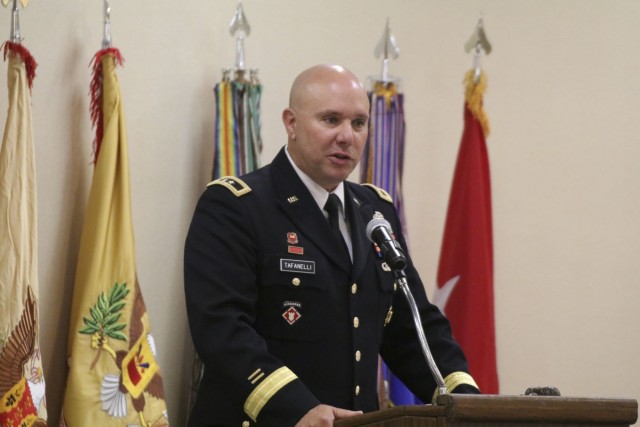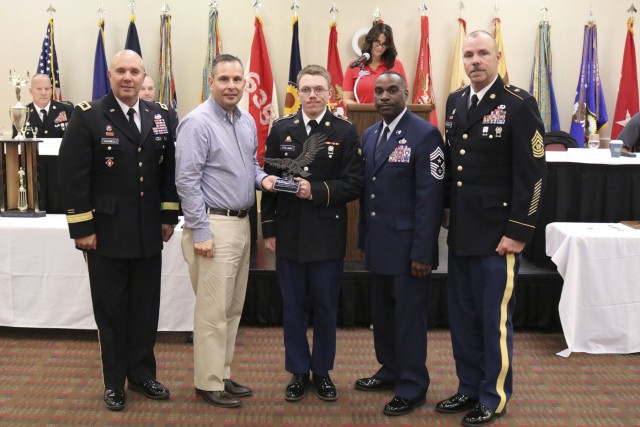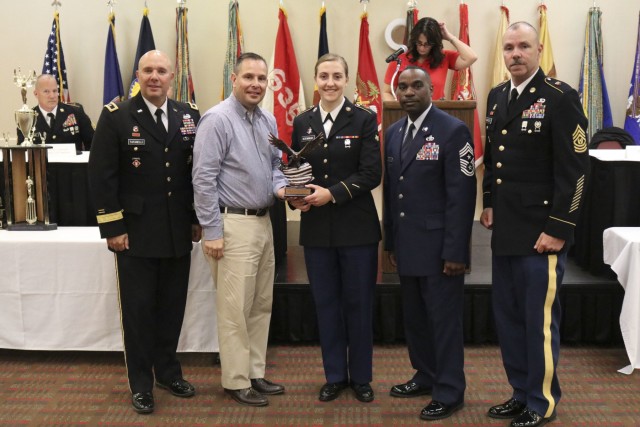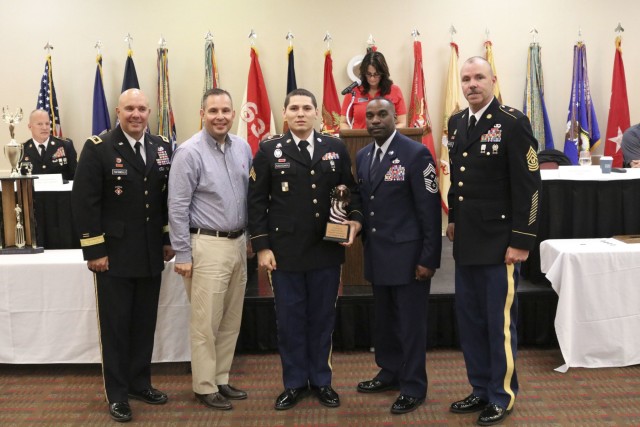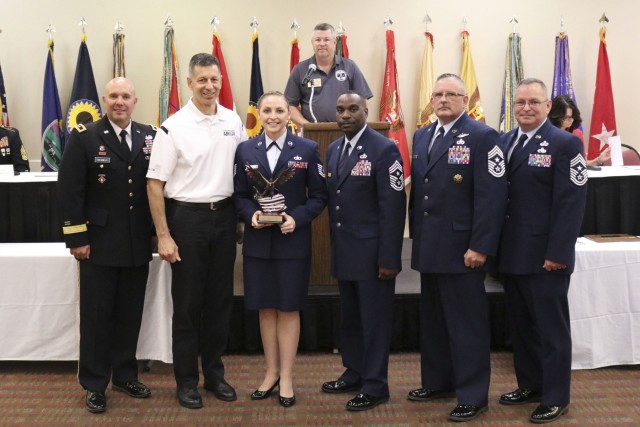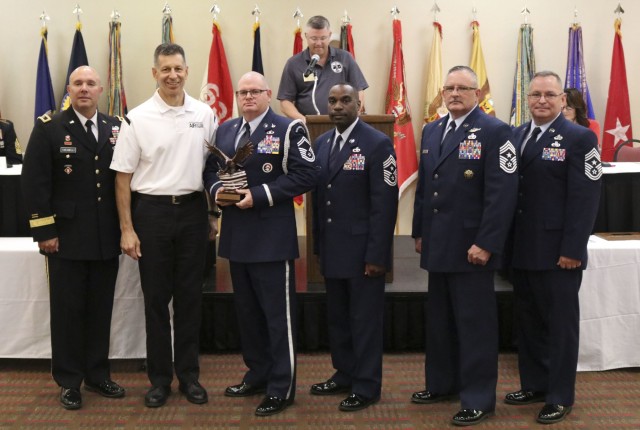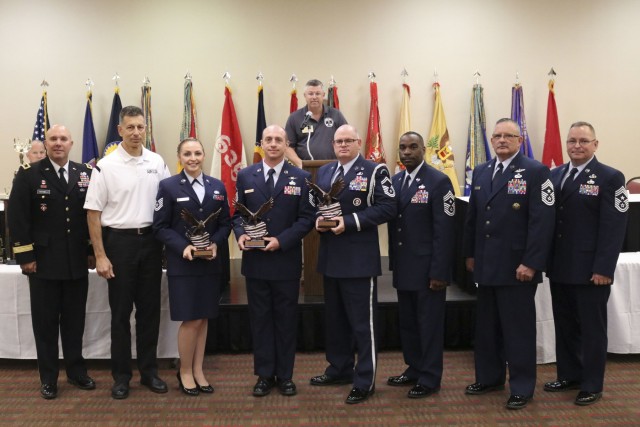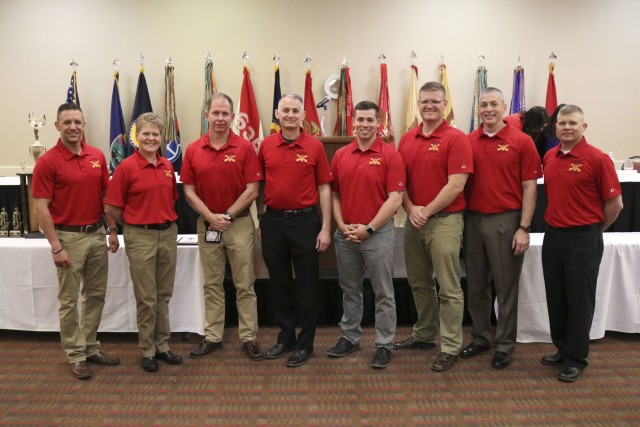 The 2019 Joint Conference of the National Guard Association of Kansas and the Enlisted Association of the National Guard of Kansas, hosted by the 235th Regiment in Manhattan, Kansas, took place April 26-27.
Attended by a mixture of Soldiers, Airmen and retirees, the conference offered a unique opportunity for collaboration.
"The association is truly a joint organization," said Lt. Col. Erica Christie, president of the National Guard Association of Kansas. "It includes enlisted and officers, Air and Army. And this is our one time of year to spend a weekend together."
The conference included a diverse selection of activities ranging from a golf tournament and 5K run, to awards ceremonies and professional development and business sessions.
"We try to give a wide variety of events so that it's a fun weekend," said Christie. "This is where we build camaraderie, we make friendships, there's networking opportunities. We try to round it out and make sure there's something for everybody. We have work to do during the business sessions, but we also want to have fun."
The work the association does - like their current initiative to address deployment benefits - is critical, to the Guard mission according to Christie.
"Often times, Guardsmen do not qualify for the same benefits and entitlements as their active duty counterparts while deployed overseas, even while serving in the same capacities and locations," said Christie.
Lt. Gov. Lynn Rogers, who provided remarks and extended his support of the Kansas National Guard on behalf of the governor's office, said the efforts of the KSNG and of the association have not gone unnoticed.
"I want to thank you for the support and how you each strengthen the National Guard here in the state of Kansas," said Rogers. "When looking at what you do as an association, it's not an overstatement to say that your efforts impact the security of our nation. The readiness of the National Guard depends on strategic policies and programs to ensure that the Guard is modern, relevant, and able to retain quality members. We are grateful for your advocacy and for your guidance in making this happen."
Rogers continued by referencing the proclamation recognizing Armed Forces Appreciation Day signed by Gov. Laura Kelly last month, which states, "It is in the best interest of our state to foster close and effective cooperation between the various military installations and units, state and local governments, and private sector to facilitate the enhancement and continued strengthening of our military activities."
"The executive order is more than a symbol of appreciation to our men and women who serve," said Rogers. "It also outlines how the state of Kansas will continue to strengthen and support our military in Kansas. Which in turn benefits our communities, our workforce and our economy. As we see it, there is no more sacred duty than to take care of those who serve, those who have served, and those that are actively defending our way of life here in Kansas."
Maj. Gen. Lee Tafanelli, the adjutant general of the Kansas National Guard, also emphasized the service-oriented nature of the Kansas National Guard.
"As citizen Soldiers and citizen Airmen, this is what we do: we support our communities, our state in times of disaster," said Tafanelli.
Tafanelli thanked the Guardsmen for their service, which, throughout the last year, has included hurricane relief in Florida, flood relief in Nebraska, and severe winter weather relief throughout Kansas, among others.
"There's been Guardsmen helping Guardsmen, Guardsmen helping fellow citizens across the 54," said Tafanelli. "That's what makes the National Guard unique."
In an era of high operational tempo, Tafanelli also challenged guard members to look ahead to future challenges the organization is anticipating.
"We spend a lot of time reflecting on where we are currently, but it's also important to look to the future," said Tafanelli. "We are now a nation that's been in conflict for the last 18 years. The Guard has taken an ever present role in that conflict over the years."
As the Kansas National Guard continues to support local, state, and federal missions, the organization must find a way to meet an increasing number of requirements with a predominately part-time force.
"As we speak, we have units that are down range, we have units that have just returned, we have units that are preparing to deploy," said Tafanelli. "And that creates a lot of challenges. Not only for our service members, but also for their families, for their employers. And those are things that we are going to have to continue to work at to find the right balance."
One of the challenges of achieving balance is the struggle to bring new members into the organization in an environment where less than 27% young men and women ages 17-24 years old are eligible to join the armed forces, said Tafanelli.
"There's a whole myriad of reasons, from health reasons, medical reasons, to legal issues, that they are ineligible to join," said Tafanelli. "When you look at the standards that are out there today for what it takes to serve in our armed forces, they are very very high standards. And they need to be, because of what's at stake."
An even more worrisome statistic, according to Tafanelli, is the one that indicates a diminishing culture and interest in service professions nation-wide: only 7% of today's youth have a propensity to serve in the armed forces.
Still, Tafanelli said he is hopeful that a desire to serve their communities, as well as the benefits the organization can offer, will be enough for the next generation to consider the armed forces as a viable part of their career path.
"We don't have a lot of control over that 27 percent, but I believe for that 7 percent, we have the ability to encourage that next generation to be willing to serve in public service, being willing to serve in the armed forces," said Tafanelli. "We can offer the education, the training and the experience that can make a difference in those young men and women's lives."
Although the State of Kansas currently offers a great head start to its members through 100% state tuition assistance, Christie said joining the NGAKS is a great way to continue to further your career, through engagement, exposure to joint leadership, and the professional broadening opportunities the association provides.
"I don't understand how you cannot join," said Christie.
Furthermore, Christie said she encourages participation because professional organizations like the NGAKS - ones that represent service members on a national level and continue to advocate for their care - are more relevant and important now than ever.
"Everyone needs a voice," said Christie. "And if you are going to change legislation, to advocate for benefits, you need a collective voice."
Kansas National Guardsmen interested in joining the NGAKS can visit https://ngaks.com for more information.