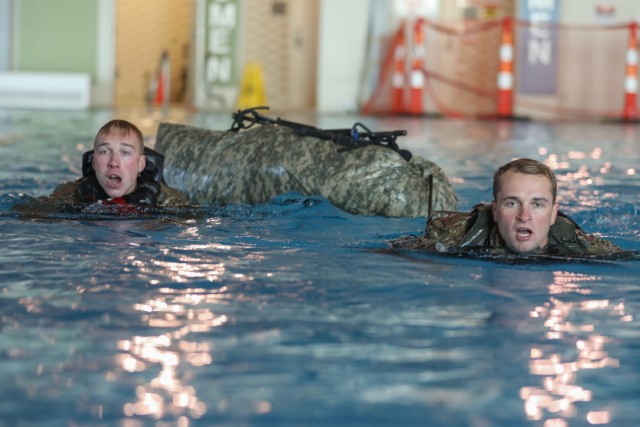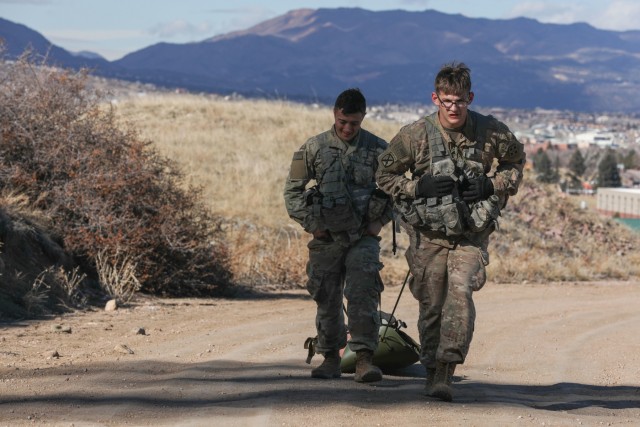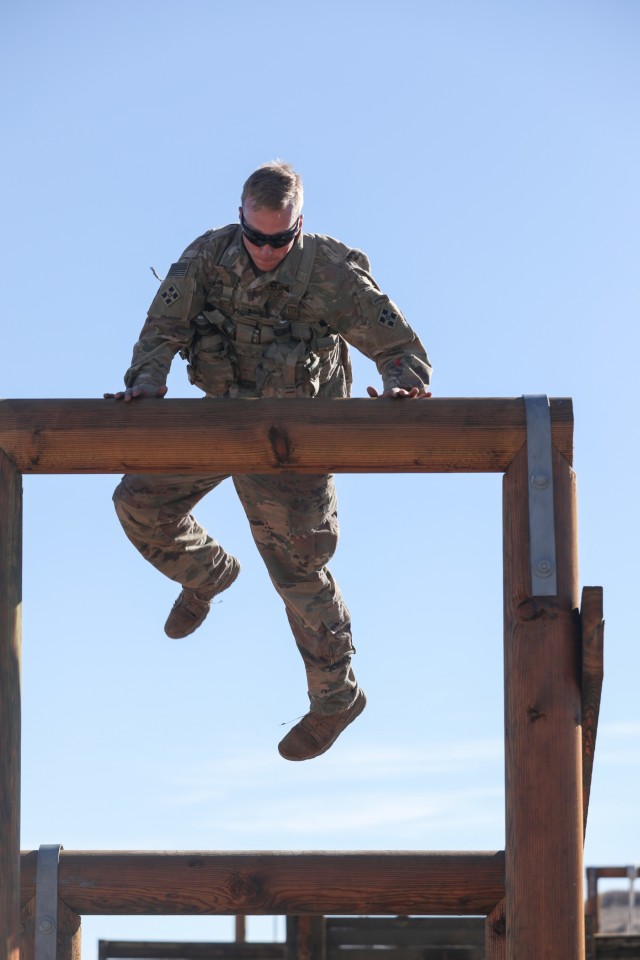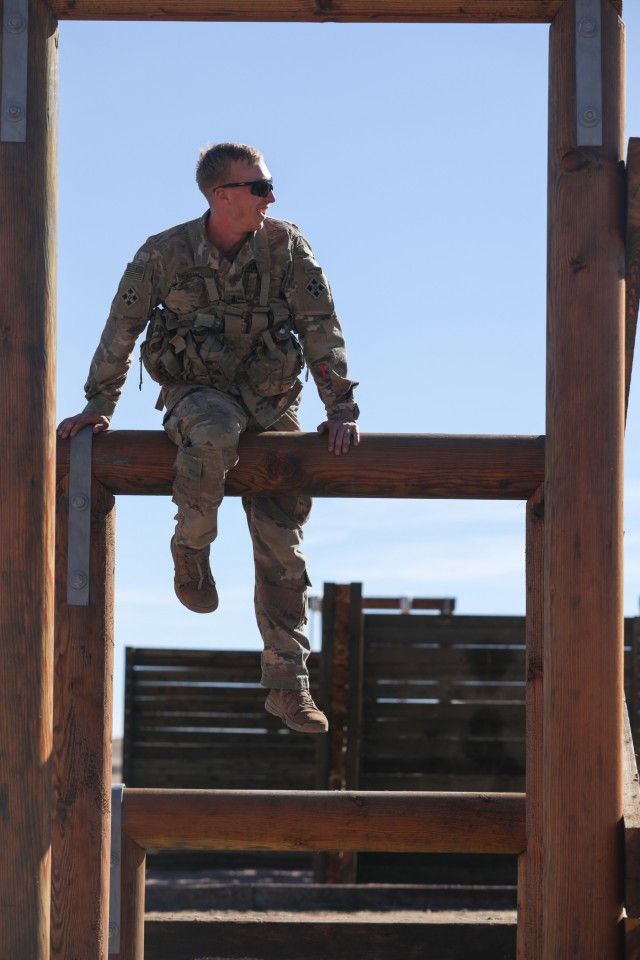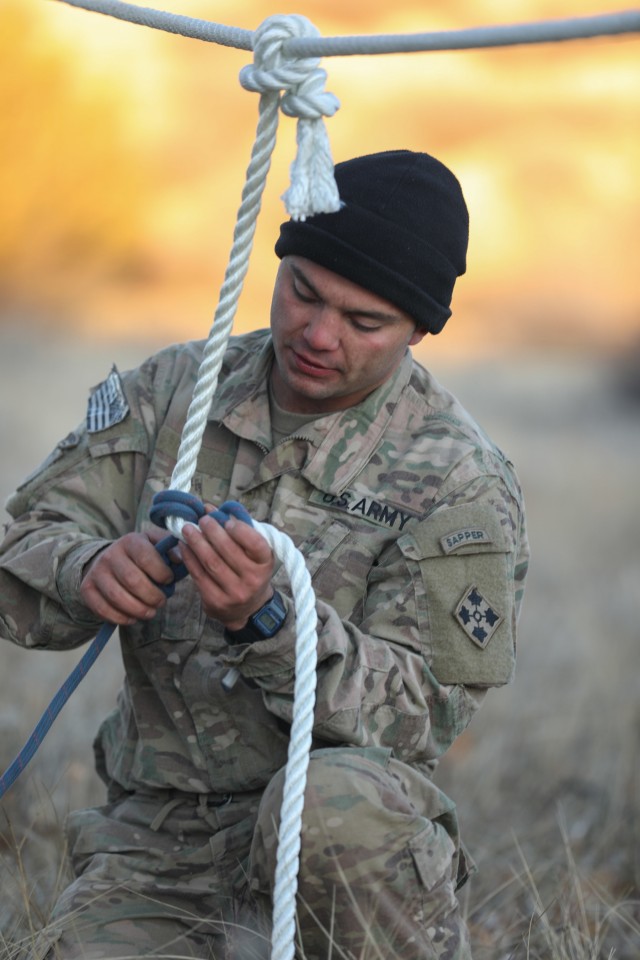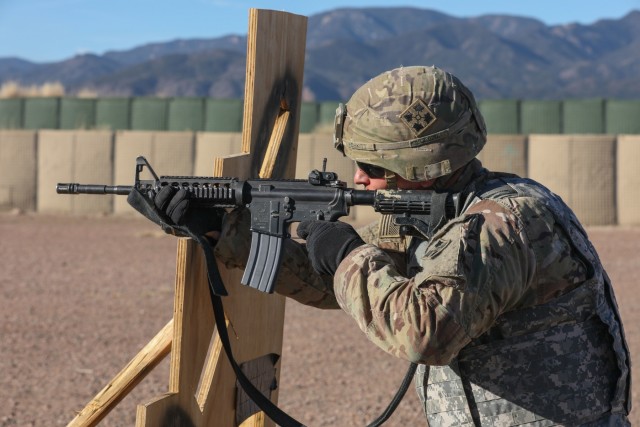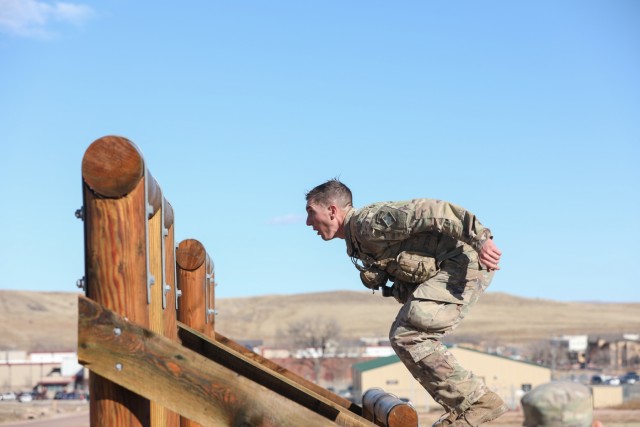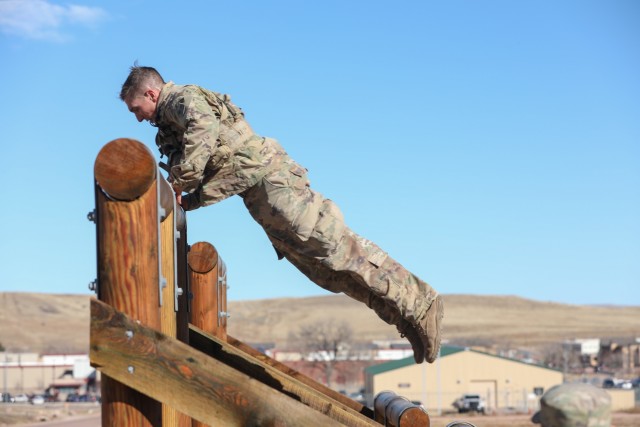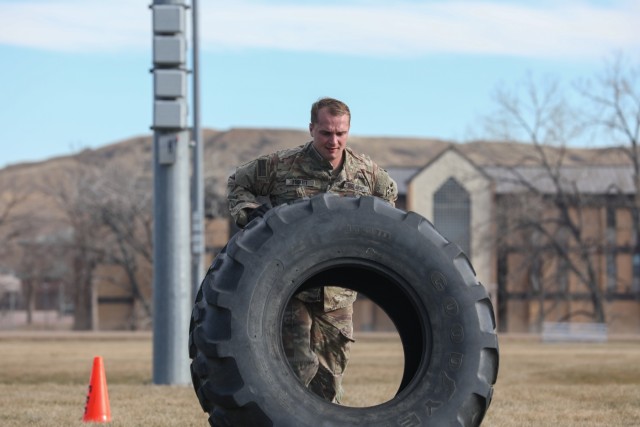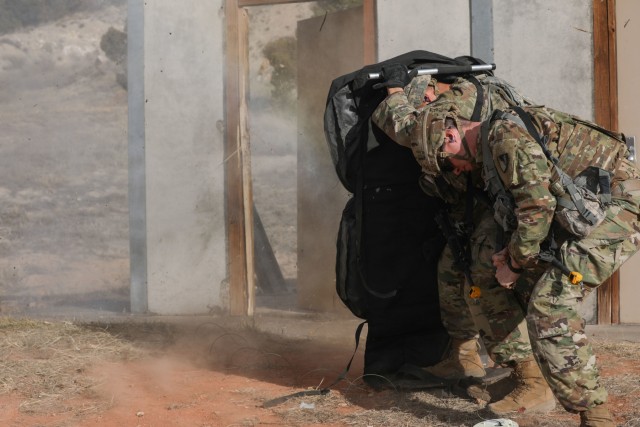 FORT CARSON, Colo.-- A loud splash shatters the early-morning still waters of the Iron Horse Physical Fitness Center pool.
Competitors of the 2018 Fort Carson Best Sapper competition thrash and pull their way through the water, dragging a 150-pound poncho raft 300 meters.
And this is only the beginning.
The two-day competition, held Nov. 28 and 29, included nine, two-person combat engineer teams from units across the installation, all competing to go on to the Army-wide Best Sapper Competition in April 2019 at Fort Leonard Wood, Missouri.
"The goal was to identify the top three teams from the [4th Infantry] Division that will compete and represent the Division at the Army-wide Best Sapper Competition," said Maj. Benjamin Washkowiak, the 4th Inf. Div. engineer. "We also wanted to see the competitors dig deep and not give up, so we wanted to push them to the point that they were ready to give up, but they knew that they could continue."
The event was modeled off what the competitors are likely to face going on to the Army-wide competition. Some of the events included: a non-standard Army physical fitness test, demolition and sapper proficiency test, stress shoot, obstacle course, foot march, land navigation, and an urban breaching and demolition lane.
"The main importance of doing one of these competitions is to see where your skill level is at on these topics," said 2nd Lt. James Rowan, a competitor from the 4th Engineer Battalion. "It's a little bit of bragging rights."
By the second morning of the competition, with the end in sight and temperatures below freezing, the six remaining teams of sappers stepped off for the final leg of the competition.
1st Sgt. Joshua Pagan, a competitor from the 3rd Armored Brigade Combat Team, 4th Inf. Div., said leading from the front was his motivation to compete. That mentality pushed him to overcome the hardships of the competition. With physical and mental anguish evident on his face, he slowly shuffled on to one of the last stations.
By the end of day two, the competitors had traveled a total distance of 40 miles over the course of 36 hours. Exhausted and beaten down, the six teams crossed the finish line at Iron Horse Park with their units cheering them on. The final scores were tallied, and the winners were announced.
1ST:
1st Lt. Dustin St. Arnaud and Sgt. Garrett Foskitt, assigned to Alpha Company, 52nd Brigade Engineer Battalion, 2nd Infantry Brigade Combat Team, 4th Infantry Division
2ND:
Sgt. Dylan Ledbetter and 1st Sgt. Joshua Pagan, assigned to Alpha Company, 588th Brigade Engineer Battalion, 3rd Armored Brigade Combat Team, 4th Infantry Division
3RD:
1st Lt. Jeremy Matsumoto and Capt. Erwin Marciniak, assigned to Headquarters and Headquarters Company, 299th Brigade Engineer Battalion, 1st Stryker Brigade Combat Team, 4th Infantry Division