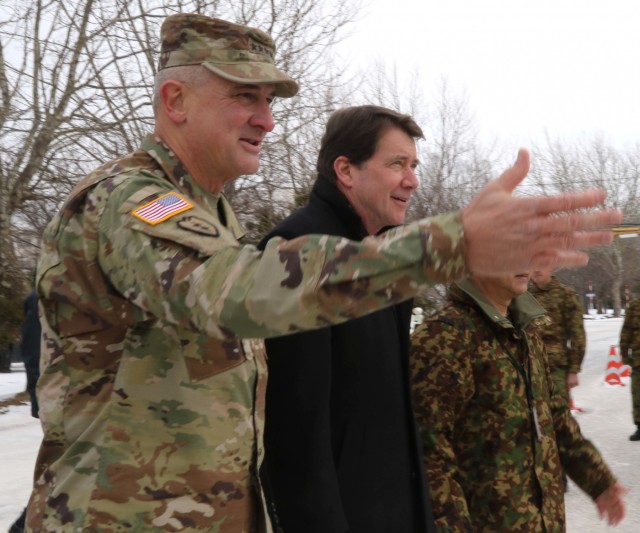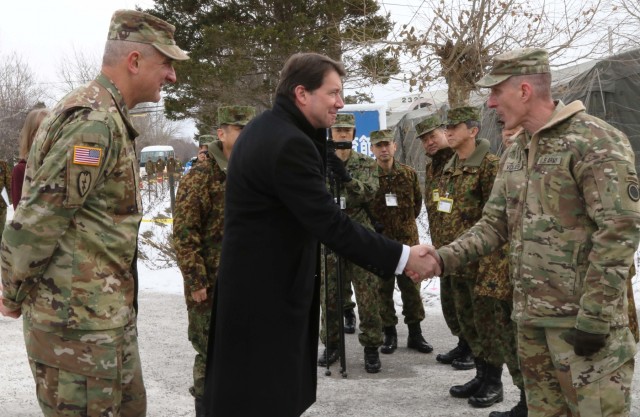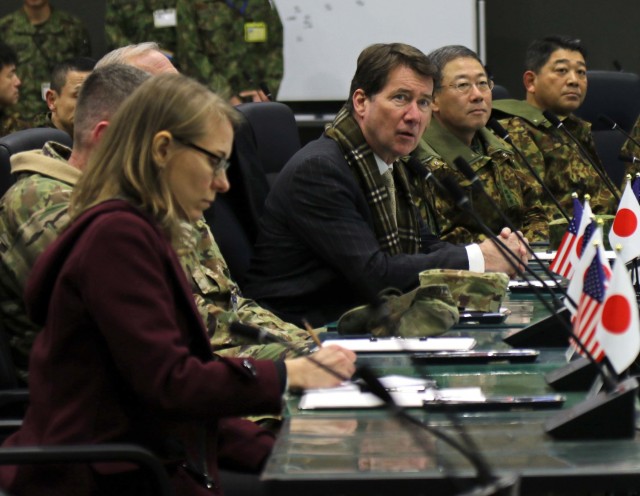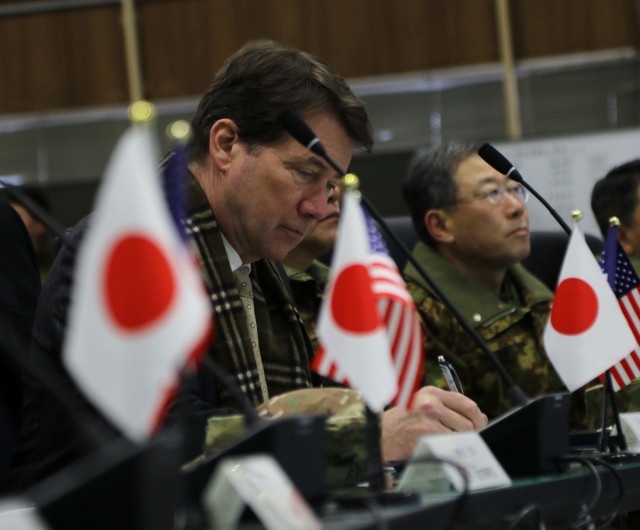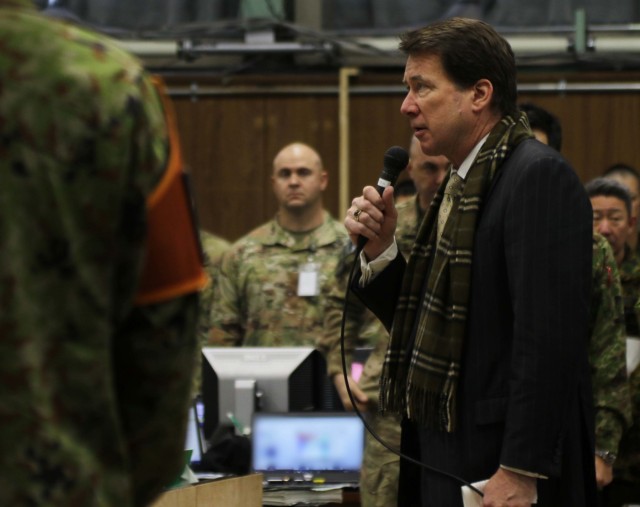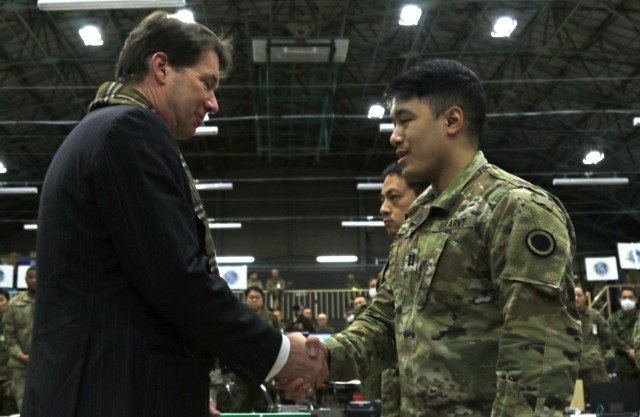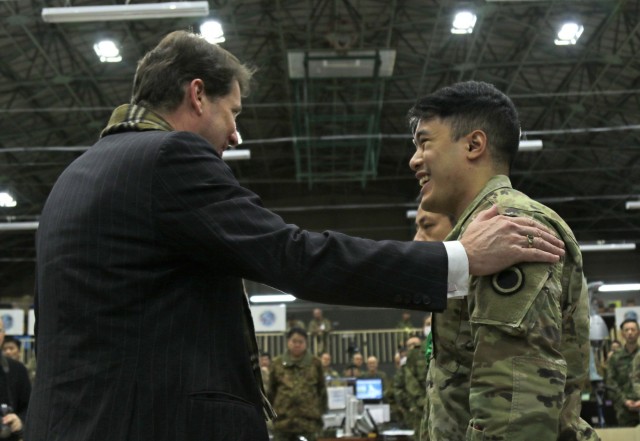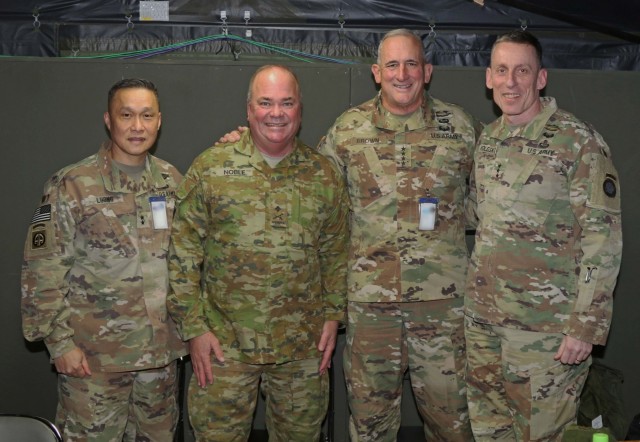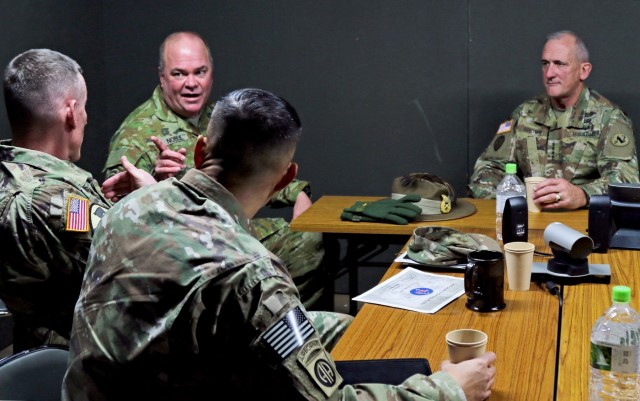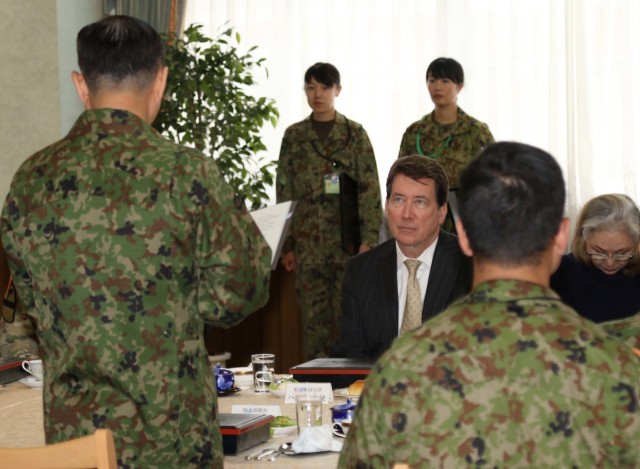 CAMP HIGASHI-CHITOSE, Japan-- The U.S. Ambassador to Japan, Ambassador William Hagerty, met with officials and toured Camp Higashi-Chitose, Hokkaido, Japan, during Yama Sakura 75, Dec. 12, 2018.
Hagerty joined U.S. Army Pacific Commanding General, Gen. Robert Brown, America's First Corps Commanding General, Lt. Gen. Gary Volesky, the Japan Northern Army Commanding General, Lt. Gen. Masato Taura, U.S. Army Japan Commanding General, Maj. General Viet Xuang Luong, Deputy Commanding General of U.S. Army Pacific North, Australian army, Maj. Gen. Roger Noble, for a look at the facilities, a meeting in the Combine Operations Integration Cell and a luncheon.
Hagerty visited to see the general operations of the exercise and speak about the importance of the alliance between the United States and Japan. He also awarded Capt. Andrew Keopraseuth, current operations officer, America's First Corps, and Maj. Go Inomata, Japan Northern Army, with coins of recognition for their efforts in Yama Sakura.
During Yama Sakura 75, America's First Corps is partnering with the Japan Northern Army in an exercise that simulates the defense of Japan in a scenario in which I Corps Soldiers would deploy to aid in the security of the region.
Yama Sakura is a bilateral exercise between the Japan Ground Self Defense Force and the U.S. Army, augmented by the Marines, Air Force and Navy. It strengthens the partnership between the two forces by combining capabilities and experience.
There are about 600 total U.S. military personnel and 4,600 Japanese personnel engaged in Yama Sakura this year.
"I want to thank all of you for your leadership and wonderful capability with the Japan Ground Self Defense Force," Hagerty said.
Hagerty is the 30th U.S. Ambassador to Japan. As the ambassador, Hagerty is a representative of the American government, as well as Unites States agencies, in Japan. Ambassadors are appointed by the President of the United States.