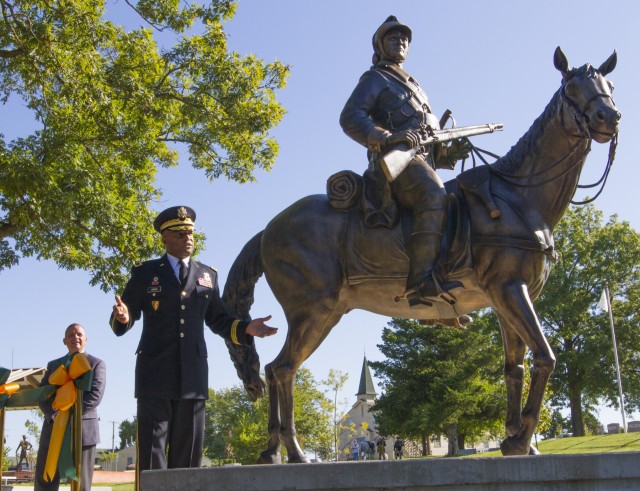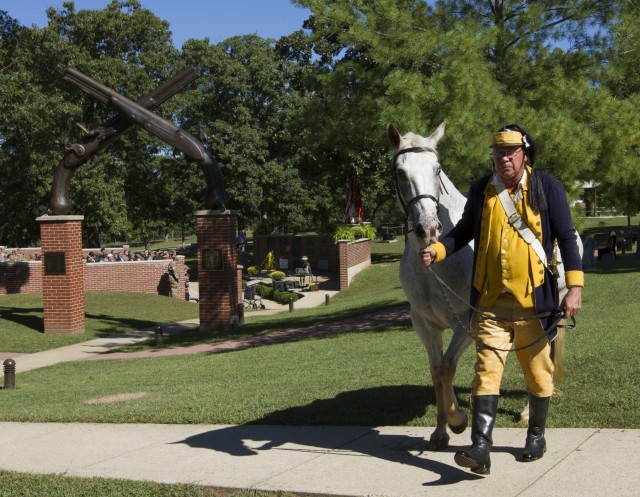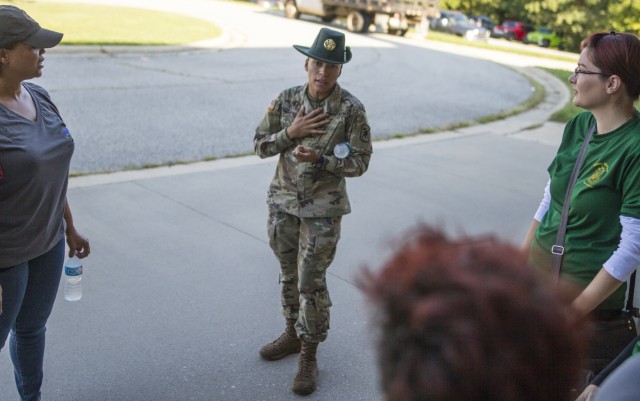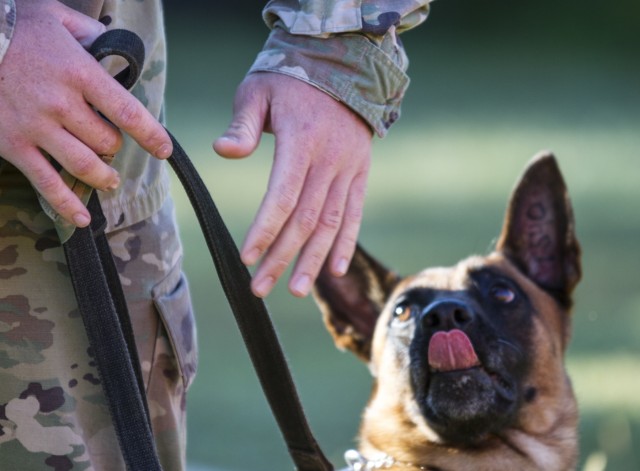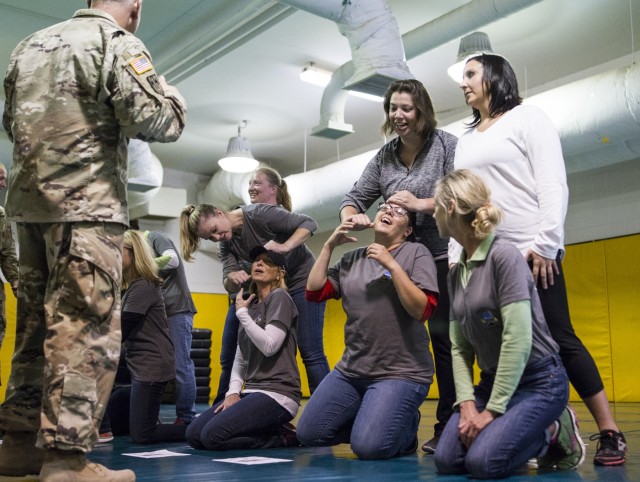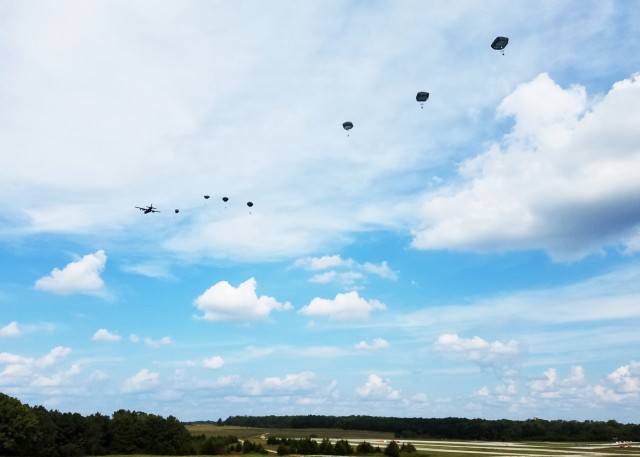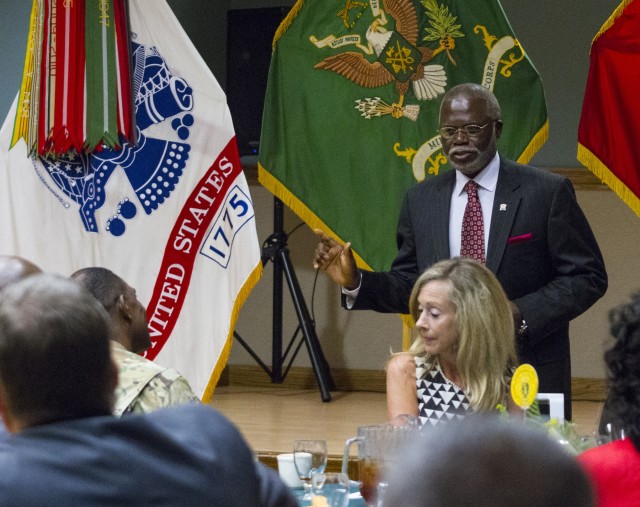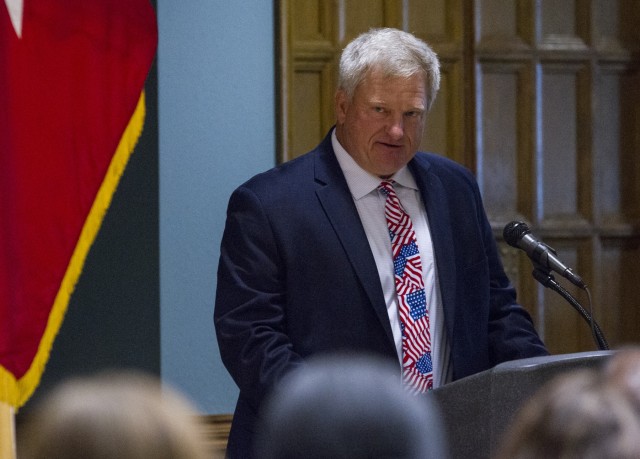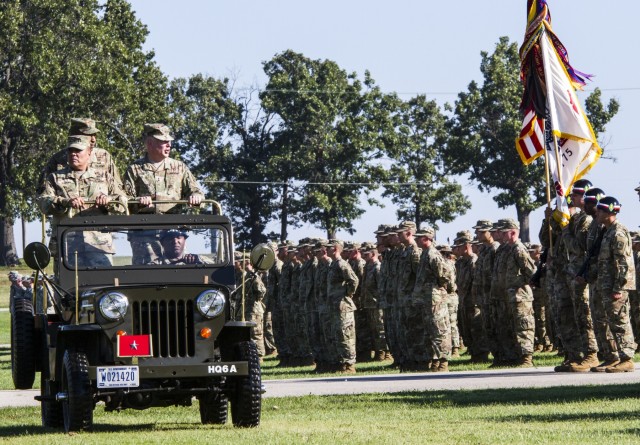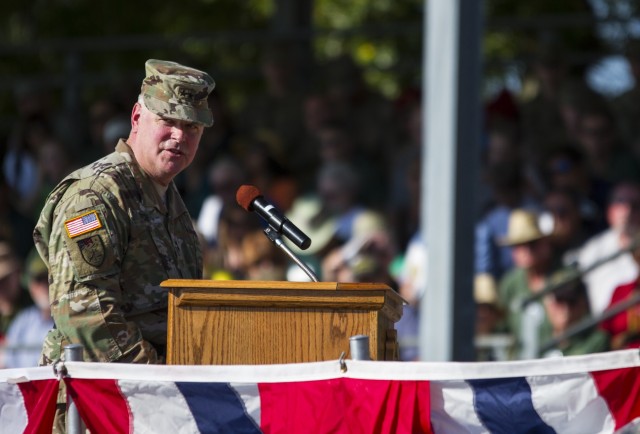 The Military Police Corps has a legacy that stretches beyond its 75 years, and today's MPs continue to pass down lessons taught since the founding of the Continental Army in 1775, the provost marshal general of the Army said Sept. 22 during the MP Corps Regiment's 75th Anniversary Regimental Review at Fort Leonard Wood, Missouri.
"When I think of what you have ahead of you, I want you to know that the trust you're going to experience … reaches back to the founding of our Army," Maj. Gen. Mark Inch told the U.S. Army Military Police School (USAMPS) students representing the Army's MP units in the formation. "The demonstrated character, competence and commitment in which military police throughout history have served the force."
The review was a high note in a week of events held at Leonard Wood to mark the regiment's 75the anniversary. A crowd of hundreds watched as Soldiers being trained at every level of MP skills performed precise movements under the glaring sun. Inch, who serves as the U.S. Army's provost marshal general, said those MPs were learning from battle-hardened leaders who have deployed multiple times over the past 15 years.
"When we look at the mid-grade NCOs and field-grade officers today who've done two, three and four deployments and been called upon again and again because of the need for their unique skill sets, we recognize our value to commanders continues," he said.
Brig. Gen Kevin Vereen, chief of the MP Corp Regiment and USAMPS, said the school will continue preparing MPs for the unknown challenges ahead.
"We must continue to ensure that we understand the varied threats our Soldiers face today and in the future," he said. "We must maintain the edge on our adversaries. We're here to innovate, right here in the heart of America."
MPs continue to show their value to commanders, Vereen said.
"I don't care where you go, name me an Army installation, name me an operation the Army is conducting right now, and you will find military police professionals."
In addition to the review, USAMPS and the MP Regimental Association held a variety of events Sept. 19-25. The week started with a memorial ceremony at the Regimental Memorial Grove on Leonard Wood. Command Sgt. Maj. Richard Woodring, senior enlisted leader of the MP Corps Regiment and USAMPS, shared stories of MPs killed in the line of duty throughout the years. He noted that the year between ceremony and the last was the first in a long time during which no MP had fallen.
"I'm pleased to say that this year we will not hear roll call, as no member of our corps has been lost in the line of duty," he said. "I'm proud of what we do to remember our fallen, and I truly believe it gives us an advantage in combat. There is not a U.S. Soldier alive today who doesn't know how much we honor our fallen comrades. I believe it gives them the additional courage, if necessary, to make the ultimate sacrifice, knowing that they will never, ever be forgotten."
The ceremony was preceded by the dedication of a statue of a dragoon on horseback, honoring MPs all the way back to the Continental Army, which employed "Troops of the Marechaussee" in an MP-like role.
The MP Corps Regiment also inducted five new members into its hall of fame. Maj. Gen. Alfonso Lenhardt, Col. James Harrison, Lt. Col Rex Smith, Command Sgt. Maj. Thomas Davis and Command Sgt. Maj. Brian Lambert represented the hall's 2016 class. Harrison and Smith were inducted posthumously. Vereen said they represented a wide range of MP experiences.
"A former commandant and Vietnam veteran; a former brigade commander who made the ultimate sacrifice in support of the Global War on Terror; a great leader who landed on Utah Beach on D Day; a former POW who was held captive for 1,832 days; a senior noncommissioned officer who served in leadership positions in garrison and in combat -- each in their own way has contributed to solidifying the 75-year existence of the Military Police Corps," he said.
Davis said he was successful because he worked for officers who let him lead as a noncommissioned officer. He talked about his time as a brigade command sergeant major, and what his commander told him.
"'Here's what I want you to do,' he said. 'Do your sergeant major thing, just keep me informed occasionally,'" Davis said. "He let me do my job. That's important."
An MP Spouses Challenge, a dining out, and an MP Corps Regimental Run rounded out a week of celebration for the regiment. Vereen said this celebration of the past was a spark for the future.
"These Soldiers and leaders on the field are our future," he said during the Regimental Review. "Our future starts here, right in the heart of America."