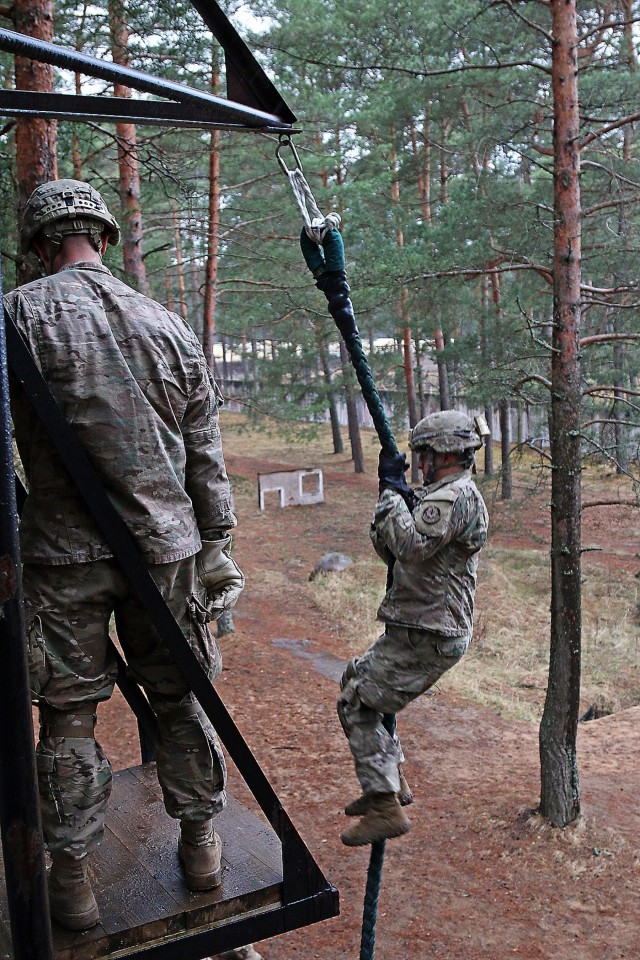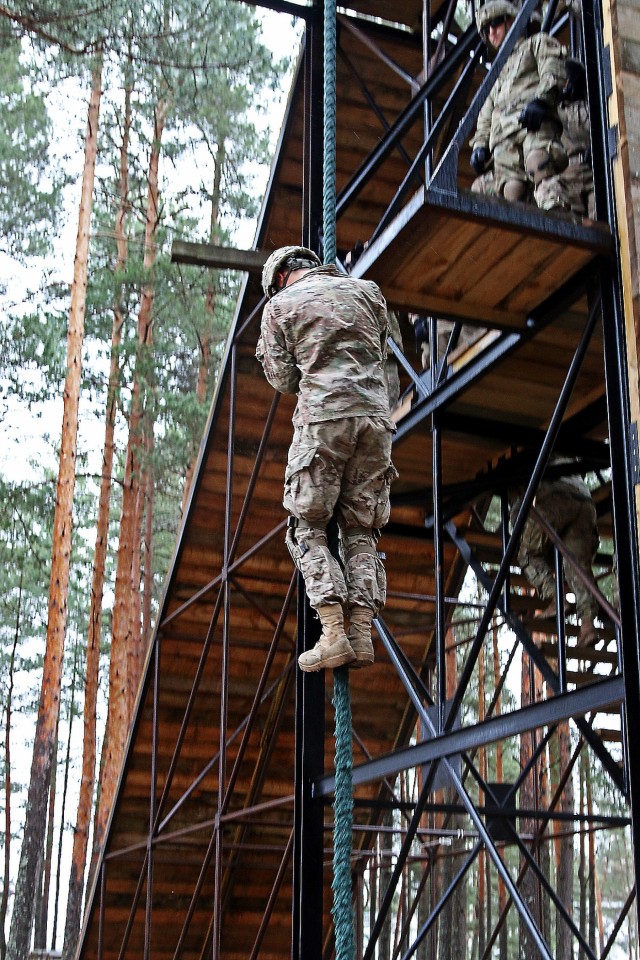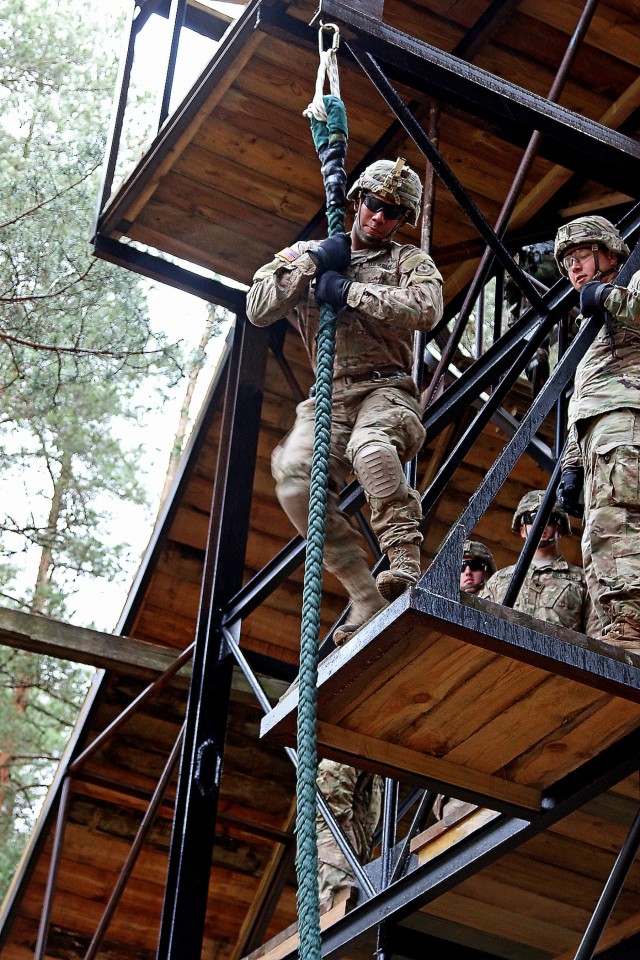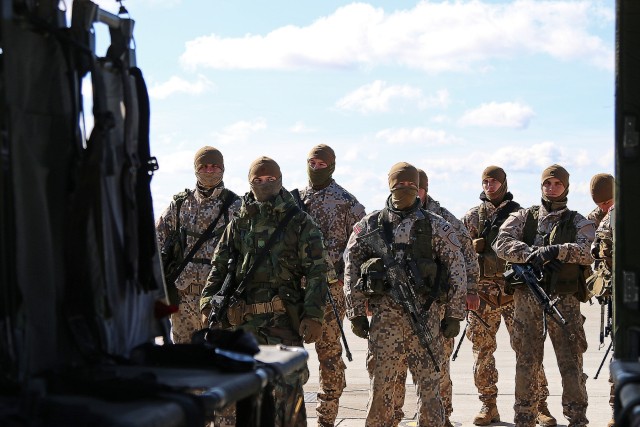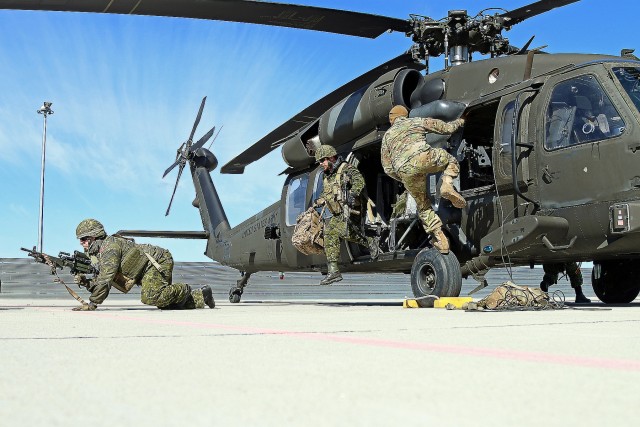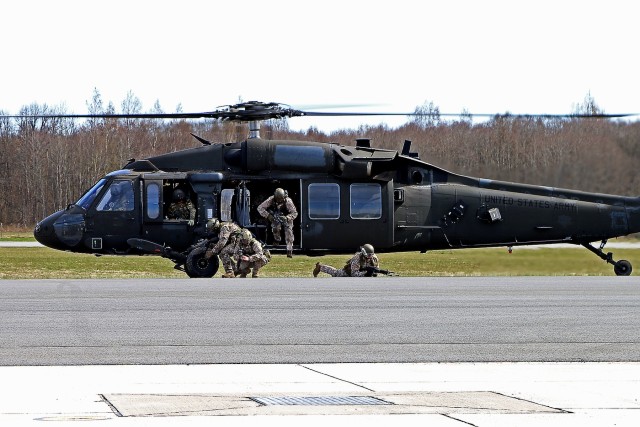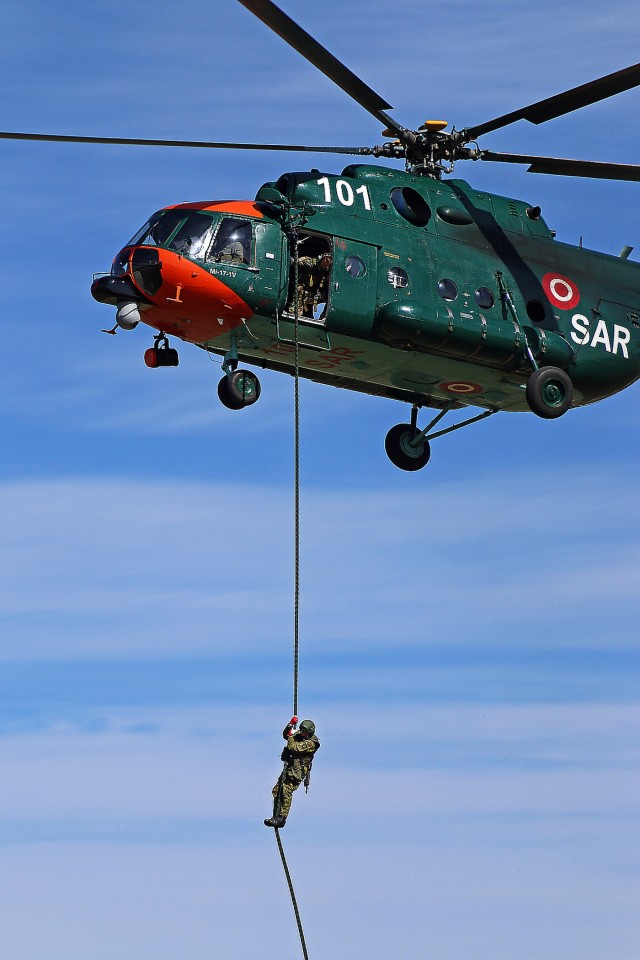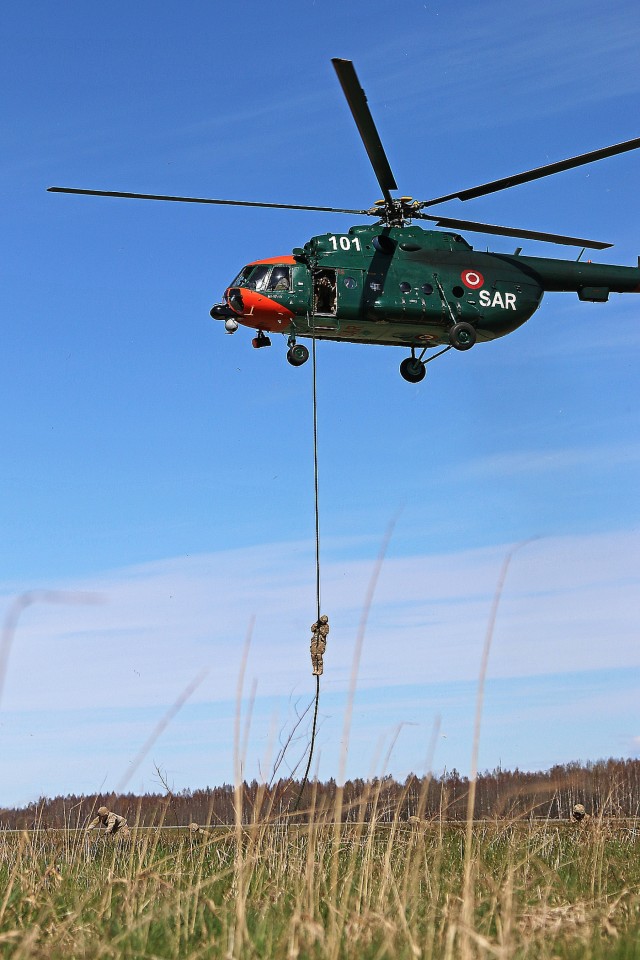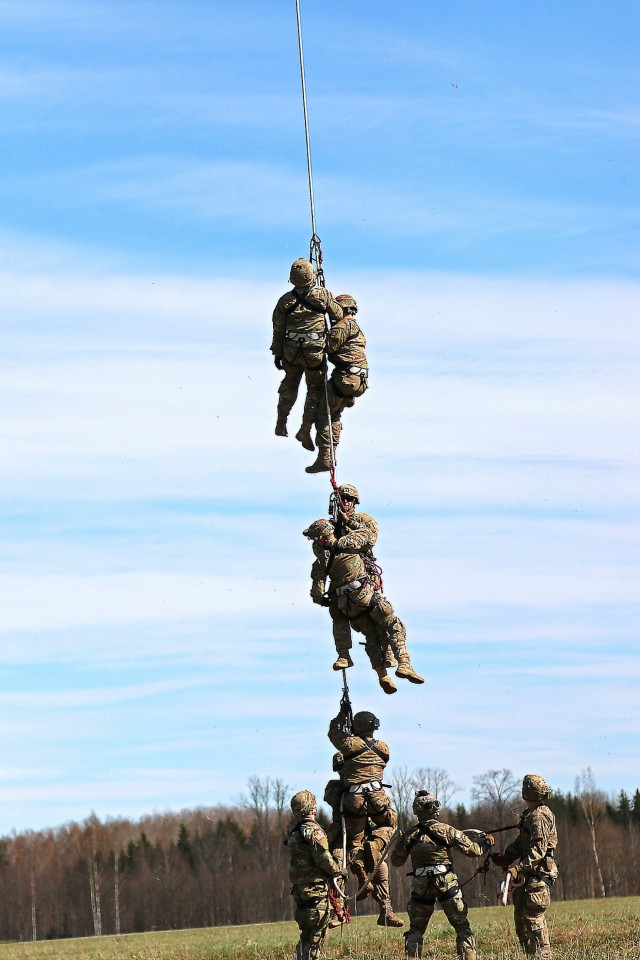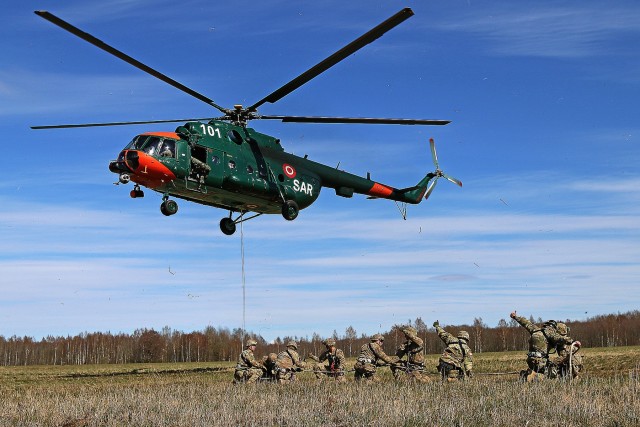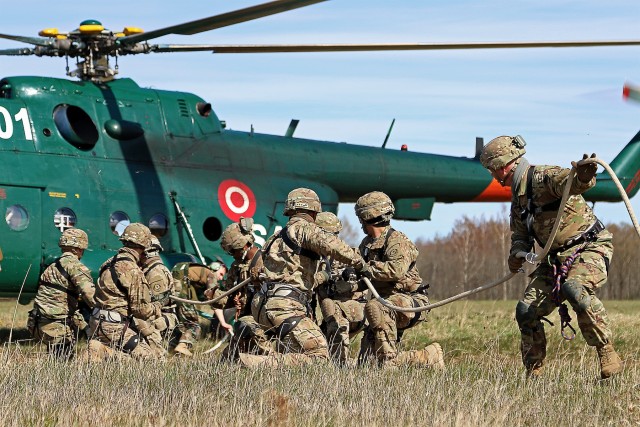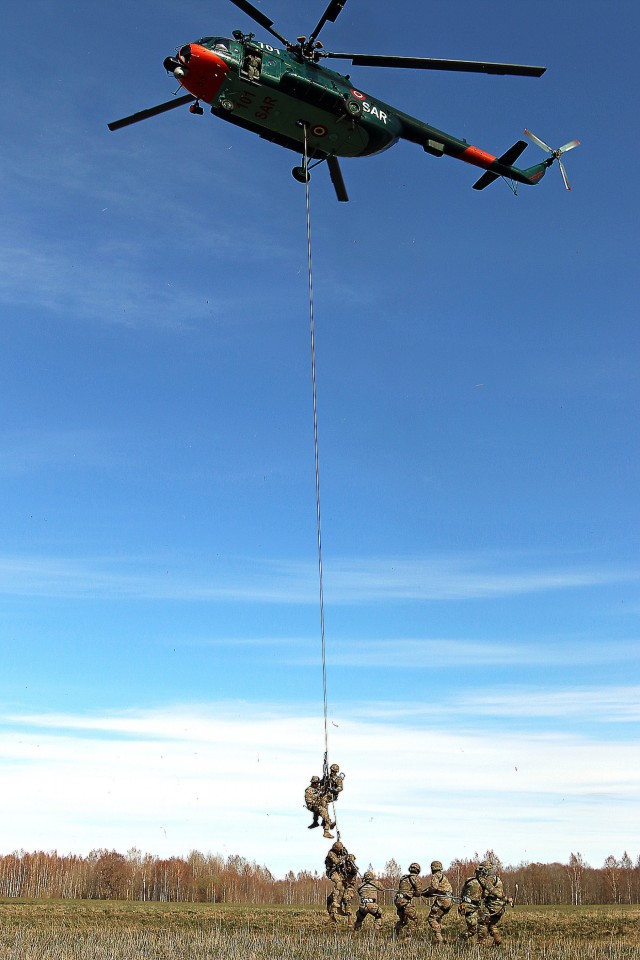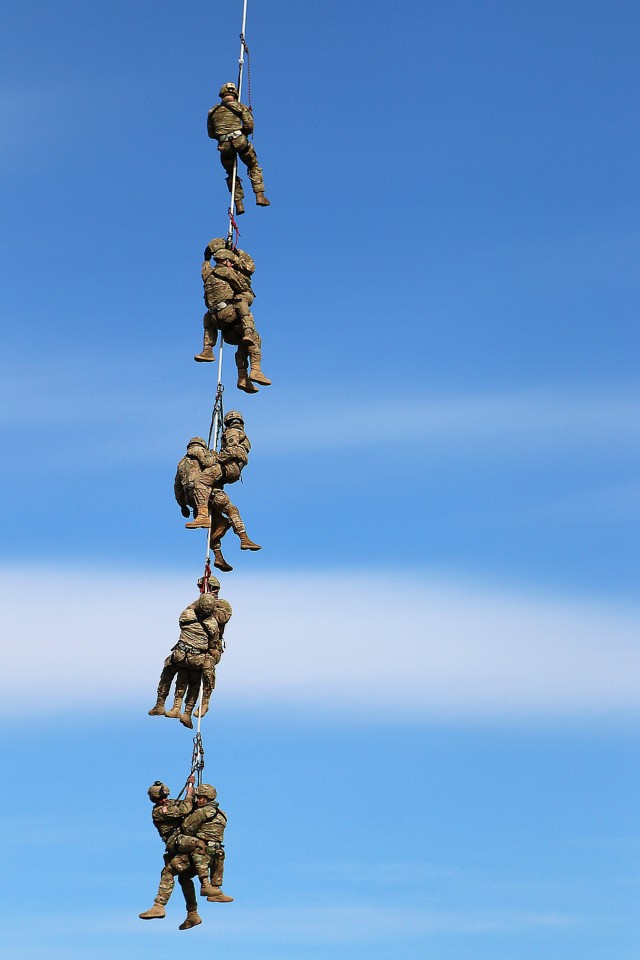 LIELVARDE AIR BASE, LATVIA -- A wind strong enough to knock a person off his or her feet over cuts through air on a spring afternoon as the source thunders overhead.
Looking up at the Latvian Mi-17 helicopter through eyes watering in the flurry of airborne debris stirred from the earth, bystanders witnessed a rope falling like Jack's beanstalk climbing opposite from the heavens.
Moments later, soldiers in a blur of green, brown and tan began to descend swiftly, sliding down the rope before assimilating themselves with the wind beaten terrain.
This is what the Army calls fast rope insertion extraction, and that is what soldiers from five North Atlantic Treaty Organization nations did under a clear blue sky, April 21, at Lielvarde Air Base, Latvia.
Allies from Latvia, Canada, Lithuania, Germany and scouts from Headquarters and Headquarters Troop, 3rd Squadron, 2nd Cavalry Regiment, harnessed up together for a taste of flight during Summer Shield XIII, an annual two-week long interoperability training event in Latvia.
Sgt. Martin Pelletier, a reconnaissance section commander, Canadian army, said this is the first time he has worked with Baltic countries.
"We're used to working with Americans, British soldiers and Western NATO countries," Pelletier added. "Here in Eastern Europe it's a little bit different so both countries are going to benefit from that."
Leading up to the gravitational defiance, soldiers received training, safety instruction and practiced by sliding down fast ropes from a tower at varying heights.
Upon arrival at the airfield, participants from the five armies conducted cold load training on stationary UH-60 Blackhawk helicopters, consisting of tactical combat entry and exit. After the dry run, soldiers of 3rd Battalion, 227th Aviation Regiment, 1st Air Cavalry Brigade, fired up the birds for hot load training.
Soldiers from each country practiced entering the aircraft, took a brief tour of the sky and exited as rapidly and efficiently as they boarded.
Once teams completed cold and hot load training, the group of excited allies chattering in a mix of languages moved toward the Latvian Mi-17 helicopter to become familiar with safety procedures.
In a grassy area, soldiers donned helmets, harnesses and protective gear as the flight crew brought the aircraft roaring into life.
"I was pretty excited," said Spc. Agustin Estrella, an HHT 3/2 infantryman. "This is not something that a lot of people get to do, so it's pretty awesome. This is a really good opportunity for us."
Each team rotated through the bird using hot load skills practiced earlier in the day, then slid promptly down the fast rope before taking cover in the grass below.
The Mi-17 then looped around, switching out ropes for the main event: special purpose insertion extraction.
Soldiers hooked themselves to a rope with eight-point harnesses, almost like an inverted rollercoaster dangling theme park visitors' legs freely in the air.
As the bird lifted higher soldiers feet disconnected with the ground and they were soon hanging from the rope, totally suspended in the air. The helicopter took each team on a five to seven minute ride around the airfield, and not a single face was absent of a smile upon landing.
Estrella said this experience is what it feels like to fly.
Looking past the whirlwind of their day, the scouts have pushed through a variety of training events alongside allies during Summer Shield XIII. From sniper ranges to inflatable zodiac boat training, these soldiers have stepped outside the box and into a new realm of skills.
"I've been in two duty stations ... and I did not get to do anything close to the things I've (been able) to do here," Estrella added.
The biggest thing Estrella said he will take away from this experience is working, training and learning next to NATO allies.
Related Links: