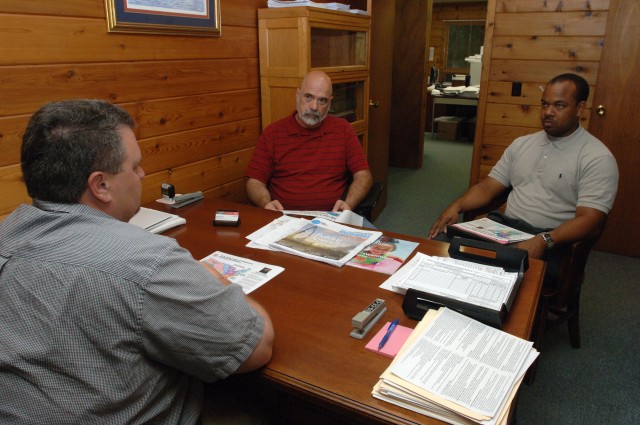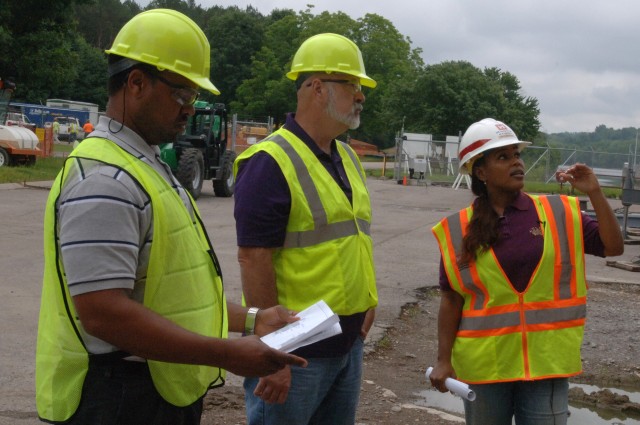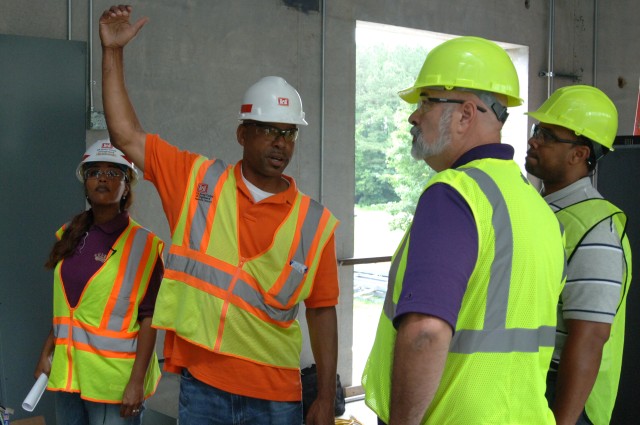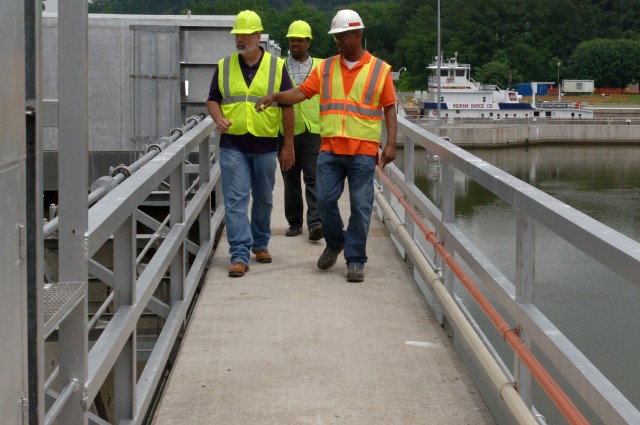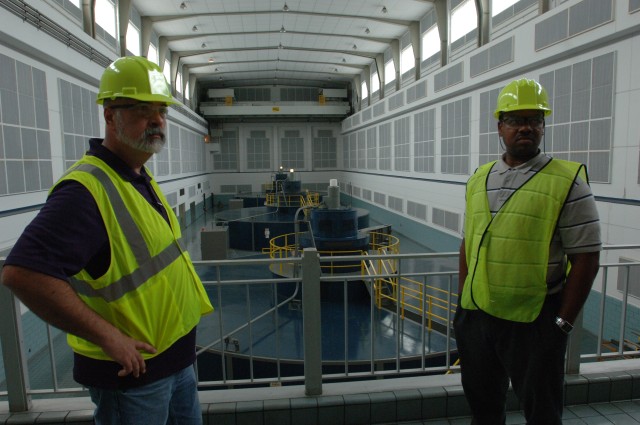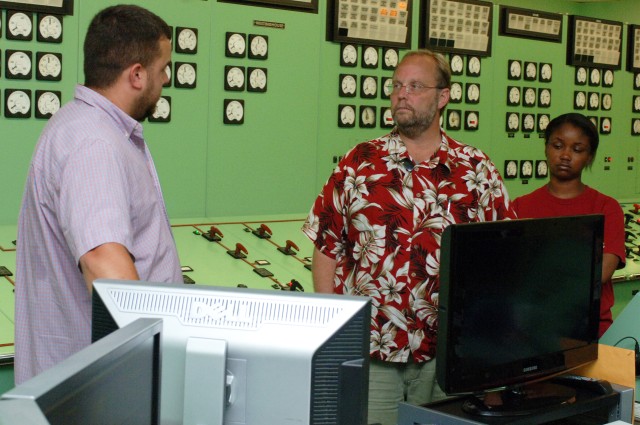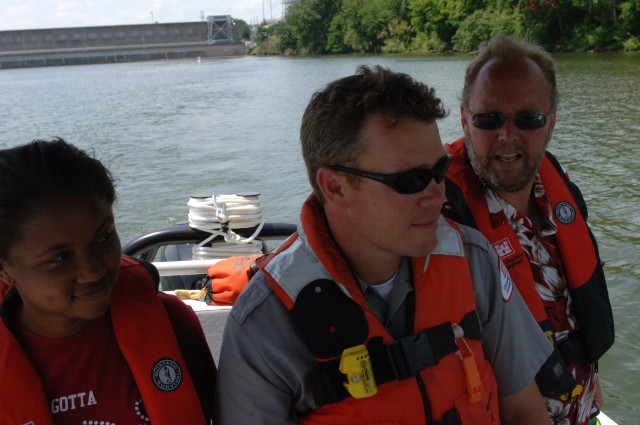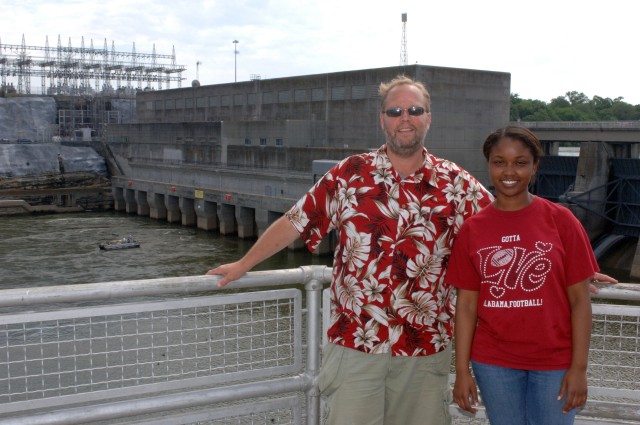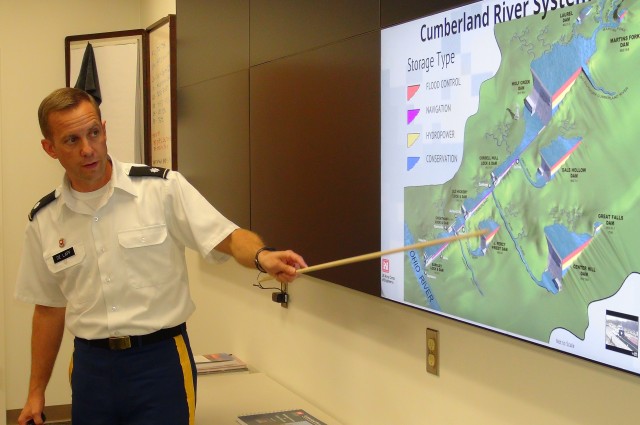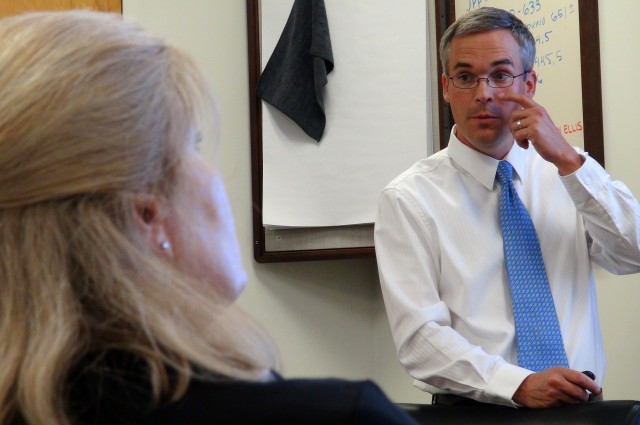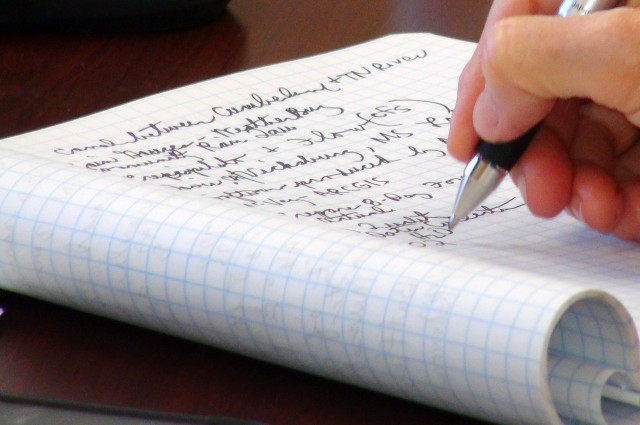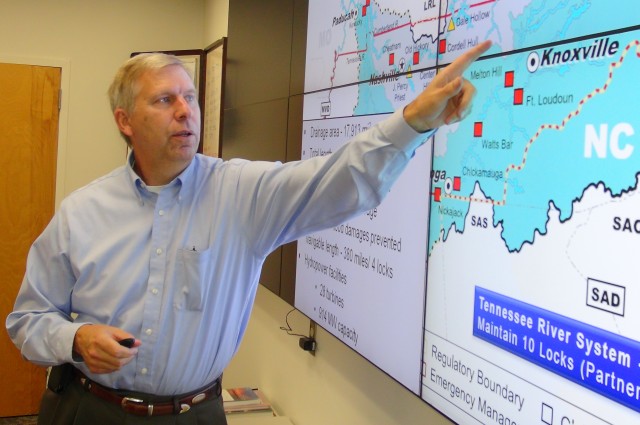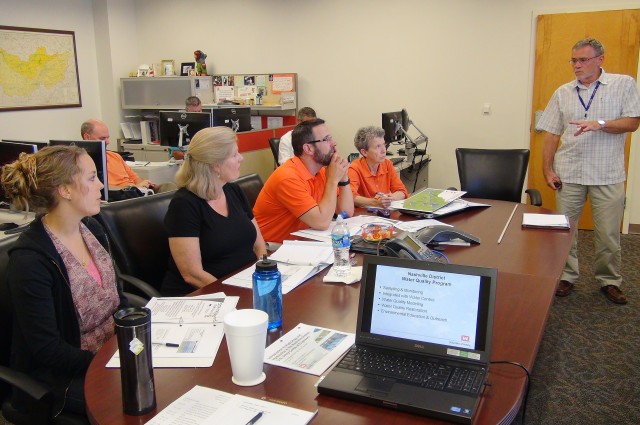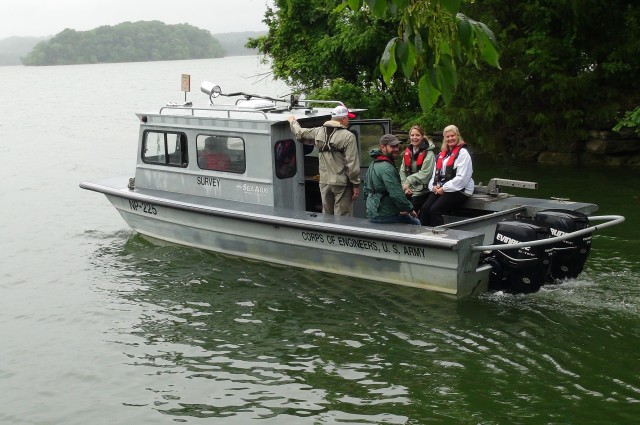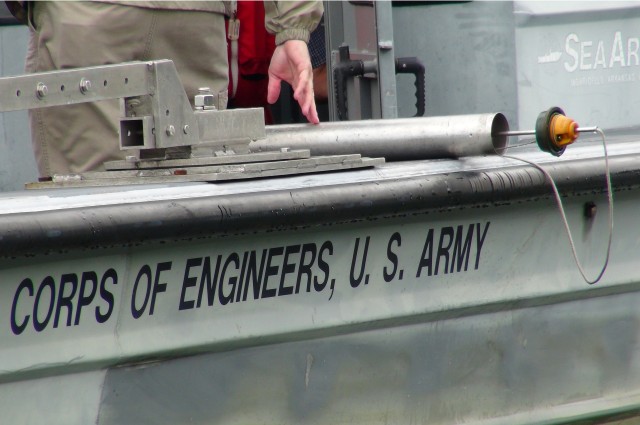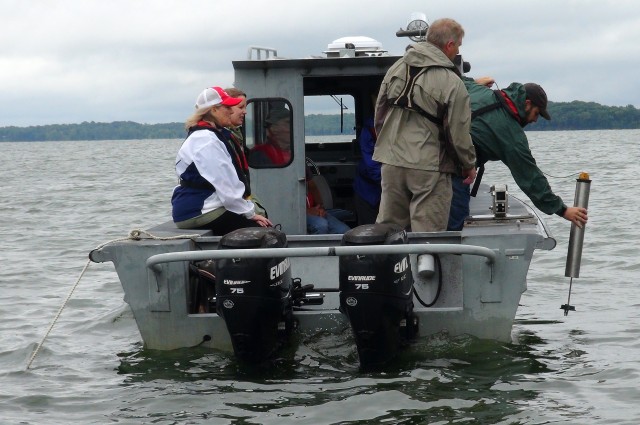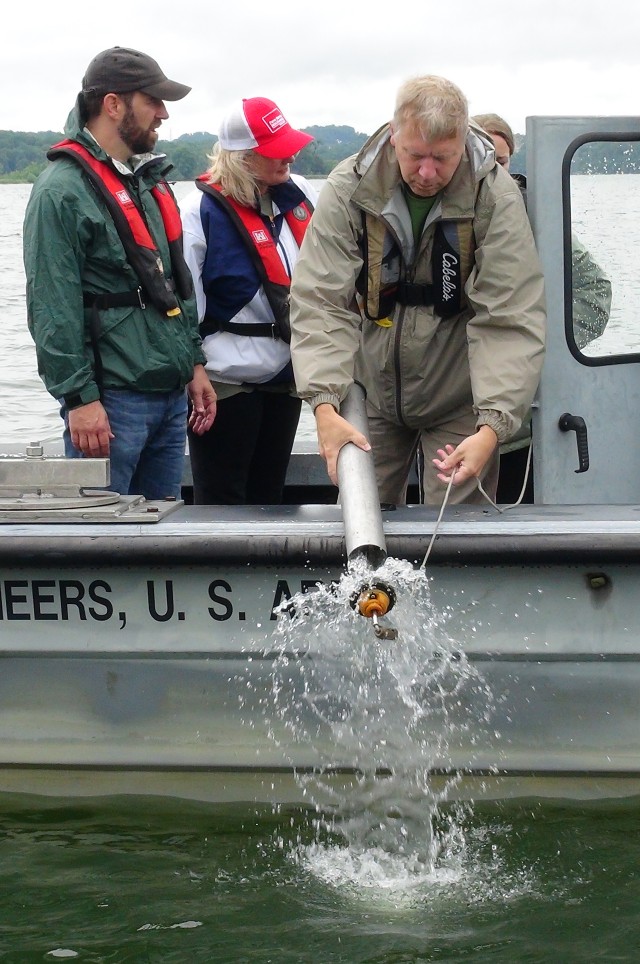 NASHVILLE, Tenn. (June 28, 2013) -- Local high school teachers are using externships with the U.S. Army Corps of Engineers Nashville District to create class curriculum that will challenge students and encourage them to investigate, explore, experiment, problem solve, create and invent.
Teachers from Cane Ridge High School, Big Picture High School and Stratford STEM Magnet High School visited the Nashville District this month to see the dams, lakes and construction sites, receive briefings on scientific and engineering processes, and interact with subject matter experts.
(See the video news report at http://youtu.be/_kOFccHHGi8)
The idea behind the partnership between the Corps and teachers is to collaborate on the development of project based learning curriculum for science, technology, engineering and mathematics classes.
Rob Baulsir, a mechanical engineer and STEM outreach coordinator for the Nashville District, said the Corps STEM team, and Carol Haynes in particular, worked with the Middle Tennessee STEM Innovation Hub to foster relationships with the schools and to set up the externships.
"It was exciting to host the teachers and to educate them about the Corps of Engineers," Baulsir said. "We partnered with them for a few days, gave them access to our projects, and let them see firsthand our people and the missions they support."
Cane Ridge High School
Victor Bright, history teacher, and Harold Cunningham, construction teacher, visited the Mid Cumberland Construction Office at J. Percy Priest Lake June 5. Resident Engineer Jesse Pullen gave them briefings on the various district missions and explained how the office supports construction projects.
Pullen talked about contracting issues, production schedules, sequencing of work, job safety, quality of work, project scheduling, and the role of the office in keeping projects on budget.
He also spoke about how the Corps is responsible for the Kentucky Lock Addition Project at Kentucky Dam in Grand Rivers, Ky. The office is overseeing the construction of a new 110-foot-wide by 1,200-foot-long navigation lock next to the existing smaller lock.
"It certainly is a massive project and it's kind of impressive to see the big hole in the ground we have and the miter cells and monolith construction that is ongoing," Pullen said.
The teachers from Cane Ridge High School then traveled to Cheatham Dam in Ashland City, Tenn., June 6 where Project Engineer Debbie Dowell and Civil Engineering Technician Victor Young gave them a tour of two construction sites.
Dowell and Young escorted the teachers into the new three-story lock master building where equipment is being placed at higher elevations to protect it against future potential flooding of the Cumberland River. The old building was mostly immersed during the May 2010 flood.
Dowell, who is responsible for contract administration, safety, and project engineering, spent time with the teachers explaining the construction processes that include designs, breaking ground, framing, and roofing work -- basically everything from start to finish. She said the teachers put on their hard hats, safety vests and glasses and got an up-close look at the ongoing construction.
"The teacher can take this experience and give that to the student and give them some on-hand information as far as construction -- it's a little bit more than just looking at a book," Dowell said. "It's actual experience being on the site and seeing the work being completed."
Bright and Cunningham also walked on a concrete slab where crews are building a new resource manager's office at Cheatham Lake. They also watched a crane on a barge putting riprap on the stream bank for stabilization and toured the navigation lock, dam and power plant.
Cunningham said when teachers work with industry the lessons that are put into the curriculum and applied across different classes bring the projects to life for the students in the classroom.
"It makes it a lot more interesting and meaningful for them. They can see an end product. It's tangible. They can touch it. They can see it," Cunningham said.
The next step, according to Bright, is to sort through all of the information they have collected over the two-day visit and begin working on a project the students can apply across all of their classes.
For instance, as a history teacher, Bright said he could work infrastructure and the missions of the Corps of Engineers into the curriculum because science, technology, engineering and math have all played a role in history.
There are "just so many components that we can tie in with historical perspectives," Bright said. The hard part is just narrowing down what aspects to focus on in order to develop a real-world application that allows the kids to problem solve, think critically, and collaborate using an interactive lesson, he explained.
Big Picture High School
Teachers Wayne Birch and Lakeshia Wright spent June 12 at Old Hickory Lake. Park Ranger and Biologist Tommy Mason took them to see an environmental study area, a 23-acre wildlife viewing area located off of Walton Ferry road in Hendersonville, Tenn.
The area features food plots for wildlife consumption; an interpretive trail, orchard, wild flower plot, weed strips and brush piles; a honeybee demonstration area; a large variety of nut producing trees and fruit bearing shrubs; and wood boxes for blue birds and squirrels with artificial animal dens. There are more than 75 different species of shrubs and trees that attract a variety of different species of wildlife such as birds, bees, butterflies, rabbits and squirrels.
On June 13 the teachers toured the Old Hickory Dam navigation lock and powerhouse with Park Ranger Kathryn Wall and Dirk Cundiff, a power plant journeyman operator. Cundiff explained how water is managed to support hydropower and commercial and recreational boaters moving up and down the Cumberland River.
Wall then gave Birch and Wright an opportunity to see an erosion control demonstration area at Walton Ferry. At this location the Corps has installed gabion baskets, a buffer strip, and riprap to demonstrate different techniques of controlling stream bank erosion.
In the afternoon, Park Ranger Charlie Leath took them out in a boat on the lake to see where erosion is affecting the shoreline not far from Rock Castle Slave Cemetery.
Shoreline stabilization was a point of interest and the teachers learned about how water runoff and wave action on the lake causes erosion. The park rangers explained that erosion control practices can help to stabilize the banks. For severe erosion, gabion baskets and riprap can be used to stabilize the stream bank. Other remedial actions could include the planting of native trees, shrubs, flowers, and grasses to hold the soil in place.
Birch said getting to spend time with the park rangers and learning about the Corps of Engineers missions at Old Hickory Lake will help them craft more effective project-based learning experiences for students.
"Experience is a great teacher. It's different when I stand up and talk about soil erosion or hydroelectric power than it is when you actually come and experience it and see it," Birch stressed. "I think it's an invaluable experience to work with community partners such as the U.S. Army Corps of Engineers."
Students at Big Picture High School attend classroom instruction three days a week and the other two days they participate in internships.
"What we've seen over and over and over again is what happens in the real-world-learning situation impacts the students' performance in the classroom and vice versa," Birch said. "And they hear us telling them the same things in the classroom that their mentors are telling them at their internships… what that's doing is preparing the future workforce."
The teachers spent the two days listening, asking questions, learning about Corps missions, visiting the dam, and getting out on the lake to learn about erosion and methods of restoration and conservation.
Wright said that the externship with the Corps proved useful and was very educational, and she plans to craft a lesson around soil erosion based on what she learned during the visit to Old Hickory Lake.
"I hope to use this project that we are working on right now to educate kids about problems with soil erosion and the impact that humans have on different problems and how it affects our environment," Wright said. "Coming out here and looking first hand helps and it triggers ideas for teachers in different ways how we can take real-life experiences and implement them in our classrooms."
Stratford STEM Magnet High School
Jeff Davis, associate principal; Kathy Lee, STEM instructional designer; Angela Galloway, English and exceptional education teacher; and Delaine Wendling, mathematics teacher, visited the Nashville District Water Management Operations Center June 17.
Lt. Col. James A. DeLapp, Nashville District commander, welcomed the teachers and emphasized to them that the Corps of Engineers is committed to supporting STEM programs in partnership with local educators.
The commander provided a detailed briefing about the operations and missions of the district and explained how the Nashville District serves the region and the nation by providing collaborative water resource engineering solutions, world class public infrastructure management, and environmental stewardship for the Cumberland-Tennessee River Systems. He also talked about Corps history, Corps leadership, organization, navigation, flood risk reduction, hydropower, recreation, emergency management, real estate and construction.
"That's the big overview of what goes on here," DeLapp said when he finished his briefing. "There are lots of different things you could talk to your students about, develop a curriculum, and educate them on. And the great thing is a lot of this is right here in your back yard."
Ben Rohrbach, chief of Hydrology and Hydraulics, then talked about the district's management of water resources. Bob Sneed, Water Management Section chief; Richard Tippit, biologist; and Jeff Gregory, civil engineer; then presented more detailed information about water releases at 10 dams on the Cumberland River and its tributaries, water quality, sampling and monitoring programs, and water management operations.
On June 18, the group from Stratford boarded a Corps survey boat and received instruction on how to perform quality surveys on J. Percy Priest Lake in Nashville, Tenn. Sneed and Tippit worked side by side with the educators to monitor water quality conditions in the lake from the surface to the bottom. They also demonstrated how to use a Kemmerer water sampler to collect water samples at particular depths.
"Throughout this process the Corps water managers discussed the physical, chemical, and biological process going on in the lake that resulted in the water quality conditions that they observed," Sneed said.
After returning to shore after collecting water samples on the lake, Galloway said she learned a lot from the Corps during her visit.
"I didn't really know very much about the Army Corps of Engineers, especially all this about the water. I really didn't have an idea of the enormity of what they do to keep our lakes and our rivers flowing and to make sure that they're clean," Galloway said.
She added that the group is getting a lot of ideas they will collaborate on to develop project-based lessons for students.
"We meet as a team and come up with a project idea and then we take our standards and we figure out how we can take that idea across subjects. For English we may do some writing, some journaling," Galloway said. "We select the style of writing that we want them to do to go along with the project that's being taught in all of the other classes."
Later in the day the group toured Old Hickory Dam Navigation Lock and Power plant and were also able to see a sampling demonstration on Drakes Creek.
Galloway said she hopes the project based learning approach in relation to Corps of Engineers missions will spark a love for writing, which would make it meaningful to her as an English teacher.
The contingent from Stratford STEM Magnet High School returned to the Nashville District Headquarters June 19 and concluded the externship by learning about a software program used for collecting biological data and they also received a demonstration of water quality data products, data plotting and geographic information systems.
The teachers plan to develop a water quality project for the students in a stream near the high school.
Why an emphasis on STEM education?
According to a report by the Joint Economic Committee Chairman's Staff in April 2012 titled "STEM Education: Preparing for the Jobs of the Future," there is a huge need to communicate the benefits of STEM education to students.
According to the report, government projections of employment growth in STEM fields suggest that there is a heightening need for qualified STEM workers. Unfortunately, "the U.S. is failing to produce an ample supply of workers to meet the growing needs of both STEM and non-STEM employers."
The report adds that "the need for workers with STEM skills is heightened in today's global economy. Technological innovation improves the competitive position of U.S. industries, drives export growth, and supports high-quality jobs."
For teachers, the report says not enough K-12 math and science teachers have hands-on experience working in STEM fields. "For example, the National Science Foundation found that 36 percent of middle school science teachers and approximately 30 percent of middle school math teachers lack in-field training."
The U.S. Army Corps of Engineers is a supporter of STEM programs both for students and teachers in support of the President's Race to the Top initiative, which asks states to advance reforms in these four specific areas:
• Adopting standards and assessments that prepare students to succeed in college and the workplace and to compete in the global economy;
• Building data systems that measure student growth and success, and inform teachers and principals about how they can improve instruction;
• Recruiting, developing, rewarding and retaining effective teachers and principals, especially where they are needed most; and
• Turning around our lowest-achieving schools.
Lt. Gen. Thomas Bostick, USACE commander, is a huge proponent of supporting STEM initiatives and encourages the entire organization to be involved with schools in communities across the nation.
In addition, he recognized the need to support the Department of Defense school system, and the general signed a memorandum of agreement May 20, 2013 with the Department of Defense Education Activity formalizing a partnership. The plan calls for Corps' STEM professionals to engage students about civil works functions such as environmental protection projects and emergency response missions.
The Nashville District is supportive of the general's STEM initiatives and has a rich history of supporting the mentorship of students in local schools. The district began hosting teacher externships this summer to provide some of the needed field training covering a wide variety of topics.
Value of teacher externships
According to the Middle Tennessee STEM Innovation Hub site, the organization works to bring business and community partners together with K-12 schools to "create meaningful interdisciplinary curriculum that will evoke the rigor and relevance so important to student success."
Dr. Vicki Metzgar, director of the Middle Tennessee STEM Innovation Hub, said the Teacher Team Externship Program provides teachers experience with a host organizations to develop project-based curriculum that provides students industry exposure and facilitates applied learning.
"The key, and research has born this out, is to get kids interested and excited early, and to provide them with competent teachers," Metzgar said. "So it's kind of a double-edged sword. We've also got to train teachers at the same time to have the competency… the teaching profession has to be a learning profession."
Metzgar said that technology is moving so fast that it's nearly impossible for teachers to stay competent over even a five-year span unless they keep up through programs like the externships with the Corps of Engineers and other industries in the communities near schools.
"It's about finding innovative new ways of teaching and learning, new ways of preparing teachers, new ways of exposing students to careers, college, so that they think differently about their future," Metzgar explained.
The projects developed by Cane Ridge High School, Big Picture High School and Stratford STEM Magnet High School from the Corps externships this summer will be presented for feedback, edited for change, and submitted electronically to the Middle Tennessee STEM Innovation Hub for approval and possible use by other schools across the state.
The Nashville District STEM coordinator said the externships went well and the whole organization is excited about working with the schools, teachers and students.
"We recognize the need to make STEM subjects interesting and fun for students and to prepare them for college and future professions," Baulsir said. "Engaging with teachers is an important part of this process for us and other community industries. Together we can change the culture where young people will want to pursue careers in STEM fields."