Vehicles and Weapons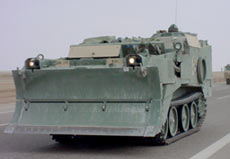 Armored Combat Earthmover (ACE)
The M-9 Armored Combat Earthmover is an amphibious, fully tracked vehicle used to prepare firing positions for artillery, tanks and other weapon systems. It is equipped with an aluminum structure, which protects against small arms fire and artillery fragments. It has two smoke grenade launchers for its own protection and also provides chemical-biological protection for the operator. It features an 8.7 cubic yard scraper bowl and bulldozer blade. The hydro-pneumatic suspension allows the front of the vehicle to be raised, lowered or tilted to permit dozing, excavating, rough grading and ditching. It has a two-speed winch with a 25,000 pound pull.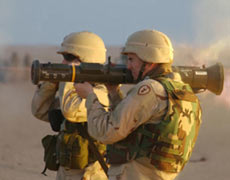 AT-4
The AT-4 anti-tank weapon is a lightweight, expendable, self-contained rocket launcher that fires a single rocket. It consists of an 84mm (3.36 inch) cone-shaped warhead designed to penetrate armor plate. Both the warhead and its rocket motor are housed in an expendable reinforced fiberglass launch tube. It is fired by an individual soldier from the shoulder position. It is designed to allow individual gunners to destroy such targets as enemy tanks and armored vehicles.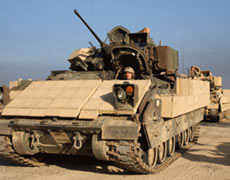 Bradley Fighting Vehicle
The Bradley Fighting Vehicle provides protected transport of an infantry squad on the battlefield and overwatching fires to support the dismounted infantry; is employed to suppress and defeat enemy tanks, reconnaissance vehicles, infantry fighting vehicles, armored personnel carriers, bunkers, dismounted infantry and attack helicoptors; and performs cavalry scout and other essential (Bradley-equipped fire support and Stinger teams) missions in the 21st century. The infantry version (M2) is used most often to close with the enemy by means of fire and maneuver. The primary tasks performed by the cavalry version (M3) as part of a troop and/or squadron are reconnaissance, security and flank guard missions.
M2 .50 Caliber Machine Gun
The M2 .50 Caliber Machine Gun, Heavy barrel is an automatic, recoil operated, air-cooled machine gun with adjustable headspace and is crew transportable with limited amounts of ammunition over short distances. By repositioning some of the component parts, ammunition may be fed from either the left or right side. A disintegrating metallic link-belt is used to feed the ammunition into the weapon. This gun is has a back plate with spade grips, trigger, and bolt latch release. This gun may be mounted on ground mounts and most vehicles as an anti-personnel and anti-aircraft weapon.
M-4 Carbine
A compact version of the M16A2 rifle, with a collapsible stock, a flat-top upper receiver accessory rail and a detachable handle/rear aperture site assembly. The M4 enables a soldier operating in close quarters to engage targets at extended range with accurate, lethal fire. It achieves more than 85 percent commonality with the M16A2 rifle and will replace all .45 caliber M3 submachine guns, selected M9 pistols, and M16 series rifles.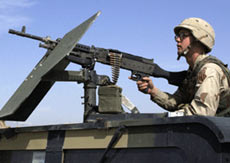 M240 Machine Gun
A ground-mounted, gas-operated, crew-served machine gun. This reliable 7.62mm machine gun delivers more energy to the target than the smaller caliber M-249 SAW. It is being issued to infantry, armor, combat engineer, special force/rangers, and selected field artillery units that require medium support fires and will replace the ground-mounted M-60 series machine guns currently in use.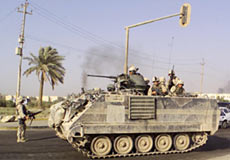 M113
The M113 family ov vehicles mission is to provide a highly mobile, survivable, and reliable tracked-vehicle platform that is able to keep pace with Abrams- and Bradley-equipped units and that is adaptable to a wide range of current and future battlefield tasks through the integration of specialized mission modules at minimum operational and support cost.
M249
A lightweight, gas-operated, one-man-portable automatic weapon capable of delivering a large volume of effective fire at ranges up to 800 meters. Two M249s are issued per infantry squad. It is scheduled to replace the M60 7.62 medium machine gun in certain units.