Profiles of Bravery
Mary Ragland
Member of the 6888th Central Postal Directory Battalion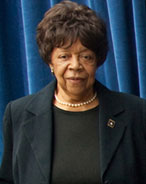 Mary Ragland was raised in Wilmington, Del., and enlisted in the U.S. Army right out of high school. She decided to join after seeing a recruiting advertisement in the newspaper that offered black women a chance to go overseas.
She served in the 6888th Central Postal Directory Battalion, which was the only all-black Women's Army Corps unit that served overseas during World War II.
The unit first served overseas in Birmingham, England, where warehouses were crammed with mail and packages. "The mail hadn't moved in a year or two," Ragland said. "We were working in big warehouses and the windows were painted black."
While developing and implementing the system that would get mail flowing to Soldiers serving in the European Theater, the unit also got to know the locals. "They treated us better than we were back home," Ragland said.
After the unit successfully completed their Birmingham mission in half the time they were expected to, they were moved to Rouen, France, and then to Paris, to get the mail moving there, too.
"We received tremendous applause from the French people," Ragland recalled about the Battalion's march through Paris. The enlisted women were housed in a luxurious hotel, where they received first-class treatment. Ragland had never experienced such attention, "but we deserved it," she said.
With the war in Europe over, the Battalion transferred stateside in an abrupt process. "They sent us straight to Fort Dix and then home." There was no parade or thank you from the country. Despite the quick discharge, Ragland looked back fondly at her service to her country. "We represented our country, our organization and ourselves. We were so proud."
Sixty-four years later, Freedom Team Salute thanked three surviving members of the 6888th Battalion – Alyce Dixon, Gladys Shuster and Mary Ragland – at Arlington National Cemetery on Feb. 25, 2009.
See Freedom Team Salute's full article on CNN.com
Go back to profiles