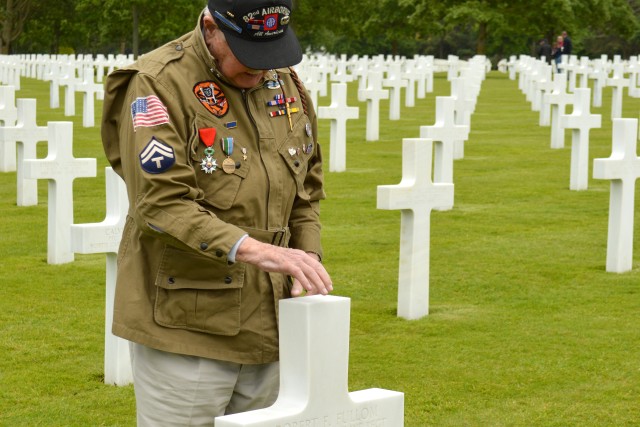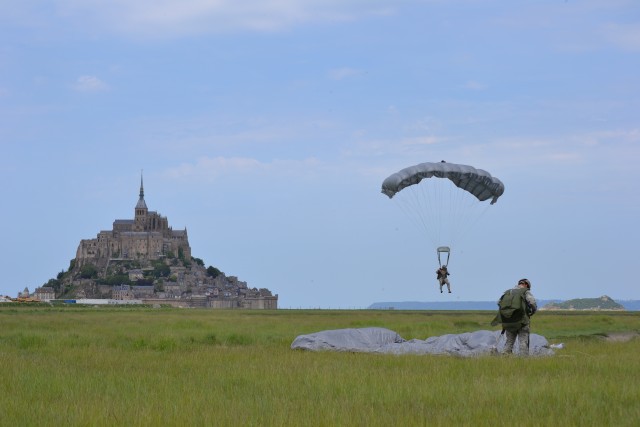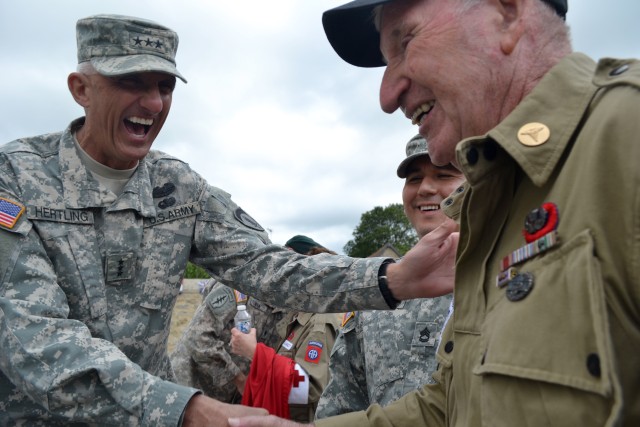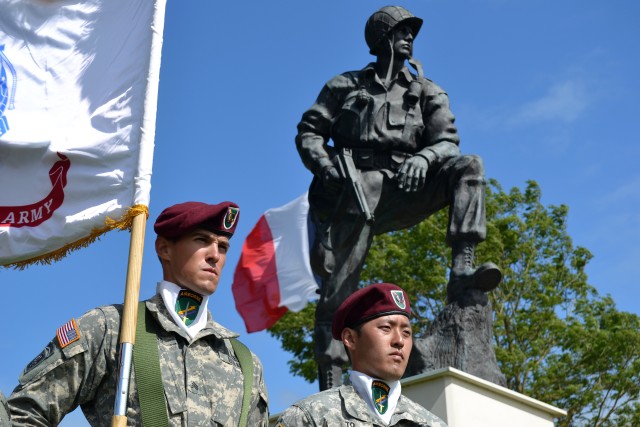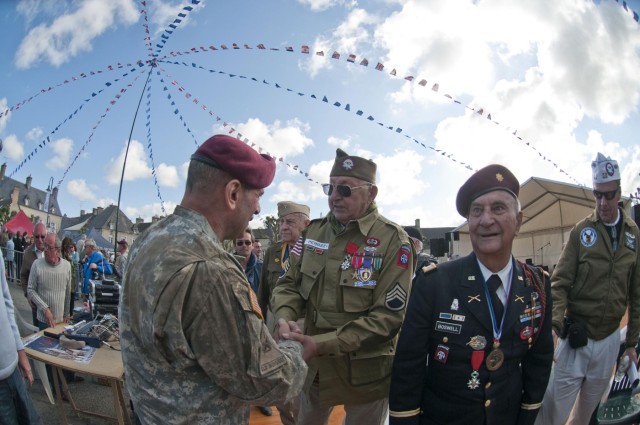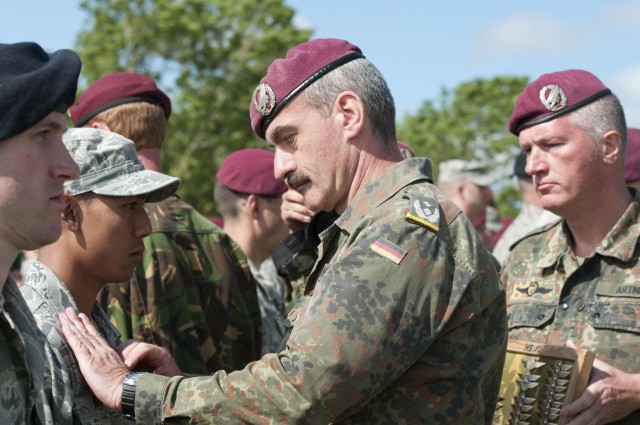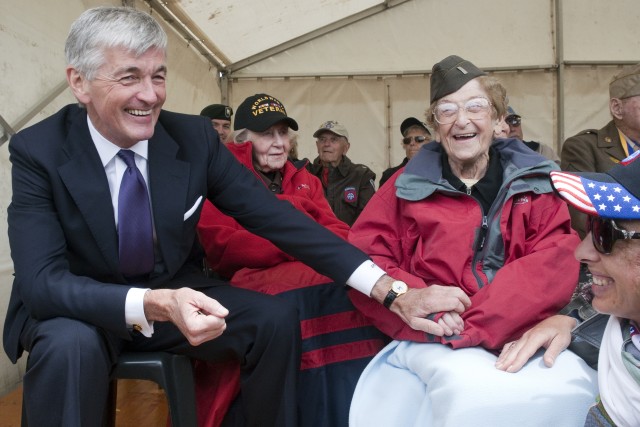 SAINTE-MERE-EGLISE, France (June 6, 2012) -- When Eugene Cook jumped into Normandy during the predawn hours of June 6, 1944, he landed several miles from his intended drop zone.
Alone in the dark French countryside, the young 101st Airborne Division paratrooper from Georgia assembled his rifle, got his bearings and began looking for other Americans among Normandy's hedgerows. In the days and weeks that followed, Cook took part in the now famous battles that began the liberation of France and led to Allied victory over Nazi Germany.
Cook, 87, was among the handful of World War II veterans who attended the 68th anniversary of the D-Day landings this week. U.S. service members from all the military branches took part in honoring them, something Cook said he was glad to see.
"We have to commemorate the lives of the guys we left here," Cook said. "They gave their lives for us and we should show them thanks."
Known as Operation Overlord, the D-Day landings of June 6, 1944, combined U.S. and Allied air drops with beach landings along Normandy's coast. U.S. paratroopers from the 82nd and 101st Infantry Division dropped onto the Cotenin peninsula to secure bridges, roads and towns vital to allowing the troops landing at nearby Utah Beach to move inland.
"That day, 68 years ago, as American blood mixed with French soil, it cemented even further the strong bonds between our two nations," said U.S. Army Secretary John McHugh.
For returning veterans, there was a mix of feelings -- glad to be alive and sharing good times and sorrowful memories of those who died.
On June 5, a cold and overcast day, John Perozzi walked between rows of white marble gravestones at the Normandy American Cemetery, overlooking Omaha Beach. He stopped at one cross and then another, paying his respects to several buddies who died fighting in Normandy. As an 82nd Airborne Division paratrooper, Perozzi fought on D-Day with the 505th Parachute Infantry Regiment. It was his first trip back since the war.
During a June 3 ceremony at the La Fière drop zone, a battlefield where Perozzi fought, he received France's highest military medal, the Légion d'Honneur. Before the ceremony, thousands of spectators watched as U.S. and international paratroopers recreate D-Day's airborne operations -- jumping from U.S. Air Force planes onto the "Iron Mike" drop zone near the La Fière bridge -- at the Mederet River just west of Sainte-Mère-Eglise.
Soldiers from the Fort Bragg, N.C.-based U.S. Army Civil Affairs & Psychological Operations Command and the Kaiserslautern, Germany-based 5th Quartermaster Detachment were among the hundreds of paratroopers who took part.
The Liberty Jump Team, which includes veterans from other conflicts and civilians parachutists, also jumped. Dave De Soucy, a retired officer from California who served in combat with the 101st Airborne Division during Vietnam, was one of the first to land in La Fiere's marshy drop zone -- an area that was flooded on D-Day where several 82nd paratroopers drown on D-Day, stuck in their chutes and harnesses. Packing up his chute, De Soucy said commemorative jumps honor World War II paratroopers, but also remind people about our current military operations, he said.
"It's an almost overwhelming experience," said De Soucy, pausing as emotions welled inside him. "We've got to remember the folks who did it and those who still do it -- the one percent who go into harm's way for the benefit of the (other) 99 percent."
Afterward, Charles Rivkin, U.S. Ambassador to France, jumped with the Golden Knights, the U.S. Army's parachute team. Then spectators, dignitaries, soldiers and veterans gathered on the grassy slope nearby for a series of commemorative speeches and wreath presentations.
John Roman, 87, who also came ashore with the 4th Infantry Division, was surprised to hear a German military band at the ceremony, playing "Glory, Glory Hallelujah."
Seeing German troops didn't bother him, he said.
"You've got to forget, some time," Roman said. "It's good that they are here. Maybe, the world will be better off."
Toward the end of the war, Roman met a young French woman, Jacqueline, at a café. They've been married 66 years and had 6 children, she said. Each year, they come back, as Roman wants to remember buddies he lost, she said.
When wind gusts caught the beret of a German soldier, Jacqueline Roman watched in amazement as Lt. Gen. Mark Hertling, commander of U.S. Army Europe, walked over and knelt down to pick up the beret off the dirt, then hand it back to the German.
"That's the American way," she said. "That was wonderful."
After World War II, there were 16 million living American veterans. Now, many are reaching their final years. U.S. troops cherished the opportunity to speak with them, to shake their hands and hear their stories.
"You can learn firsthand about history from these veterans," Hertling said. "Not a lot has changed. They had the same fears and anxiety as they went into combat and the trauma from the things they faced. They teach our Soldiers a lot about what that means."
One older paratrooper hugged Staff Sgt. Rachel Medley, 34, of Eureka, Calif., who serves with the U.S. Army's Golden Knights. Meeting Soldiers from World War II is humbling, she said.
"They paved the path for the way the world is today," Medley said. "The time is rapidly approaching when it won't be living history anymore. It will be just something we read about in books because there will be no one who witnessed this. For us to be here and say thank you, it's a huge honor to be in their presence."
U.S. troops and veterans marched through Sainte-Mère-Eglise, where they were honored with a banquet in the town square. Similar events were held throughout the area in the week prior to June 6.
Earlier in the week, on June 2, U.S. Special Operation Forces demonstrated a high altitude, low opening jump near the historic Norman town of Mont Saint Michel. Capt. Stephen Cargill, an officer from the Stuttgart, Germany-based 1st Battalion, 10th Special Forces Group, said free falling above Normandy meant a lot to him.
"It's just amazing to get the opportunity to see something so incredible," Cargill said. "It hits that much closer to home, to land on hallowed ground."
One evening, Cargill and fellow Special Forces Soldiers relaxed outdoors near the Stop Café, a famous gathering spot in Sainte-Mère-Eglise. Troops mingled with French people wearing old fashioned uniforms. One Dutch teen, Rob Van Meel, 13, cautiously approached the Green Berets in his authentic World War II uniform of a 101st Airborne Division Soldier.
While many French children ask U.S. troops for a souvenir, Van Meel just asked about their patches. Impressed with Van Meel's detailed uniform, U.S. Army Master Sgt. Damon Storey got down and presented Van Meel with a set of combat jump wings -- a treasured possession. Van Meel attended D-Day anniversaries in Normandy every year of his life, he said. In fact, his first costume was as a World War II ammunition box at just 3 months old. He thanked Storey, but said he wouldn't wear the jump wings on the Screaming Eagles uniform, as it wouldn't have been historically correct.
A handful of aging U.S. and allied veterans attended several ceremonies over the course of week. Ellan Levitsky Orkin, 92, and her sister Dorothy, 95, who served together in Normandy as U.S. Army nurses, were offered honorary French citizenship during a June 4 ceremony in Bolleville. They helped unveil a new memorial to World War II medics, near where they served with the 164th Field Hospital. They come back every year, but they don't quite understand all the excitement, Orkin said.
"We came and had a job to do and we went home," she said. "When we went home, nobody asked us questions then and we didn't talk about it. It was too painful."
Still, some veterans are willing to share their tales. And they don't mind using newer technology if it means bridging the gap of miles. Milt Staley, 93, of Redding, Calif., waded though chest deep surf onto Utah Beach on D-Day with the 4th Infantry Division. He first returned in 2011 and has since kept friendships with French on Facebook.
When Staley visits the church at Sainte-Mère-Eglise, he remembers occupying foxholes dug earlier by 82nd Airborne paratroopers. Afterward, Staley fought with the 90th Infantry Division and was wounded in combat. Coming back to France is not about reliving the horrors of war, he said. It's about sharing time with people in France.
"I was never hugged and kissed and thanked so much for what we did," Staley said. "It amazed and overwhelmed me and I think I'll never forget it."
Cook, on the other hand, has returned many times. He also looks forward to seeing people he's met before, plus reflecting on some of his wartime thoughts, he said.
"This brings back the memories of the guys we were with here," Cook said. "It's important that we rededicate ourselves to their sacrifice and D-Day helps us do that."
Related Links:
VIDEO: Experience a jump with a U.S. Army paratrooper
VIDEO: Secretary of the Army visits troops young and old for D-Day anniversary
U.S. European Command podcasts
Special Operations paratroopers honor World War II veterans
Fort Bragg paratroopers participate in D-Day anniversary in France
68th Anniversary of D-Day - Commemorations in Normandy, France
Army.mil: D-Day - June 6, 1944
82nd Airborne Division on Facebook
U.S. Army Civil Affairs & Psychological Operations Command (Airborne) on Facebook
U.S. Army Civil Affairs & Psychological Operations Command (Airborne)
101st Airborne Division (Air Assault) on Facebook