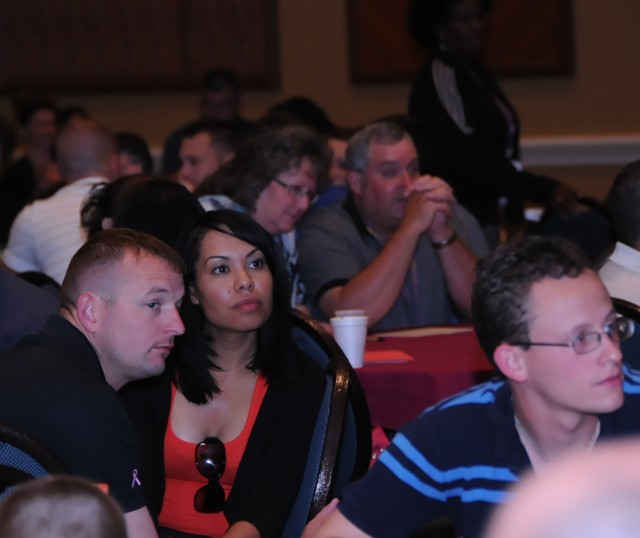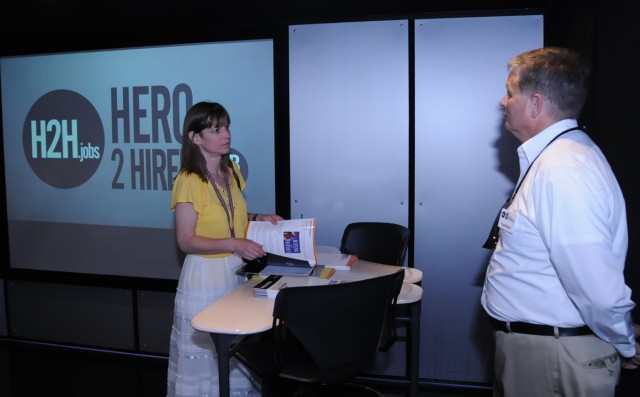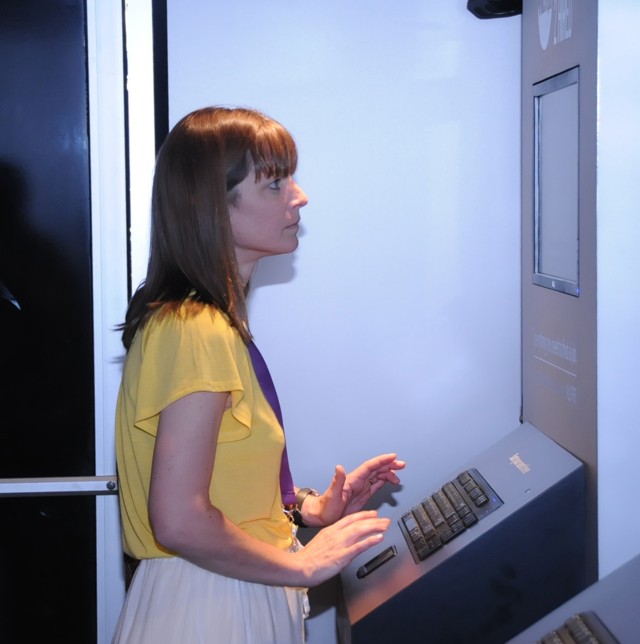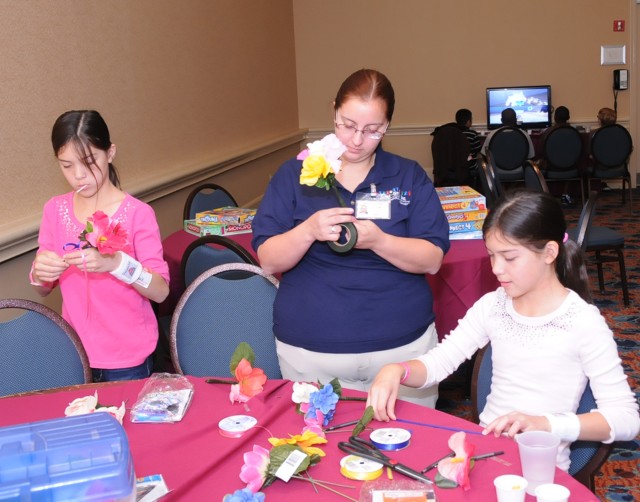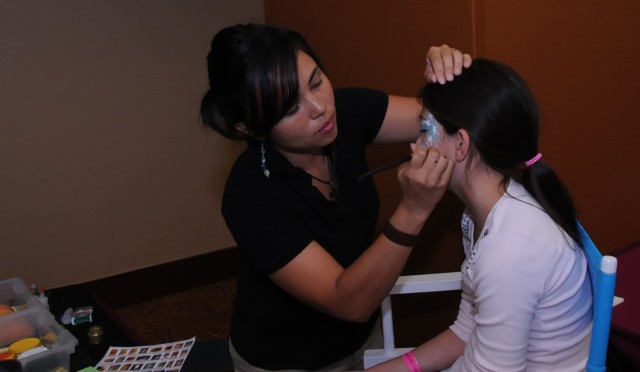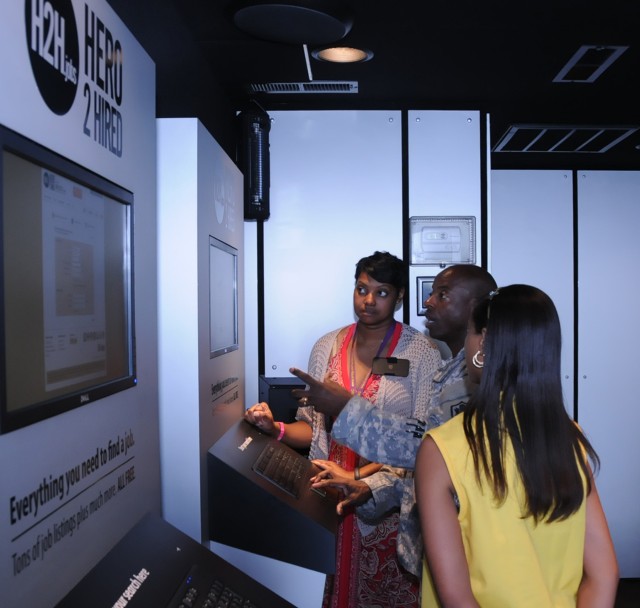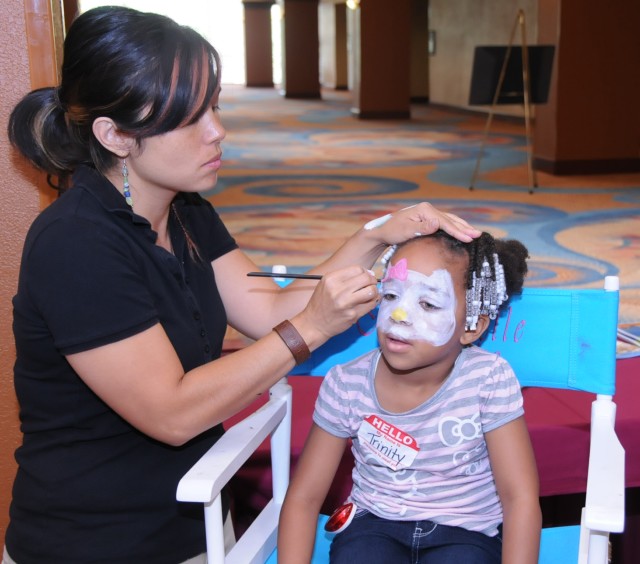 ORLANDO, Fla. -- With a national unemployment average of about eight per cent, finding a job is not easy, especially in the economic times a redeploying Soldier currently faces. One of the newest solutions to literally hit the streets is the Mobile Job Store.
Sitting on the chassis of a Chevy 7500 truck is a box that expands into a jobs lounge with a high definition projection screen for training groups or briefings and five kiosks where a job seeker can find employers who have registered with the Hero 2 Hired program and has positions to fill. The rig is overseen by Sgt. Maj. Wayne L. Bowser, Sr., the Senior Enlisted Advisor to the Office of the Assistant Secretary of Defense.
Funded by the Yellow Ribbon Reintegration Program, the self-contained, one-of-a-kind MJS is on the road for 200 days supporting job fairs and YRRP events, such as the one held in Orlando on May 12, as well as being available to visit different locations upon request. "I look at it as being a type of large eye candy," said Bowser. "When the MJS is in the area, service members can look around, see what it does, see how simple it is and then go back and get on their own personal computers and use the system."
When using the H2H website, whether on the MJS, at a kiosk set up at a job fair or on one's personal computer, the service member of any force enters their job designator or military occupational specialty (MOS in the Army) and the system translates the military jargon to language that civilian employers can understand. The job seeker then provides the zip code where he or she is looking for work and the jobs that have been posted by employers that are related to their MOS are listed. The job seeker can choose from the list, get employer contact information and even make resumes tailored to the job they desire and apply for it. For military spouses, all they need to do is enter a keyword that will bring up posted jobs relative to that keyword in an area of their choosing. The site isn't a repository for resumes, actual jobs are posted there.
"I've spoken to better than 600+ people either on emails or phone calls or even catching me at a job fair or a Yellow Ribbon event, that have worked the system and at least got contacted by employers," Bowser said.
Two years ago, H2H didn't even exist. Due to the need to link Soldiers with employers and entire system was created to include the online site, 222.h2h.jobs, the MJS and a host of stand-alone kiosks that are transported to the many job fairs around the country like the one held at Fort Jackson last March. Many Soldiers have related to Bowser that had the H2H program been around sooner, it would have helped them and their fellow troops much more effectively as opposed to grabbing a newspaper and knocking on doors asking for work. There is also an application for smart phones.
The Sgt. Maj. Wasn't the only one to sing the praises of the MJS and the H2H system. "It was awesome," said Chief Warrant Officer 3 Marie Kumar of the 145th Transportation Theater Opening Element in Anniston, Ala. "You can search for jobs, review your resume and improve your interviewing skills." As with any ability, when it is unused and untested it deteriorates. "When you have a job for years, you lose those skills," she said.
The system has been about 18 months in the making but started functioning in December of 2011 with static displays (the kiosks), the website and the truck which travels from north to south and coast to coast and on May 12 was at a YRRP event in Orlando, Fla.
"We're trying to get the word out to as many people as humanly possible," Bowser said. "The MJS has put many miles under its wheels."
Bowser said that everyone he had visit the vehiclehas been highly impressed, often inquiring about getting the MJS at their location to help their troops.
As of this report, the H2H system has been involved with 148 job fairs, 6,000 employers are registered reaching 120,000 veterans and 9,000 jobs have been filled, with many more available. "The joy that I get out of being with the Mobile Job Store and going to the job fairs is the idea that we get a chance to help service members and their spouses, retired and veterans and give something back to them."
For more information visit www.h2h.jobs
Related Links: