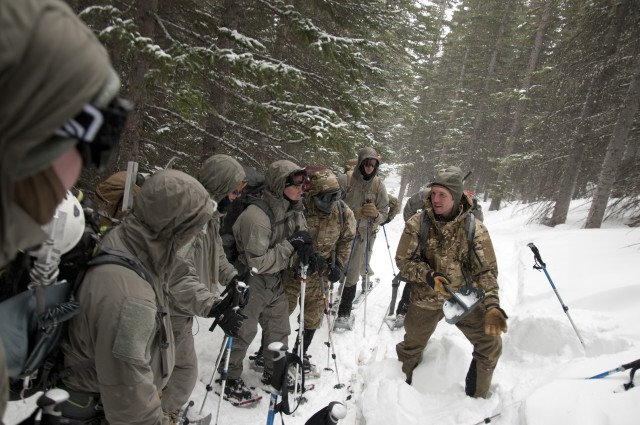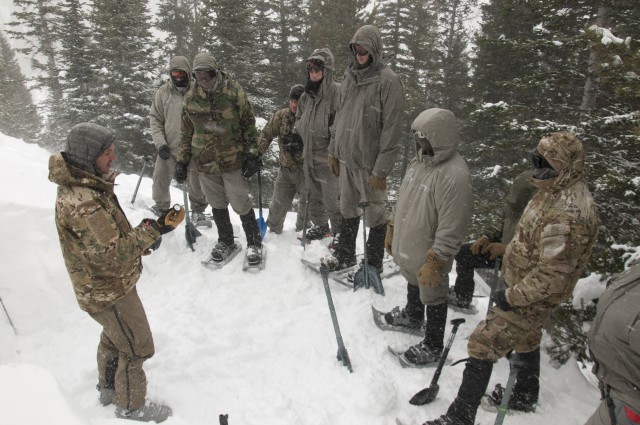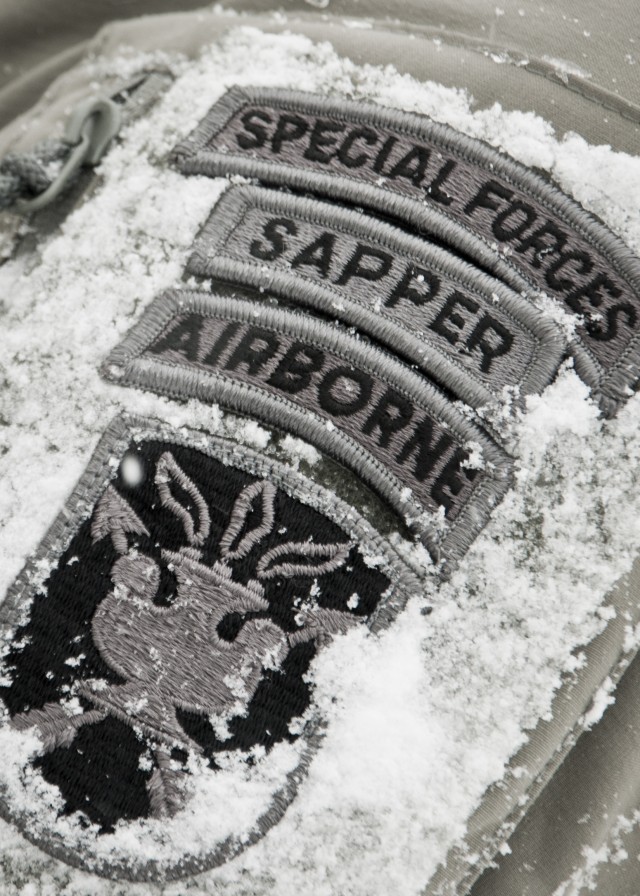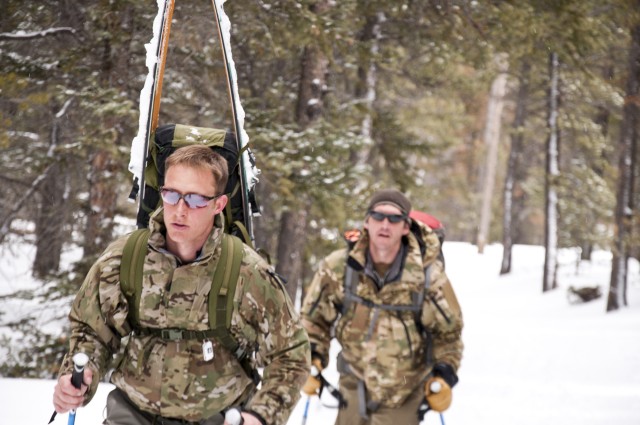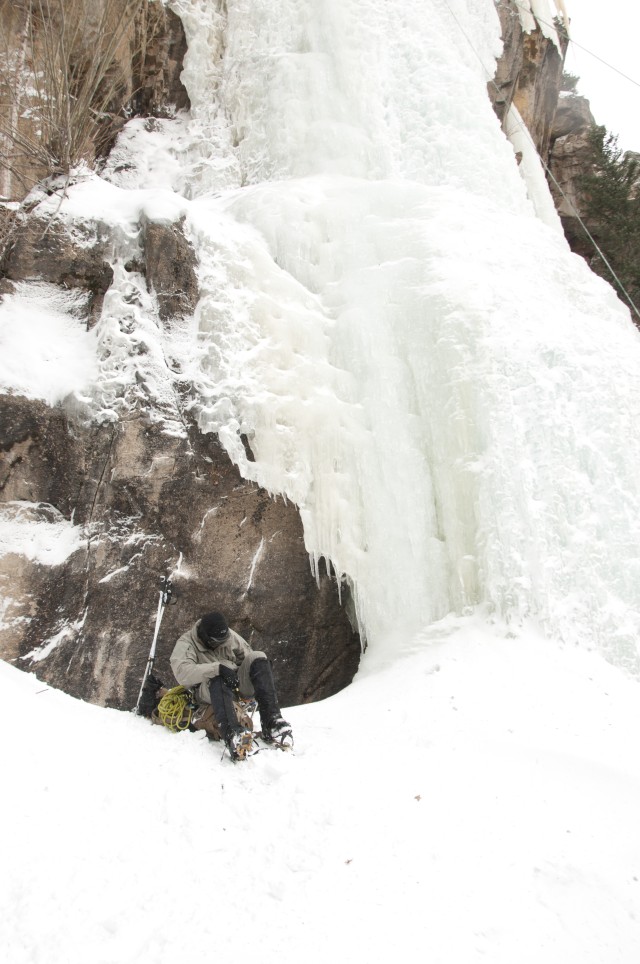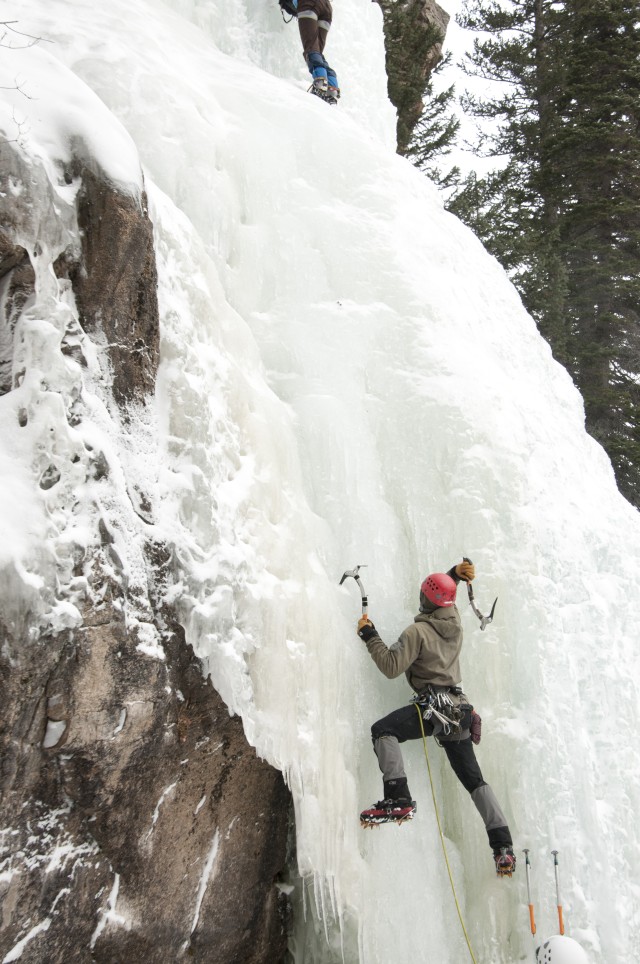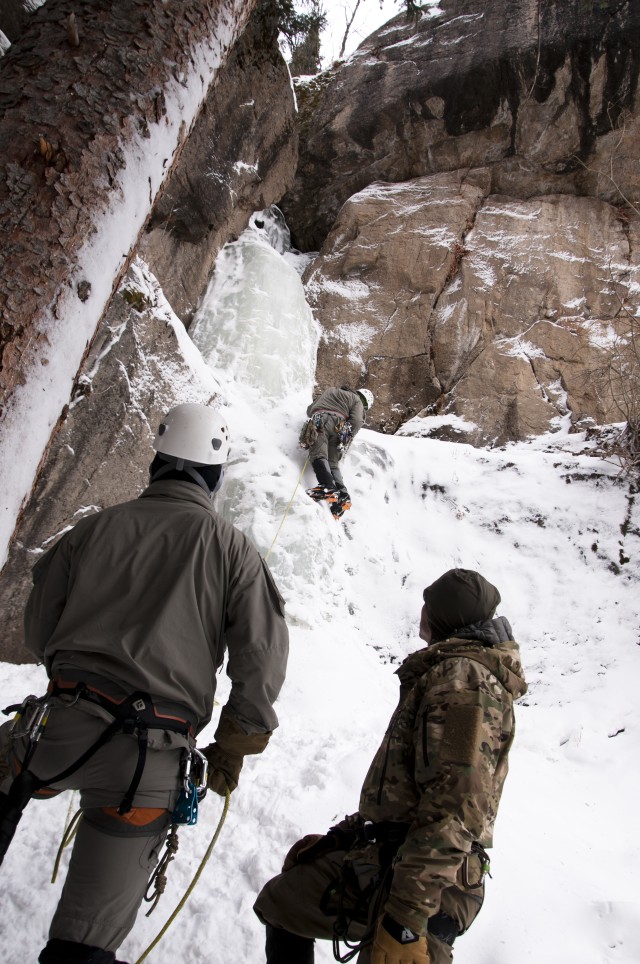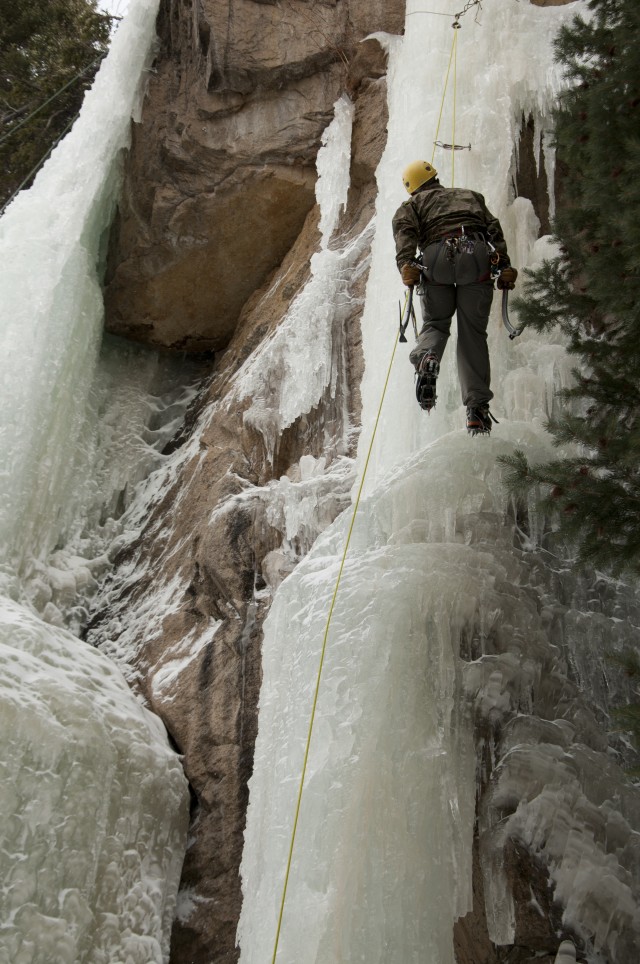 If you've never experienced negative-40-degree temperatures and 60-mph winds, then no words in this article will make you cringe enough to understand how it feels to wake up in the middle of February on a peak in Colorado's Rocky Mountain National Park.
First Sgt. Mike Duncanson just wants you to know that its mornings like that when it's real tough to climb out of your snow cave and start your day.
In Estes Park, Co. -- about a half-mile higher than Denver, the mile-high city -- Duncanson and the Special Forces Advanced Mountain Operations School teach special-operations Soldiers to operate in cold weather, high altitudes and mountainous terrain.
To say it another way: this is where some of America's most elite Soldiers learn to move and survive when the air is thin, the wind is strong, the snow is deep, and the stakes are high.
To say it yet another way: this is where Soldiers come to attend the Special Forces Master Mountaineering Course.
This four-week course is the tip of the special-operations mountaineering spear: only those who have passed the challenging Senior Mountaineering Course -- hosted in the summer months -- are even eligible. Once the Soldiers have proven their ability to face the cliffs and altitude, they're welcome to return for the Master course to learn how to handle those same cliffs when ice, snow and sub-zero temperatures are thrown into the equation.
The school, a company under 2nd Battalion, 1st Special Warfare Training Group (Airborne), is part of the U.S. Army John F. Kennedy Special Warfare Center and School. The battalion manages special-operations advanced skill training, including courses for combat divers in Key West, Fla., freefall parachutists in Yuma, Ariz. and Special Forces snipers at Fort Bragg, N.C.
The SFAMOS curriculum covers the full gamut of preparing for, and surviving during, a Special Forces mission in hard-to-reach, dangerous places. Students learn to select, maintain and pack their gear with the full understanding that both over- and under-packing could put their entire team in jeopardy. While the summertime prerequisite covers medical emergencies, especially trauma, the Master course delves into cold-weather medical considerations and evacuation.
By the end of this course, the students will have lived through their own multi-day mountain excursion as a team, complete with sleds and snow caves, and will be sent home to lead Special Forces mountain operational detachments as fully qualified trainers. Before students are ready for that, however, course instructors need to start with the basics: planning routes and handling emergencies.
Rocky Mountain National Park's Bear Lake is a prime site for scenic, summertime photo-shoots, according to a Google image search. But it was a much different scene on the Feb. 21 morning when teams of men wearing mismatched Army-issued snow gear trekked over the feet-thick frozen ice and disappeared into the snow
Broken down into three teams, each with about eight students, the class rotates between classes set up around the shores of the iced-over lake.
At one station, students learn to analyze packs of snow and determine the likelihood of an avalanche. Cleanly digging out a cross-section of snow at least four feet deep, an instructor shows students how to tap a shovel with increasing force, until the top half of the pack slides out and buries their legs and gear. The longer and harder you can tap, the safer this route might be for leading a Special Forces team or partner military force toward an objective.
Across Bear Lake, students are crawling through the snow on their hands and knees, waving a small device as it sounds off with faint chirps. They're looking for remote beacons the instructors have buried in the snow; an avalanche victim's life depends on being found within a couple minutes. These beacons are standard equipment for anyone working on snowy mountains, civilian or military.
The students need to know how to use the beacon to locate a buried teammate, not only for future missions with their own teams, but also in case something goes wrong in the Master course. The instructors know their students are experienced, qualified Special Forces Soldiers, and need to be able to rely on each individual to shift from student to first responder and combat medic in an instant.
"Mountaineering is inherently dangerous," Duncanson said. "There are always going to be risks, but we teach students to mitigate those risks so they can safely move their teams in the mountains." He's seen a trend of Special Forces medical sergeants selected to attend SFAMOS, which is certainly not a requirement, but does give the instructors additional peace of mind. Special Forces medics make up one of seven specialties found on a Special Forces team. In fact, Duncanson is a medical sergeant himself, and a former Special Warfare Medical Group (Airborne) instructor. He also helped stand up the original Special Forces mountaineering course in 1996, when it was started by the members of 10th Special Forces Group (Airborne), out of Fort Carson, Co.
At a third station, students set up rope systems for climbing snowy hills and cliffs, as well as hauling equipment and injured personnel. All three stations follow one common theme, albeit one that Master course students already understand too well: military mountaineering is anything but fun and games. There's a science to terrain analysis, route selection and emergency reaction that requires strict discipline.
There are other mountaineering schools within the U.S. military, although SFAMOS is tailored to enhancing the mission of U.S. Army Special Forces Soldiers: unconventional warfare. Special Forces Soldiers are selected and educated to work with regional partners and indigenous populations. Using cultural acumen, these Soldiers can connect with political and military leaders in order to train local forces and stop wars before they happen.
"We want our students to be able to apply their lessons in any type of unconventional warfare scenario," Duncanson said. For SFAMOS alumni, surviving and operating in the mountains is important, but they must also be able to train an indigenous force to fight and patrol in their own country -- and their own mountains.
More than 30 percent of the planet's land mass is classified as mountain terrain, and military history is riddled with cautionary tales of attempting to wage war without control of the high ground.
"Throughout all our areas of operation, there are mountainous regions, so it's important for a Special Forces team -- especially dedicated mountain detachments -- to be able to function in those areas," said Sgt. 1st Class Eric Carpenter, a SFAMOS instructor.
Throughout the regiment, some Special Forces operational detachments are designated to maintain proficiency in a particular advanced skill, such as mountaineering, military freefall or combat diving. Mountain teams can give commanders a significant edge when time or terrain might otherwise disrupt the mission. A simple fixed line could help an Infantry platoon reach an objective; a hauling system could bring heavy weapons up to key vantage points; or a team could pull overwatch from above in order to guide a larger formation through mountain paths.
"This capability is significant. We've seen it in the past, and we're trying to be prepared for future operations," Carpenter said. "Look at previous military history, such as the Rangers on Pointe Du Hoc during the D-Day invasion, and the Red Devil Brigade in Italy."
"When I was a private, I was stationed in South Korea," Carpenter said. "It was cold and very mountainous. There are still trenches dug into those mountains; it'd be a very nasty place."
Keeping with the mission of Special Forces units, not everything is about fighting wars. Carpenter's experience using his mountaineering skills on the job has come during joint combined exchange training, or JCETs, where he taught basic mountaineering to members of a European nation's military.
"They had harnesses and things like that, but I chose to not teach that and instead focused on swiss seats, rappel techniques, and setting up improvised anchors in the mountains," he said. "You can use 12 feet of rope for a lot more things. It's light on equipment and it's really field-expedient."
Back at Bear Lake, the teams complete their training, unstrap their snowshoes and pile into their vehicles to head to the base of the mountain before the sun sets. The work continues into the evening, with classroom training and equipment checks in preparation for the next day's training: ice climbing.
That next morning, Feb. 22, the three teams go in separate directions toward various frozen cliffs in the area.
It's off-season for tourists in Estes Park, but the mid-February cold does bring a share of adventurers to Rocky Mountain National Park. Like Carpenter -- who's been a climbing enthusiast since he was a teenager -- civilian hikers and climbers come to the area to enjoy the challenge and the scenery.
During a three-mile hike on snowshoes toward an ice-climbing cliff deep in the forest, Duncanson's 10-man team of students passes several groups of civilian hikers, some of whom are also heading to the Falls. At the base of the cliff, students learning to move with their ice axes and crampons are occasionally showered with ice chips from the experienced hobbyists who have already reached the top.
For SFAMOS students and instructors, the Master course is far from a club for Soldiers looking for a thrill. They pride themselves in using an important skill for an important mission.
"Moving through the mountains is hard work," Duncanson said. "There's nothing fun about walking up 12,000 feet -- it's just work."
"But there are smart ways to do it and there are not so smart ways to do it, and hopefully we can educate the guys on the smarter ways so they're able to get to the fight and take the fight to the enemy, wherever that may occur."
Related Links:
Special Operations Recruiting Battalion