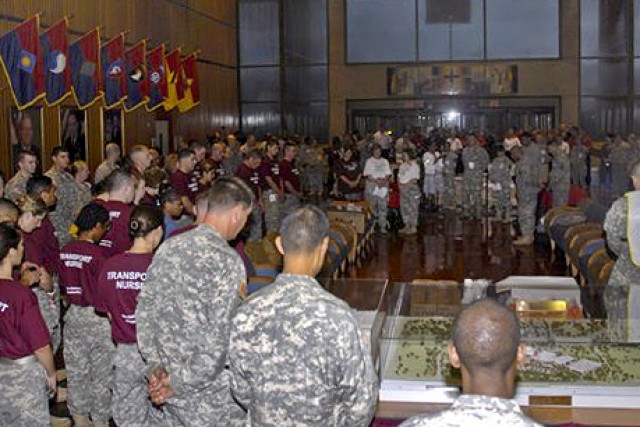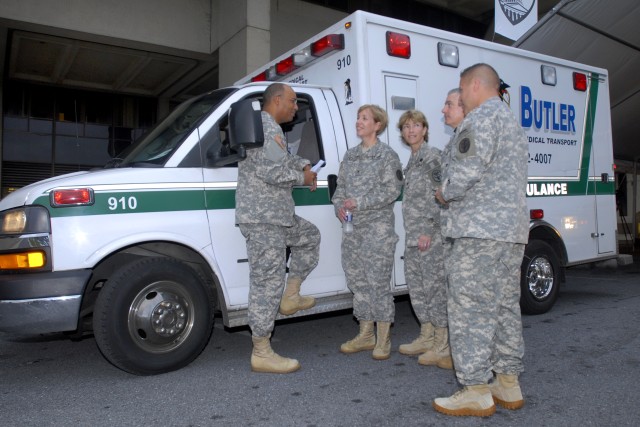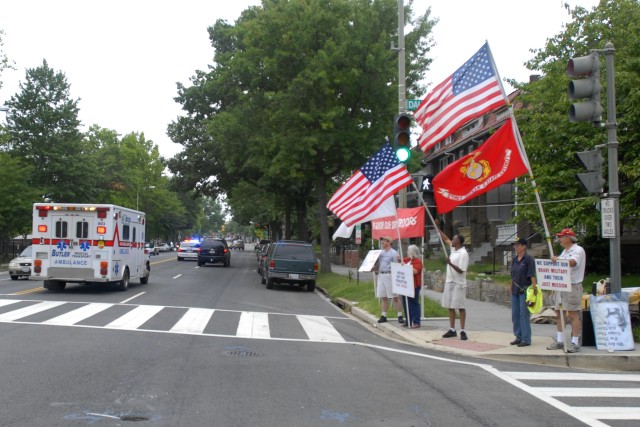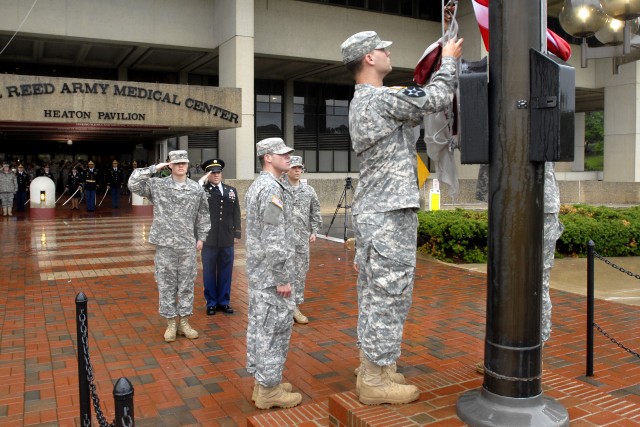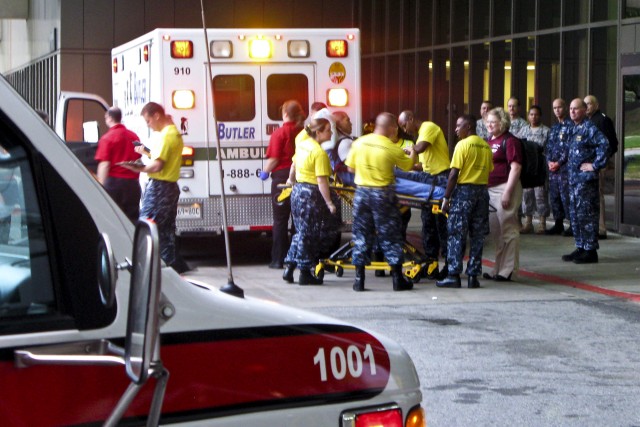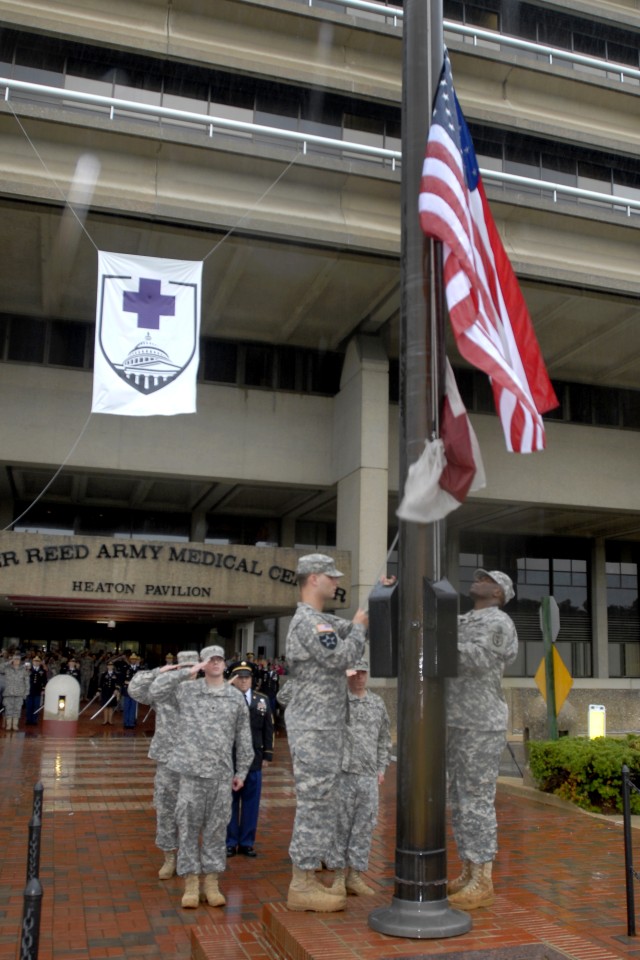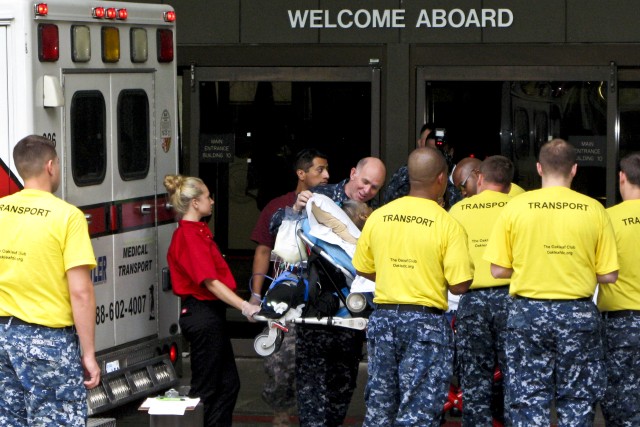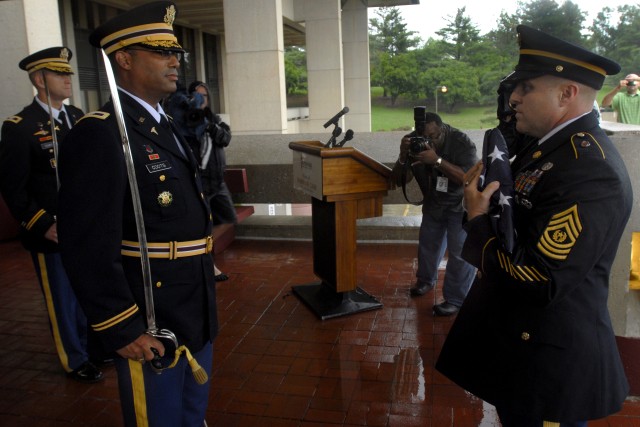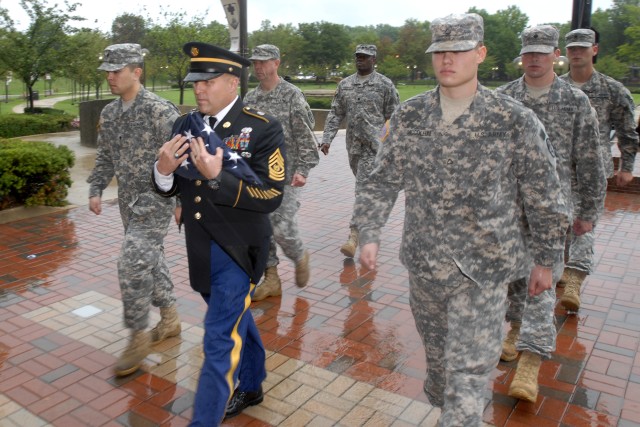 BETHESDA, Md., Aug. 27, 2011 -- Officials here at the National Naval Medical Center declared a new chapter in military health care as a procession of ambulances delivered the last 18 inpatients from Walter Reed Army Medical Center this morning, a final milestone as the two flagship hospitals consolidate.
"This is a historic day for military medicine," said Navy Vice Adm. John Mateczun, commander of Joint Task Force National Capital Region Medical, after the final Walter Reed patient was admitted to what is now known as the Walter Reed National Military Medical Center.
The admission marked an official end of Walter Reed Army Medical Center's 102-year legacy of patient care and "a move to the future of military health," he noted during a news conference at the National Intrepid Center of Excellence.
Mateczun thanked both hospital commanders and their staffs for their leadership through "the largest and most complex series of moves and relocations that we have ever had within the military health system."
Adding another complication to the formula, the last patient transfers were accelerated by one day to beat out Hurricane Irene. The last Walter Reed patient was admitted at 9:10 a.m. (ET), before heavy winds and rains began descending on the Washington area.
Mateczun called the staff's ability to provide a near-seamless transition, even in the face of a looming storm, a testament to the resilience of military medical professionals tested by a decade of conflict.
"I think we see part of the results of that experience here today," he said.
"We have always been an agile organization as a military health care system," agreed Navy Rear Adm. Matthew L. Nathan, commander of the National Naval Medical Center. "We may have to deploy hundreds of our personnel at the drop of a hat to a humanitarian assistance relief mission or disaster assistance relief mission. So we are pretty adept at having to change plans suddenly and reconfigure our logistics."
Col. Norvell "Van" Coots, commander of Walter Reed Army Medical Center, praised an "almost flawless transition," noting that even the threat of Hurricane Irene hadn't put a crimp in well-choreographed plans.
"I couldn't have asked for a better day, even with the hurricane coming, to be able to make this transition," Coots said. "I'm proud of what we have done in conjunction with the flagship of Navy medicine [and] with our counterparts here, to create the future of the military health system and what hopefully will be a unified medical command."
Nathan said the merger opens new opportunities and closer collaboration between the services as they provide patient care.
"Now we like to say we are one family and one team under one roof," he said. "And we are charged with, I believe, one of the most important missions any health center can [have]: to take care of the wounded, the warriors, the injured, the ill, their families, our nation's leaders and anybody who crosses our threshold for care."
Those patients will have just one concern when they arrive at the newly named facility for care, he said. "And that is that they have world-class care from a world-class team and from an American people that support them and are rooting for them and cheering them on," he said.
Coots recognized the end of Walter Reed's century-long legacy. "I am now the past," he told reporters. "And my command is relegated to the history books, closing the final chapter in our 102-year history of service to the nation."
Coots and his staff began preparing patients and their families for today's move about two weeks ago so they knew what to expect during the transition. The big emphasis, he said, was on ensuring they understood "we were not leaving them and were not abandoning them."
In fact, most of the staff that cared for patients at Walter Reed will continue to care for them at the Bethesda hospital.
"So our underlying message to them was, 'It is not just you that is moving. It is all of us that are moving. We are moving with you,'" Coots said. "That made them feel good."
Last night, the Walter Reed command group made the rounds, presenting each of the last 18 patients a gold Walter Reed coin and book on Walter Reed's history "because they are now in the history books as the last patients in 102 years," Coots said.
"And this morning, we walked around and woke them up," he said. "And we said 'Good morning,' and we said, 'Goodbye.'"
Related Links:
Hurricane Irene accelerates Walter Reed patient transfer