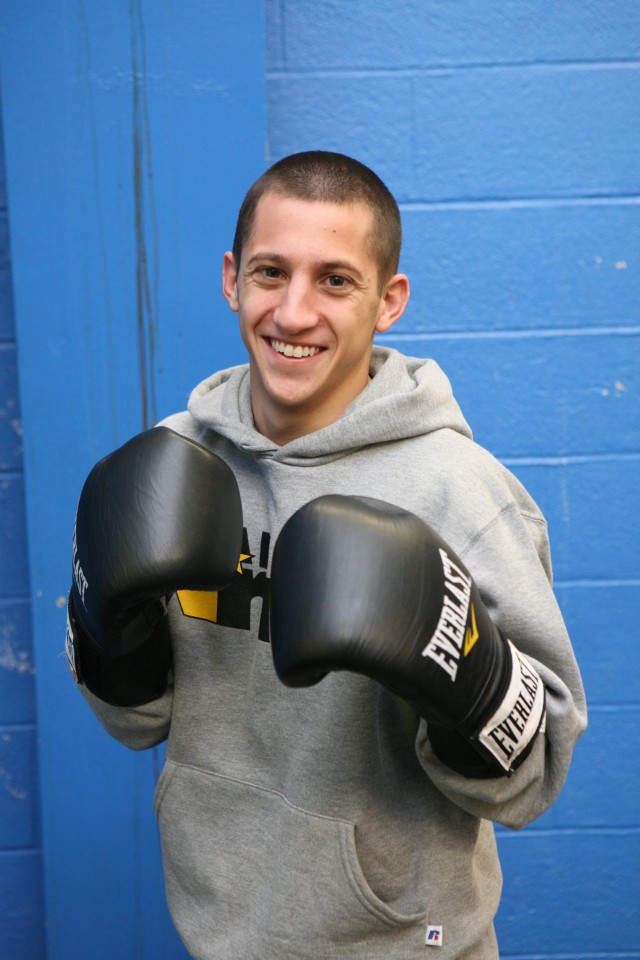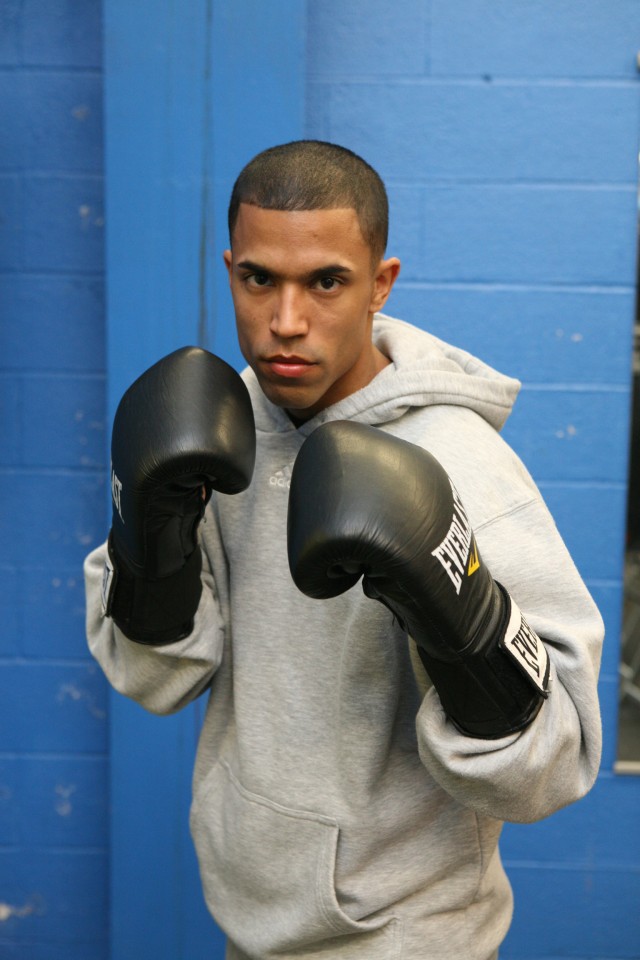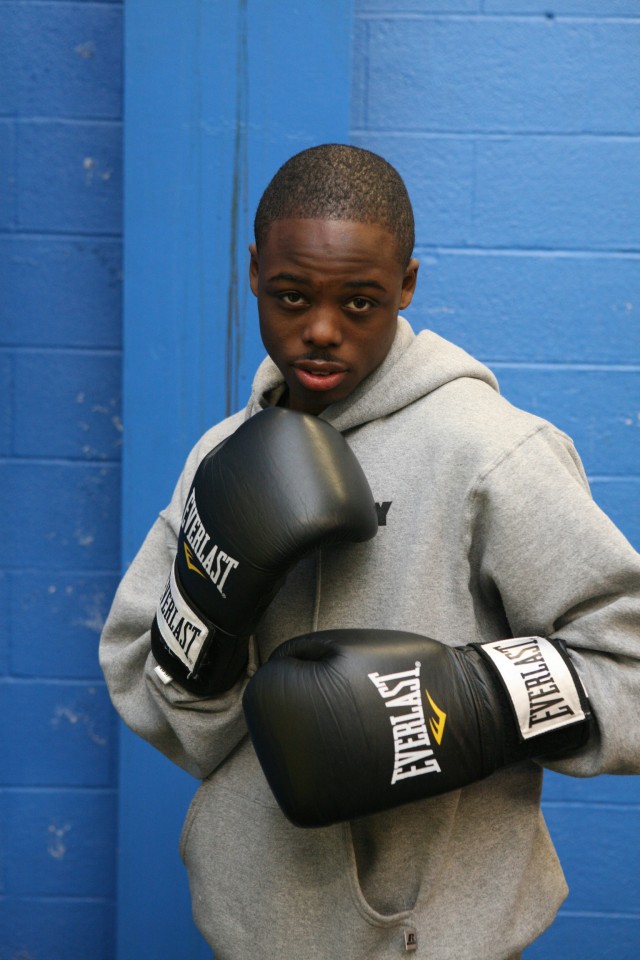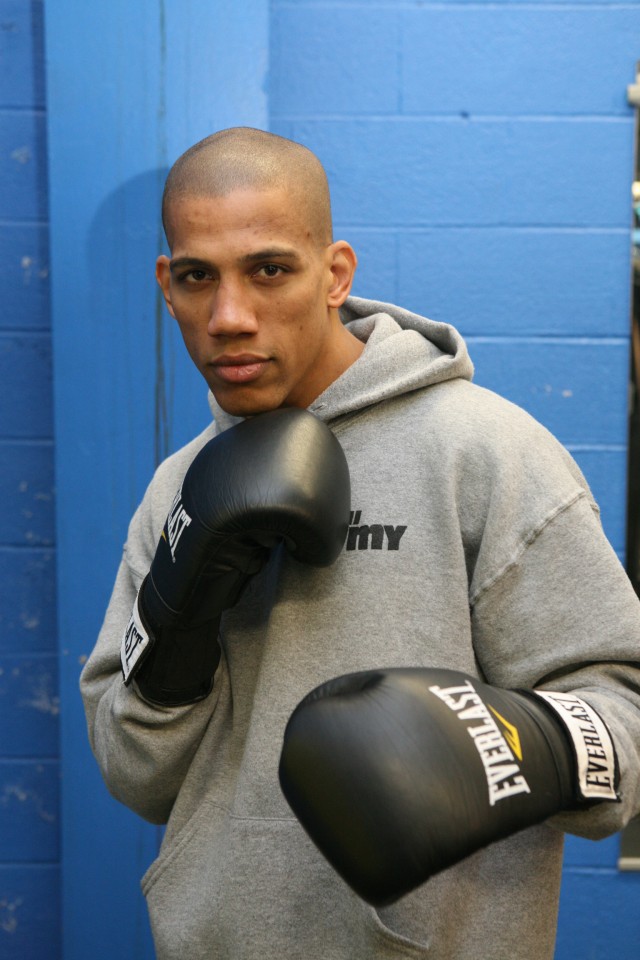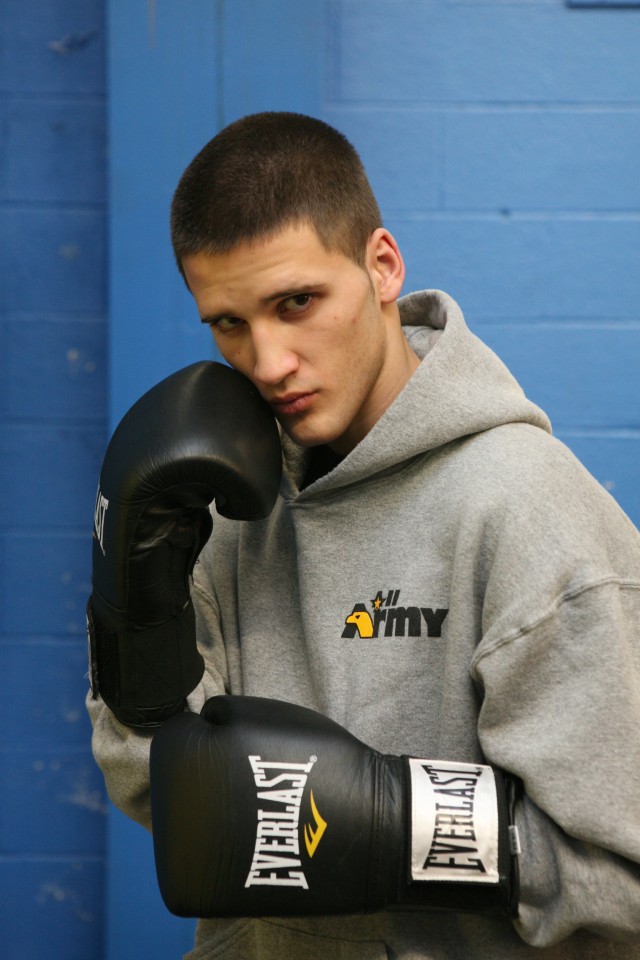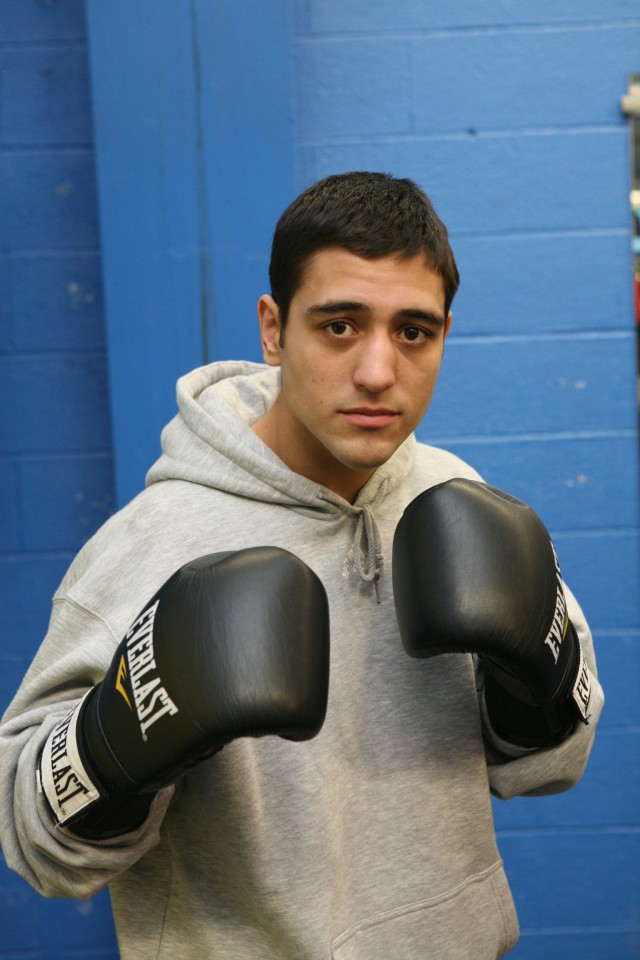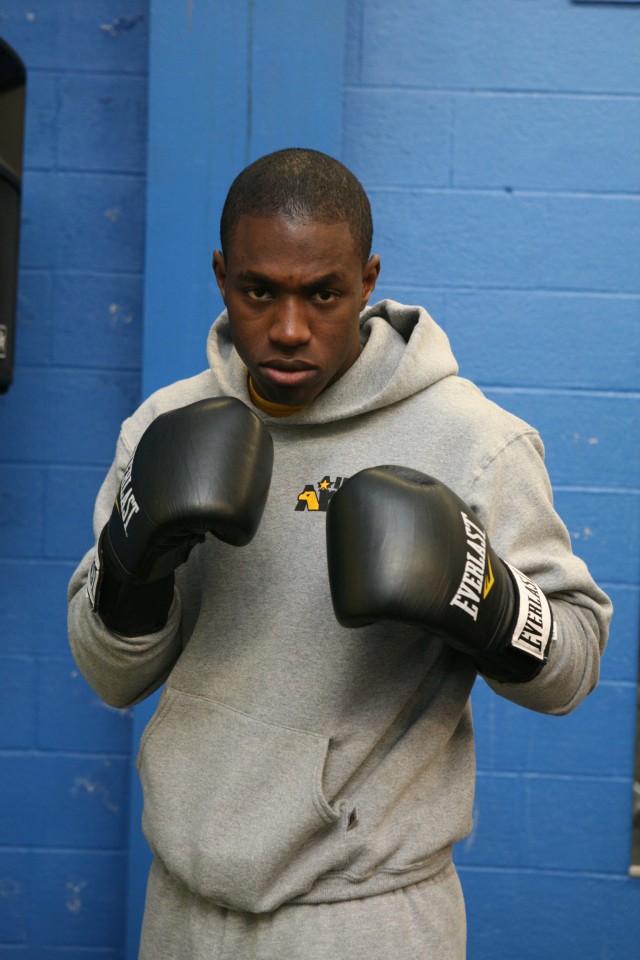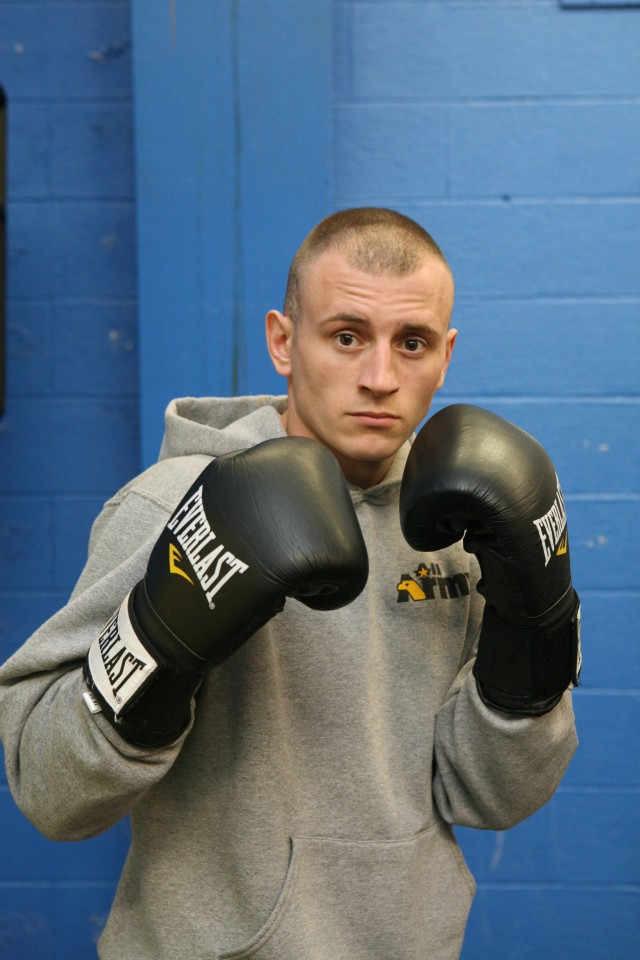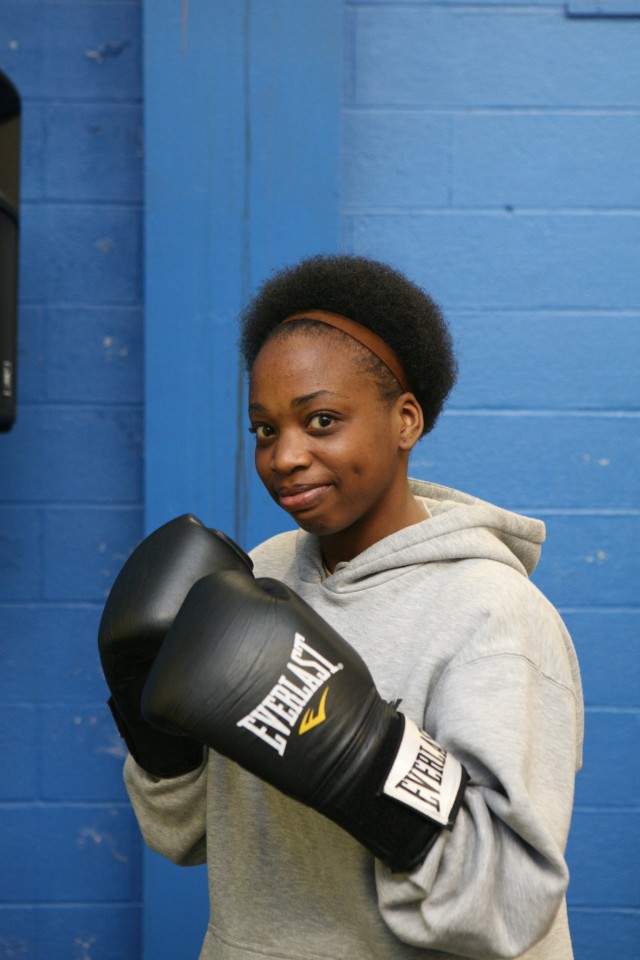 FORT HUACHUCA, Ariz., (Army News Service, April 13, 2010) -- The All-Army Boxing Team can forget about the gold medals won at the Army boxing trials April 9. The only thing that matters now is how well they do at the next level -- the Armed Forces Boxing Championship this week at Naval Base Ventura, Calif., continuing through April 24.
All-Army coach Basheer Abdullah is counting on his team's experience to defend the title that Army has held since 1992. Now meet the Soldiers he thinks will do it:
Sgt. Matthew Fisher, 30, 165 pounds (Middle Weight), Fort Polk, La., 11B, Infantry: Sgt. Matthew Fisher has been called a "sleeper" by his coaches; however he is wide awake when he jumps in the ring. His coaches found that out when Fisher stunned the crowd by upsetting his heavily favored, more experienced World Class Athlete Program opponent to take the middle weight gold medal at the All-Army Trials.
It was a surprising feat for Fisher, a native of Newberg, Conn., who began fighting only four months ago. He enters the Armed Forces Boxing Championship at 2-0. His only two fights have come at the All-Army Trials. However, Fisher isn't fazed by his sudden boxing success. He trains hard and credits the Army with helping him succeed in the ring, adding that the Army has made him both physically and mentally strong.
"Being an infantryman has toughened me up a lot and made me stronger in a lot of ways," he says. In addition, he says all the training that Soldiers must go through only helps increase his drive and motivation to be a better boxer.
Now Fisher is hoping that same Army training and motivation will take him to the next level. He says that winning a gold medal at the All-Army Trials was a "dream come true." If that is the case, bringing home the gold medal at the Armed Forces Championship will be a real eye-opener.
Spc. Charles Blackwell, 23, 201 pounds (Heavy Weight), USAR Arizona, 925th Transportation Detachment, 88M, Motor Transport Operator: Blackwell's mother created quite a stir after her son knocked out his opponents to take the heavyweight gold at the All-Army Championship April 9. Her screams could be heard outside the gymnasium and she nearly pulled her son across the ropes and out the ring to congratulate him with a motherly hug.
However, don't make the mistake of thinking he's a "mama's boy." Blackwell, a left-hander, whose focus in the ring is to "hurt the other person as much as possible," has been destroying opponents since he was 18. He holds a 10-2 record and is the 2007 National Collegiate Boxing Light heavy weight champion.
The Tucson native idolizes fighters like 'Marvelous' Marvin Hagler' and Aaron Pryor, straight punchers whose style he says teaches him to "box when I have to and fight when I have to" -- something he failed to do at last year's Armed Forces Championship where he walked away with silver.
Blackwell has had a year to think about that loss, and he would like nothing more than to redeem himself, and most importantly -- make his mother proud.
Spc. Carrie Barry, 29, 132 pounds (Lightweight), Word Class Athlete Program, Fort Carson, Colo., 92F, Petroleum Specialist: With a sweet smile and sparkle in her eye, Carrie Barry looks more like the girl next door than someone who would just love to smash a fighter's face in. But landing a hard right jab to the jaw is what this All-Army lightweight champion loves to do.
Even though she's been boxing for 10 years, Barry still thinks it's crazy each time she enters the ring. However, she also admits that boxing is what she was meant to do.
"I want to do it (boxing) every single day of my life, this is what I dream for," she says. "It's a great energy to look around at the crowd and the support that you have, that last second that you touch hands with your coach and turn to your opponent is a great feeling."
The Detroit native, who is in her first year with the All-Army team, says it also has been a great feeling helping to make boxing an event for the 2012 Olympics. Serving as an athlete representative for USA boxing, she has helped campaign for the sport for the past year. She proudly proclaims: "Women's boxing is what it's all about in 2012."
Judging by her passion and dedication to the sport, it's clear that Barry would love to be part of that Olympic team. Although she has more than 100 fights under her belt, she doesn't keep track of wins and loses, "the only thing that matters is what I do the next time I'm in the ring."
The 'next time' Barry enters the ring will be at the Armed Forces championships this week, where taking home the women's lightweight crown would surely bring a smile to her face and put a sparkle in her eye.
1st Lt. Michael Benedosso, 24, 108 pounds (Light Flyweight), Word Class Athlete Program, Fort Carson, Colo., 35D, Military Intelligence Analyst: First Lt. Michael Benedosso is not a trained weather forecaster, but he warns there's a storm headed to California that will be packing a punch. That's how the tiny Milford, Conn., fighter describes the damage Army boxers will cause in the ring in this week.
"They know what's coming, the storm is coming," Benedosso boasted playfully. "It's the All-Army boxing team, they know we've had the Armed Forces title since 1992, so they know when they step in the ring with an Army boxer, they got to bring 110 percent, and sometimes that's not even enough."
It's a lot of talk for a fighter weighing less than a slab of beef and who won the gold by default. But with 10 years experience in the ring, the West Point graduate believes he has what it takes to be successful. Benedosso added that winning the gold medal will only "increase the reputation of All-Army boxing."
Meanwhile, Benedosso, who trains at Fort Huachuca, a post he calls home, credits All-Army Boxing with making him a better person and enabling his success in the ring. He said the program has helped him improve as a man, a Soldier, and leader.
"It's developed personal courage, leadership, hard work, all of those ethics one needs to develop to be successful," he said.
They are the same characteristics that could make Benedosso the perfect storm as he tries to bring home the gold.
Spc. Donnie Palmer, 26, 201-plus pounds (Super Heavyweight), Word Class Athlete Program, Fort Carson, Colo., 21W, Carpentry & Masonry Specialist: Spc. Donnie Palmer's boxing career has been one long journey that has taken him from the streets of Boston to the mountains of Colorado and now the deserts of Arizona. He's traveled this far with hopes of one day making it to the Olympics.
"I'm on a mission, and that mission is to make the Olympic team," says Palmer of his quest. "To make that journey it takes sacrifice. It's a long rough journey, and it can be a cold one too, but you just got to keep your head up and keep driving through."
Palmer's drive is without question. He's 16-4 in his boxing career, and he's the All-Army gold medalist after being unopposed during the All-Army Trials -- the Army has a shortage of super heavyweight Soldiers. And his size and skill make for a formidable opponent. At 6-feet 8-inches, he is a big target with long arms, who much like his boxing idol -- former heavyweight champion Lennox Lewis -- loves to use the jab to score and keep opponents at bay and wear them down. The jab can also provide a nice sting.
"He was always on the jab," says Palmer of Lewis's boxing style. "I just like his whole style, his demeanor, he was class first."
However, Palmer's demeanor in the ring is somewhat laid back. And although his focus is on being relaxed when he enters the ring, he competes with passion.
"I'm not thinking about winning or losing, just going in there and giving it my all."
As his journey continues, it will be all or nothing for Palmer when he gets to his next stop, the Armed Forces Championship in California. There, a win will put him one step closer to his Olympic final destination.
Spc. Dustin Lara, 21, 141 pounds (Light Welterweight), Word Class Athlete Program, Fort Carson, Co., 68W, combat medic: Spc. Dustin Lara's boxing inspirations comes straight out of Hollywood. He's a big fan of Rocky Balboa, played by Sylvester Stallone.
"I love Rocky movies, they are so inspirational," said Lara. "The perseverance, the drive to keep going, the dedication -- I think I incorporate that into my life. I try so hard, and I've persevered so much, and I have so much heart that I feel I can relate to him."
He can also relate to the tough workouts it take to be the best, although the Long Beach, Calif., native won't be found running up and down the steps of the Philadelphia Museum of Art or in a freezer jabbing at frozen meat to get ready for a fight. Instead he and fellow aspiring boxers get in fighting condition at the Army's World Class Athlete Program, Fort Carson, Colo.
"It's a very tough program, a lot of people think it's easy and you just hang out. But its stress on your body, training every single day possible, about six days a week," Lara explained ". . . but it's all worth it if you want to be the best."
Even though he won the All-Army gold medal in impressive style -- a 41-17 win, Lara, who fights left-handed, has some unfinished business in the ring. He's been to the Armed Forces Championship before and has yet to win the gold medal. But he said with determination, "I'm going to win this year; this time I'm going to make the right decisions in the ring."
Lara also said his opponents need to come ready. "I'm here to compete, they need to bring 110 percent or they will fall short."
Should Lara fulfill his dreams and earns the gold after his second try, it would make for a nice Hollywood ending, albeit not as dramatic as in the Rocky movies.
Sgt. John Franklin, 26, 114 pounds (Bantamweight:), World Class Athlete Program, Fort Carson, Colo., 21B, Combat Engineer: "It's go time!"
This is the catch-phrase Sgt. John Franklin prefers to use when describing his entering the ring against a competitor. But, the four-time defending champion in his weight class at the Armed Forces Championship said before he enters the ring, nothing is on his mind. Instead, he said he listens to music to clear his head.
"When I am on my way to the venue, I like to listen to slow music," Franklin said. "It normally calms me down from being nervous. When I get to the venue, and I get my hands wrapped, I normally go ahead and start listening to my hype music to get me ready to go. I am really clear-headed when I go in and after that, it's go time."
Franklin, from Kansas, City, Mo., said two people were his inspiration to get into the ring for the past seven years. First, he said, his coach, Basheer Abdullah, the Army Boxing coach, because he said he has always been there for him during the tough bouts and that he never loses his composure. He also made mention of pro boxer Floyd Mayweather.
"I just love everything about him," Franklin said. "He's flashy and very confident all of the time. He has defense to go along with his offense. He barely ever gets touched and I just love those aspects about boxing."
Spc. Connor Johnson, 20, 132 pounds (Lightweight), World Class Athlete Program, Fort Carson, Colo., 11B, Infantry: Before he joined the military, Spc. Connor Johnson was not always doing the right things. He said that it was his twin brother that turned his ways and got him into the military.
"I was going down a bad road and he's the one that got me, pretty much, going down the right track," Connor said. "He's the one that got me into the military. If he didn't inspire me and keep me moving, I wouldn't be here today and I'd probably be living a bad life."
Johnson, from Waterloo, Iowa, said that his beliefs help him get into the right frame of mind when he steps into the ring.
"I'm the best and I tell myself that all things are possible through Christ," he said. "And I tell myself that I need to box to my potential and not take a back seat for anybody."
Spc. Jeffery Spencer, 27, 178 pounds (Light Heavyweight), World Class Athlete Program, Fort Carson, Colo., 92G, Food Service Specialist: Growing up in Gary, Ind., Spc. Jeffery Spencer had it rough and had to be tough. With all of the gang violence and drugs sweeping the city, Spencer said that enlisting in the Army was his way out.
"I needed a change of direction in my life," he said. "I needed more structure in my life, I should say. The Army was my only escape from the city."
However, Spencer said that growing up in the city has made him a better person. Had it not been for his turbulent upbringing, he said he wouldn't be where he is today.
"Growing up in Gary is an experience I hope not too many people have to endure like I did," Spencer said. "But, it molded me into the guy that I am today. It taught me a lot of character. I had to adapt and overcome a lot of situations in my life. By me enduring it, it made me into a better person."
Spencer's inspiration to box came from his grandfather. Spencer said his grandfather was a fighter and coach. But, he showed little interest growing up.
"I didn't really want to do it when I was younger," he said. "When I turned 18, I kind of picked it up. He took me under his wing and coached me."
The nine-year boxing veteran attributes his time in the ring and the successes he has had in boxing -- which include a trip to the Olympic trials -- are a result of the way he grew up.
"Just because you are in a bad environment doesn't mean you have to be a product of a bad environment," he said. "You can always overcome any situation if you put your mind to it. You can really achieve greatness if you strive for it."
Sgt. Alexis Ramos, 26, 123 pounds (Featherweight), Garrison Public Affairs Office, Fort Carson, Colo., Nutrition Care Specialist, 68M: Sgt. Alexis Ramos is no stranger to the All-Army Boxing program. In fact, at one time he was in the World Class Athlete Program, won two All-Army titles and two armed forces titles.
Ramos was ranked #7 in the nation at one time and went to the Olympic trials. But, he hit a few bumps in his Army boxing career and had to, once again, compete for the chance at an Armed Forces Championship title and a chance to once again get back into WCAP. He said that having the chance to start over again has benefited him.
"It gives me an opportunity to build that fire back up," he said. "That urge to strive for success is there. It ignited that fire again and I'm just ready to take it to another level.
Ramos has been boxing for over 10 years and got his inspiration to box from his father, a professional boxing referee and former Army boxer. And even though he is a seasoned veteran, Ramos said that the boxing program that the Army has is challenging.
"It takes a lot of dedication," he said. "It's not a cake walk. It takes a lot to be at the top. I am ready to win another gold."
Spc. Tacara Hughes, 23, 152 pounds (Welterweight), New York National Guard, Food Service Specialist, 92G: Spc. Tacara Hughes is fairly new to the boxing world. In fact, this Soldier from Cleveland has only been boxing for one year. But, she is no stranger to getting into a bout. She said that while growing up, she got into her fair share of fights.
"I was always a fighter, growing up," Hughes said. "In school, I was kind of quiet, so I would get picked on, so then I would have to fight."
And while she may know her way around defending herself, she said that her inspiration to box comes from her siblings: three sisters and one brother.
"I'm like their hope; their strength, so I have to be strong and boxing is a great sport to do that," she said.
But boxing with the All-Army team has brought up challenges in their own right. Hughes injured her shoulder during her training and has to sit out the Armed Forces Championships, but she says that she will be back.
"I have to take time off for rehabilitation and all that stuff. I'll be at next year's, definitely," she said.
Spc. Samuel Vasquez, 23, 152 pounds (Welterweight), Headquarters and Headquarters Company, 1st Battalion, 110th Infantry Regiment , 28th Infantry Division, Pennsylvania National Guard, Mount Pleasant, Pa., Cavalry Scout, 19D: Spc. Samuel Vasquez may be new to the All-Army Boxing Team, but he knows how to win in the ring. In the amateur boxing circuit, Vasquez was the 2008 National Golden Glove runner-up and was ranked #4 in the country at one time. But, after enlisting in the National Guard, Vasquez had no idea he could be on the team.
"I figured you'd have to be active duty to become on an All-Army Boxing Team," he said. "Once I found out that I could be in the National Guard and get on the boxing team, then I definitely took advantage."
Vasquez's bouts turn into family affairs wherever he goes. His father was at Fort Huachuca to witness his gold-medal performance and he said their attendance gives him the drive to box.
"I have a big family and we don't see each other all that much," he said. "Every time I fight, it's like a reunion."
Vasquez is a left-handed fighter, commonly known as a "south paw" in the boxing world. He said that an advantage of this technique is that there are more orthodox fighters. But it also has its disadvantages.
"It's easier to hit a south paw with a right hand," he said. "You've got to know how to handle the situation. You want to get him to try and throw it so that you can slip and counter it."
And while Vasquez is a seasoned fighter, he said that the All-Army Boxing program is no slouch. In fact, he said it has some of the toughest training and conditioning he has ever been through.
"This is probably the hardest I have ever worked out in my life," Vasquez said. " I'm really grateful to have this opportunity."
(Editor's note: The Armed Forces Boxing Championship runs April 18-24. Staff Sgt. John Pruden writes for the Huachuca Scout newspaper and Master Sgt. Doug Sample serves with Defense Media Activity-Army.)