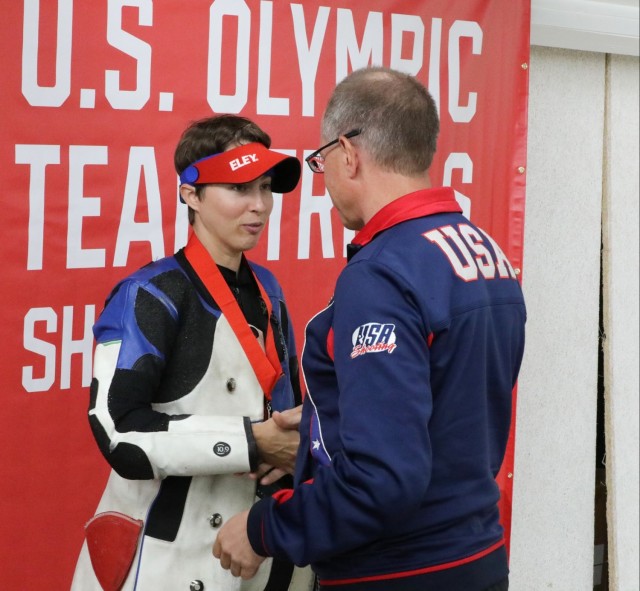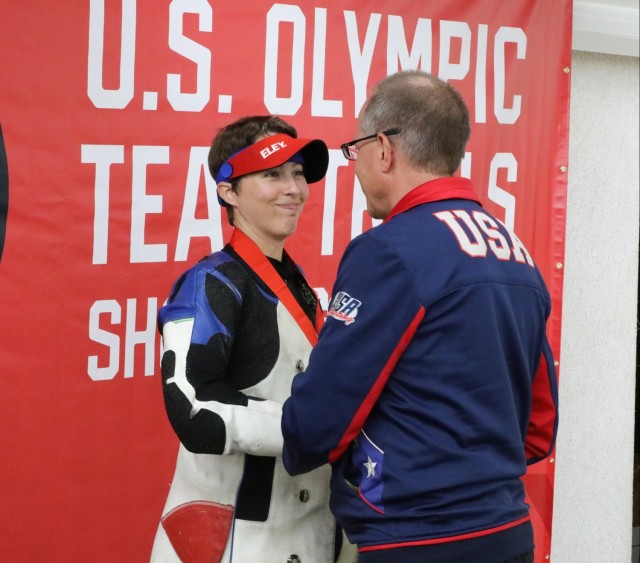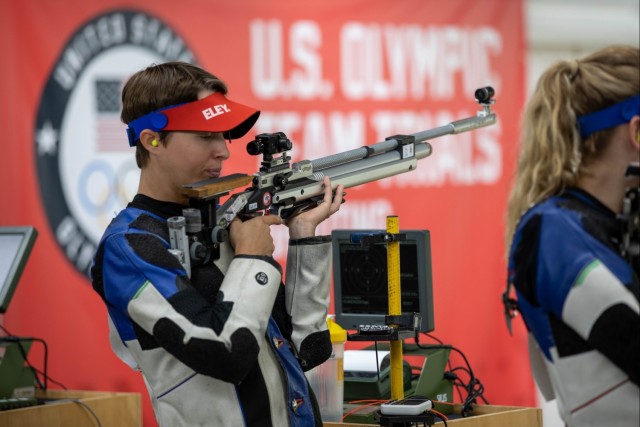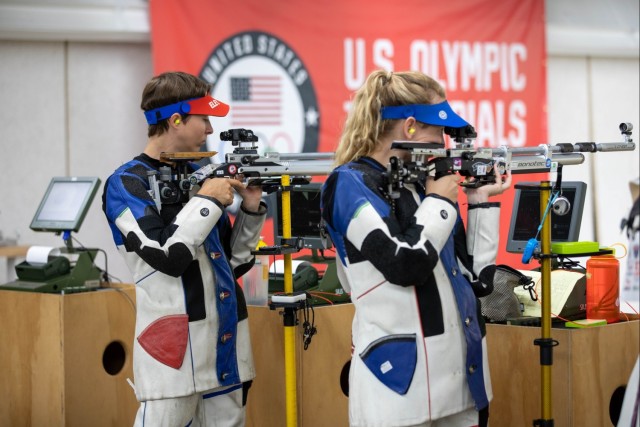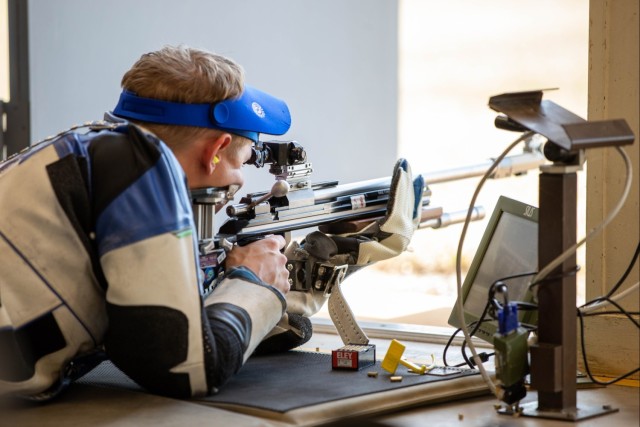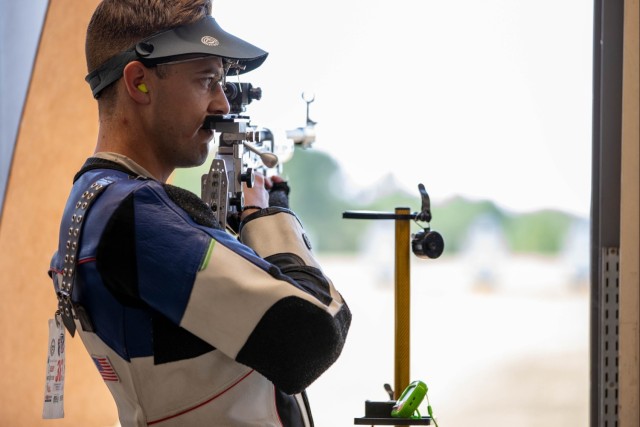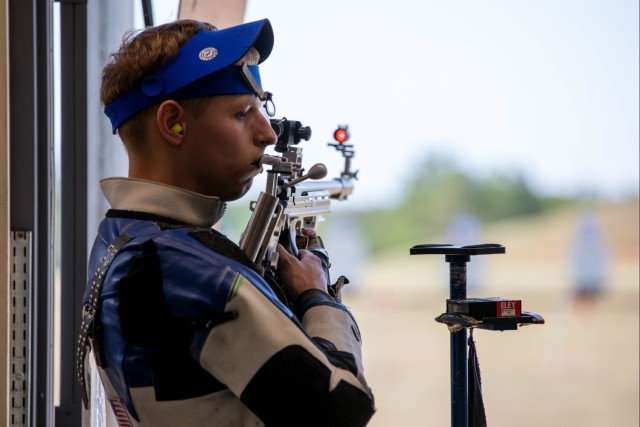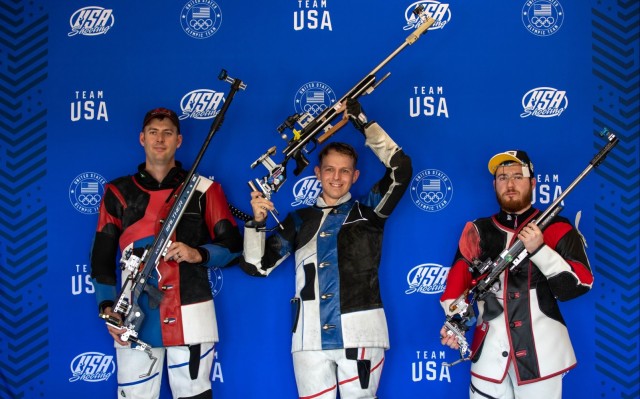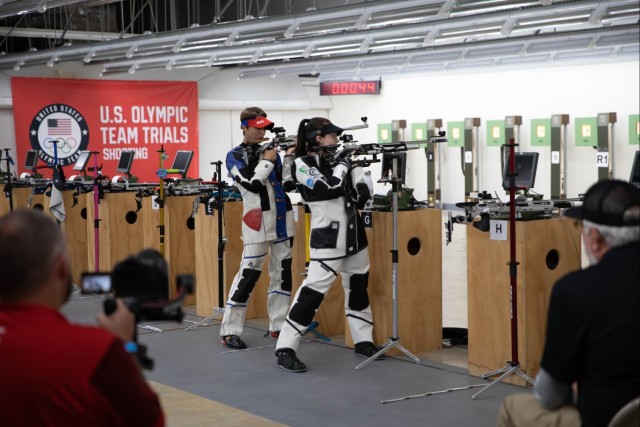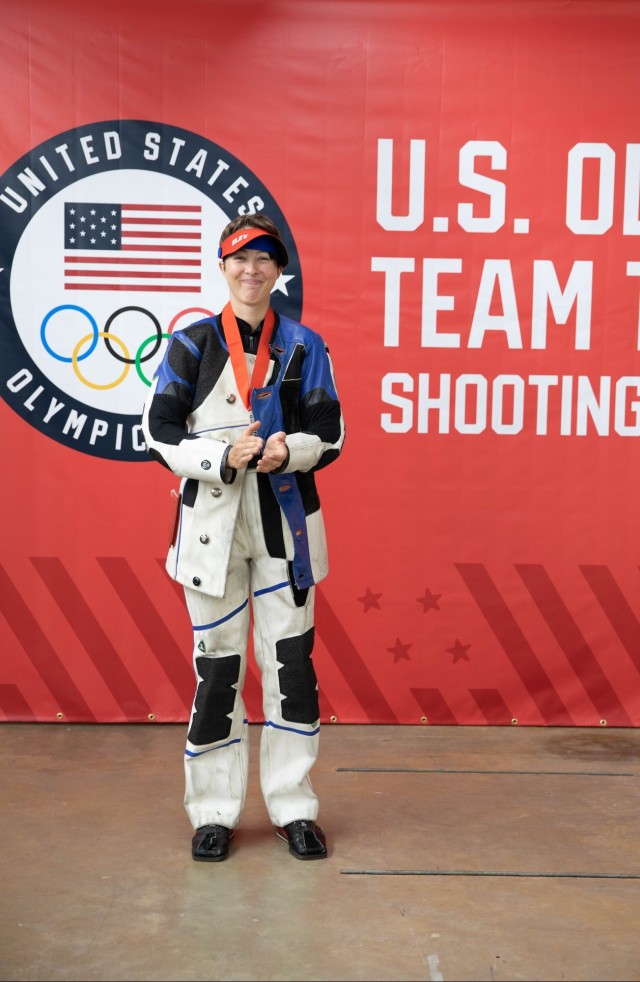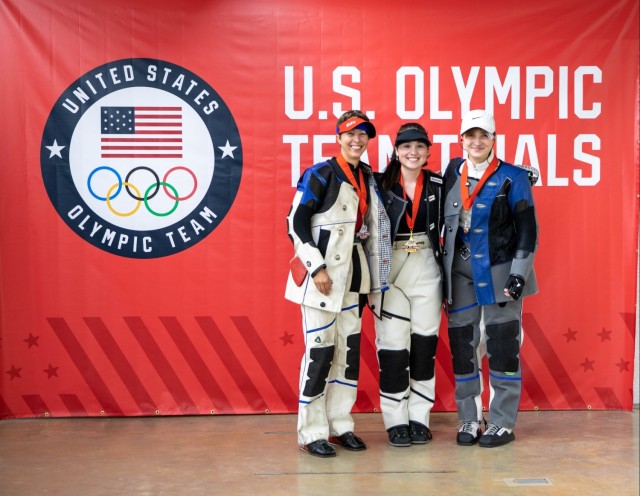 Soldiers with the U.S. Army Marksmanship Unit competed at Part 1 of USA Shooting's Rifle and Pistol Olympic Trials at Fort Moore, Georgia Sept. 28 - Oct. 3 and came away with two Gold Medals, three Silver Medals and one Bronze Medal.
The USA Shooting Olympic Trials, which are one of three parts, included men's and women's 10m air rifle, 10m air pistol, and 50m smallbore, or 50m three-position rifle, as well as women's 25m sport pistol and men's rapid fire pistol. (USAMU Soldiers only competed in the rifle events.)
The Fort Moore Soldiers, who are all marksmanship instructors/competitive shooters with the USAMU International Rifle Team, competed side by side against more than 130 of top international rifle competitors from across the United States, including several Olympians.
After two days of qualification relays, 2020 Olympian Sgt. Alison Weisz led the group of 69 athletes in the Women's 10m Air Rifle event with a score of 629.7. Fellow USAMU teammate and 2020 Olympian, Sgt. Sagan Maddalena, followed closely behind in third with a score of 628.6, just .4 points behind 2020 Olympian Mary Tucker.
With those scores, Weisz and Maddalena earned spots into the Women's 10m Air Rifle Final, along with six civilian athletes. The intense competition whittled the top eight marksmen down. Weisz, a Belgrade, Montana native, placed fifth while Maddalena, a Groveland, California native, continued on. By the end of the Final, the USAMU Soldier earned the Silver Medal, just .6 points behind fellow 2020 Olympian Mary Tucker, who won the Gold Medal.
Meanwhile, the Men's 50m Smallbore, or Three-Position Rifle, event had 74 other competitors vying for medals on another Home of Champions' range. Sgt. Ivan Roe led the two-day qualification scores with a 592 - 41x. That score placed the Manhattan, Montana native into the Final along with USAMU teammate, Sgt. Tim Sherry and six civilian marksmen.
Sherry, an Evergreen, Colorado native finished the Final in sixth place. Roe avoided elimination and worked his way to top in the end, claiming the Gold Medal over U.S. Army Reserve Staff Sgt. Nick Mowrer and Peter Fiori who completed the podium with Silver and Bronze Medals respectively.
The next couple of days had the men and women compete in their second event of the Olympic Trials.
Maddalena led the two-day qualification relays in the Women's 50m Smallbore event with a score of 591 - 35x, beating out 75 other competitors. Both her and Weisz moved into another Final of the top eight female smallbore marksmen.
By the end of the Final, Maddalena had secured her second Silver Medal, behind Tucker who claimed the Gold Medal. Weisz finished fifth.
Winning two Silver Medals at Part 1 of Olympic Trials puts Maddalena in a solid position, but the Soldier said it's important to not let that thinking get in the way of success.
"Being ahead after the first part of the Olympic Trials adds confidence, but it can be a dangerous place. I have a target on my back that every girl is trying to catch."
Knowing that anything can happen in the two remaining parts of Olympic Trials, Maddalena said she has to remain focused on her goal of making Team USA.
"I'm not going to speculate on the 'what ifs.' I am preparing myself to medal in both guns at the Olympics. All I can control is the dedicated time and discipline during training that will prepare me for the opportunity to go to, and succeed at, the Olympics."
Meanwhile, on the 10m air rifle range, the men were completing their relays. Roe led the field of 60 marksmen with a two-day qualification score of 631.7. He made it into the Final with three other fellow USAMU teammates (Sherry, Sgt. Brandon Muske, Staff Sgt. Patrick Sunderman) and four civilian competitors. The USAMU Soldiers fought till the end and swept the Men's 10m Air Rifle Podium with Roe winning the Gold Medal, Muske earning the Silver Medal and Sherry taking the Bronze Medal.
Roe, who said he has been trying to make an Olympic Team since 2016, said that he was thrilled with his performance that earned him two Gold Medals and put him in the lead of the Olympic Trials in two events.
"I am committed to my process and was given the results I knew I could shoot."
After closely missing the past two Olympic Team selections, Roe said he has to stay with his current training plan that seems to be working.
"Going forward, I'm just going to keep on refining my process and trusting in myself, which gives me a lot of confidence that I can continue to win."
With the current life-long goal of becoming an Olympian and competing at the Games in sight, Roe told WTVM that he's even more determined and Part 1 of the Olympic Trials has made him believe, "this time, I feel like I have a good chance."
Before making Team USA, all the competitors will have to complete the remaining two parts of Olympic Trials.
Part 2 for Air Rifle/Smallbore will be Dec. 8-10/11-13 at the Olympic Training Center in Colorado Springs, Colorado.
Part 3 for Air Rifle will be Jan. 5-7, 2024 at the Civilian Marksmanship Program in Anniston, Alabama.
And Part 3 for Smallbore will be March 17-19, 2024 at Fort Moore, Georgia.
To see detailed scores from the Olympic Trials, go to http://results.sius.com/Events.aspx?Championship=b10c8a41-4e1f-4fb6-b78d-0d589e7ab13b&fbclid=IwAR2hAHrBoQEdKzwsTNe5iQ93_b3jerLXIngEwdnaugLSkeI4E5KomTVtqqo
To see photographs and b-roll, check out the USAMU Flickr album and DVIDS page at https://flic.kr/s/aHBqjAWGpp and https://www.dvidshub.net/unit/USA-MU respectively.