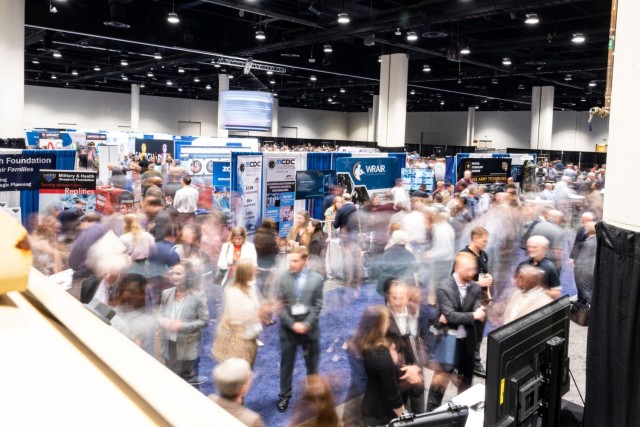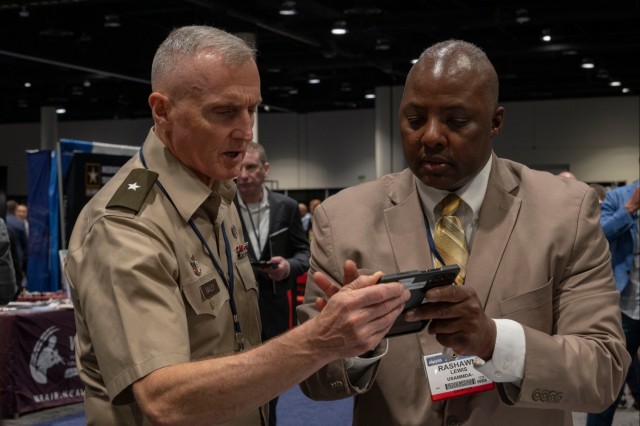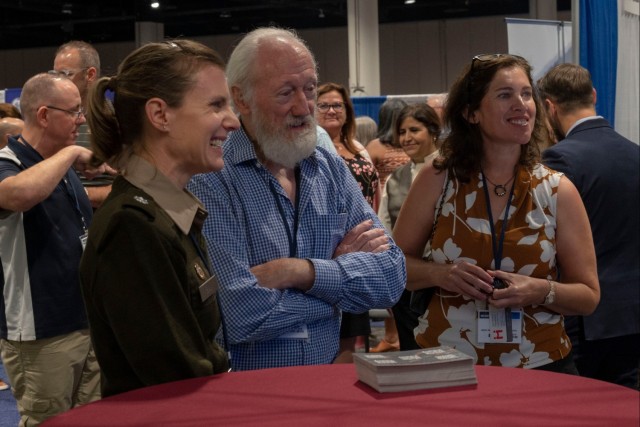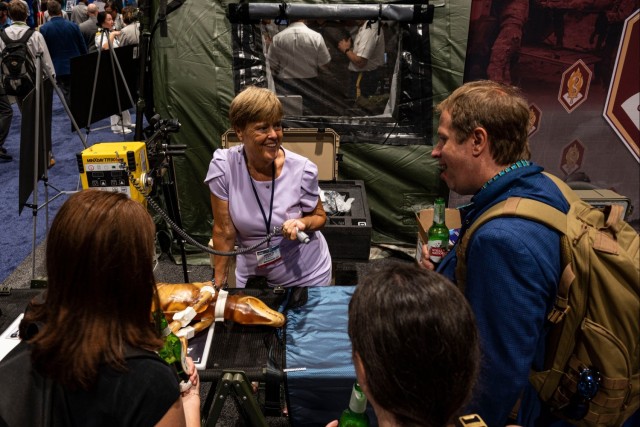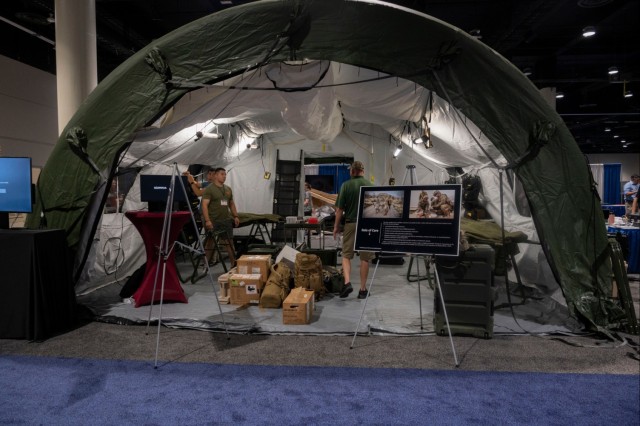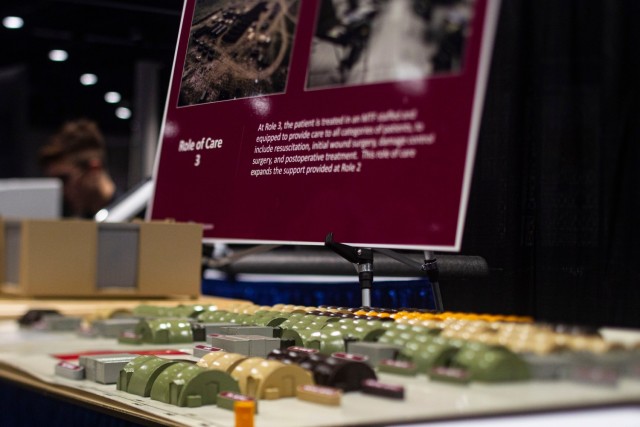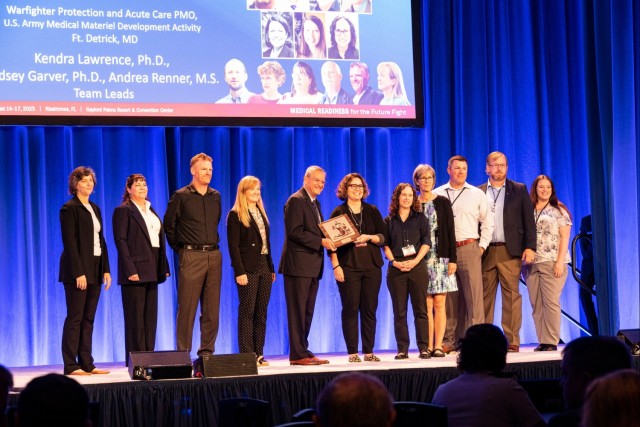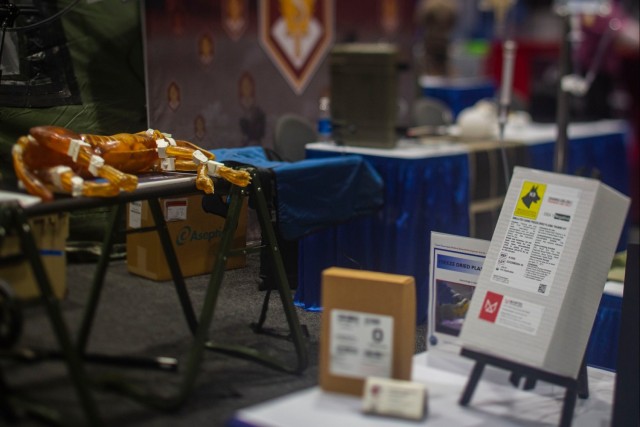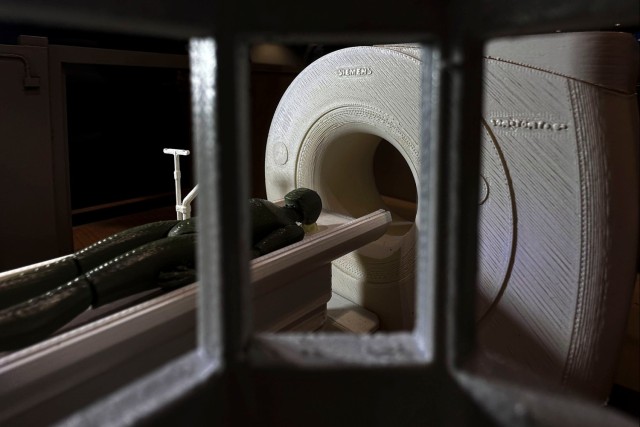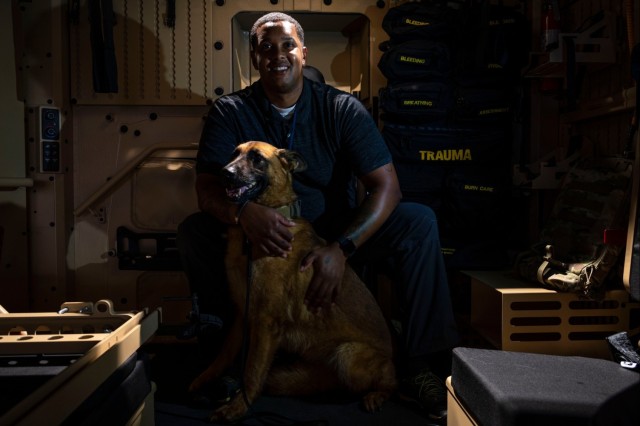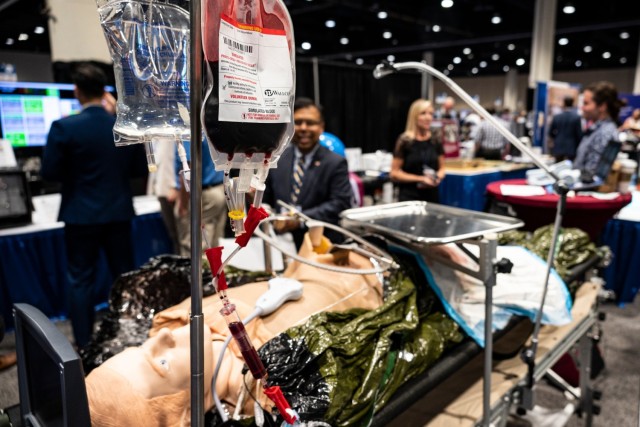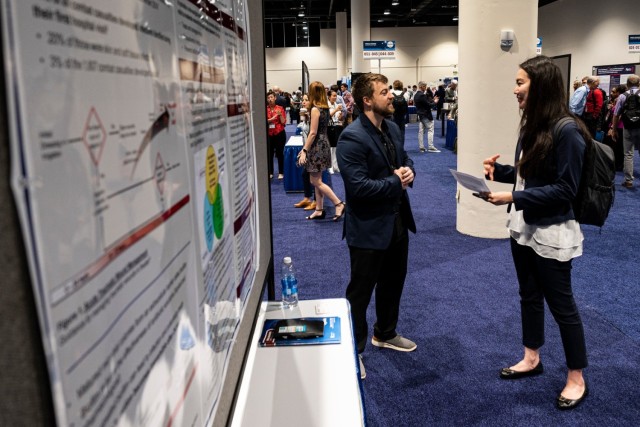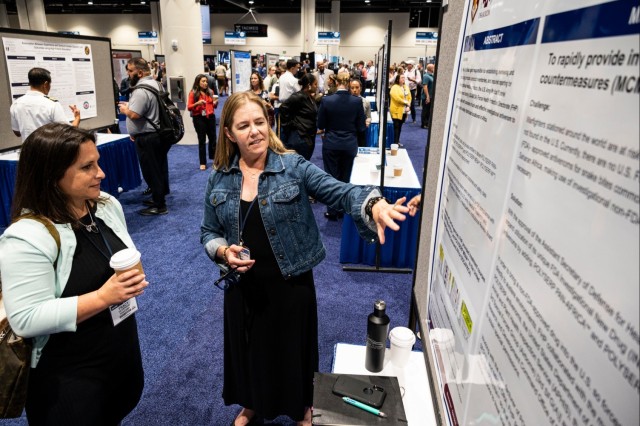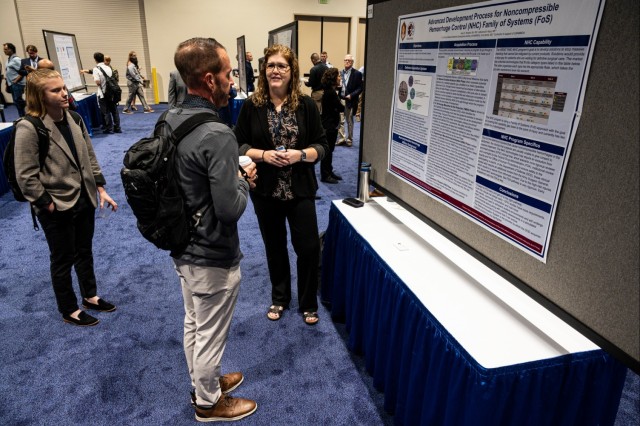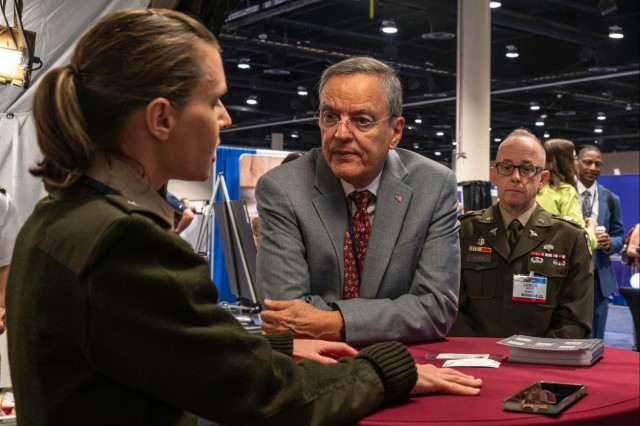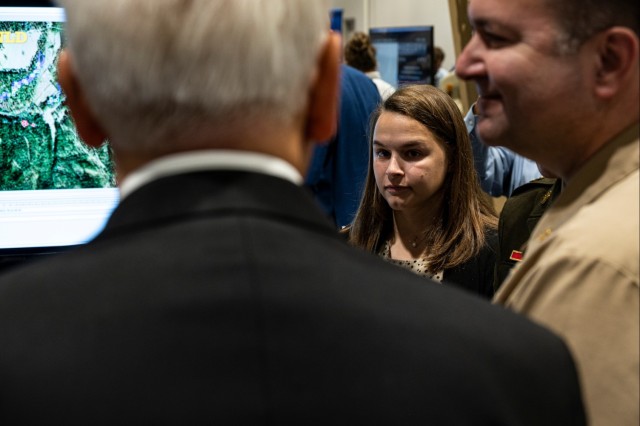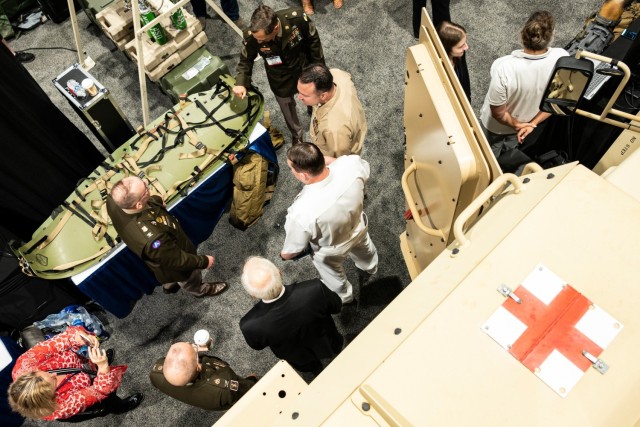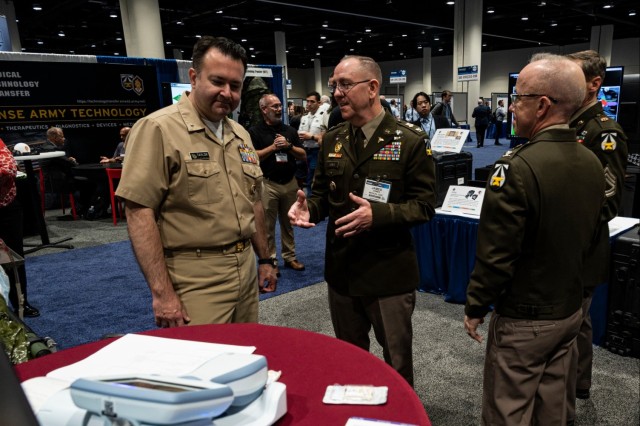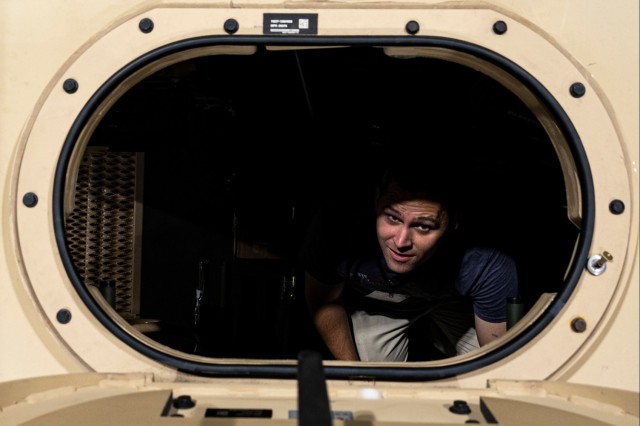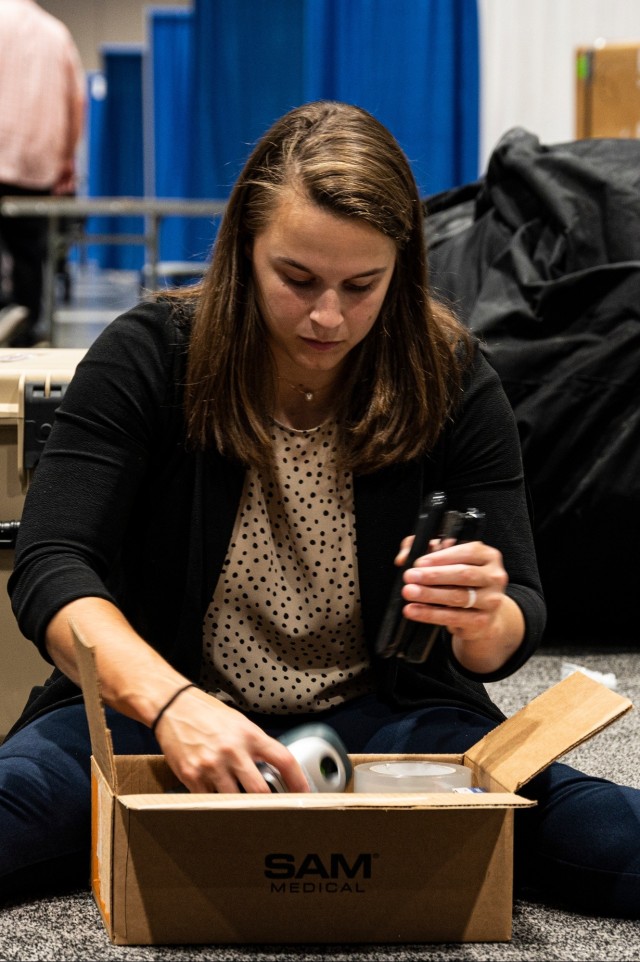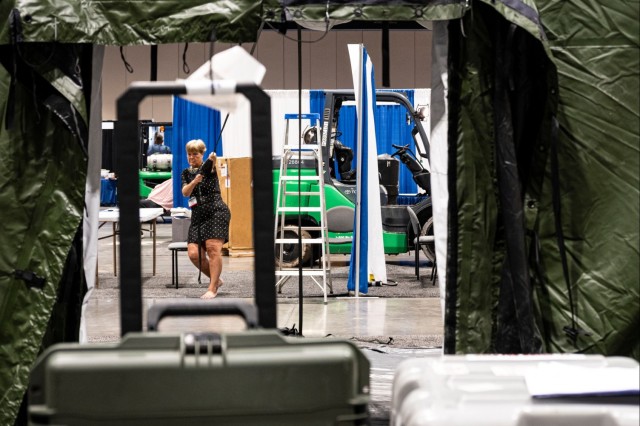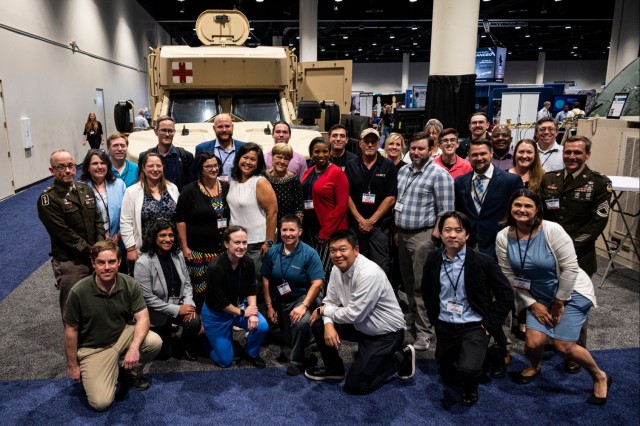 Military medical developers with the U.S. Army Medical Materiel Development Activity completed the four-day Military Health System Research Symposium today, finishing their participation in the Department of Defense's premier military-unique research and development educational symposium, Kissimmee, Florida, Aug. 17, 2023.
During the symposium, USAMMDA team members displayed the latest in military medical development programs for the 3,500 military, industry and academic attendees who gather annually to learn what medical technologies USAMMDA is developing for America's Warfighters.
A major highlight of the symposium was the recognition of USAMMDA's Warfighter Protection and Acute Care Project Management Office, which received the MHSRS and Defense Health Agency Award for Program Management Monday for its work to develop a Broad-Spectrum Snakebite Antidote.
The BSSA team received the award for its continued development of varespladib, a small molecule drug candidate funded by the Defense Health Program and developed in collaboration with a non-Department of Defense partner. Varespladib has the capability to treat snake bite envenoming in austere locations across the globe, areas where U.S. Warfighter may operate in the future. During 2022, the program made a giant leap forward with clinical trial testing of varespladib under real world conditions, and the FDA's 'Fast-Track' designation of the treatment, according to Kendra Lawrence, Ph. D., the WPAC Project Manager.
"This award is a direct reflection of the incredible work of the entire BSSA and WPAC team and I am incredibly proud and humble to be able to lead the men and women who work so hard to address the needs of our Warfighters," said Lawrence, who accepted the award for the team during MHSRS. "The strength of the WPAC team lies in its mission focus, collaborative approach, and vision to help enable combat casualty care capabilities at or near the point of injury. This award symbolizes the dedication of our team in developing and delivering the highest quality medical solutions and capabilities for our men and women in uniform."
Between academic presentations, panel discussions and poster sessions, attendees gathered in the cavernous exhibit hall to learn about USAMMDA and its adjacent and higher Army and DoD medical development commands. Several VIPs toured the exhibits, including Dr. Lester Martinez-Lopez, Assistant Secretary of Defense for Health Affairs – a former commander of the U.S. Army Medical Research and Development Command – U.S. Army Brig. Gen. Edward H. Bailey, the commanding general of USAMRDC; U.S. Navy Rear Adm. Brandon Taylor, director, Public Health directorate with the Defense Health Agency; and Don Johnson assistant director, Support/Component Acquisition Executive with DHA.
The symposium is a primer for USAMMDA to meet its strategic goal of equipping medical providers in the U.S. military joint forces. The meeting helps drive new and innovative ideas and partnerships with wide-reaching impact on future medical capabilities in the U.S. military, according to Aimee F. Dacanay, a product manager with USAMMDA's Medical Field Systems Project Management Office.
"MHSRS is a huge event for the USAMMDA team – it allows those of us in the Army's medical research and development enterprise to show what our Warfighters can expect to see in the future," said Dacanay, who was the lead organizer for USAMMDA this year. "The months and months of planning and coordination by many on the USAMMDA team payoff in a big way each year we come to MHSRS. Meeting with and giving industry experts insights into what we do and why we do it pays huge dividends for both current and future development programs we lead."