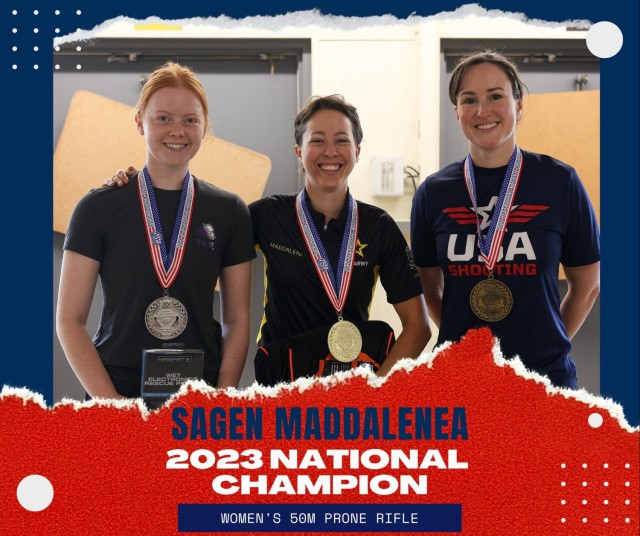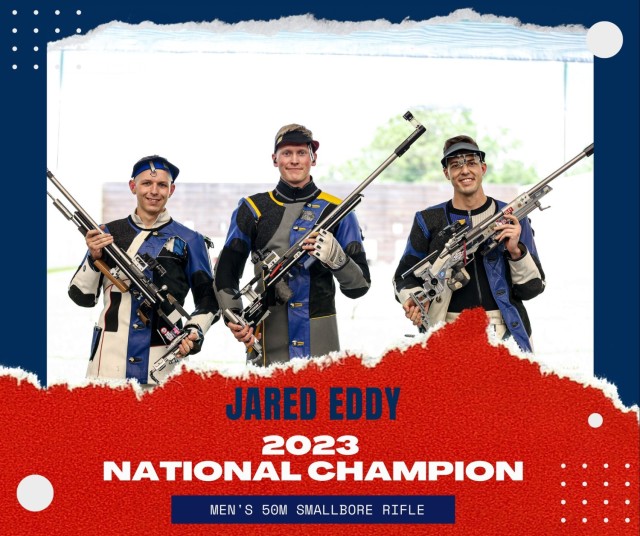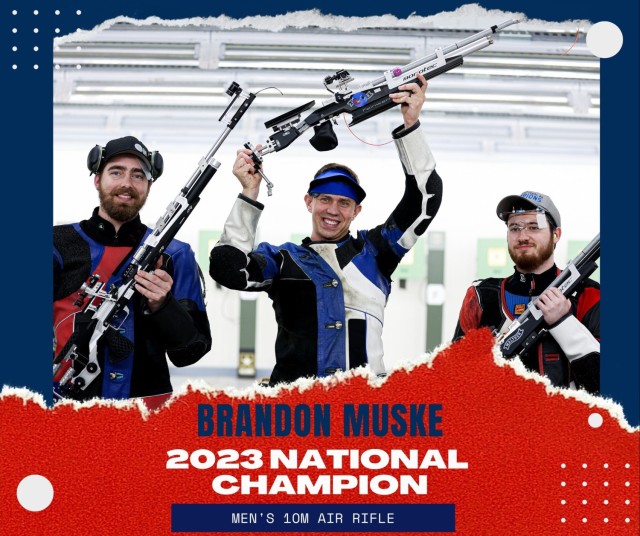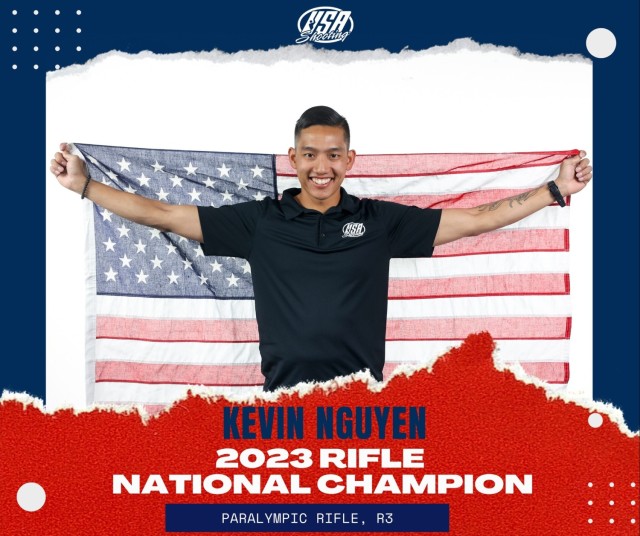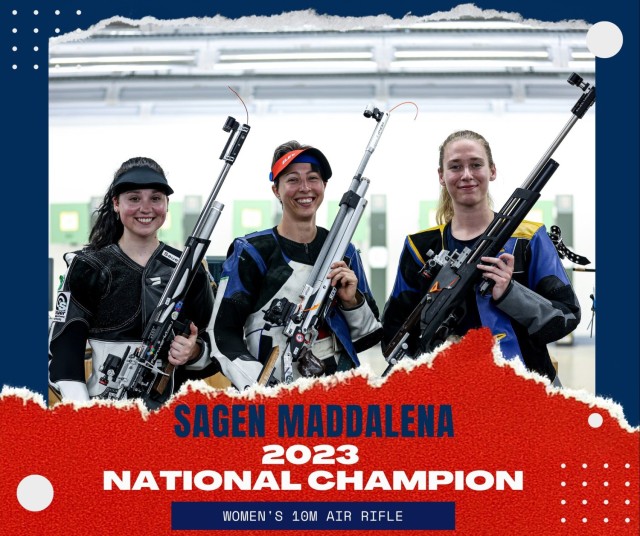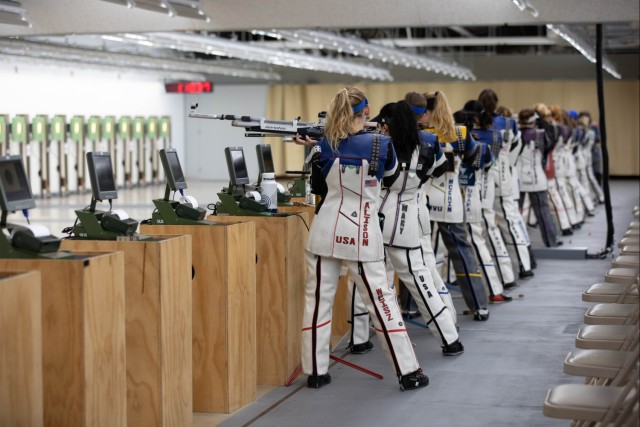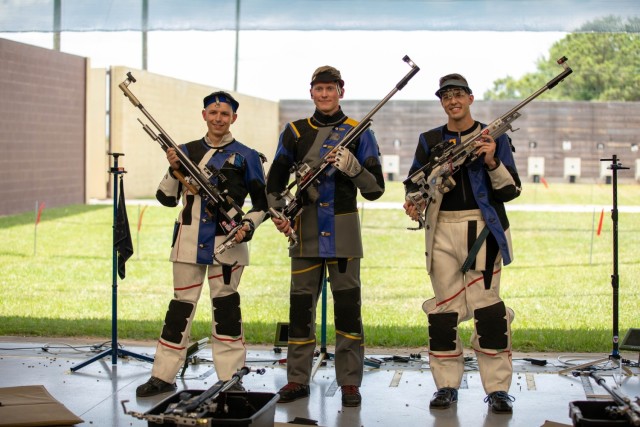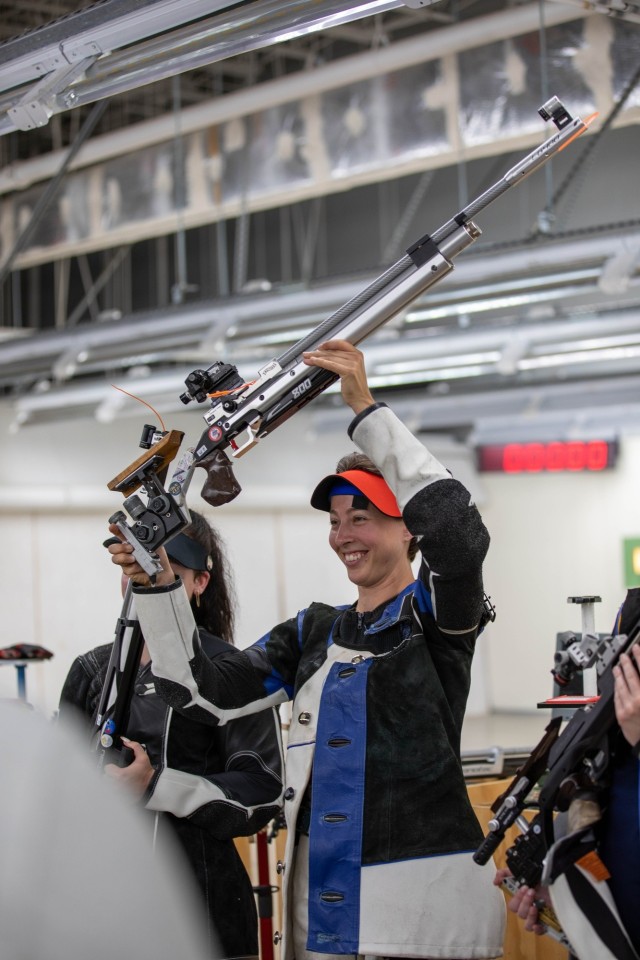 U.S. Army Marksmanship Unit Soldiers won National Champion titles in six of the eight rifle matches at USA Shooting's 2023 Rifle National Championships at Fort Moore, Georgia June 1-10. In addition to the six Gold Medals, USAMU Soldiers also earned four Silver and two Bronze Medals.
The Soldiers, who are all marksmanship instructors/competitive shooters with the USAMU International Rifle Team, competed in Nationals not only for medals and titles, but also for critical selection points in Part One of the 2023 Pan American Games Selection Match and Part Two of the 2023 ParaPan Games Selection Match.
2020 Olympian and 2022 National Air Rifle Champion, Sgt. Sagen Maddalena, knew Nationals would be challenging but was looking forward to the opportunity to compete on her home turf while hopefully claiming another National Champion title.
"I knew the competition would be tough. We had a handful of world-class marksmen and some up-and-coming junior competitors," said the Groveland, California native.
After two days of qualification relays against 84 other competitors from across the United States, Maddalena earned a spot into the Women's 10m Air Rifle Final with a score of 1262.9, just 1.5 points behind 2020 Olympic Silver Medalist, Mary Tucker. Fellow USAMU teammate and 2020 Olympian, Sgt. Alison Weisz, also earned her way into the Final.
Once in the Final, Maddalena said she relied on her training to seize the Gold Medal and the 2023 Women's 10m Air Rifle Champion title with a Final score of 251.3 over Tucker's 249.2. Molly McGhin took the Bronze Medal and Weisz finished in seventh.
"Shooting the Air Rifle Final, I felt in complete control of my shot process. I was confident in my ability to execute good shots and ended up a two-time National Champion! I felt happy with my achievement and it showed me that my preparation paid off."
Of course, the bonus to winning her second consecutive National Air Rifle Champion title was that she had an extra cheering squad besides her USAMU teammates.
"What's better, my mother was there to watch and cheer me on!"
In Men's 10m Air Rifle, 54 of the top American marksmen vied for the top eight spots so they could compete in the Final for a chance at the Gold. Four USAMU Soldiers (Sgt. Tim Sherry, Sgt. Ivan Roe, Spc. Jared Eddy and Sgt. Brandon Muske) earned spots in the Final with their solid qualification scores.
The competitive Final quickly weaned the field down and ended in an intense battle for Gold between Muske and 2020 Olympic Silver Medalist Lucas Kozeniesky. It was so close that the Gold and Silver Medals were separated by only .2 points, so Muske said it was a little surreal that he won.
"Going into the last shot, I knew I needed to shoot a deep shot, and even then, I figured Lucas would probably still win as he is a very accomplished finals shooter and had the lead. After we both shot, I looked at some of my teammates, and they were giving me a thumbs up, but I wasn't sure exactly what that meant in the moment until I heard the announcer say that Lucas had finished in second place, meaning I must have won!"
With such a close win, the Brenham, Texas native said he was excited to be named the 2023 Men's 10m Air Rifle Champion.
"I am very happy with my performance and am happy it was enough to win."
In the para R3/SH1 10m Mixed Prone Air Rifle Match, Purple Heart recipient Staff Sgt. Kevin Nguyen claimed the Gold Medal and National title with a score of 1263.5-114x.
The next event on the schedule was 50m Smallbore, which is also called 50m Three-Position Rifle or 3 x 20 Smallbore Rifle.
In Women's 50m Smallbore, Maddalena and Weisz both earned their way into the Final, beating out 62 other competitors. In fact, Maddalena led the qualification relays with the high score of 1178-77x, which set her up perfectly for her next goal, to win Gold.
In 2022, Maddalena won both the Air Rifle and Smallbore National Champion titles, something no one else has accomplished, according to USA Shooting. So with the Air Rifle Gold Medal in hand, the Soldier said she was definitely seeking to make another record - double champion for two consecutive years.
"I was aiming for a double National Champ with smallbore also. Unfortunately I allowed the thought to occupy my headspace while I should have been keeping a clear head. I dipped my last shot, giving me the Silver Medal." (Cecelia Ossi won the Gold and McGhin took the Bronze.)
Though her personal goal was not met, Maddalena said it was a valuable reminder nonetheless.
"Taking the Silver reminds me that nothing is a given – meaning training doesn't stop because of success, and each shot holds value—no matter how far ahead or behind I am in the competition."
In Men's 50m Smallbore, Eddy, Roe, Sherry and Sgt. Jared Desrosiers shot qualifying scores that earned them placement into the Final out of a field of 55 total athletes. In fact, Sherry lead the qualifying relays with a score of 1183-73x.
After moving through all the positions (kneeling, prone and standing), the USAMU Soldiers shot their way to the top of the Final. Eddy, Roe and Sherry swept the podium claiming the Gold, Silver and Bronze respectively.
Eddy said the Championships was challenging and exciting due to all the great competitors. And since he just arrived at the Home of Champions in February, the Columbus, Georgia native was relieved his training paid off.
"I am happy to start my USAMU journey on a good note."
For Olympic hopeful athletes, earning anything but the Gold can be a mix of emotions though, said Sherry, an Evergreen, Colorado native.
"It's tough having such a strong match and not walking away with the outcome that I wanted in either air rifle or smallbore. I am proud of my performance though, and am looking forward to working on my finals performance and pressure training."
Of course, seeing your teammates win Gold and National titles makes the situation that much easier to take, explained Sherry.
"Although I didn't have the outcome I was looking for, it was great to see my teammates on the top step of both men's podiums! I enjoyed helping sweep the men's smallbore podium too."
The final event for the USAMU Soldiers at Nationals was the 50m Prone Rifle Match. Though this course of fire is not an Olympic event anymore, it is still held at various international events like the World Championships.
The Fort Moore Soldiers continued to perform excellently and claimed the Gold Medals and National titles in both the men's and women's categories.
Maddalena claimed her second Gold and National Champion title in the Championships when she won the 50m Prone Rifle Match with a two-day score of 1240.9.
Roe, a Bozeman, Montana native, led the men when he seized the Gold with a 1249.1 while Sherry and Staff Sgt. Patrick Sunderman completed the podium, for another USAMU sweep, with their scores of 1247.7 and 1247.5, respectively.
In the para R6/SH1 50m Mixed Prone Rifle, Nguyen had to settle for the Silver Medal behind fellow U.S. Army World Class Athlete Program athlete and USAMU alumnus, Sgt. 1st Class John Joss, who won the Gold.
The overall strong performances by the Soldiers not only earned them medals and titles, but an invitation to Part Two of the Pan American Games Selection Match in July. Both Weisz and Maddalena's performances earned them spots to compete in both 10m air rifle and 50m smallbore. Eddy, Roe, Muske and Sherry qualified to compete in 10m air rifle. And Eddy, Roe, Sherry and Desrosiers were invited to compete in 50m smallbore.
Part Two of the Pan American Games Selection Match will be at the USA Shooting headquarters in Colorado Springs, Colorado in July 6-11. Part Three of the 2023 ParaPan Games Selection Match will be July 29 - August 3.