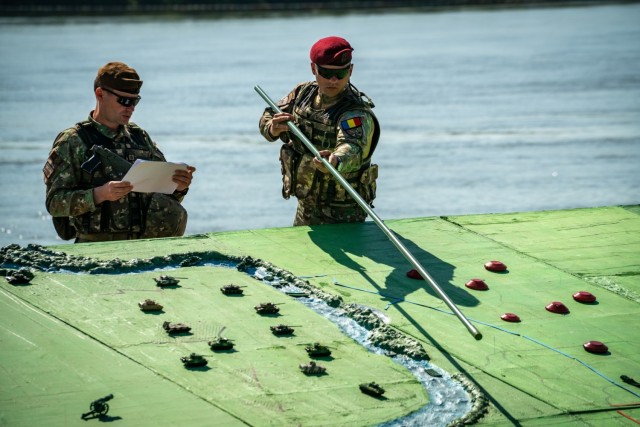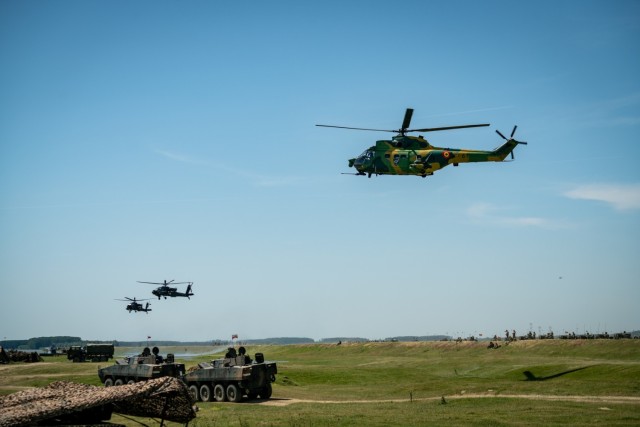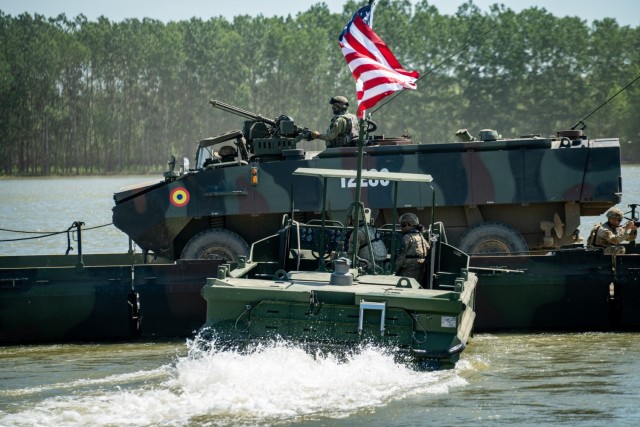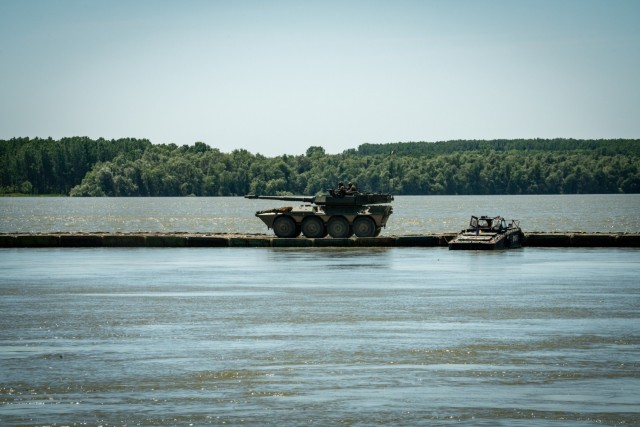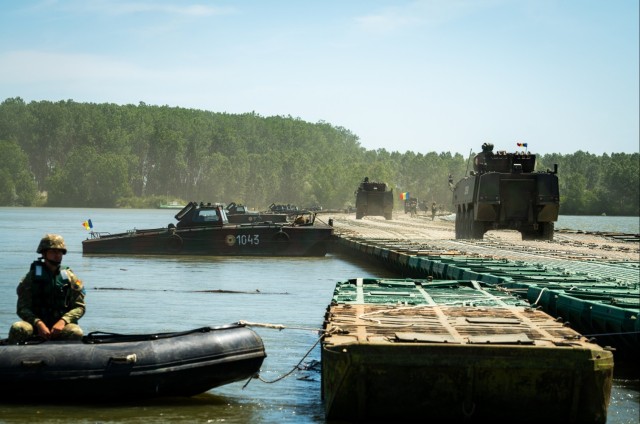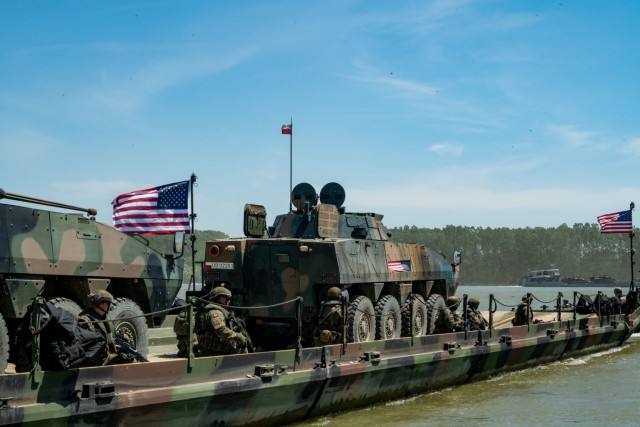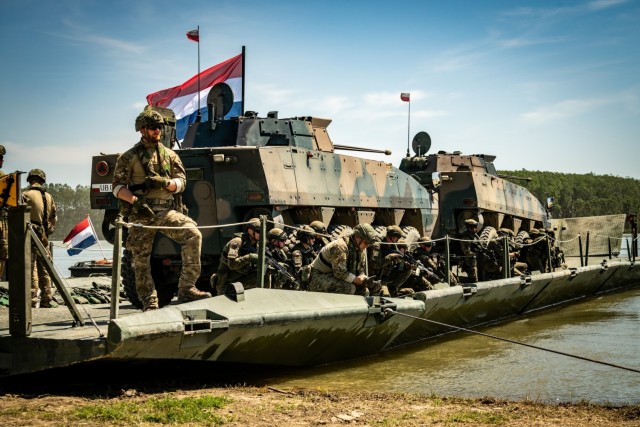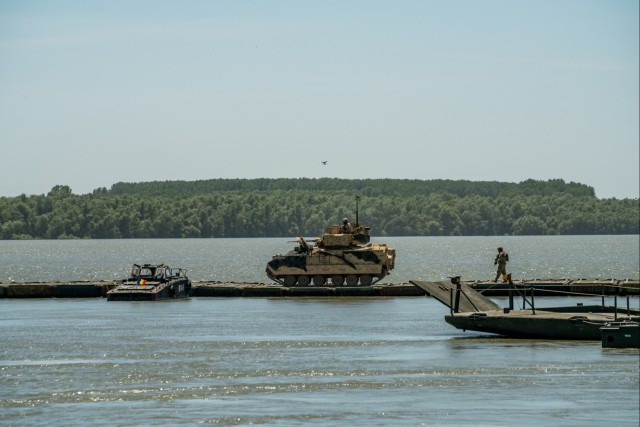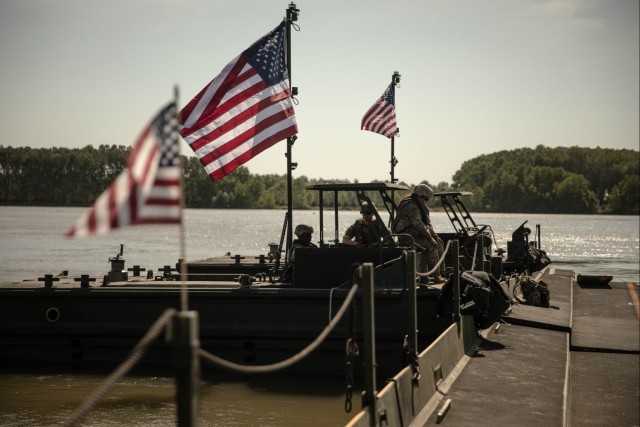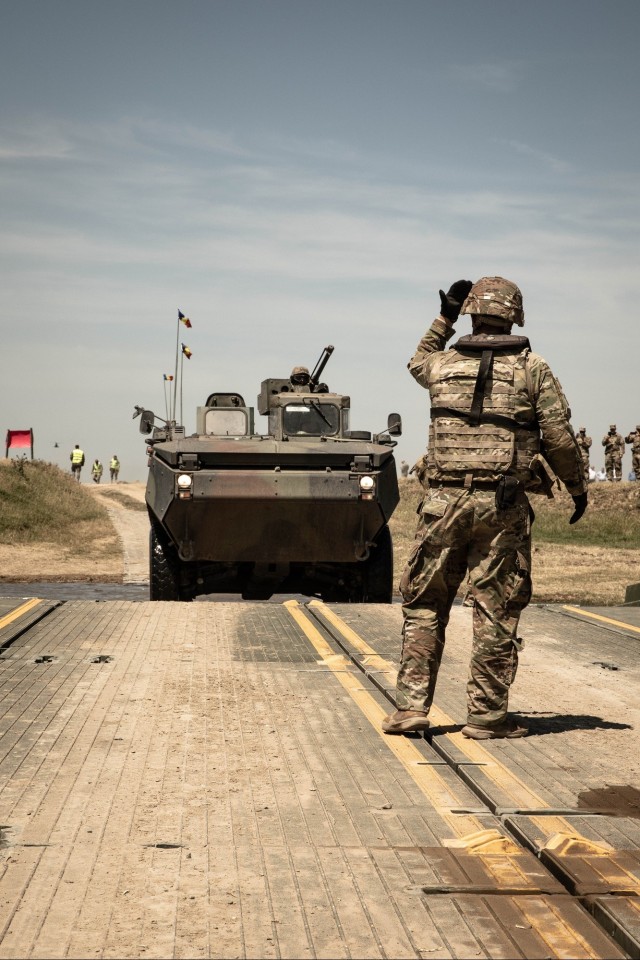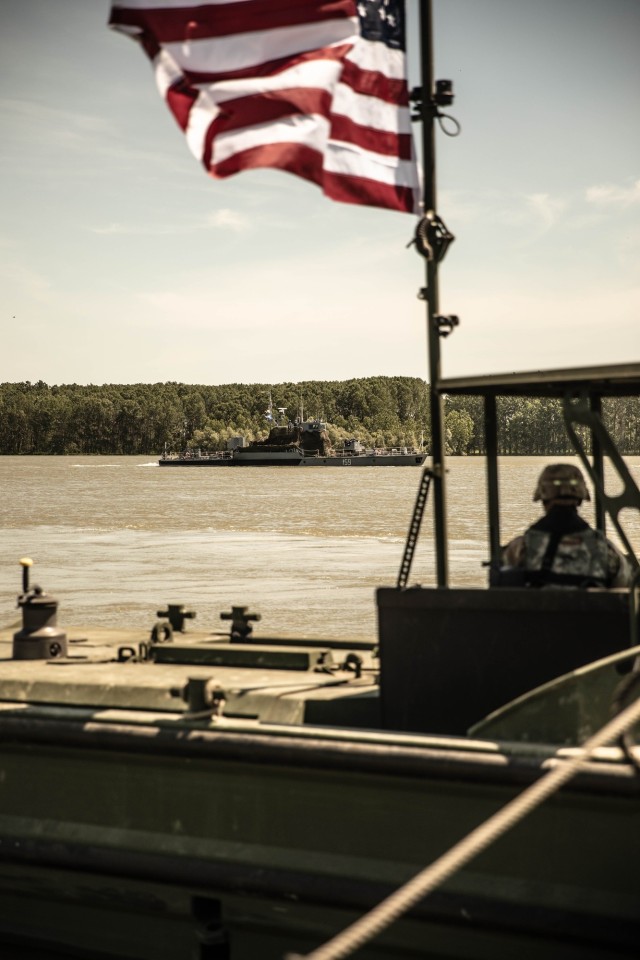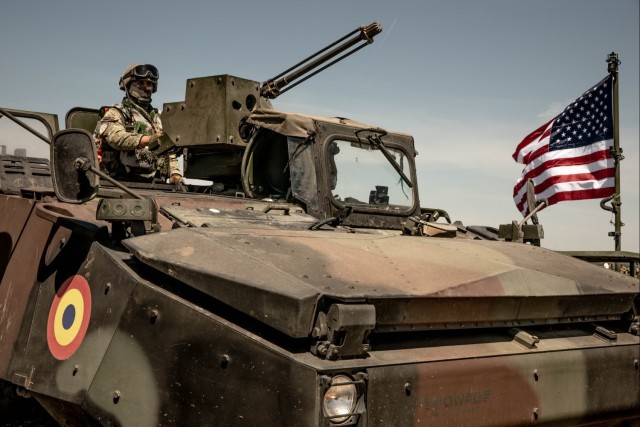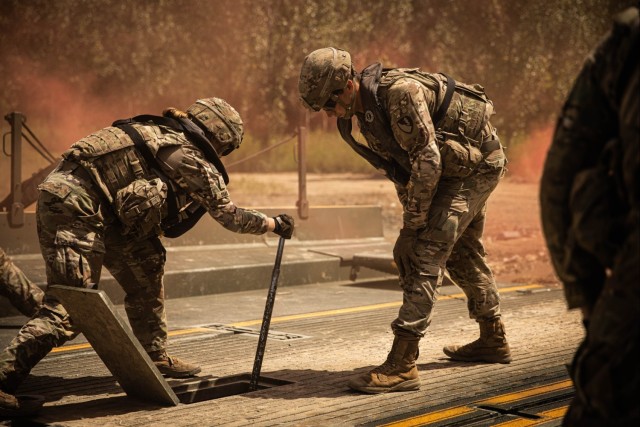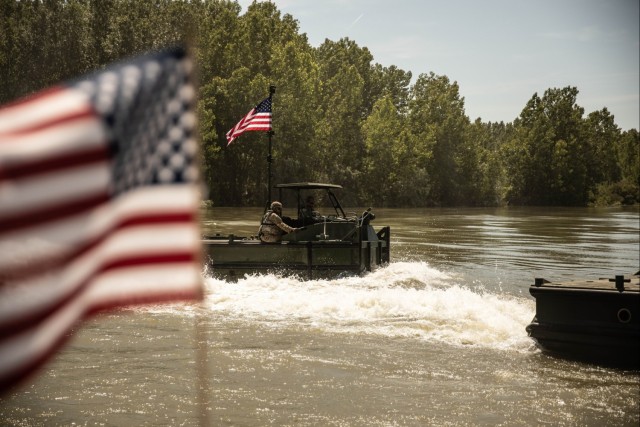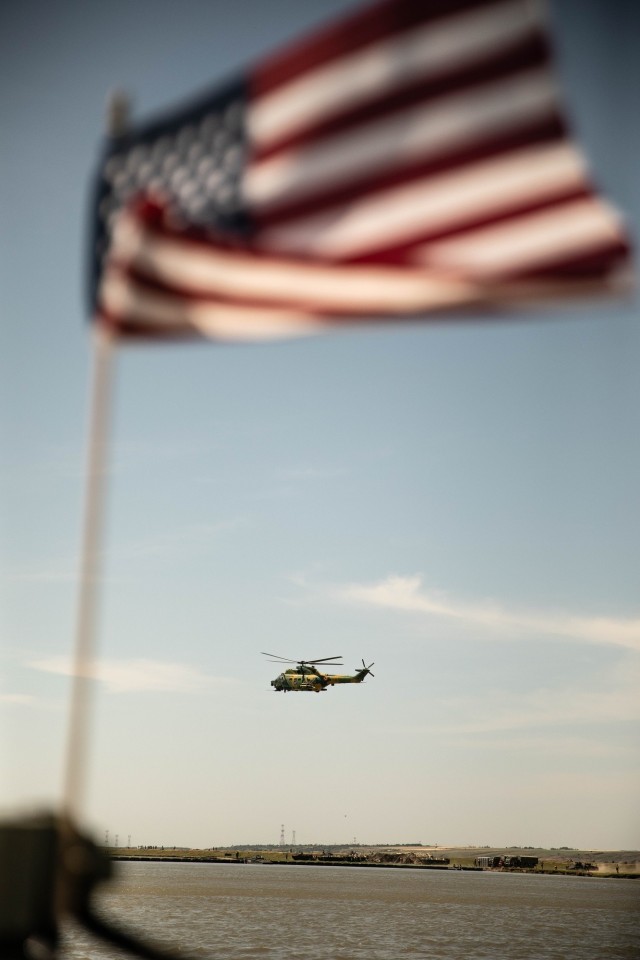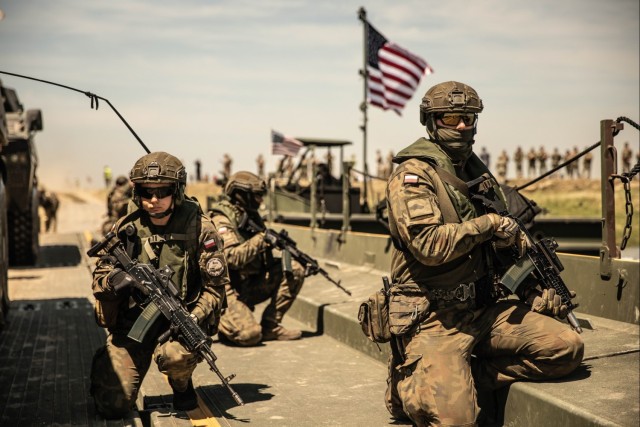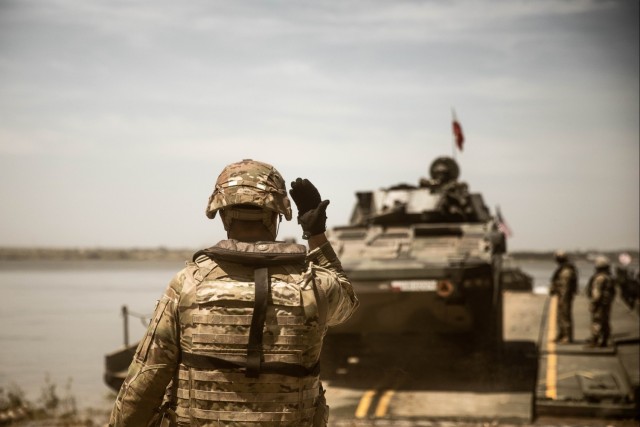 MIHAIL KOGALNICEANU AIR BASE, Romania—Units from across NATO gathered near Bordusani to overcome the exercise's greatest obstacle, a wet gap crossing, June 6, 2023.
Multinational engineering, logistical, aviation, maneuver and many more military assets worked together to cross the Danube River, demonstrating the ability to bring the fight to any adversary when separated by a deep and wide body of water.
Just one week since the opening ceremony of exercise Saber Guardian 23, NATO Allies and partners found themselves at the bank of the Danube River with only a few ways to cross it. During this portion of the exercise, the multi-role bridge units of the Romanian Land Forces, U.S. and Royal Netherlands armies were able to support carrying all equipment across the river.
"It's the culminating event and it's a really high honor to be here and be kind of the main effort for some of the show pieces here and then get a chance to be out on the water where you have a chance to show what America can do with two rafts out here; they did turn and burns all day," said U.S. Army Capt. Spencer Black, commander, 50th Multi-role Bridge Company, 5th Engineer Battalion. "They carry some of the higher military load classes of equipment so some of the larger assault crafts and larger assault tanks could go through, that's quite the honor."
The exercise started with the simulated multinational artillery and aviation suppression of enemy forces across the Danube River. Afterwards, Romanian Piranha V Infantry Fighting Vehicles and a Romanian Naval Forces VD-159 Patrol Boat suppressed the far side of the river with heavy machine gun fire to allow smaller Romanian boats and helicopters, as well as American helicopters, to rush Romanian Land Forces to the opposite bank of the Danube River.
Once there, the Romanian Land Forces obscured the crossing site with purple, red and orange smoke, signaling the pre-staged U.S. and Royal Netherlands armies to begin ferrying the first wave of Romanian Armored Personnel Carriers across the river, as American and Romanian attack helicopters suppressed the far side with machine gun fire.
Next, more Romanian armored personnel carriers rushed across the 700-meter-long floating ribbon bridge as the American and Dutch rafts returned to their starting position to load Polish and Romanian Infantry Fighting Vehicles. At that time, tactical vehicles from Italy, Macedonia and Portugal began following the Romanians across the ribbon bridge in a slow and steady line. As the bridging units returned to ferry the last few rotations of American and Polish Infantry Fighting Vehicles, French motorcycles along with French armored vehicles and the last of the American Infantry Fighting Vehicles crossed the floating ribbon bridge to conclude the wet gap crossing near Bordusani.
"When an obstacle like this comes to mind, a lot of things we think about are the current, velocity, the gap distance, because we have to measure what kind of equipment we're going to need to put in there; So just the scope and scale of the obstacle itself so we know what challenges we're up against so we can plan better to defeat those challenges," said Black. "Working tactically and operationally with so many countries was really cool, I got a chance to see some of the tactics, techniques and procedures, for the Dutch especially, and the Bulgarians as well. Those were opportunities that I'll never forget. It was nice to see how they operated and what their equipment could do."
Other countries in the exercise included Moldova and Bulgaria as another simultaneous wet gap crossing happened just 100 kilometers north near the town of Frecatei.
June 6, 2023, signified the most important day of Saber Guardian 23. Other smaller exercises on this day, in Romania, included a hospital exercise, that demonstrated NATO force's ability to evacuate casualties from the frontlines; and the combined live fire exercise that allowed American, Italian, and Romanian multiple launched rocket systems to synchronize their fire missions along the Black Sea's coast.
Saber Guardian 23, a component of DEFENDER 23, is an exercise co-led by Romanian Land Forces and the U.S. Army at various locations in Romania to improve the integration of multinational combat forces by engaging in different events such as vehicle road marches, medical training exercises, and river crossings.
DEFENDER 23 is a U.S. Army Europe and Africa led exercise focused on the strategic deployment of continental United States-based forces, employment of Army Prepositioned Stocks, and interoperability with Allies and partners. Taking place from 22 April to 23 June, DEFENDER 23 demonstrates USAREUR-AF's ability to aggregate U.S.-based combat power quickly in Eastern Europe, increase lethality of the NATO Alliance through long-distance fires, build unit readiness in a complex joint, multi-national environment, and leverage host nation capabilities to increase USAREUR-AF's operational reach.
DEFENDER 23 includes more than 7,000 U.S. and 17,000 multinational service members from more than 20 nations who will participate including, but not limited to: Estonia, France, Germany, Greece, Italy, Latvia, Poland, Portugal, Romania, Spain, United Kingdom and the United States.