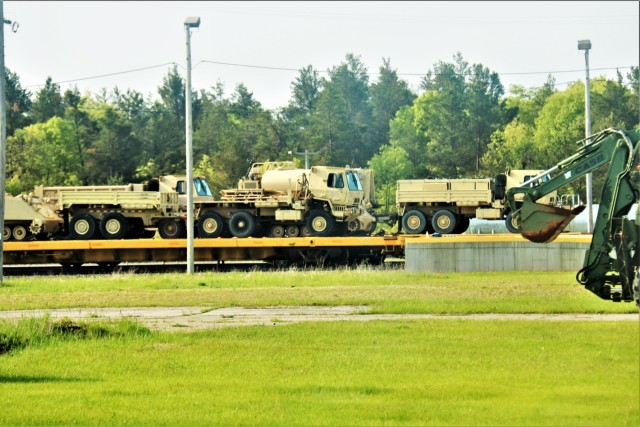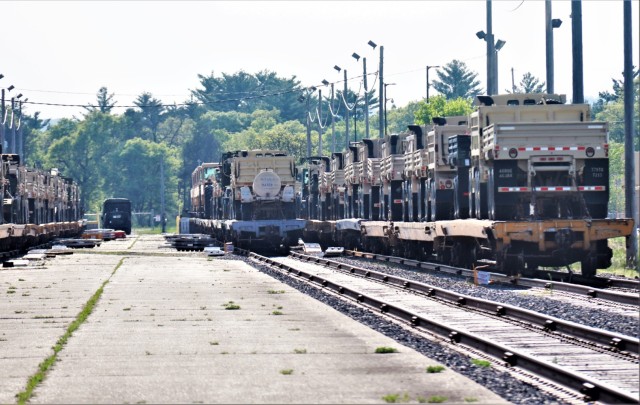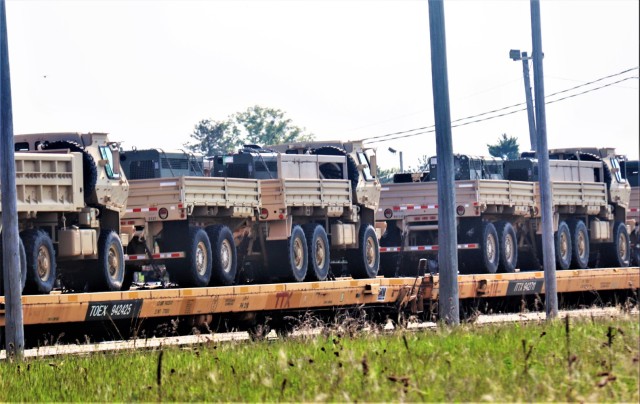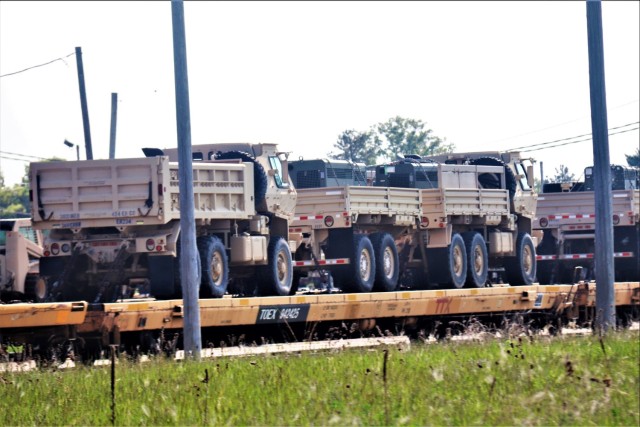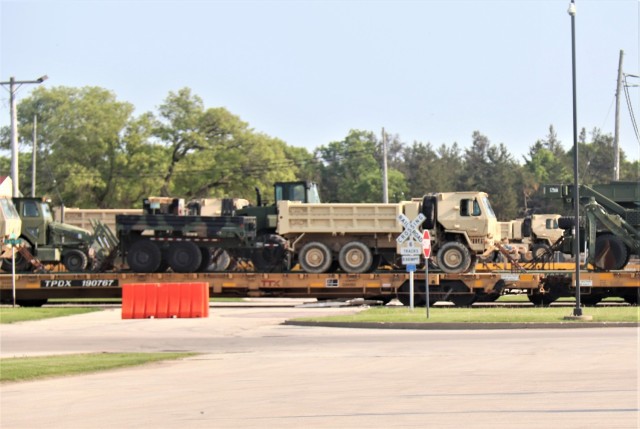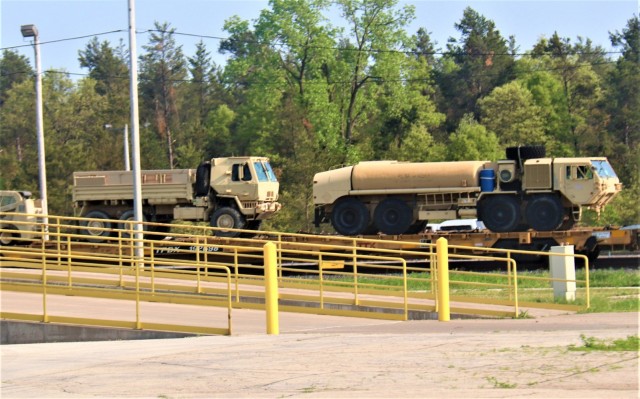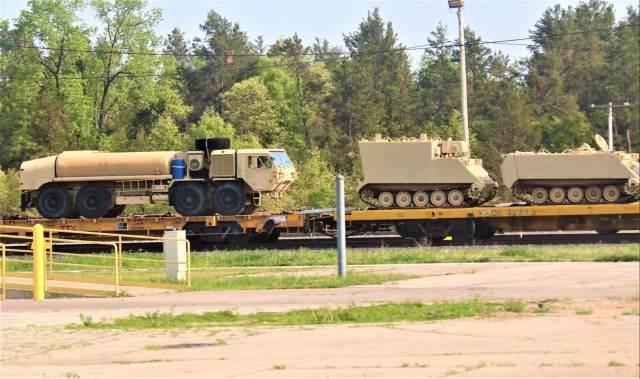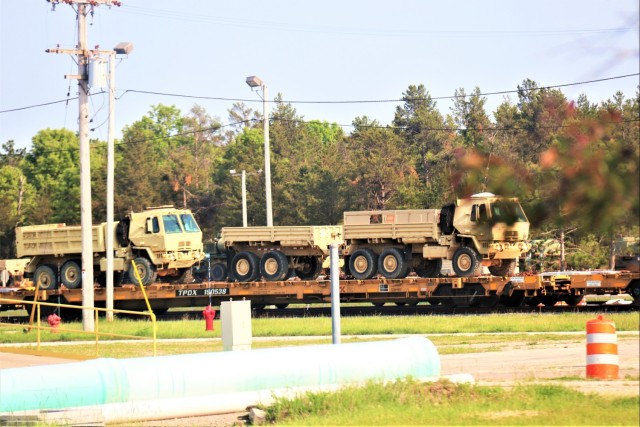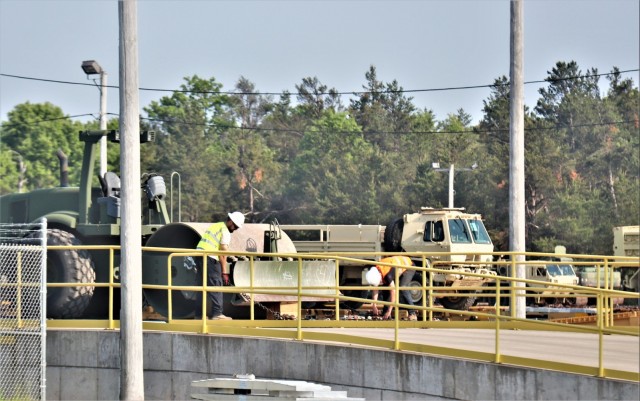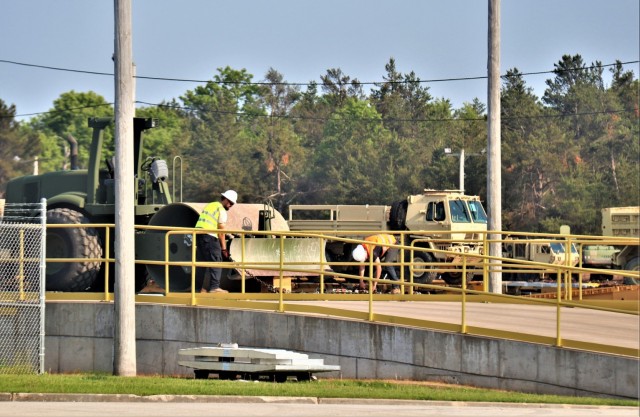 The Fort McCoy rail operations team with the Fort McCoy Logistics Readiness Center along with contractors supporting Union Pacific conducted significant rail movement operations for the Army Reserve on May 23 at Fort McCoy.
This was part of the first rail movement at the installation in 2023 that saw the movement of 569 pieces of equipment and military vehicles over several days — maximizing Fort McCoy's rail operations capability, said Installation Transportation Officer Terry Altman with the Fort McCoy Logistics Readiness Center.
Fort McCoy's rail operations support team is staffed by people operating locomotives to move railcars in place for loading, people working with units and unit Soldiers to get training on how to load railcars, people to assist with moving cargo, and more.
Fort McCoy is one of few installations Armywide that operates and supports Army-owned locomotives and conducts rail operations in the level like it does, Altman said.
This Army Reserve field level rail movement completed operations on May 30, Altman said.
In 2022, Fort McCoy supported three major rail movements. During those three movements, the Fort McCoy rail operations support team helped load and move 315 pieces of equipment on 116 railcars that was approximately the equivalent of 4,311 short tons of cargo,
Altman said.
And much of Fort McCoy's rail operations success might also be contributed to upgrades to the rail infrastructure in recent years.
In 2016, for example, eight on-post rail crossings were removed and replaced with new precast concrete panels and 136-pound rails, Fort McCoy Directorate of Public Works (DPW) officials said in previous articles.
DPW General Engineer John Adams said then that the use of industry-standard 136-pound rails improves the installation's rail capability. The weight designation refers to the weight of each 3-foot section, or 1 yard, of rail.
In 2018 and 2019, experts with the McAlester Army Ammunition Plant (MCAAP) of McAlester, Okla., led the effort to replace thousands of ties, thousands of feet of track, and other related work at Fort McCoy, DPW officials also said.
Overall, in the upgrades of ties and track, more than 8 miles were covered on post.
From the earliest days of Fort McCoy's 110-plus-year history, railways have played an important role in the post's mission. Whether it was transporting troops in for training during World War II or a present-day rail movement, rail continues to be a primary mode of transportation at the installation.
Fort McCoy's motto is to be the "Total Force Training Center." Located in the heart of the upper Midwest, Fort McCoy is the only U.S. Army installation in Wisconsin.
The installation has provided support and facilities for the field and classroom training of more than 100,000 military personnel from all services nearly every year since 1984.
Learn more about Fort McCoy online at https://home.army.mil/mccoy, on the Defense Visual Information Distribution System at https://www.dvidshub.net/fmpao, on Facebook by searching "ftmccoy," and on Twitter by searching "usagmccoy."
Also try downloading the Digital Garrison app to your smartphone and set "Fort McCoy" or another installation as your preferred base.