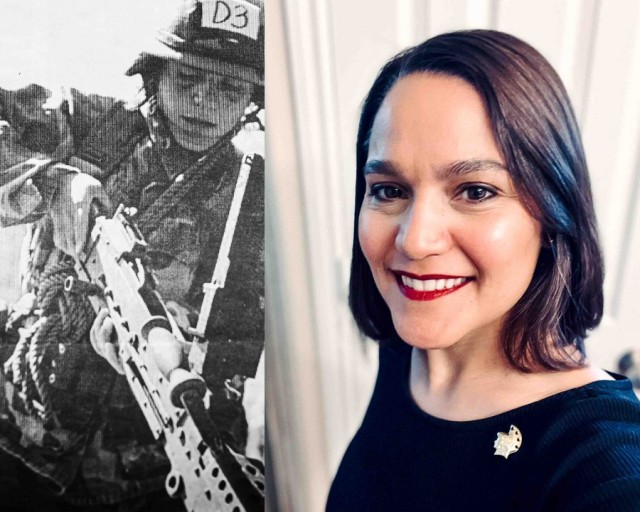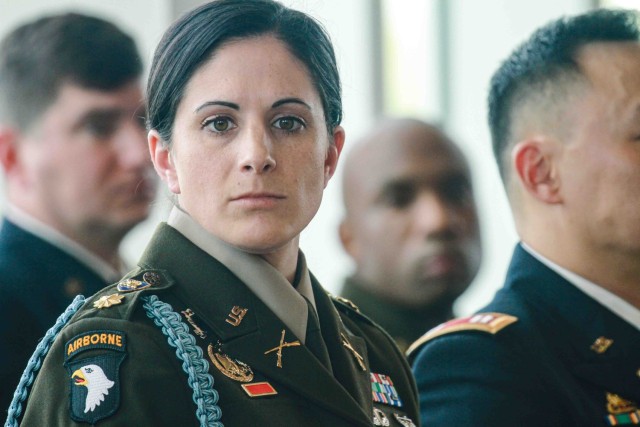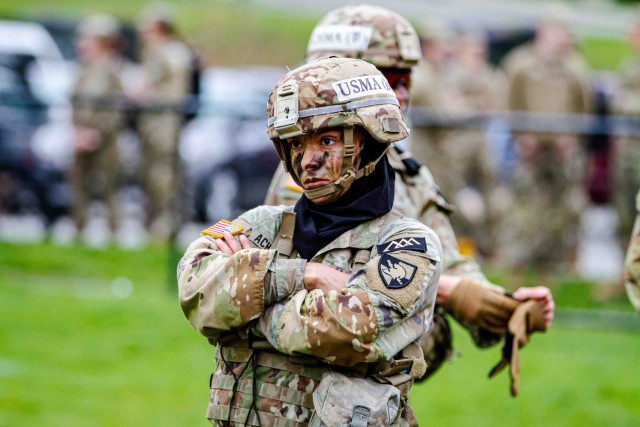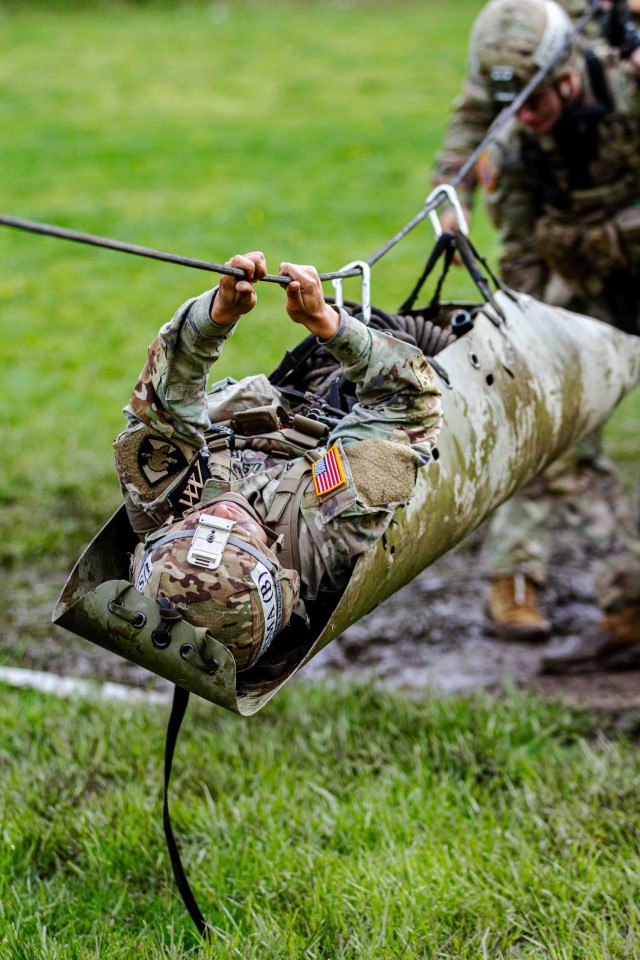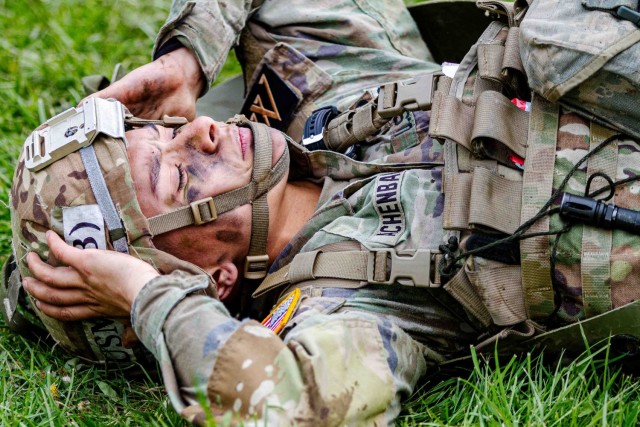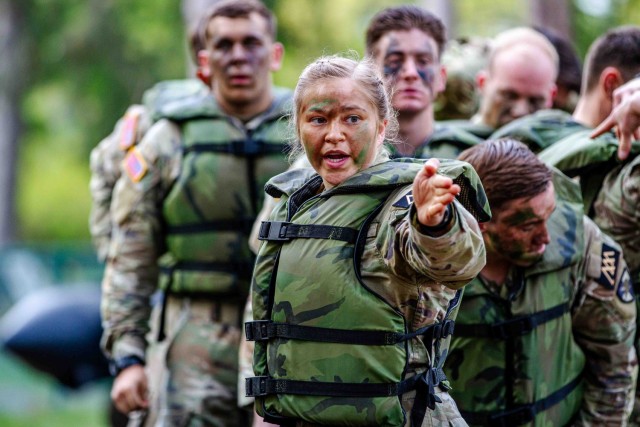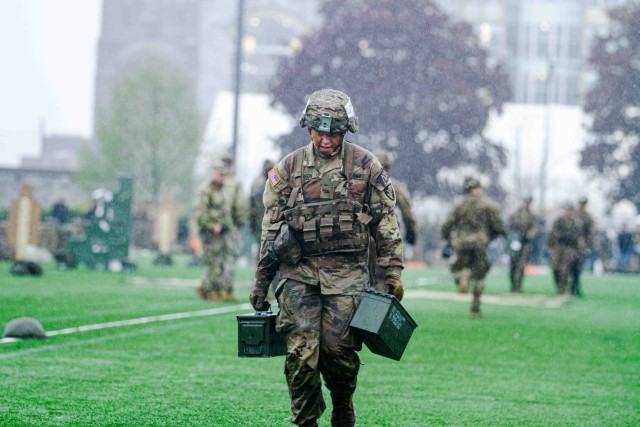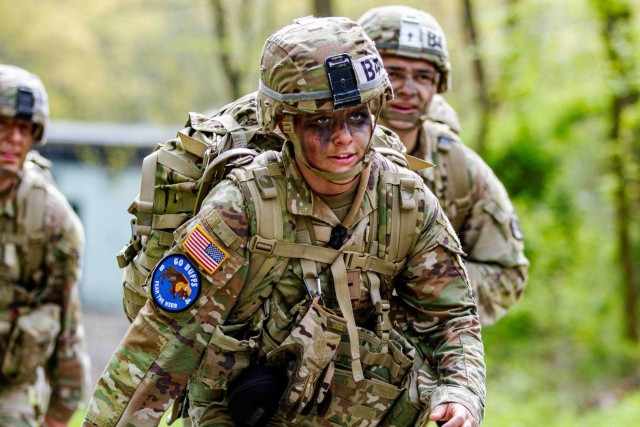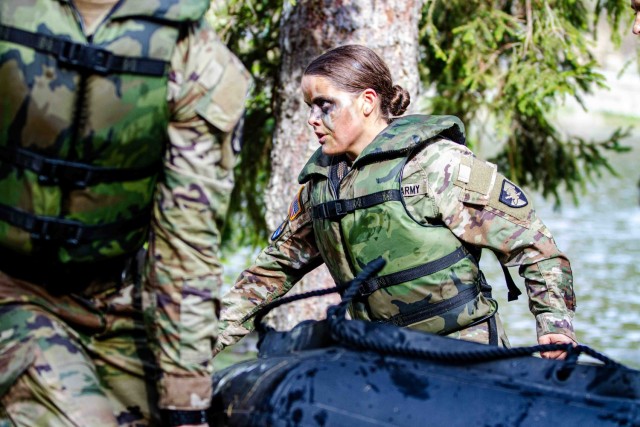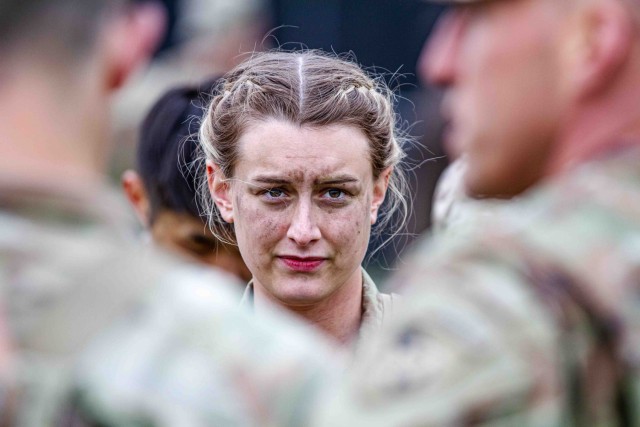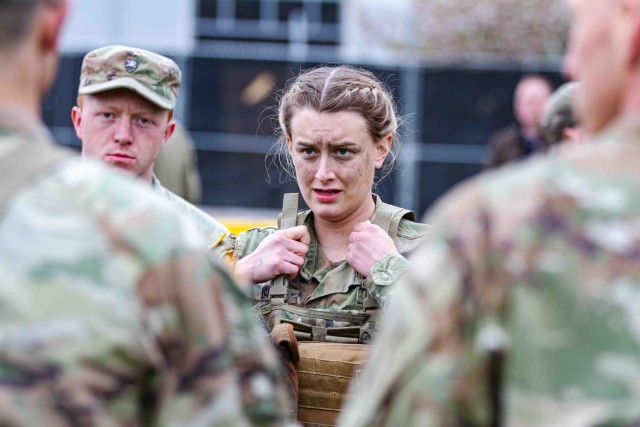 It was during Tamara Kisinger-Yolo 's plebe year, in 1998, when she first decided to compete in the Sandhurst Military Skills Competition. The structure of the event was different then, lasting only a day.
While balancing her academic responsibilities and preparation for the competition, she would come across a male cadet that would voice his opinions about females in the military.
"He would always say that women shouldn't be serving in the military," Kisinger-Yolo  said. "I remember my father telling me not to allow the opinions of that cadet to get in the way of graduating from West Point."
However, Kisinger-Yolo 's commitment to achieving her goal involved battling archaic cliché's of what military representation should be like that originated over 200 years ago.
Since the Army's establishment in 1775, almost every military strategy and every manufactured firearm was developed with the thought of a physically fit male Soldier in mind.
In the past, many of the military skills learned in the Army were measured by a man's intelligence, strength and dexterity, despite the fact that women are no less capable of lugging a rucksack, mastering marksmanship or leading Soldiers.
Consequently, over the years, the Army has steadily taken strides to pass regulations allowing women to serve in equal standing to men. However, those improved regulations came with detractors who held on tightly to radically-antiquated views on women and their role in serving the nation.
Nevertheless, women have overcome the odds. Women have been battled tested. Women like USMA 2005 graduate Emily Perez made the ultimate sacrifice in Iraq when an improvised explosive device decimated the Humvee she rode in.
Women like Maj. Kristen Griest, a tactical officer at West Point, broke new ground, becoming one of the first two women to graduate from Ranger School and serve as the first female Infantry officer.
The sacrifices and innovative strides stemmed from women who went above and beyond to prove that trivial notions of gender-based limitations cannot measure the desire to serve effectively and lead honorably.
The tried and tested way of accomplishing that was by mastering military skills.
The desire to improve military skills was the motivation that pushed Kisinger-Yolo to commission as a second lieutenant.
While competing in Sandhurst as a freshman in 1998, teams were scored on radio communications, marksmanship and map reading, among other challenges.
That year, Sandhurst lasted a day. The course was approximately eight kilometers long, where 42 teams tested their abilities along nine sites.
One of Kisinger-Yolo 's tasks throughout the course involved disassembling and reassembling an M249 and M60 machine guns.
"One person disassembled the M249 while the other disassembled the M60," Kisinger-Yolo said. "Then they switched to reassemble them. Both times with eyes closed. The only time we were allowed to open them is when we were cleaning the weapon."
Despite Britain's Royal Military Academy blue team claiming victory that year, Kisinger-Yolo garnered knowledge that served her during her tenure as an Army officer deployed in Iraq in 2003 with the Headquarters and Headquarters Detachment's 485th Corps Support Battalion and later in South Korea, as a captain and member in the Joint Security Area of the United Nations Command's Military Armistice Commission.
"One of my jobs (in South Korea) was to escort various visitors ranging from ambassadors to four-star generals. "Kisinger-Yolo said. "I was also tasked with maintaining the Armistice Agreement. I would relay messages to North Korean soldiers to maintain peace in the peninsula. For example, whenever a training operation took place involving explosives or gunfire, I would let them know it was related to training."
With her office 20 meters away from the Military Demarcation Line (MDL), Kisinger-Yolo  also used a bullhorn whenever North Korean soldiers did not respond to her messages.
"... My translator and I would go to the MDL and shout across that we have a message to pass," Kisinger-Yolo explained. "We passed messages to arrange meetings to plan repatriations of displaced or deceased Korean People's Army soldiers or to discuss armistice violations."
Kisinger-Yolo was the first active-duty female to serve at the JSA and after five years in the Army, she was honorably discharged and now works as a Finance Analyst.
However, women have taken the torch that Kisinger-Yolo passed and continued to trailblaze their way through the Army, with some like Griest forever changing how the Army views women in combat.
Griest took considerable measures to become the first-ever female Infantry officer. During her cadet tenure at West Point, she made it her mission to max the men's scale on the Army Physical Fitness Test.
"When I was a cadet at West Point, a (regimental tactical officer) had this infantry mentorship club and he held us all to the same standard for the men and women that wanted to join," Griest said. "That made a huge difference for me because I realized I could push myself harder when other people expected it of me."
Griest added that women should hold themselves to the same standard as men regardless of what tasks they are given and stated, "most of their Soldiers are going to be 18- to 21-year-old men and if they want to be seen as a leader, then that's the standard they should be aiming for."
Griest also competed in Sandhurst during her freshman and senior year, refining her military skills and turning her weakness into her strength.
During the runs, she was the slowest in a team of mostly junior and senior men.
She added that they would put her up front and tell her, "hey, we're really only as fast as you, we got to stick together as a team, so you're setting the pace."
Griest did not want to hold the team back. However, the training to boost her abilities came with a struggle. At one point, Griest thought she would never improve and was not built to perform complex military maneuvers.
Rather than quit, she worked on her speed and stamina, sharpening her abilities to the point where she led cardio days during training.
"... My senior year, it all came full circle where I was still up front, but it was because I was actually the fastest at this point," Greist said. "My team leader turned to me, and he was like 'alright Kris, I'll put you in charge of cardio days because you're really good at it. That was a real eye-opening thing for me. This was my weakness, and now it's my strength because I put effort into it."
Now, as a tactical officer at West Point, Griest mentors cadets who aspire to follow in her footsteps.
"In 2015, when I saw a picture of (Griest in Ranger School), that's when I realized I wanted to come to West Point and be in the military," said Class of 2023 Cadet Savannah Achenbach. "I wanted to go to Ranger School and be in the infantry, which is what I'm branching, and she's inspired me to do all this.
"The way she did it is how I see myself carrying the torch for the next person to grab," she added. "She passed the torch to me at West Point, teaching me all that she knows. So I'm going to carry that torch and give it to the next person like my teammate (Class of 2025 Cadet) Kaitlyn Johnson who is my best friend."
Both Johnson and Achenbach competed in this year's Sandhurst competition as members of team black, helping lead the team to a well-earned victory.
"The guys on the team are super encouraging and they know that Savannah and I have our strengths that we bring to the team that none of them could bring. They know that they wouldn't be able to finish that competition without us," Johnson said. "Being able to go out there and reach my full potential and have the guys tell me things like, 'I know what your potential is. I just need you to get there today,' is very uplifting and it brings me a lot of pride and happiness to be able to articulate and prove that women are capable of doing the difficult things that men do."
However, before Achenbach attained victory with her team, she shared a similar experience to Griest in being the slowest member of her team during her freshman year, and even though her teammates were supportive, they still had to hit her with a reality check that allowed her to see where her weaknesses lied.
"Coming on the team, they told me I was going to be the least competent and least physically capable on the team," Achenbach said. "That was just the reality of it, and I had to accept that, and I had to start from the bottom, and I worked my way up to the top.
"I have devoted so much time and effort to this that really no one questions my commitment. I've also proved myself in other ways. Maybe Sandhurst isn't something that I can beat the guys at physically, but I'm very skilled in other military categories," she added. "Also, women's bodies are tailored for endurance sports. I've done ultra marathons, half marathons, I did a 50-miler in November and I beat my male teammates by like 30-45 minutes."
Representing Company B-4 during Sandhurst, Class of 2025 Cadet Adelaide Crow shared the same sentiments as Achenbach.
"In the fall competition, me and other girls were doing just fine on the ruck march, and some of the guys were struggling, falling back. Sometimes you got to realize that you're creating the mental block. Your body's capable of so much more than you think it is," Crow said. "At the same time, we're a team. We all have to do the same things in order to make it to each lane. So if there is a point where I start struggling, the guys will help push me and I'll do the same for them."
Class of 2023 Cadet Marley Wait said more women should attend Ranger and Sapper School and compete in military skills competitions to create a stronger foundation of women supporting each other through arduous trials.
"Sometimes men just don't understand exactly how your body works. Say you're trying to do an obstacle and you're the only woman there and you're struggling to get through the obstacle," Wait explained. "Sometimes a man could explain it to you a million different ways, but since his body's built differently, he doesn't know exactly how you should do it."
Wait added that one of the main reasons she competed in Sandhurst this year was to hone her military skills in preparation for what awaits her when she commissions as a second lieutenant. With the knowledge she acquired at West Point, she can mentor a female Soldier experiencing difficulties overcoming an obstacle.
"I think that's also one of the main reasons women should become more involved in things like Sandhurst and other aspects of elite military training because we know each other, we can support each other in ways that men, forasmuch as they want to, can't," Wait concluded. "And so, it's been really helpful being able to talk to other women that trained up for Sandhurst or are just in the Army doing elite things. They can give you advice and an idea of what to expect in the future as a women."