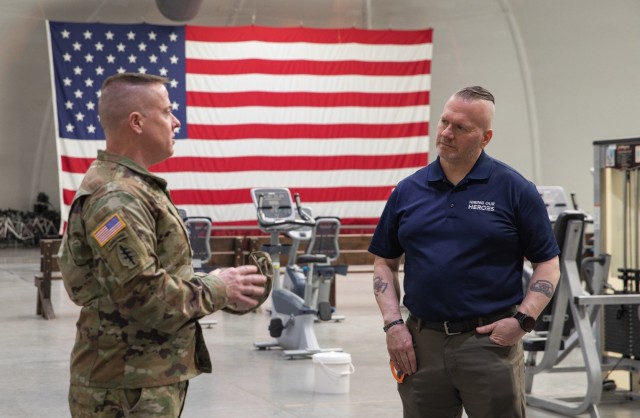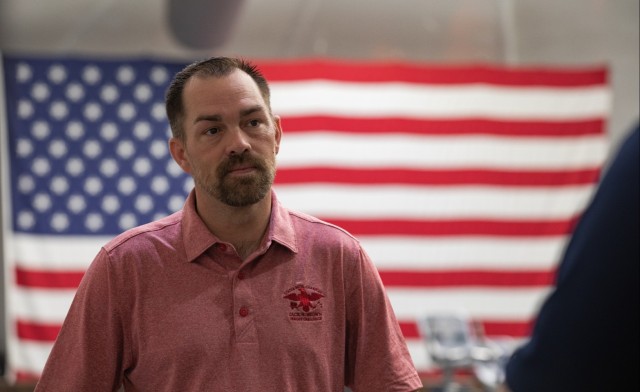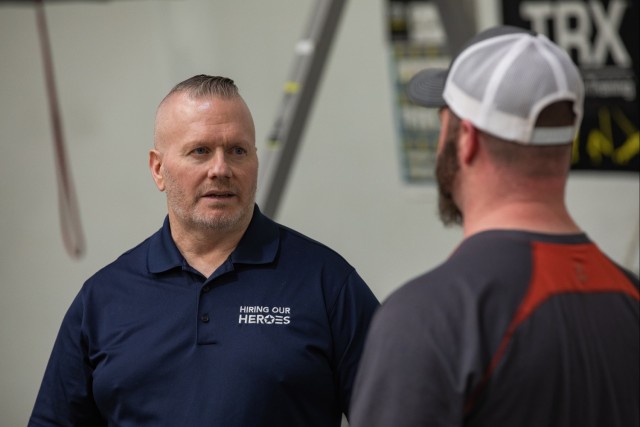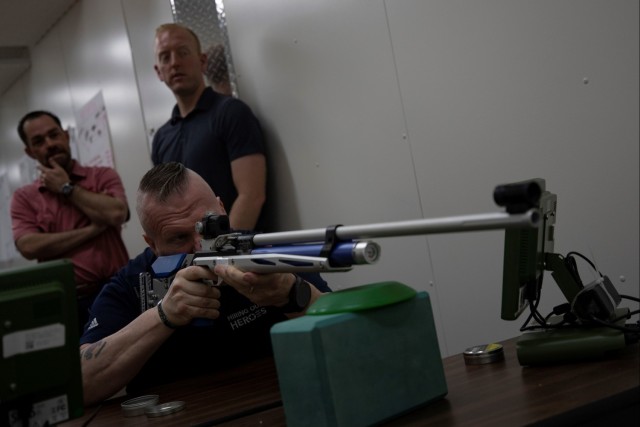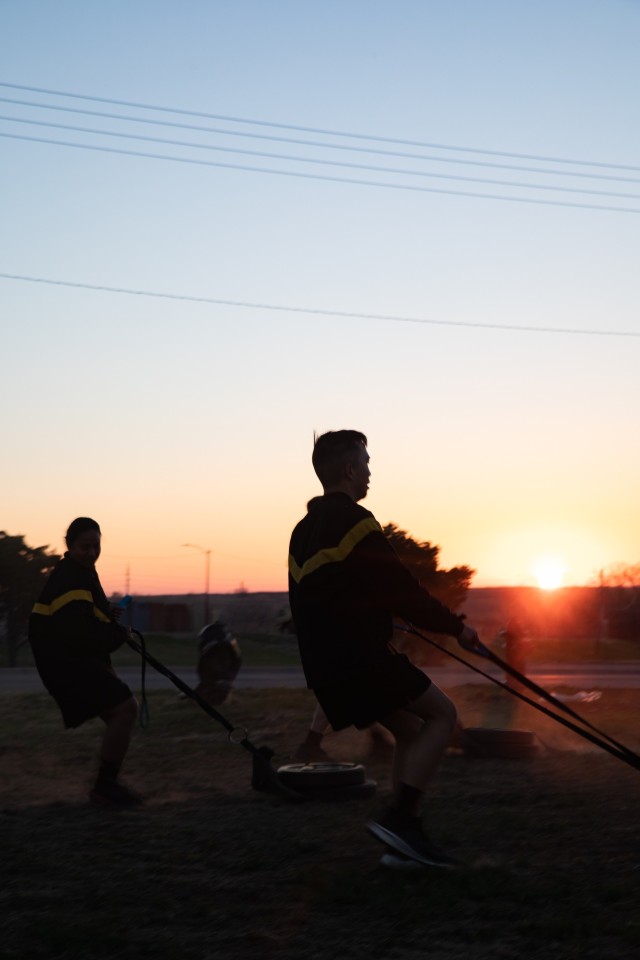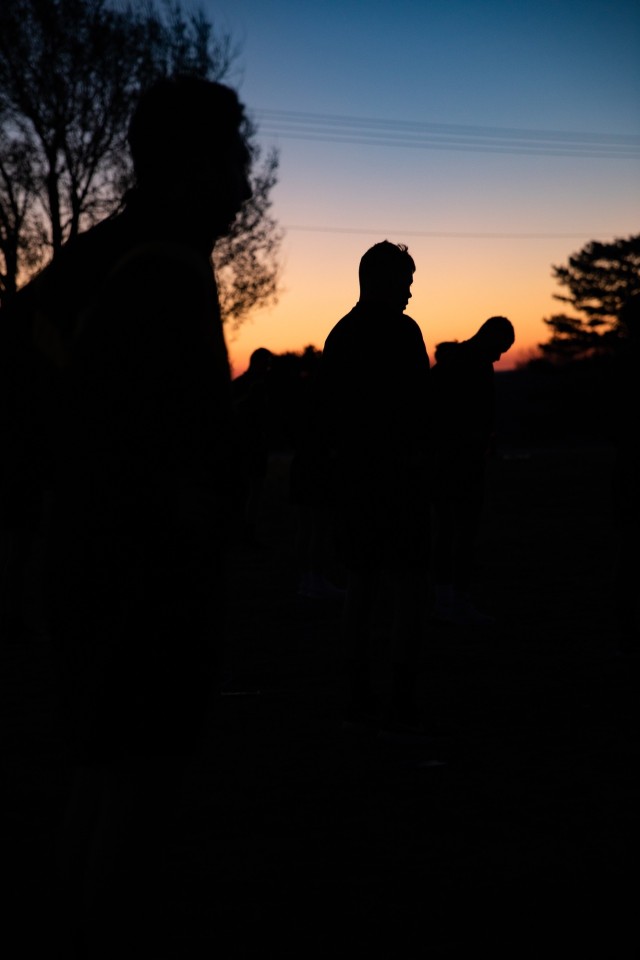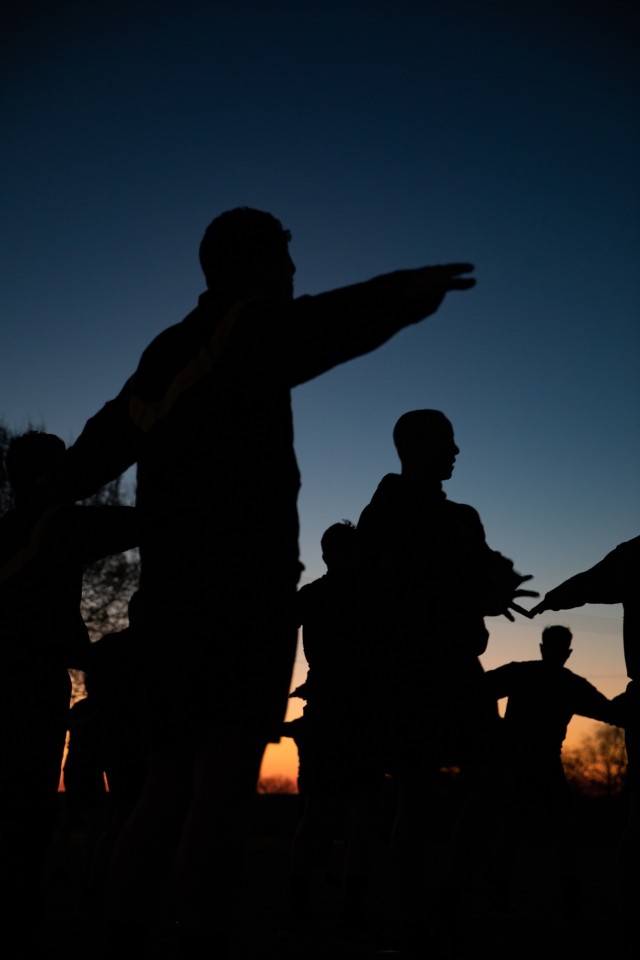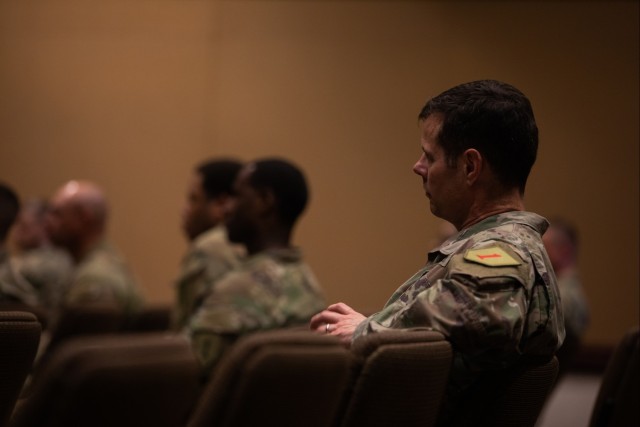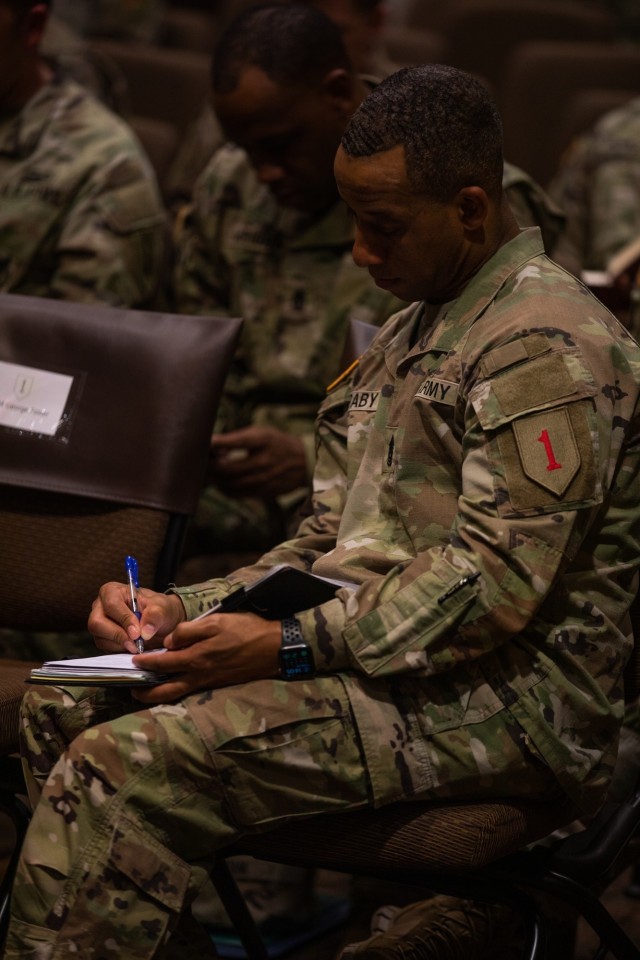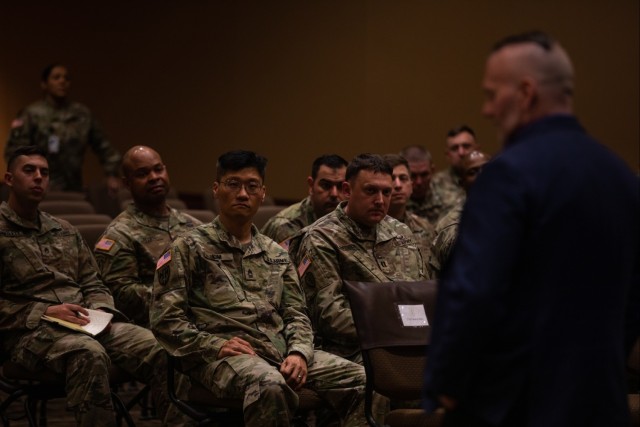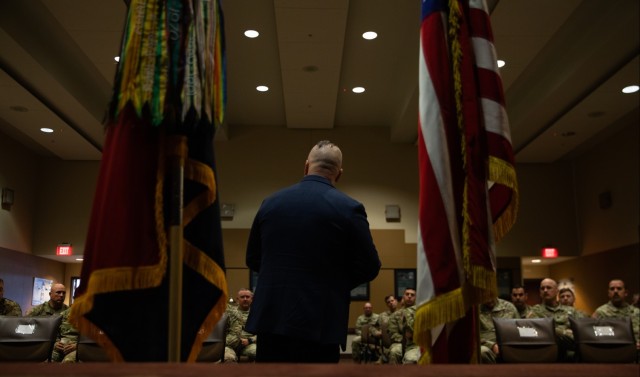 FORT RILEY, Kansas – The 3rd Senior Enlisted Advisor to the Chiefs of Staff, retired Sgt. Maj. John W. Troxell and retired Staff Sgt. Clinton Romesha, a recipient of the Medal of Honor, traveled to Fort Riley, Kansas, to meet with active duty Soldiers of the 1st Infantry Division, on April 12 and 13, 2023.
The pair engaged with Soldiers primarily to discuss leadership, what it means to be an enlisted member of the U.S. Army and what makes the noncommissioned officer corps such an essential part of the Armed Forces.
"We are the first military that really embraced the noncommissioned officer," said Romesha, who earned the Medal of Honor while serving as a cavalry scout with 3rd Squadron, 61st Cavalry Regiment, 4th Brigade Combat Team, 4th Infantry Division, for his actions during the Battle of Kamdesh. "Because of that, you don't have guys sitting around waiting for an officer to give you orders."
Together, Troxell and Romesha have a combined fifty years of service in the U.S. Army. For both veterans, their proudest moments were accrued while watching their Soldiers show initiative in the absence of orders and rise to an occasion.
Back when Troxell was a brigade sergeant major, Cmd. Sgt. Maj. Christian Panquerne, command sergeant major of the 1st Engineer Battalion, 1st Armored Brigade Combat Team, 1st Inf. Div., was one of his team leaders. Under Troxell, Panquerne became an NCO of the Year and, for the next twenty years, would forever have a pair of eyes watching him progress through the ranks of the NCO Corps.
"I take more pride in knowing that I had an impact on that guy's life than I did with any personal accolades I have," said Troxell. "Knowing that [Panquerne] is going to be a leader in our force moving forward I know that Soldiers under him are going to be well taken care of."
Ultimately, it doesn't matter what the commander is looking to accomplish, acknowledged Romesha, if strong leaders are absent and directions aren't being followed nothing is going to get done.
The Corps of noncommissioned officers is first and foremost in charge of the development of capable Soldiers. Creating strong Soldiers comes from enabling strong leaders; individuals who lead from the front and put in the leg work to understand their role backward and forwards.
"Know the small little things because those small little things can add up to big things," said Romesha. "If you're too big to do the little things, you'll always be too little to do the big things."
As part of their two day trip to Fort Riley, Romesha visited Bravo Company, 1st Combined Arms Battalion, 63rd Armor Regiment, 2nd Armored Brigade Combat Team, 1st Inf. Div., where he served previously as a tank gunner, while Troxell met with platoon-level leaders.
At Barlow theatre, Troxell stood before a room of noncommissioned officers in the 1st Inf. Div., as he pulled from a dense lexicon built upon 37 years of military experience. Words such as resolve, prepare, capability, transition, adversity, enthusiasm and performance reverberated against the walls as the group listened to the retired veteran.
"Our noncommissioned officer corps and our petty officer corps in the Navy and Coast Guard is our greatest competitive advantage in any conflict," said Troxell. "What we do to train and the trust we develop in our noncommissioned officers leads to empowerment. That empowerment leads to success on the battlefield."
The pair reconvened at the Soldier Recovery Unit at Irwin Army Community Hospital. There they met with physical therapist assistants like Cody Ioeger, of the adaptive reconditioning program, a program designed to keep recovering Soldiers actively engaged in physical activities.
Troxell and Romesha took part in a career fair designed to aid Soldiers with their transition into civilian life. The event was attended by over 75 companies all looking to discuss future career opportunities available to military members.
The following day, Troxell conducted physical training alongside Soldiers of the 541st Division Sustainment Support Battalion, 1st Inf. Div.
Sustainment Brigade, 1st Inf. Div., where he continued to stress the importance of the NCO corps. According to Troxell, your resolve to instill within Soldiers the drive to do what's right must outweigh their desire to do what's easy or comfortable. Leading by example is as much about a person's presence as it is about their performance and persistence.
"The only difference between me and the troops I visited was where our story took us, but at the end of the day we all did the exact same thing, we signed on that dotted line not knowing what the future would hold," said Romesha. "You could pluck me out and put anyone in uniform in that same spot and they would rise to the occasion."
Later that afternoon, Troxell would host a leadership professional development session where he continued to engage with officers and NCOs alike. Much like his emphasis on leadership within the ranks of military service, Troxell focused on the importance of molding oneself in such a way that prepares Soldiers for life outside of the 1st Inf. Div. uniform.
"Do not rest on your laurels," said Troxell. "I hope the message Soldiers got is that we can't forget what combat is all about and what is necessary every day to make sure you're ready for the worst day of your life; in terms of your physical fitness, your technical and tactical proficiency, your mental and emotional wellness, as well as all the things that are necessary to build cohesive organizations that leverages diversity in order to build on battlefield proficiency."
Though Troxell and Romesha's time in uniform has ended the desire to serve still lingers.
In the early hours of a combat veteran's retirement years, a mix of kinetic memories often brings up questions. Answers to those questions only arrive after a long military career when the right to satisfaction comes only after years of caring for the well-being of others.
Eventually, the chapters in our lives will close and force us on to other things. Over time, those who didn't become lost in the museum of their own legacy can look back on their years in service and enjoy the twilight of their retirement knowing that a successive legacy continues to pass through time.