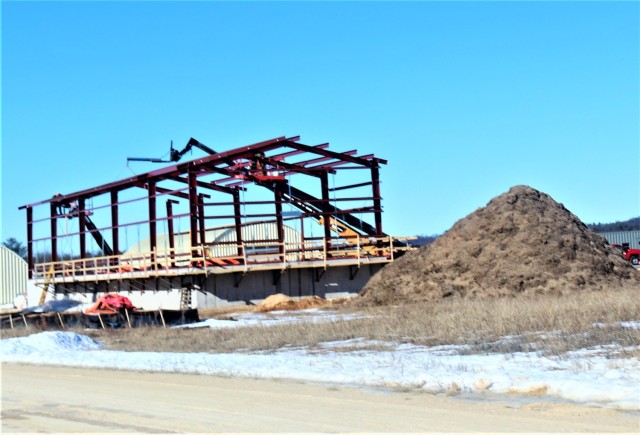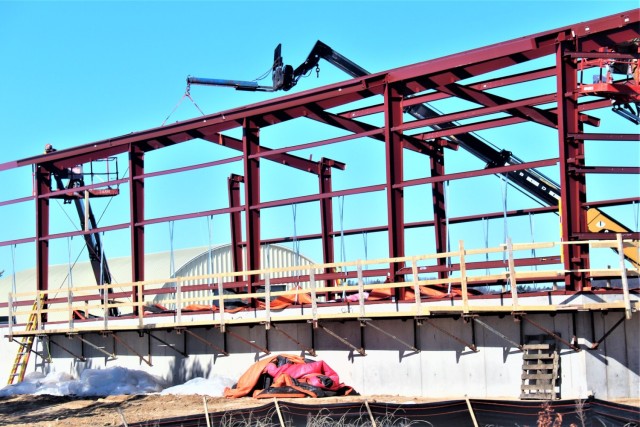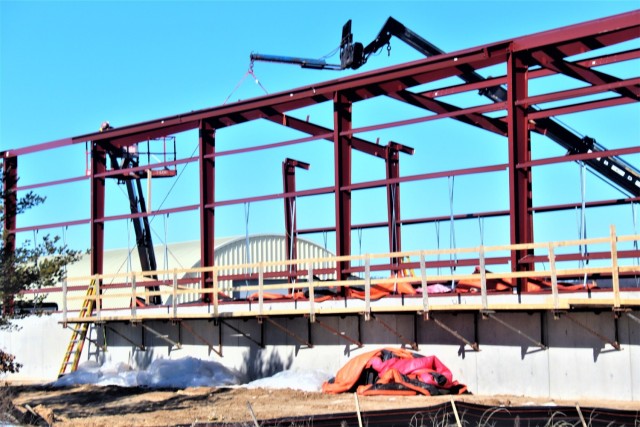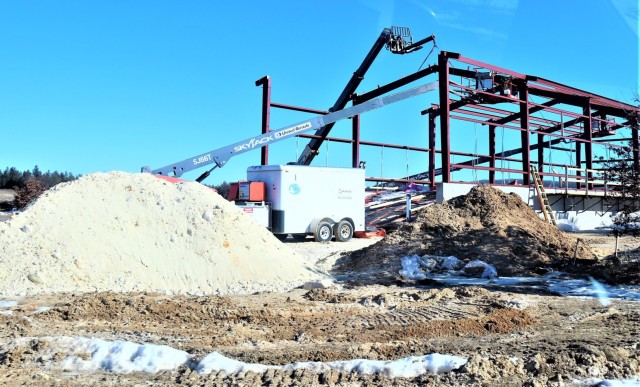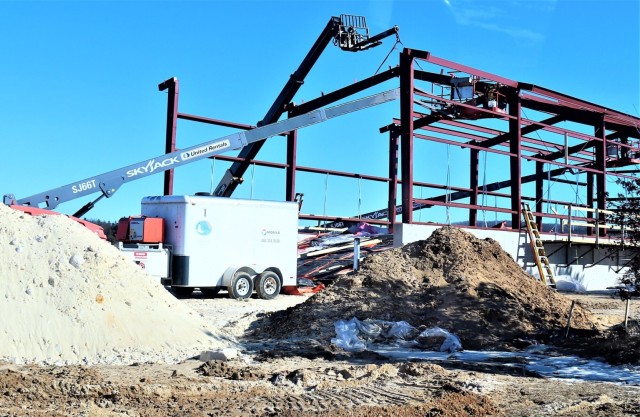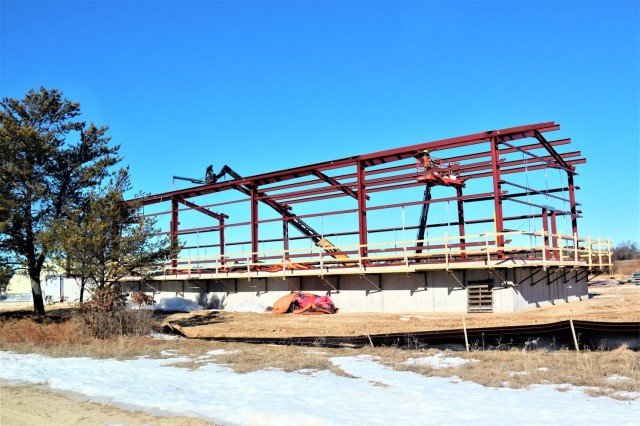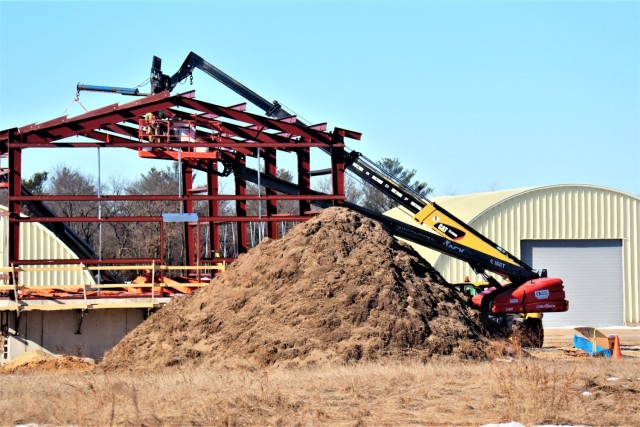 Construction operations are well underway to build a C-17 load trainer facility at Fort McCoy's Young Air Assault Strip on South Post, said General Engineer Gareth Ferguson with the Fort McCoy Directorate of Public Works.
Contractor Veteran Range Solutions received a contract for $1,497,609 to build the facility at the air assault strip, Ferguson said.
According to the contract's statement of work, it states to "construct a C-17 load trainer, complete with ramp and simulated cargo area with tie downs, and house it within a 3,500 square-foot pre-manufactured metal building.
"Construction is expected to be complete by April," Ferguson said.
As of Feb. 10, a large amount of the framework of the facility had already been completed and work remained steady as weather conditions allowed for steady progress.
According to the Fort McCoy Directorate of Plans, Training, Mobilization and Security (DPTMS), having the facility at the airstrip is good for training support operations that already take place there. Many Air Force units utilize the airstrip every year for exercises, touch-and-go landings with C-130 Hercules and C-17 Globemaster III aircraft, and more, every year.
A work order to have this facility added to the airstrip was first submitted to DPW by the DPTMS Range Branch in November 2020 and now it's coming to fruition.
According to DPTMS officials, the trainer "will provide a unique, realistic loading training for warfighters so they are able to maintain their individual/collectives training and skill sets required to properly upload and download a C-17 Globemaster aircraft. The war-fighters training and skill sets can be accomplished without having the requirement to have an actual C-17 aircraft."
The load trainer also will be able to help train loadmasters on weight and balance records and cargo manifests, DPTMS officials said. It will also be able to determine the quantity of cargo and passengers or troops loaded and proper placement in aircraft, compute the load, cargo distribution, weight, and balance and determine the amount of weight to be placed in each compartment or at each station within the aircraft.
Once completed, the C-17 load trainer facility will add even more training capability to Young Air Assault Strip that has now been offering service members a place to train in austere conditions for 37 years.
Young Air Assault Strip, which has also been called Young Field, originally opened in October 1984. It was constructed by the 618th Engineer Company, 360th Engineer Battalion, 82nd Airborne Division.
The air strip was named after Pfc. Raphael Young, a member of the 618th who died in September 1984 while training on heavy equipment in advance of the mission to build the airstrip.
In a November 1984 article in The Triad newspaper at Fort McCoy, Capt. William Prokopyk, company commander, said that he thought the Soldiers were more safety conscious because of the death of their comrade, which explained the lack of injuries during the actual construction process.
Construction of the airstrip was good practice for the 618th, which had the wartime mission of construction and repair of air fields. Young Air Assault Strip, however, was of better quality than a wartime construction, Prokopyk said.
"During wartime, we would probably have less time to complete the mission and we wouldn't have the soil analysts and survey support that were attached for this mission," he said.
The construction cost approximately $86,000 and came in about $11,000 under budget.
James Hubbard, chief of the DPTMS Airfield Division said the airstrip continues to be an important part of the training complex at Fort McCoy."
"There's not many airstrips like Young available for training, so it is highly sought-after as a training area for exercises" Hubbard said in a past article in The Real McCoy. The airstrip also features a decommissioned C-130 that is primarily used to train service members to palletize cargo. It was transferred from Little Rock Air Force Base, Ark., in October 2015.
Fort McCoy's motto is to be the "Total Force Training Center."
Located in the heart of the upper Midwest, Fort McCoy is the only U.S. Army installation in Wisconsin.
The installation has provided support and facilities for the field and classroom training of more than 100,000 military personnel from all services nearly every year since 1984.
Learn more about Fort McCoy online at https://home.army.mil/mccoy, on the Defense Visual Information Distribution System at https://www.dvidshub.net/fmpao, on Facebook by searching "ftmccoy," and on Twitter by searching "usagmccoy."
Also try downloading the Digital Garrison app to your smartphone and set "Fort McCoy" or another installation as your preferred base.