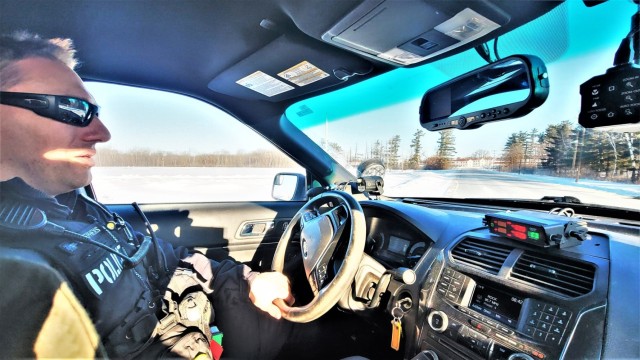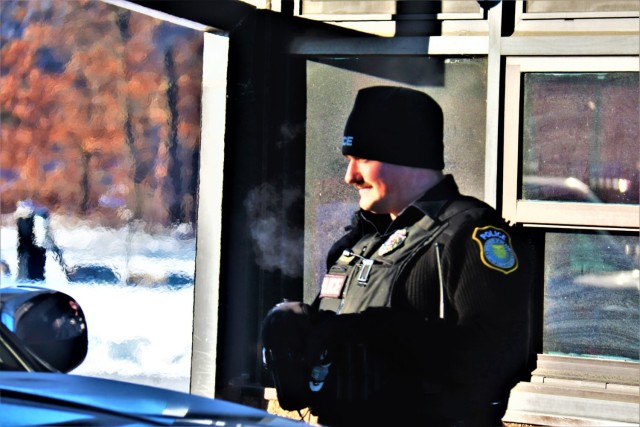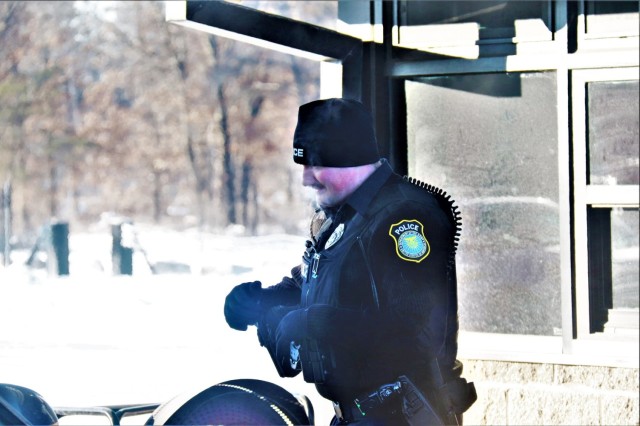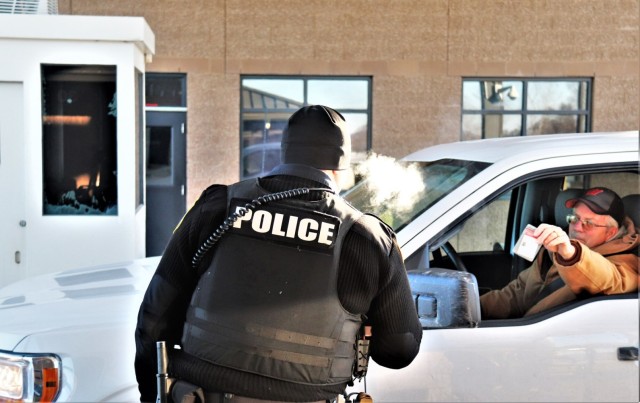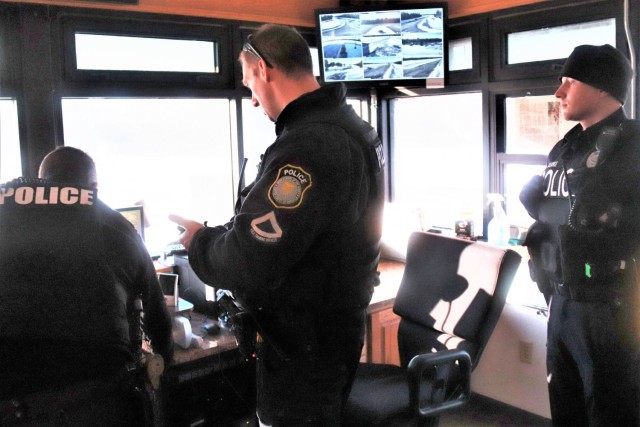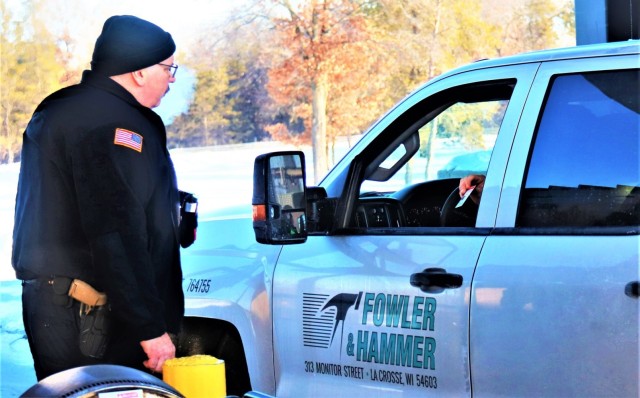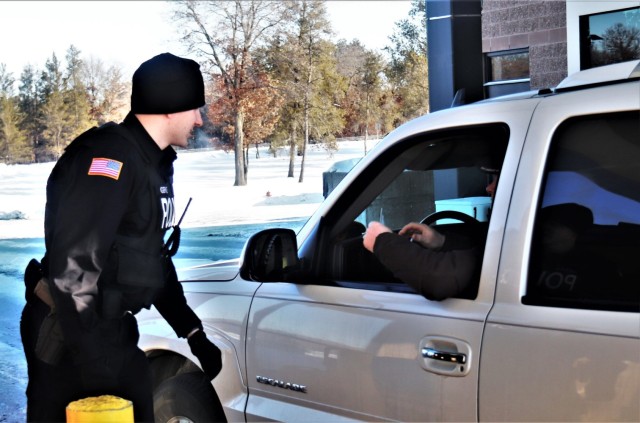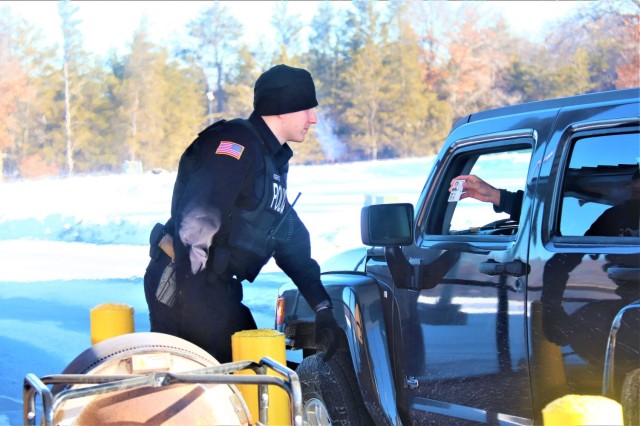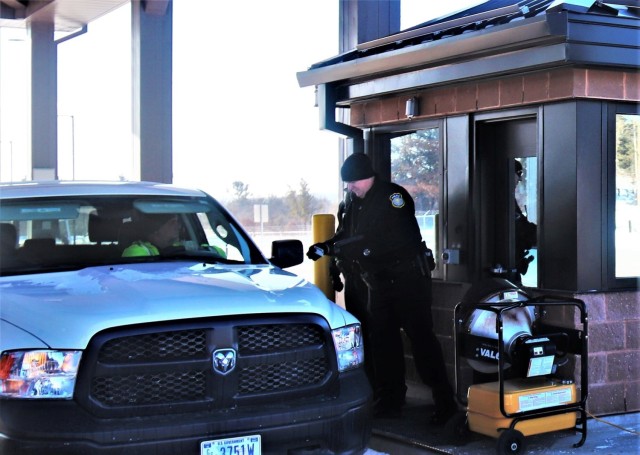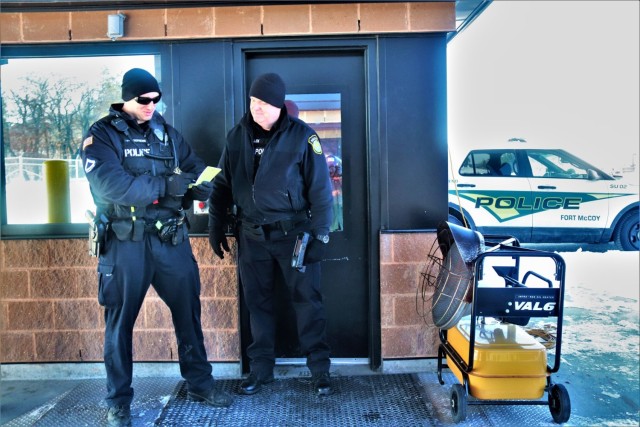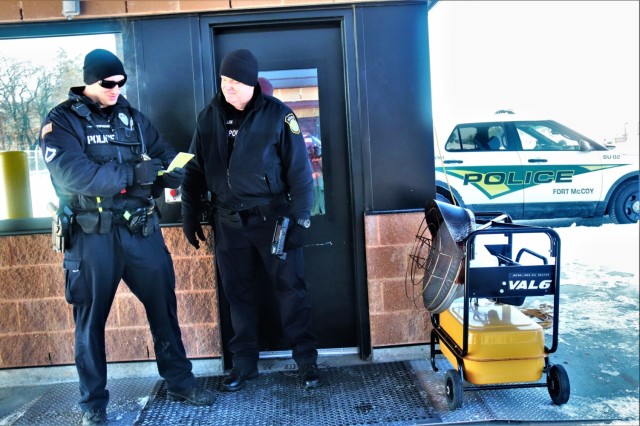 Early on Jan. 31, temperatures across Fort McCoy were averaging around -20 degrees Fahrenheit or colder. At the Sparta-Fort McCoy Airport it was -24, and at the Main Gate, where Police Officers Adam Wright and Jason Pipkin were working, it was also breathtakingly cold.
But they were on the job, screening IDs and paperwork, ensuring safety and protecting the main entrance to the installation. That same day, over at Gate 20 where commercial vehicles arrive at the installation, Police Officer Pete Allen was also getting morning traffic through the bitter cold morning.
"It's cold, but I'm here," Allen said as he checked another driver.
Day and night, 24 hours a day, seven days a week, 365 days a year — there's always someone with the Directorate of Emergency Services (DES) Police Department on duty, said Police Chief Brian Bomstein. And no matter the weather — rain in the summer or cold and snow in the winter — they are always there.
Bomstein said winter can present his officers and staff with challenges, but as professionals they know what they have to do, and they do it.
"As a police officer, you understand that you are not always going to work in optimal weather conditions, or that you may see things throughout your career that most people do not have to deal with," Bomstein said. "However, the officers of the Fort McCoy DES Police Department have a sense of duty and drive to serve the Soldiers, civilians, and visitors of Fort McCoy with a professional level of service. This includes working in various weather conditions to include thunderstorms, tornados, and extreme cold when temperatures keep a lot other people indoors or seeking shelter.
"Working in cold environments has its challenges," Bomstein said. "The body gets cold; equipment doesn't function properly, and even pens used for daily writing will freeze causing you to rotate pens from indoors to outdoors just so you can simply take a note or provide directions on an installation map.
On Jan. 31, in addition to the officers working at the gates, Field Training Officer Jonathan Stephens and Officer Ethan Gerke were out completing police patrols as well. The car doors were extra creaky every time they got in and out of their cruiser, and the snow crunched every time they stepped away to complete a task.
"These kinds of days make you appreciate the heater in the car," Stephens said. "But we're out here because we have an important job to do."
As winter continues, Bomstein said his team will continue to do their best no matter how cold it gets.
"Officers endure all types of weather in order to continually provide constant, consistent, and vigorous security and law enforcement for the installation and community," Bomstein said.
Fort McCoy's motto is to be the "Total Force Training Center."
Located in the heart of the upper Midwest, Fort McCoy is the only U.S. Army installation in Wisconsin.
The installation has provided support and facilities for the field and classroom training of more than 100,000 military personnel from all services nearly every year since 1984.
Learn more about Fort McCoy online at https://home.army.mil/mccoy, on the Defense Visual Information Distribution System at https://www.dvidshub.net/fmpao, on Facebook by searching "ftmccoy," and on Twitter by searching "usagmccoy."