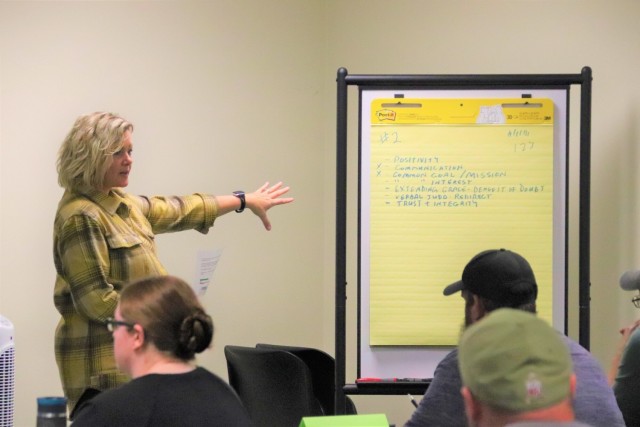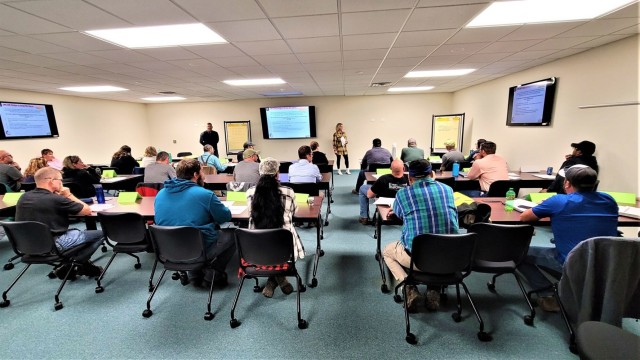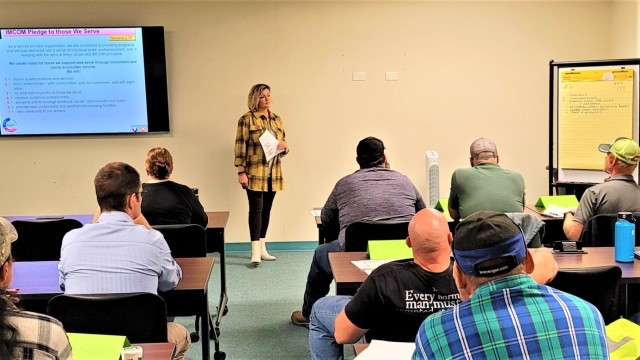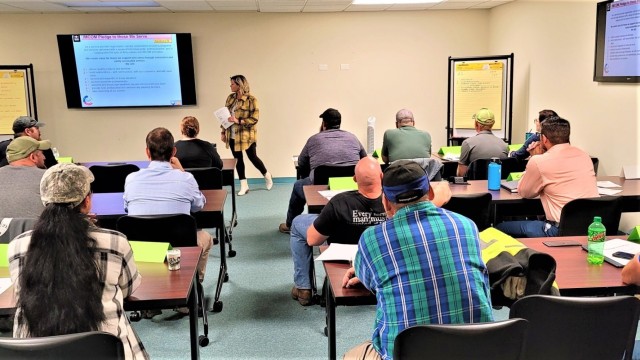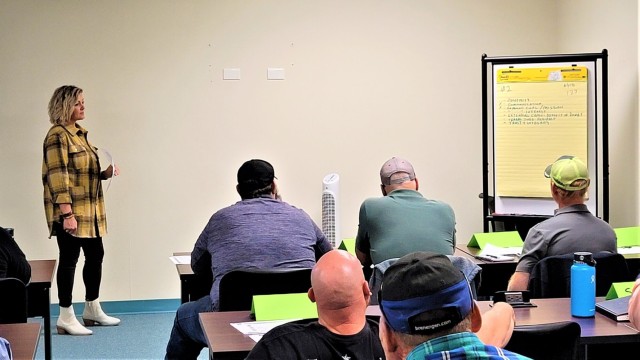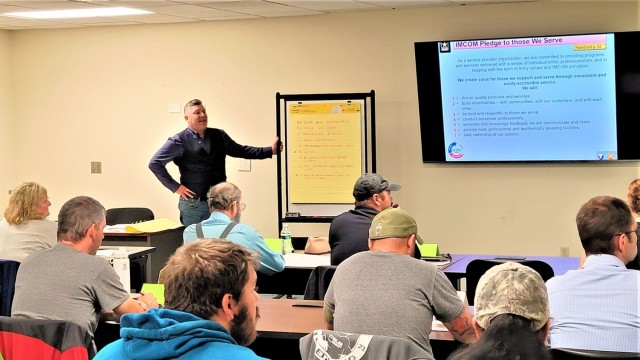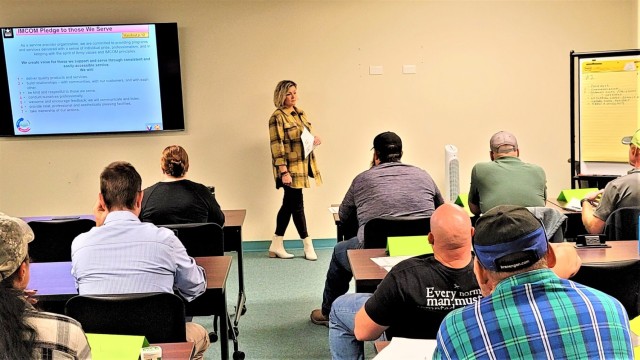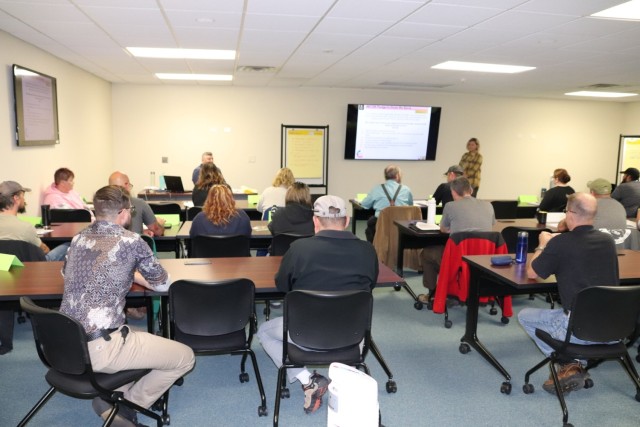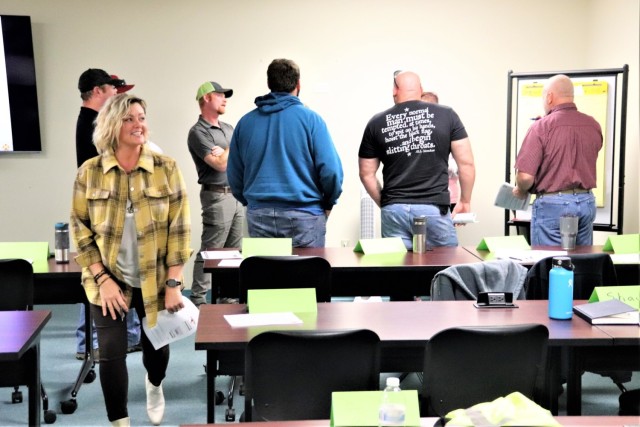 Fort McCoy Directorate of Human Resources (DHR) held a Operation Excellence workforce development course in leader and talent management Oct. 4 in building 2113 at Fort McCoy.
Approximately 30 Fort McCoy workforce members took part in the course that was conducted by Workforce Development Officer Michael Modawell and Workforce Development Specialist Jamie Gular — both with Fort McCoy DHR.
"Operation Excellence is part of the overarching Army Installation Management Command (IMCOM) Service Culture Campaign," Modawell said. "The Service Culture Campaign is a sustained readiness plan launched by IMCOM in 2017 to develop a highly effective IMCOM Team capable of supporting installation senior commanders and Army readiness requirements."
According to IMCOM, the Service Culture Campaign "is built upon the premise that excellence in customer service is a byproduct of how employees are treated. Therefore, the Service Culture Campaign aims to establish an environment where employees have engaged leaders, feel valued, are loyal to the organization, and treat each other with dignity and respect."
"The campaign instills a culture of service excellence through leader and workforce engagement; on-boarding programs that welcome and integrate newly assigned Soldiers and civilians to IMCOM; employee recognition programs that effectively further Army mission, goals and values; and standardized customer service training implemented enterprisewide," states the Service Culture Campaign web page at https://home.army.mil/imcom/index.php/professionals/scc.
"IMCOM is ensuring that the foundations of service excellence are understood and applied at all echelons of the organization emphasizing junior leaders, first-line supervisors, and front-door service providers," the web page further states. "At present, IMCOM organizations are assessing and revamping existing efforts associated with service excellence, leadership, communications, on-boarding, recognition, and integrating service culture principles into strategic plans."
For this leader and talent management session of Operation Excellence, participants worked together, exchanged ideas, and more, Gular said.
"Operation Excellence assists organizations in developing a service-focused culture where all customers — both 'external' (those we support) and 'internal' (those who we work with) are treated with courtesy, dignity, and respect," Gular said. "The principles taught in Operation Excleence equally apply to both audiences. At the beginning of the training, many might have felt it was just another mandatory training. I believe this class surprised a lot of people. The feedback was positive and focused mostly on the small group break-out sessions. These sessions gave participants the chance to engage with others from different organizations, share experiences, hear how they handle situations, and collaborate on ways we can improve, both within their organization and Fort McCoy.
"There were so many great ideas, and I hate to see a great idea go to waste, so Workforce Development has decided to collect and share these ideas with garrison leadership during Operation Excellence Leader training," Gular said. "All comments and ideas will be anonymous.
"Also, this was my first time serving as a facilitator for this training," Gular said. "I'm thankful for my Workforce Development teammate, Mr. Modawell, for taking the lead and showing the way. And, I'd also like to share a comment made by a participant that I felt was powerful — 'Sometimes we serve the process not the people.' I know I'm a process focused person, so this hit home for me. Operation Excellence helps us focus on the people."
Fort McCoy's motto is to be the "Total Force Training Center."
Located in the heart of the upper Midwest, Fort McCoy is the only U.S. Army installation in Wisconsin.
The installation has provided support and facilities for the field and classroom training of more than 100,000 military personnel from all services nearly every year since 1984.
Learn more about Fort McCoy online at https://home.army.mil/mccoy, on the Defense Visual Information Distribution System at https://www.dvidshub.net/fmpao, on Facebook by searching "ftmccoy," and on Twitter by searching "usagmccoy."